If you have a visit to Tofino on your agenda for this year then Long Beach Lodge Resort is where you want to be.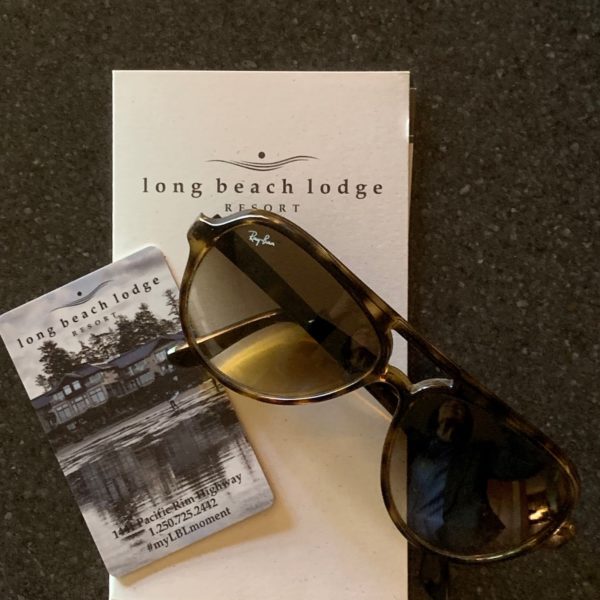 Long Beach Lodge Resort is situated on Cox Bay and the first thing that captures your attention is the miles of west coast beaches and the surrounding rugged, yet incredible, scenery. This is where all your troubles, foes and cares slip away and you start to relax and enjoy the atmosphere that comes included with every stay.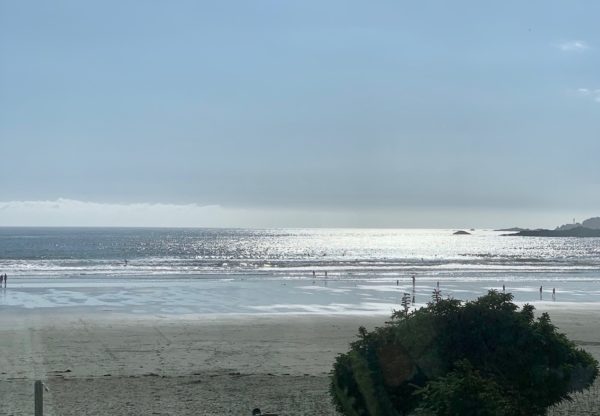 Accommodation
Whether you choose to stay in one of their  luxurious room, penthouse suite or cottage your stay is going to be memorable in every way. The beds are absolutely heavenly and each room is beautifully furnished and appointed with spa like amenities. Room categories range from standard to Ocean View to Beachfront. The Pacific Penthouse suites are the ultimate accommodation for a night, weekend, week or longer stay. For those travelling family style the two bedroom, two bath cottages feature a kitchen, dining table, living area and a semi-private patio with hot tub. A TV in the living area and in each bedroom. You will find things like board games and standard home amenities; hair dryer, ironing board, iron and alarm clocks.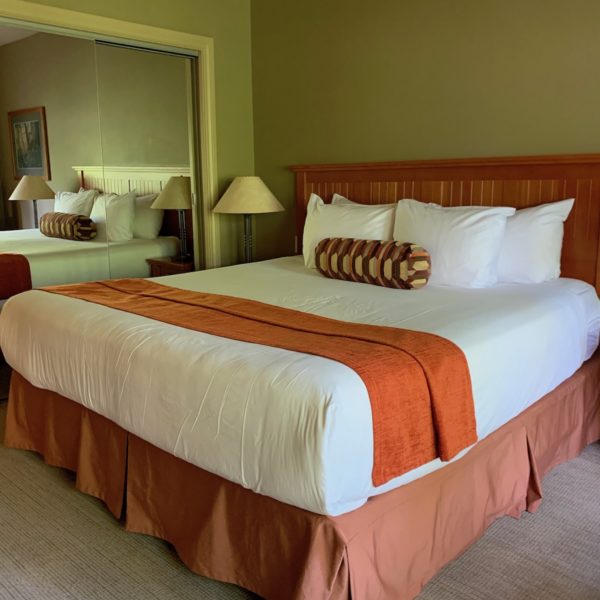 Every room has a comfortable seating area, a luxurious bath with separate shower and soaker tub. Look behind the door for your cozy robe. In the closet you will find his and hers rain jackets and umbrellas. Just what you need to get out in the weather and stay warm and comfortable. Beachfront rooms feature a gas fireplace to enjoy on stormy nights.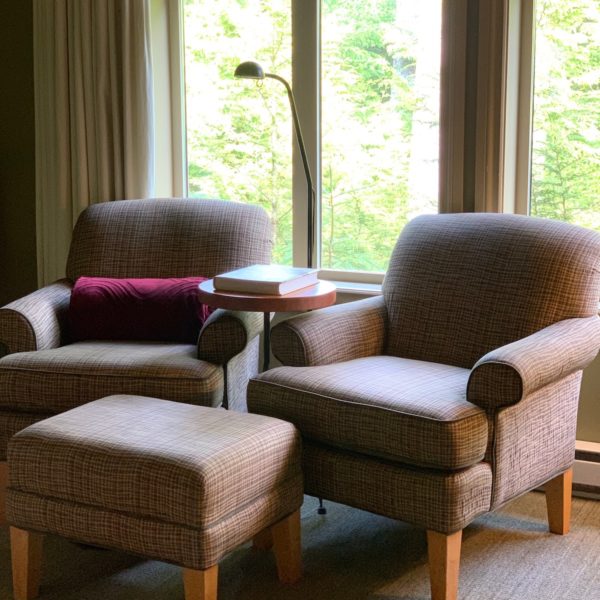 The two Pacific Penthouse suites come with all the room amentities as well as a four poster king size bed and a soaker bath for two, cast iron gas fireplace and sweeping panoramic views from the bedroom, bath and living area with a furnished balcony. Located on the top floor these suites are ideal for a special occasion, romantic getaway, second honeymoon or whatever your imagination desires. The ultimate in comfort and luxury in a boutique style suite on the ocean.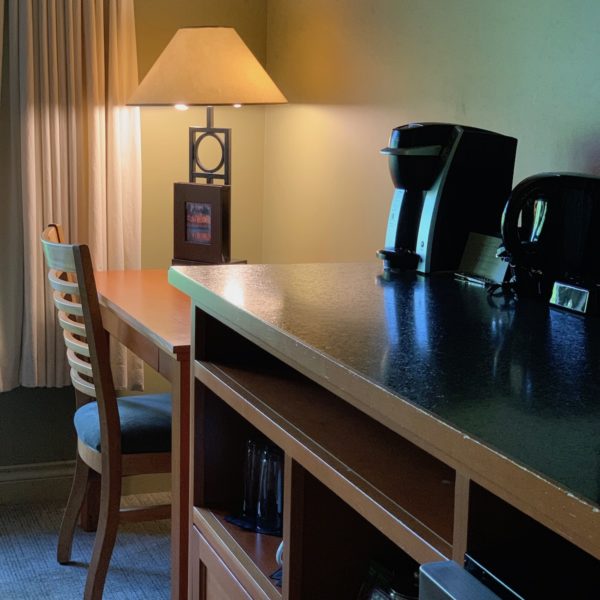 VIP (very important pet) accommodations are beach-level to allow convenient outside access for easy ins and outs. Choose a pet-friendly Lodge room (4) or a Rainforest Cottage (6) that features laminate flooring, cozy yet durable furniture fabrics, scratch proofing on doors, extra matting, and water-resistant curtain hems.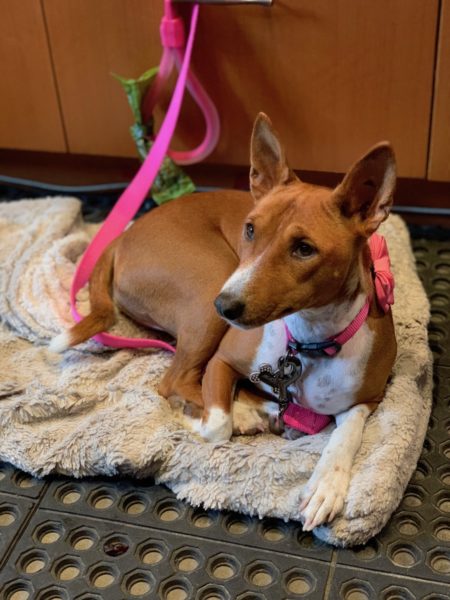 Due to the limited number of pet-specialized rooms, we do require you to confirm your need at the time of booking. Upon reservation, all pets must be pre-registered to ensure we can welcome you accordingly.
Breakfast or Brunch and Lunch in The Great Room
Whatever you desire it's probably on their Brunch menu (lunch starts at 11:00). Hardy surf size breakfast or an omelette or indulge in our of their Cibatta "benny" options; classic, smoked salmon, or vegetarian.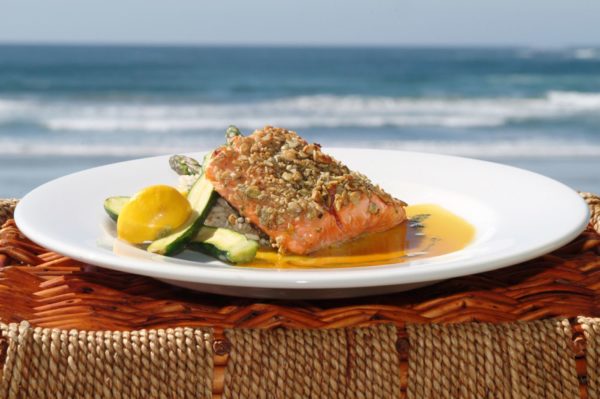 Lunch features West Coast Chowder, Salads, burgers, fish and chips, and a selection of Stone Oven Flatbreads with gluten free options. The menu features vegetarian and vegan options. Children's menu available.
Reservations for breakfast are recommended.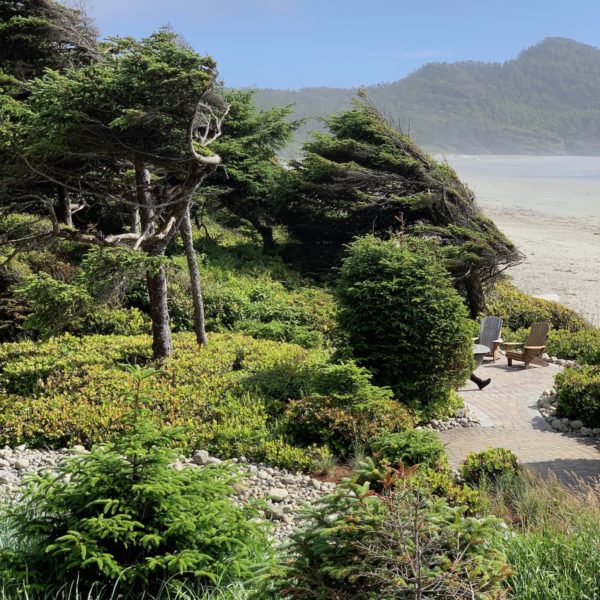 Casual Dining
Now open from 2 pm to sunset the Sandbar Bistro is the go to spot for casual fare, beach drinks and snacks. Get cozy around one of the gas fueled Fire Pits on the surrounding patio with more of those views you've come to enjoy.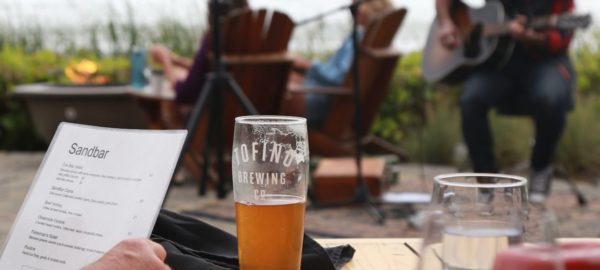 Beer, ale and ciders plus cocktails available to enjoy on the patio. Did you know that since Earth Day 2016 all straws are now made out of pasta! No more plastic! Great lunch and snack options:  homecut fries, cheese burgers, vegetarian and vegan selections and, of course, fish and chips. Takeout available.

The Sandbar features fresh, locally sourced, upscale gastro-pub style food served in a casual yet spectacular setting with direct access to endless beaches. The menu features vegetarian and vegan options. The Sandbar patio is also a terrific people watching spot and ideal for catching the highlights of surf competitions held right out front of the Lodge.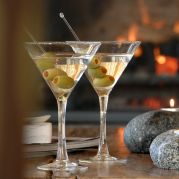 Happy Hour
Long Beach Lodge Resort is a favourite Happy Hour destination. Relax in comfort with more of those spectacular views. Join your friends in front of the fireplace as you sample some west coast style cocktails.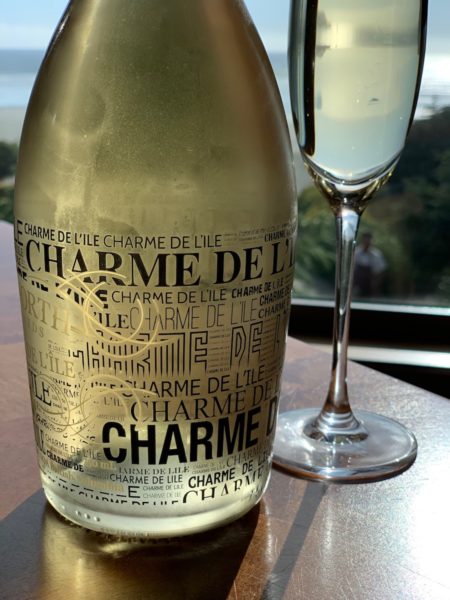 Two of my favourite things about the drinks menu are 1) all BC Wines, many of them from Vancouver Island wineries and 2) pours are 2.5 oz, 5 oz, or 8 oz and by the bottle. I love both of these initiatives because I love BC Wine and with a 2.5 oz option I can enjoy a variety of the wines I know and love and enjoy trying some wines that are new to me.
The Great Room, lounge and Sandbar Bistro offer a wine list that is 100% British Columbia wines; beers, ales, and ciders from local craft brewers including a full line-up from Tofino Brewing and a selection from Phillips' Brewery in Victoria on tap.
If you're a G&T fan note that they carry local, Vancouver Island artisanal spirits and Victoria based Phillips tonics. There are over ten different gins on the cocktail list. Might be fun to start at the top and work your way down, over a number of visits of course.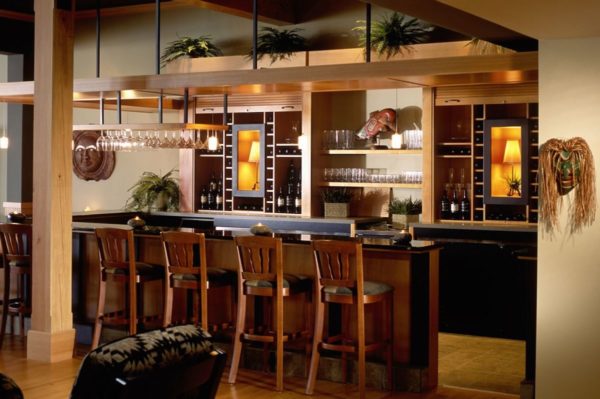 Happy Hour runs daily 3-6pm with ginger beer 'mule & buck' cocktails and champagne cocktails from $4 to $6.
So, while enjoying the sunrise or the sunset and all points in between, we'll help you find the perfect pairing to your experience…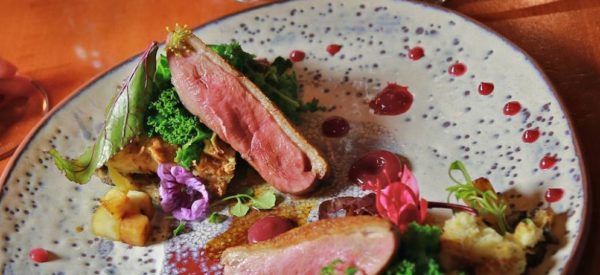 Fine Dining
I could go on almost forever about the Fine Dining options at Long Beach Lodge Resort's The Great Room. Every dish to crafted by a top chef who is passionate about his or her craft. Headed by Executive Chef Shaun Snelling the kitchen is abuzz with culinary delights. Dishes on the dinner menu are superb and include traditional favourites such as the fresh oysters to start; mains of Roasted Chicken, Steak or Lamb Rack. For the slightly more adventurous diner dishes such as the Broccoli Caesar Salad with romaine, kale and roasted broccoli, or Bison Carpaccio or Tuna Tataki; for seafood lovers the Crab & Scallops platter for two with an add a steak option. Every detail is scrupulously crafted into each dish.
I can't begin to truly describe the desserts without going into a state of pure ecstasty. Pastry Chef Katherine Sinclair is a genius. Leave room for dessert!
The Great Room is open for dinner seven nights a week from 5:00 pm to 9:00 pm Reservations are highly recommended.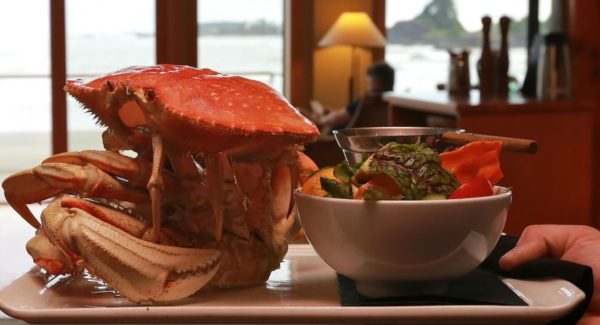 Chef's Tasting Menu
For the true foodie the experience of the Chef's Tasting Menu is a must! Executive Chef Shaun Snelling will personally prepare the most incredible dinner for all the members of your party.
Sommelier Benjamin Howard will work with you, or, if you prefer, choose the perfect wine pairings from the extensive list of excellent British Columbia wines available on the wine list.
Each course is an irresistible venture into culinary heaven.  Prepare to be wowed and pampered. From starters to mains everything will be absolute perfection.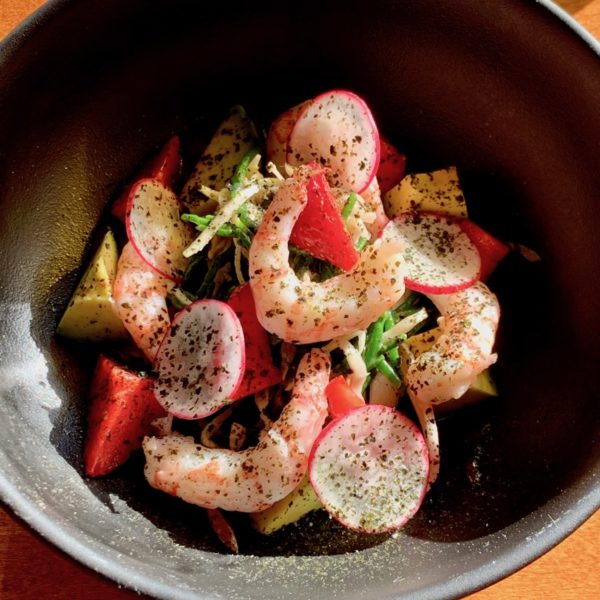 For a recent example of a five course tasting menu prepared by Executive Chef Shaun Snelling for seafood lovers use this link.
There is no question that Tofino has become a culinary adventure destination. The Great Room at Long Beach Lodge Resort is deserving of recognition of it's outstanding culinary expertise and is a sought after venue for guests and locals alike.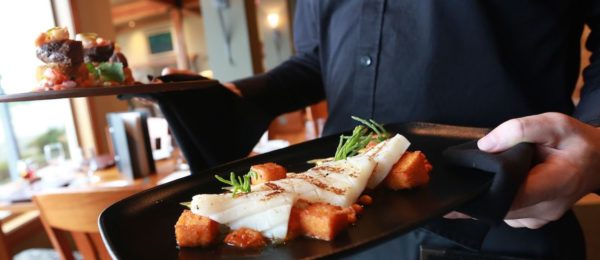 Please make reservations for the Tasting Menu experience a minimum of 24 hours in advance, if possible sooner is suggested. Subject to table availability. All members of the party must participate in the tasting menu. Dietary choices and restrictions should be addressed when making your reservations.
Tofino Surf Rentals & Lessons
If you've come for adventure then you have definitely come to the right place. The Long Beach Lodge Resort through their Surf Club Adventure Centre offers private and group surfing lessons, rental equipment, sauna, fitness centre, hot tub, outdoor seating, a gift shop and cafe.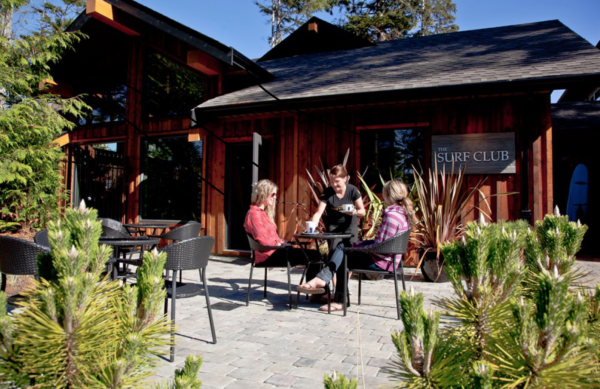 The certified and experienced Surf Club team offers their knowledge and skills for private and group lessons, for both surf and stand-up paddle boarding. Offering top of the line equipment and assistance, whether you're just starting out or a seasoned paddler. Additional information available or inquiries by email.
Did we mention that Long Beach Lodge Resort is pet friendly? If you're bringing your pet along please let them know when you make your reservation. You will even find a four legged ambassador on duty must days at the Surf Club.
Bear & Whale Watching Adventure Tours
Hop on board a "Catch of the day" marine wildlife tour, each customized to take full advantage of wildlife sightings and ocean conditions. This tour is an opportunity to explore and learn about the pristine marine environment. The boat seats 12 passengers in comfort within a heated cabin that includes full washroom facilities. Guests and non-guests are welcome to book these exciting adventures!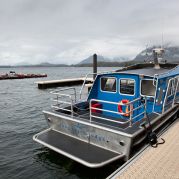 Available March – November. Choose from Whale Watching and Bear Watching Tours. Offering varied daily excursions, each approx. 2.5 hours on the water. 
Captains share their knowledge and love for Tofino and surrounding area. Lead Captain and professional photographer, Josh Lewis, has years of experience as a naturalist and ocean adventuring. The rugged wild of the coast and abundance of nature offers a new and different experience on every tour. 
Rates:
Adults: $109.00* Children (3-12 years): $79.00*
*+5% gst, $6 fuel surcharge, Wildlife and Ocean Conservation fee of $2.00
** Note: Trips are subject to reaching minimum required numbers. Excursion times and duration may vary due to the nature of the ocean, weather conditions, tides, and wildlife viewings. Up-to-date information is available from either the Surf Club Adventure Centre or Hotel Guest Services.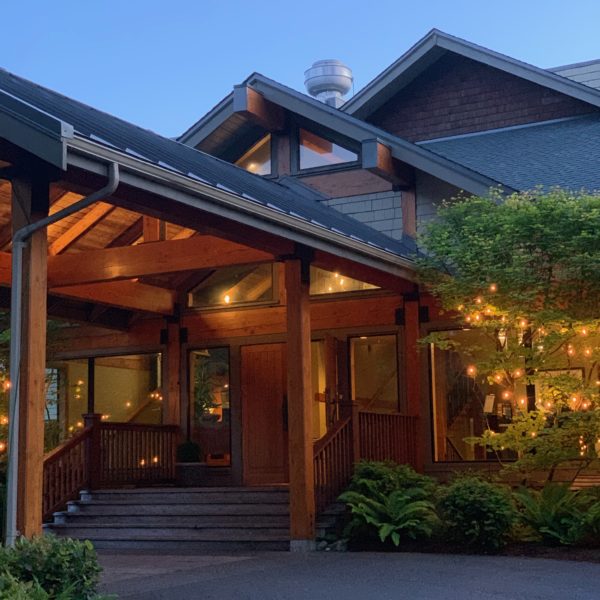 Highly recommended that guests bring their camera to capture all the scenery and wildlife Tofino has to offer. More information on what to expect from your tour available
here
.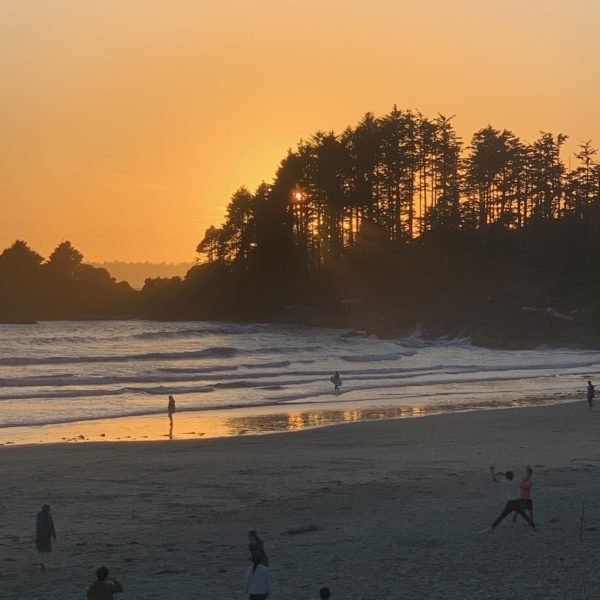 For those wishing to take along a lunch arrangments may be made with Hotel Guest Services or directly with The Great Room. Please note that advance notice of your lunch order is recommended.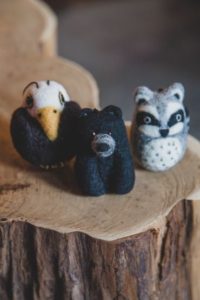 Shopping for souvenirs or just a little something for yourself. Visit the Gift Shop located in the Surf Club Adventure Centre where you will find t-shirts to boots and a lot of items to make your beachfront stay more comfortable.
On a recent trip to Peru, Lodge owners, Tim and Diane, met the artisanal family that hand-weaves the delicate and cozy baby alpaca scarves, available in a variety of colours. Another Peruvian project we proudly support is the Spectacled Bear Conservation Society. With the purchase of a felty creation, you are directly helping to save Spectacled bear habitat and support the communities living in and around these endangered ecosystems.
More to check out:
– Bathing Suits
– Hoodies
– Yoga Wear
– Handcrafted Silver Jewellery
– T-Shirts
– Surf Accessories
– Candles
– Native Northwest Products ft. designs from BC artists
– Socks + Slippers
– Books + Art Pencils
Products are carefully curated to accommodate a West Coast visit. Men's, women's and children's outerwear serves as fashionable and functional; no matter the weather,  you're covered. The gift shop proudly carries the largest selection of Crocs in Western Canada. This lightweight and versatile footwear brand covers your feet for every season.
In support of our ongoing sustainability program we have eliminated the use of plastic straws as of Earth Day 2016. A 100% biodegradable straw option is available by request.
Resort information (in italics) and images. except as noted, were provided by Long Beach Lodge Resort. I received two nights complimentary accommodation, one dinner and one breakfast to facilitate this review. A gratuity equal to 20% was given for each meal, as well as a gratuity for the Housekeeping Team. All opinions are my own. My review of the dinner in the Great Room is available here.
[wdi_feed id="2″]