Whether you are looking for a quick and quiet getaway or a leisurely stay you really do need to put the Spirit Ridge Lake Resort on the top of your list.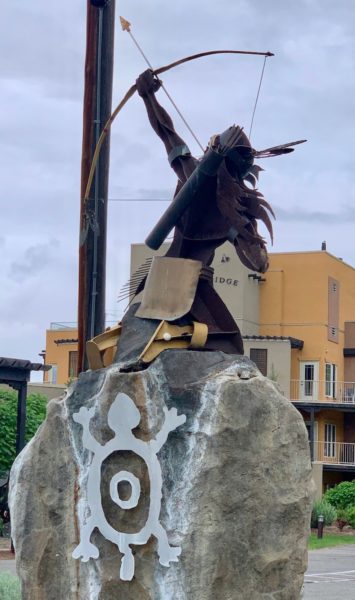 Located on the outskirts of the town of Osoyoos right in the heart of BC Wine Country which is only one of the considerations when you choose to stay at Spirit Ridge Lake Resort. There are many more reasons to make this your destination.
You'll know when you've arrived at Spirit Ridge; there's no mistaking the gently sloping vineyards, glittering Osoyoos Lake, and dramatic Okanagan Range, part of the Cascade Mountains, that surround the luxury resort. Welcome to Canada's only desert, a place sacred to the Osoyoos Indian Band. Come stay at our all-suite resort, and discover for yourself the natural landscapes and delicious food and wine that make Spirit Ridge a true wellness-centred oasis.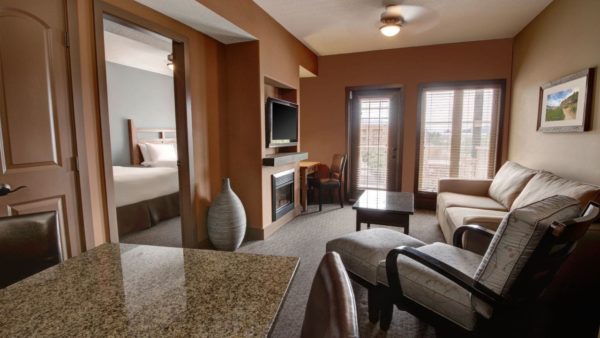 The rooms: the rooms are suites! every room is a spacious suite or villa or penthouse and yes they are as luxurious as they sound. You may choose from one bedroom, two bedroom or three bedroom suites with varying views of the lake, the golf course, the pool, with every suite featuring amenities to make your stay something special. Bedrooms give you the choice of one queen, two queens or a king size bed that are oh so comfortable you will sleep like a baby. Two and three bedroom suites include two full bathrooms with plush towels, spa like toiletries and robes. Some extra touches I noticed were a lower sink and vanity in the second bathroom to accommodate the needs of children, now that's thoughtful.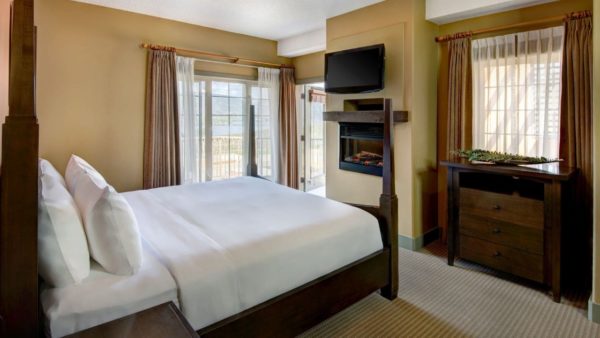 Our adobe-style structures don't just look at home in the desert; they're designed to make you feel that way, too. Each of Spirit Ridge's 226 condos, suites, and villas boasts an ambience that encourages you to settle in right away, with spacious kitchens and cozy fireplaces. Take in sweeping views of Anarchist Mountain and Osoyoos Lake from your room, then experience the scenery up close at the NK'MIP Desert Cultural Centre, where boardwalks lead you over the South Okanagan's diverse grasslands.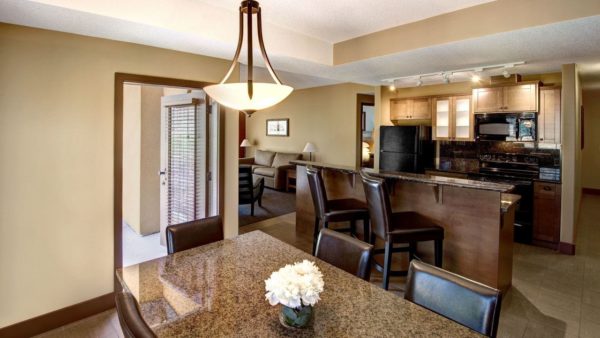 If you are travelling with children you will appreciate the fully equipped kitchen, yes a full size kitchen for preparing a simple breakfast or an elaborate dinner. The whole family can sit together at the granite topped dining table with room for six or more.
Anyone who has travelled with children will also really appreciate having a television in each bedroom which means no fighting over the remote and what to watch. Pick from a number of channels on the flatscreen TV or choose from a list of favourite movies to entertain the little ones. With free wifi all the members of the family can stay connected.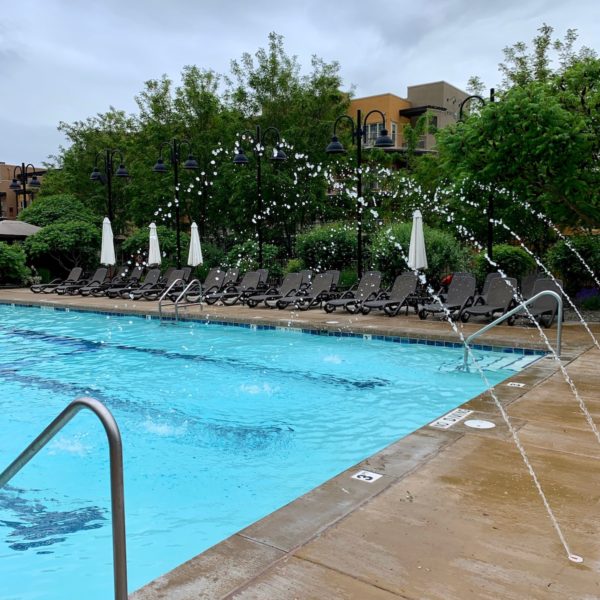 You are no doubt going to be spending a lot of your time outdoors. The main swimming pool is a great spot for families with an age 16 and under water slide. On this recent visit the four year old in the family rather pompously informed the adults that they were not allowed on the water slide!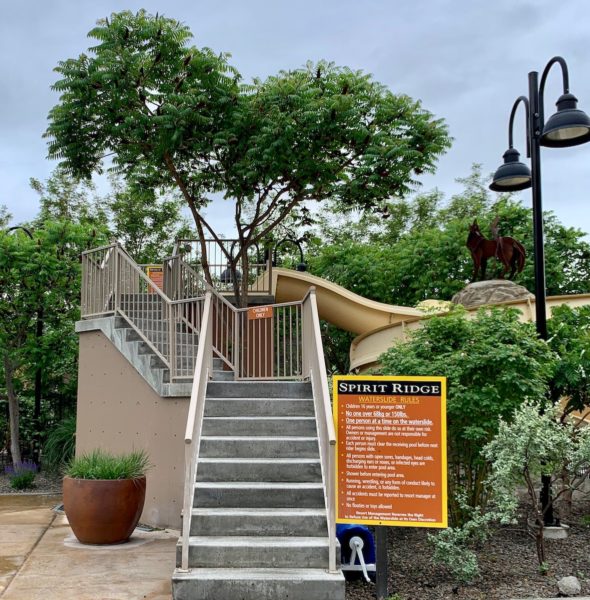 No worries with one of the two outdoor pools, a 22 person hot tub and adult only steam room Spirit Ridge has adult and family comfort covered. A two tiered deck sports comfortable lounge chairs and umbrellas and all the cozy pool towels you will need.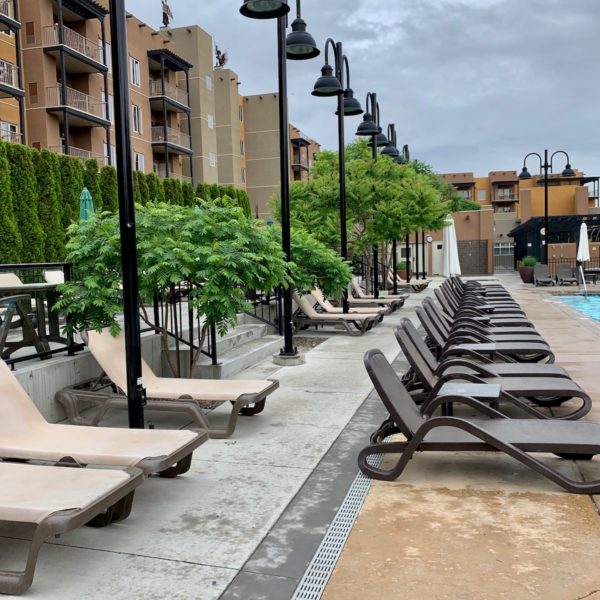 Not on a family vacation? Spirit Ridge Resort has what you need if you are looking for a romantic getaway – yes there is an adult only pool and hot tub that have beautiful lake views, it's just tucked away beyond the outdoor restaurant patio away from the small fry – perfect!
My recommended adult activities would include the adult only pool and hot tub, The Patio at Nk'Mip Cellars open 11:30 to 3:30; and dining at the bear, the fish, the root, & the berry (reservations highly recommended); or unwind with a spa treatment at Solterra Desert Spa.
With over 200 suites available Spirit Ridge Lake Resort is also the ideal spot for conferences, weddings, family reunions and any number of occasions from small to large groups. They will cater to your needs.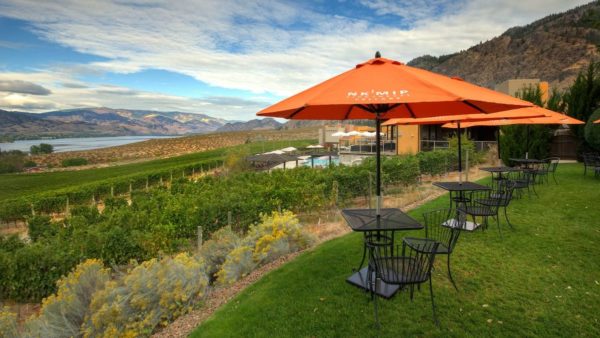 Plenty of excursion options and day trips if you can motivate yourself away from the relaxing atmosphere at the Spirit Ridge Resort facilities. You are in the middle of wine country after all and their website has some suggestions for you.
There's so much to do at Spirit Ridge—from wine tasting to boating to hiking—that you may never want to leave. If you do, however, you'll discover some of Canada's finest wineries, which line the famed Golden Mile Bench to the north. Immerse yourself in the landscape, and hike the nearby Chopaka Lookout Trail for unparalleled desert views, or head into town to see the work of regional artists at the Okanagan Art Gallery.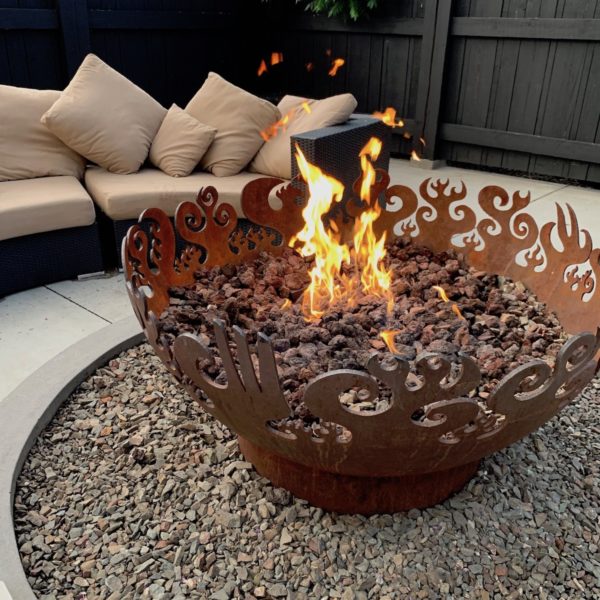 The property is beautiful and if you don't feel like venturing far no one would blame you. Just a short stroll to Nk'Mip Cellars where you can enjoy a wine flight and experience this unique winery.
While at Spirit Ridge Resort we dined at the bear, the fish, the root & the berry a newly relaunched in house restaurant and dining room. Executive Chef Murray McDonald brings an impressive resumé to the table. The restaurant can accommodate large groups on their outdoor, covered patio featuring open fire pits and blankets, just in case it gets chilly later in the evening.
Dining is an interesting experience where each element has it's own menu items, the root featured either all vegetarian or vegan items, the bear featured starter/appetizers and mains for carnivores, the fish also features it's own starter/appetizers and mains with the berry offering the decadent desserts.
On the evening we dined there were four adults and two children (we opted for just the plain pasta for the small fry, there is an a la carte children's menu  $10. or $15. with beverages and desserts ordered from the regular menu).
The four adults chose to share all the plates and we ordered three dishes from the root: Bannock & Spreads, The Three Sisters Salad and Yamy Yam Steak; from the fish: Sweet Sour Salty Sable Fish; from the bear: "Askawa" Tartare of the Land, Bison, and Rabbit Pasta. On the recommendation of Chef Murray we indulged in the berry desserts of Peppered Chocolate and Life is Just a Peach. Cost of our meal, as described, including taxes and gratuity, juice for the kids, a before dinner beverage for each adult, one bottle of Vanessa Vineyard 2014 Right Bank wine – $383.55 .
About Spirit Ridge Resort
Spirit Ridge Lake Resort, Winery and Sacred Land is the first Canadian property to join the Unbound Collection by Hyatt- a global portfolio of distinct hotels that inspire the freedom to create one of kind story worthy experiences.
"Rich in culture and historical relevance, the iconic resort's design embraces the Okanagan First Nations people and celebrates their deep spiritual connection to natural surroundings," Executive Director and General Manager Daniel Bibby says.
"We have taken over the restaurant and are rebranding it to honour our Indigenous history.  We've also brought in an Executive Chef who has embraced our new, exciting culinary adventure,"
Vacationing dogs will feel right at home at Spirit Ridge. Guests must book a specific dog friendly room at time of booking which are available in one bedroom, two bedroom and villa options. Our fully fenced dog park, open 24 hours a day, is the place to let your dog roam around and socialize.
To ensure one of our dog-friendly rooms is available during your stay, call us at 250-495-5445.  Unfortunately Spirit Ridge does not offer any cat friendly rooms. A $25-per-day cleaning fee applies to all rooms housing dogs in a designated pet friendly room.
Rolling hills rise behind immaculate fairways at Sonora Dunes Golf Course. The nine-hole course exists in harmony with its unique natural setting in Canada's only desert landscape. Both seasoned golfers and new players alike are welcome to take on the par 35 course and admire the natural splendor that surrounds it.
The Patio at Nk'Mip Cellars
Watch the glittering waters of Osoyoos Lake as you dine alfresco at the Patio, located within Nk'Mip Cellars winery at Spirit Ridge, and share a bottle of wine with loved ones. Our farm-to-table specialties are created using traditional aboriginal culinary techniques. Enjoy elegantly plated wild mushroom gnocchi and duck confit sandwiches as you gaze at the serene desert landscape.
Coffee and casual fare at the Market 
In between visiting the Nk'Mip Cultural Centre and swimming in Osoyoos Lake, head to Spirit Ridge Market. Here you'll find freshly brewed coffee and pastries to start your morning off right. Return throughout the day to enjoy sandwiches and other grab-and-go options. In the evening, stop by to pick up specialty drinks, beer, and wine. 7:00 am – 2:00 pm
Paragraphs in italics courtesy of Spirit Ridge Resort. All images, except as noted, MyVanCity. Feature image courtesy of Spirit Ridge Resort. I received complimentary accommodation in order to facilitate this review. All opinions are my own.
With thanks to Acura Canada who provided us with an Acura RDX for our excursion.
[wdi_feed id="2″]