Terrace Restaurant at Mission Hill Family Estate vineyards is a not to be missed culinary destination on your next trip to BC Wine Country. Chef Patrick Gayler former Sous Chef at Waterfront Wines has been instrumental, along with an experienced and supportive staff, in transitioning this classic and stately outdoor dining room into a very approachable and welcoming open air dining space.
The kitchen is abuzz with some of the most outstanding dishes I have had the pleasure of sampling lately. The innovative menu runs the gambit from freshly unique and light salads to down home, big, juicy burgers to satisfy the largest appetite.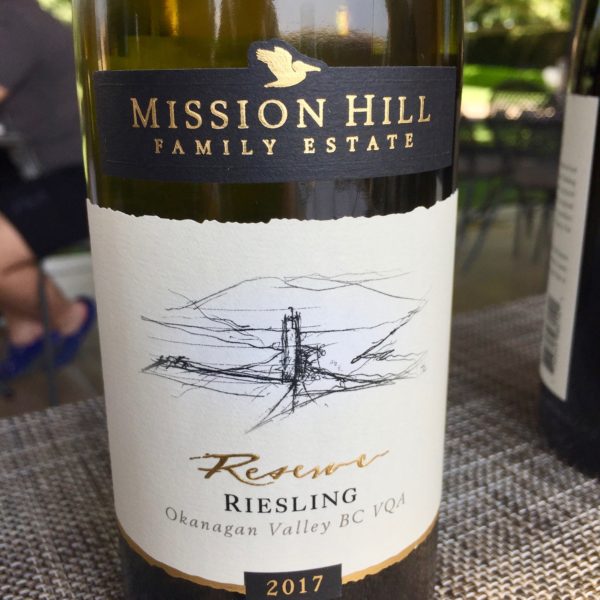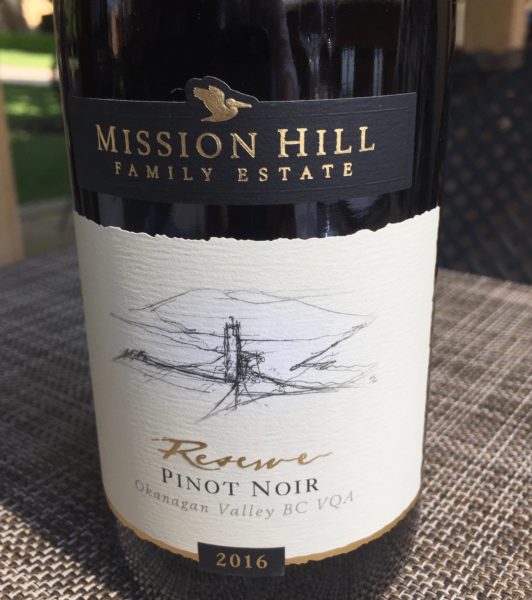 It was particularly warm (by Vancouverite standards) the day I visited but the cool breezes from the lake and the quietly intermittent overhead misting installed in the previous year keeps the temp and humidity under control as you take in the vistas of the lake and never ending views. Every table is either next to the courtyard with a view of the bell tower or on the lakeside with a panoramic view. I found myself relaxing while I studied the impressive wine list. The wine list includes Reserve, Terroir, Legacy, Ice Wine and Flights categories of Mission Hills Family Estate wines. The Reserve wines are priced between $11 and $16 dollars for a 6 oz pour. Many of my own favourite wines were featured under the Reserve heading, such as a 2017 Riesling and a 2017 Pinot Gris both excellent wines that I favour as either a stand alone wine or paired with the fresh, light dishes on their lunch menu.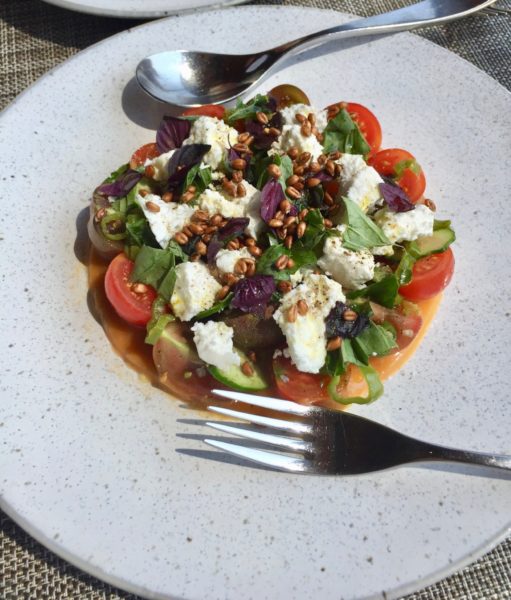 We decided to share dishes so we could sample more items. Starting with the Jordan's Tomatoes & Carmelis Goat Feta including young kale, basil, smoked tomato vinaigrette and crispy toasted tarro. It paired well with the 2017 Riesling for me and was a good starter. My companion enjoyed the 2016 Pinot Noir. Both wines, although very different, paired well with the dish. For me a rich, flavourful Riesling pairs with almost any dish and I found it stood up to the smoked tomato vinaigrette. The Pinot Noir was also ideal with the tomatoes and vinaigrette. Maybe next time I will try the suggested pairing of 2017 Reserve  Sauvignon  Blanc. The tomatoes and tangy feta with the smoked tomato vinaigrette lends itself to the optional pairings.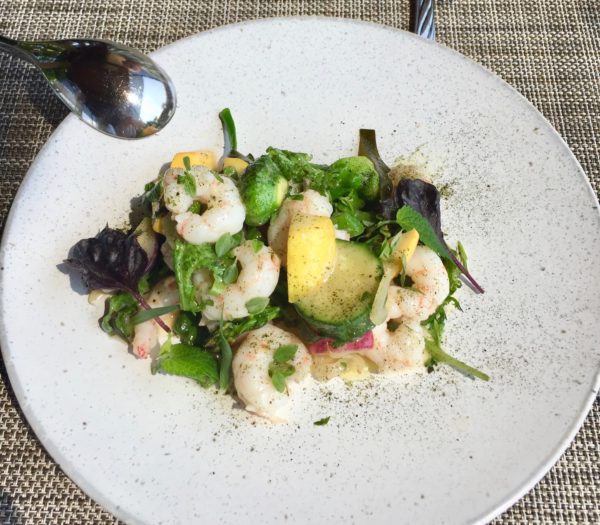 The House Charcuterie was also on our radar but we opted for the Wild Sidestripe Shrimp with farmer's vegetables, spring garlic and seaweed butter as our second dish. This was definitely our favourite dish. Crunchy pattypan summer squash, broccolini with a touch of fennel and amazing sweet and delicate sidestripe shrimp. This dish was paired with the 2017 Pinot Gris which we both really enjoyed.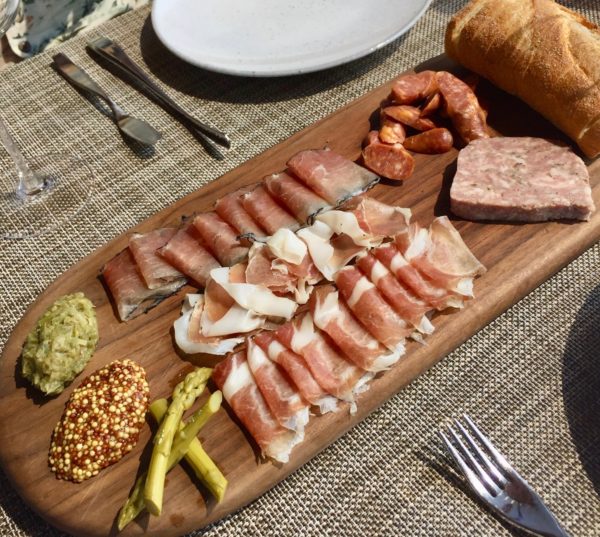 Rounding out our al fresco lunch was the House Charcuterie. Featuring five selections of salamis and prosciutto with house made relish, grainy mustard and a loaf of warm baguette. Perfectly paired with the Terroir Brigadier's Bluff Rosé. Just deliciously juicy with intricate flavours. As much as we enjoyed the Charcuterie platter I think it would benefit from a tasting of cheese, a vegetable antipasti or perhaps grilled artichokes or summer squash. Realistically, the House Charcuterie is more appropriately a dish for four or more and the addition of one or two BC Cheeses would have been more to our liking. The House Charcuterie and the BC Artisan Cheeses are separate items on the lunch menu but a combined option at dinner. So next time I will bring a bigger appetite or two more people to try more of the summer options. All of the plates were more than adequate for sharing and the House Charcuterie was definitely generous in size.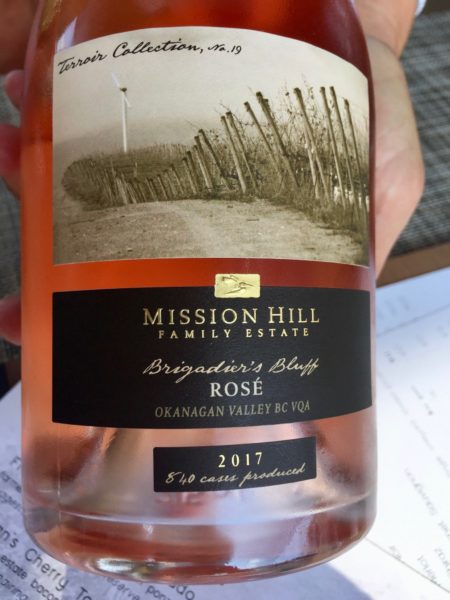 If you've arrived with an appetite then no question the Dry Aged Brisket Burger & Triple Cooked Frites would fit the bill. I must admit I was salvating a bit every time an order passed by. A mile high burger with a generous portion of frites.
For diners who have left room for dessert choosing between a selection of BC cheeses or an enticing cheesecake, tart, ice cream or mousse might be just the most challenging moment of your dining experience.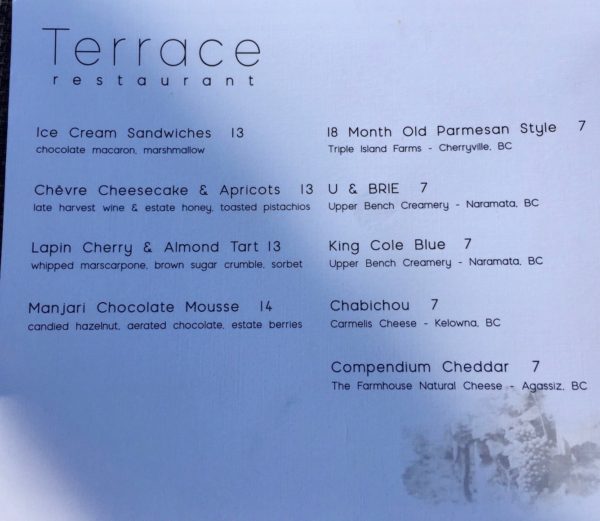 We received a warm welcome when we arrived and our server Trenton was charming, knowledgeable and very helpful when it came time to make our menu selections. Service is exemplary, never cloying, just the perfect level of attention. We enjoyed a delightful and leisurely lunch.
About The Terrace Restaurant at Mission Hill Family Estate  
A destination in its own right, and ranked 'One of the Top 5 Winery Restaurants in the World' (Travel + Leisure magazine), Mission Hill Family Estate's Terrace Restaurant is now open for the 2018 season. The outdoor Terrace is internationally acclaimed for its awe-inspiring al fresco dining experience overlooking rows of Chardonnay and Pinot Noir vineyards set against the backdrop of beautiful Okanagan Lake.
Did you know you can vote for the Terrace restaurant and Mission Hill Family Estate for "The Best Wine Country Awards"? Details here.
Long Table Dinner Series
This season, the much-anticipated Long Table Dinner Series returns. This series of unique wine-paired dining takes place al fresco, with your evening beginning with a reception as the sun sets over Okanagan lake. Private Events Chef Adam Vaughan will then showcase the seasonality of the region's terroir with each dinner offering a unique 3 course, wine-paired menu. The series includes: 'Food Day Canada Celebration' (Aug 4th) 'A Taste of Harvest' (Sept 1st).
NEW: 'Bring Mission Hill Home' Contest
As well, this year marks the launch of the Bring Mission Hill Home contest. This is Mission Hill's first ever national culinary program, pairing the winery's Terrace restaurant dishes with Mission Hill wines in home kitchens across the country. The Mission Hill culinary team will travel to multiple cities across Canada — including Victoria, Vancouver, Kelowna, Calgary, Edmonton, Toronto, Ottawa and Montreal — to bring the full Mission Hill winery experience to ten lucky winners. At each stop, the chefs will prepare a four-course meal, share expert tips, and leave behind a STAUB cast iron cooking set, a beautiful Zwilling Henckels 6-piece professional knife set, and a Mission Hill Family Estate gift basket to complete your immersive winery experience. The contest is open now and runs through the year. Details available at bringmissionhillhome.com.
About Mission Hill Family Estate
Mission Hill Family Estate, located in the heart of British Columbia's pristine Okanagan Valley, offers visitors an exceptional experience in a setting of unparalleled natural beauty and extraordinary architecture. Established in 1981 by Proprietor Anthony von Mandl, O.C., O.B.C., the family-owned winery is known for its exemplary vineyard estates and award-winning wines. Heralded as 'the gold standard of wineries' by Condé Nast Traveler, the winery offers cultural programs including the annual summer concert series, culinary programs and international art exhibitions. missionhillwinery.com
Terrace Restaurant Reservations: (250) 768-6467 or terrace@nullmissionhillwinery.com.
I received a complimentary lunch in order to facilitate my review. All comments and opinions are my own. A gratuity equal to 20% of the cost of the meal was left for service.
All images MyVanCity.ca
If you would like to be featured on MyVanCity.ca please email myvancityval@nullgmail.com.