Be prepared to be wowed when you dine at Miradoro at Tinhorn Creek.
We just enjoyed the most wonderful dinner at Miradoro. Not only is the location absolutely stunning, and if you go for lunch be prepared for the most spectacular views in the region, but the dining experience is top notch.
We dined in comfort indoors this time just because it was rather windy when we arrived. Previous visits, particularly in the summer months, we've always preferred to be seated on their balcony. Sitting inside is spacious and comfortable. From where we were sitting you could see into the kitchen which is a view I always enjoy.
At Miradoro you set the pace, never rushed, with excellent service. Our server was helpful and knowledgeable about the dishes and specials of the evening. Now that Fall has arrived there are a few new offerings that I was anxious to try. I just wish I could have ordered some of everything on the menu! Just to mention you can actually have a special feature at Miradoro "Let Chef cook for you". This includes a creation of seasonal dishes and wine experience for your table to share. Dishes selected by the Miradoro team that can be paired with suggested Tinhorn Creek wines.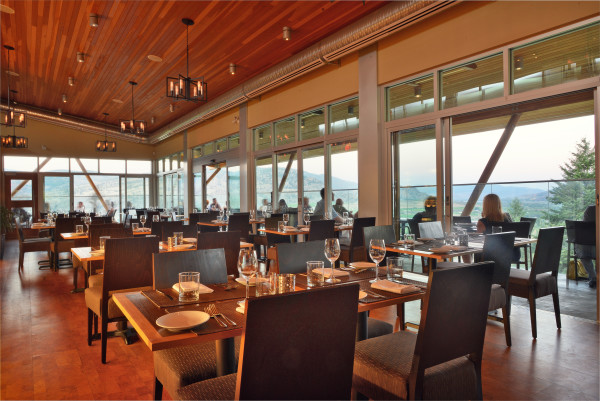 For this evening Sous Chef Ian Stilborn was at the helm and he did just a terrific job. We started with a cocktail for him and a glass of Gewürztraminer for moi. Couldn't resist diving into the house baked bread dipped in a mix of olive oil and sherry vinegar. Very tasty and so good I had to be careful not to fill up.
We opted to share the Salad of Willowbrook Kale with Caesar dressing, pumpkin seeds and the tastiest pickled egg ever (hard cooked, peeled and mariniated in a flavourful balsamic vinegar). The salad was oh so fresh, tender and delicious. We shared one salad which the kitchen kindly plated separately for us and it was so good. We appreciated that the kale is locally grown.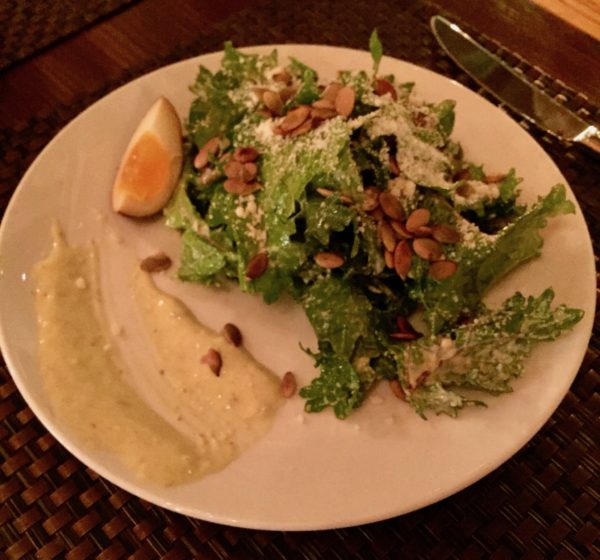 For the wine pairing I strayed from the suggested Tinhorn Creek Pinot Gris and enjoyed the Tinhorn Creek Gewürztraminer.
For our next course one of us (me) opted for a new Fall menu item the Yarrow Meadows Duck Breast with espresso roasted beets (very generous portion), prune sunchoke agnolotti with dark chocolate jus. I am very particular about how my meats are cooked and this one was exactly the medium rare I had requested. Paired with the Tinhorn Creek Innovation Series Whole Cluster Cabernet Franc 2016 which was an excellent choice. A fabulous dish and if you are a Duck lover like me you must have this dish.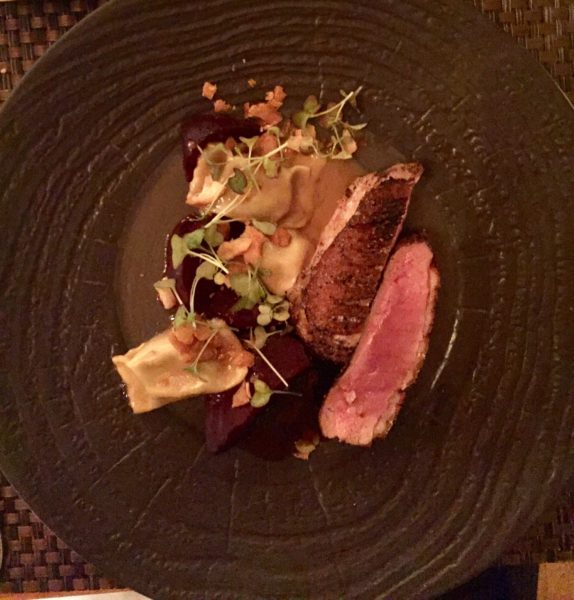 For him who was craving a pasta dish – the Venison Bolgnese, Tomato and Venison sauce, spaghetti all chitarra, parmigiana which he paired with the Tinhorn Creek Cabernet Franc. As expected it was filling so best of all worlds the leftovers go home for the next days lunch.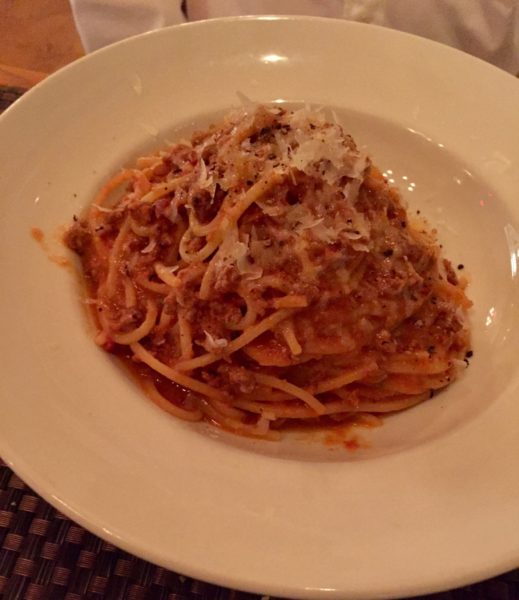 Dessert to share was a house made Tiramisu which was decadently delicious.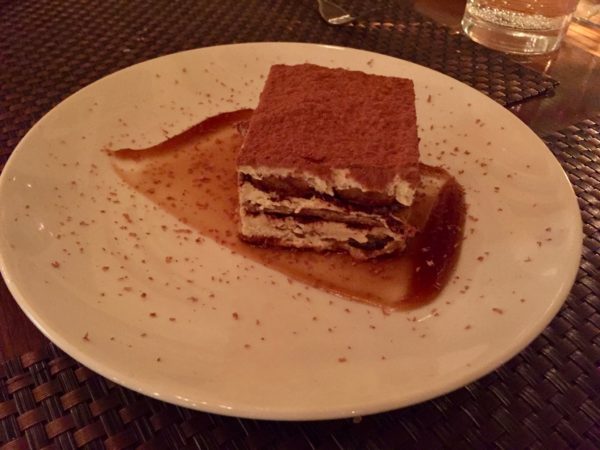 Kicking off their first Long Table Dinner of Autumn with Paella! Cooked over an open grape vine fire, loaded with flavour and always a hit, bring your friends and your appetite. Only $38 per person, call 250-498-3742 or use Open Table: http://bit.ly/2J08IJt to reserve now #longtabledinner #foodlover #MiradoroEats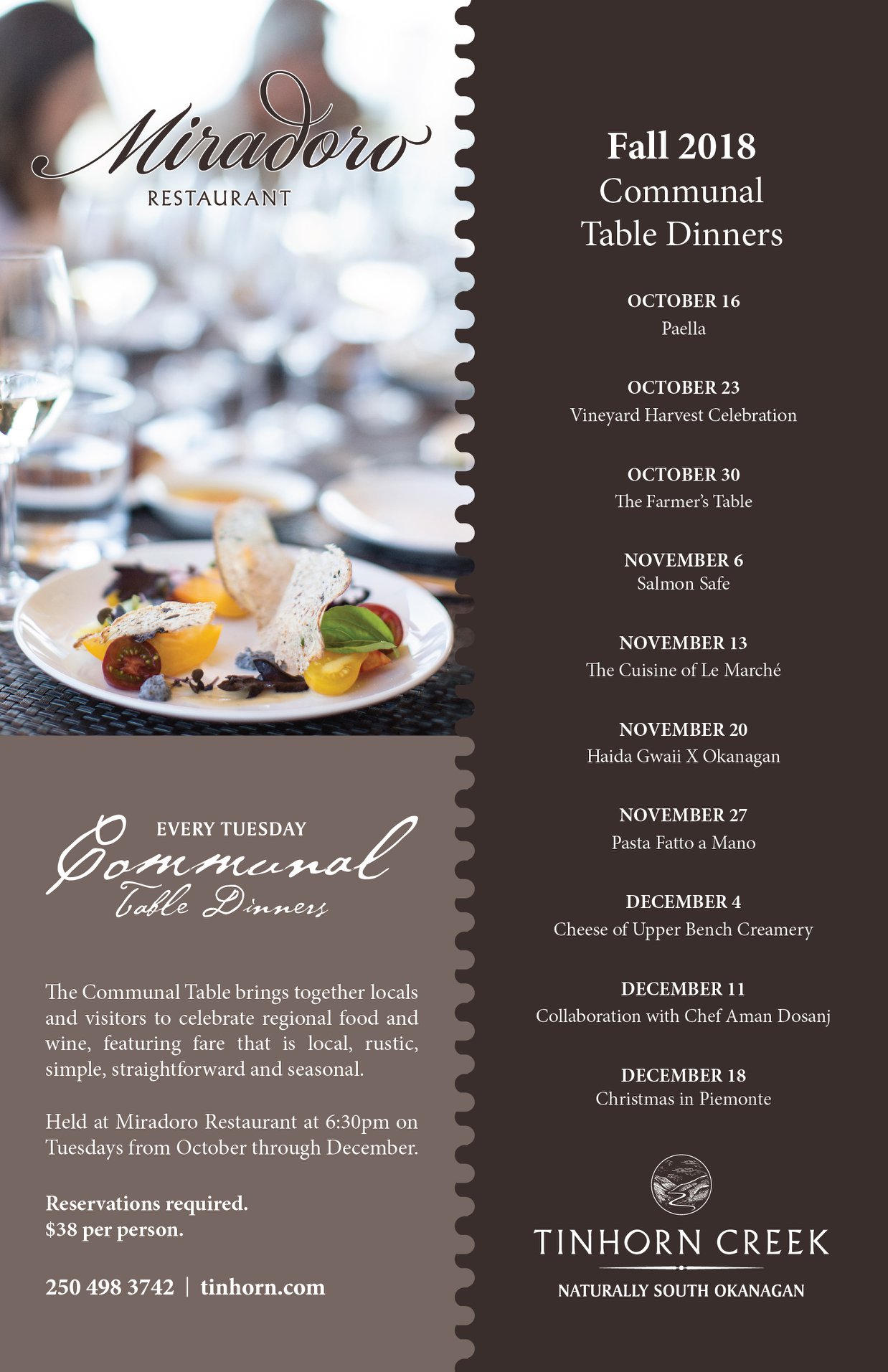 Reservations required
Call 250.498.3742 to make a reservation or email info@

null

miradoro.ca
Miradoro is open for lunch, tapas, & dinner 7 days a week
Lunch – 11:30am to 3pm
Tapas – 3pm to 5:00pm
Dinner – 5:o0pm to 9pm
Miradoro is open 10 months of the year, closed for January & February.
I received a complimentary dinner and use of a Ford vehicle to facilitate my article. All opinions are my own.
We arrived in style in the Ford Canada Escape.