Wild Goose Vineyards truly are a Canadian Icon! Located in picturesque Okanagan Falls no visit to BC Wine Country is complete without a stop at this prolific winery.
For more than 29 years, Wild Goose Vineyards & Winery has been producing premium quality wines that touch the four corners of the Okanagan: Sun, Earth, Fruit, and Family. Owned and operated by the Kruger family, the winery is a complete wine country destination offering vineyards views, spacious tasting room, Smoke & Oak Bistro with al fresco patio, private function room and award winning wines that immerse you within the bouquet of an Okanagan vineyard. Wild Goose spans three generations of family passion.
Here are the wines we tasted on our most recent visit, all except the Autumn Gold were new releases:
Pinot Gris 2018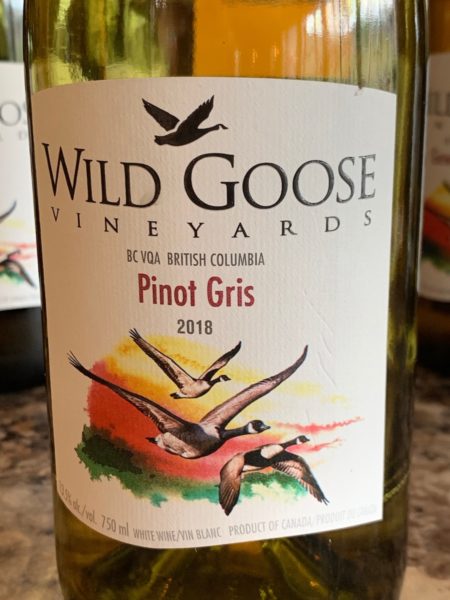 "This Wine Will Make You the Most Popular Person at Dinner Parties!"
BC's most popular varietal! The nose expresses peach and pear while the palate fills your mouth with flavours of melon and honey layered with spicy, earthy undertones, finishing with a hint of spice. A wonderful nose, well balanced and a beautiful finish. $17.39
6 pack Vintner's Club Member Price per bottle: $15.65
12 pack Vintner's Club Member Price per bottle: $14.78
Stone fruit scents of peach and fruit salad. "Heaven in a glass" Light but slightly sweet with a tang. Lighter acidity than the Riesling.
Admittedly I enjoy all of the Wild Goose wines and this light, easy drinking Pinot Gris is no exception. Think summer on the patio, with friends or for a little alone time while enjoying a good book.
Gewürztraminer 2018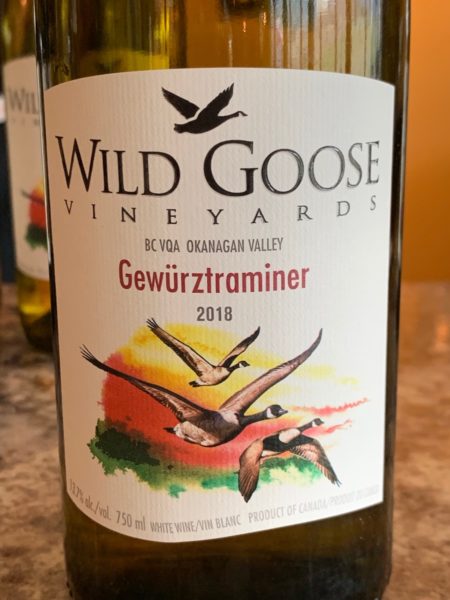 One of BC's Most Popular GT's
The winemaking team sourced the best grapes from throughout the valley, from Oliver to Kelowna. They were kept separate until blending, when they were blind tasted and the top three were used to make this aromatic wine. This floral wine has a bouquet of grapefruit, lilac, orange tea and cloves with elegant flavours of peach, apricot and spice all balanced by crisp acidity. $17.39
6 pack Vintner's Club Member Price per bottle: $15.65
12 pack Vintner's Club Member Price per bottle: $14.78
Floral scents, rose, dusting powder, feminine. More full flavoured than I expected, great acidity, candy with a deep sweetness.
I wasn't surprised that at the end of the day this flavourful, fruit forward Gewürz became my favourite, at least for now. I did choose the Gewürztraminer at the Spring Tasting even though I had been regularly drinking Autumn Gold almost exclusively. One of the great things about Wild Goose wines is that they are affordable enough you can change your mind and switch up your favourites. A flexible commitment. Interesting though how your taste can change, it pays to be flexible.
Autumn Gold 2017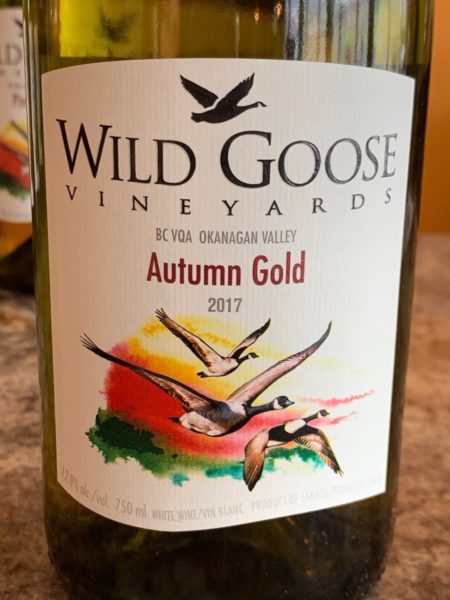 Our Secret Blend of Deliciousness
One of Canada's most popular white blends, Autumn Gold is equal parts Riesling, Gewurztraminer and Pinot Blanc. This is a clean, crisp, white wine that carries aromas of orchard fruit, spiced apple and citrus. The soft and round palate will taste spice, candied ginger, and a hint of rose balanced with crisp acidity. The amazing fruit makes it the perfect wine to have on the patio with lots of family and friends, or at traditional festive gatherings where you are roasting a big bird! $17.39
6 pack Vintner's Club Member Price per bottle: $15.65
12 pack Vintner's Club Member Price per bottle: $14.78
Heavier body, richer with light acidity and a deep sweetness.
We couldn't agree more with the declaration of a blend of deliciousness, secret or no we  are just glad they keep making it so consistently good. This was my last year's "go to" wine and I'm pretty sure it will be my favourite again as the season turns chilly. Love this one with winter comfort food or curled up on the sofa beside a roaring fire. Can't beat it!
Riesling 2018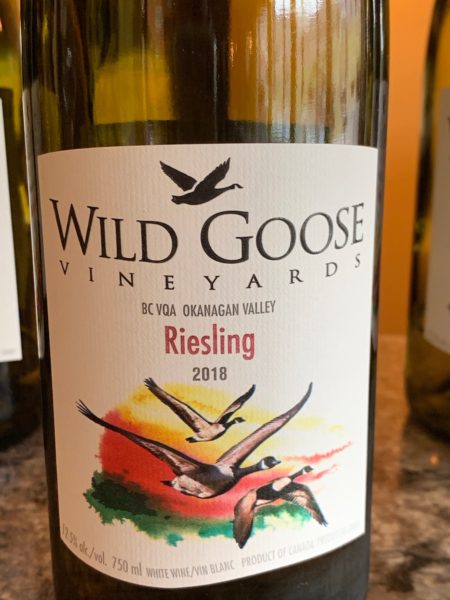 A Wild Goose "Classic" Circa 1984
This fruit forward Riesling comes from Estate grown grapes, including the 34 year old Wild Goose Vineyards, and the 12 year old Secrest Vineyards. Careful vineyard management and hand harvesting allows the wine to express not only the vine's age but also the unique soil in which they grow. This wine can be cellared for 5-10 years, peaking around 3-5 years. Sweet reserve is added to balance the refreshing racy acidity, a "classic" method of winemaking. The nose shows aromas of floral, spice and apricot, while flavours of minerality and citrus follow. $17.39
6 pack Vintner's Club Member Price per bottle: $15.65
12 pack Vintner's Club Member Price per bottle: $14.78
Sweet, flavourful aromas, good legs, very floral and sweetly smooth but not too sweet. Citrus notes with great acidity.
Being makers of Alsace style wine we expect nothing but the best Riesling and this one delivers. I often refer to a riesling as my favourite but as you can no doubt tell when it comes to Wild Goose I have way too many favourites. You can always count on the Wild Goose Riesling to be what you are expecting in this varietal. If you enjoy a standout Riesling this is for you.
Sauvignon Blanc 2018
Our first Sub-Gi wine
This is our first Sauvignon Blanc and our first Sub – Gi wine. 100% of the grapes used in this crisp and aromatic white wine come from within the boundaries of the Okanagan Falls Sub Geographic Indication. More tropical fruit than Okanagan orchard, the nose shows mango and dragonfruit with herbacious notes. The palate lingers with mango, grapefruit and lemon peel. And don't get us going on the finish…..long. long and and even longer. $20.00
6 pack Vintner's Club Member Price per bottle: $18.00
12 pack Vintner's Club Member Price per bottle: $17.00
Nice complex aromas. Light, but not too light, not swet but not tart. I found this wine to have good acidity with medium level of fruit flavour. Very nice.
This is great news for BC wine lovers. The Okanagan Falls Sub Geographic Indication is just another forward step in the process of recognizing BC wines as the world class wines they are. Read more about the Sub GI here.
Red Horizon 2017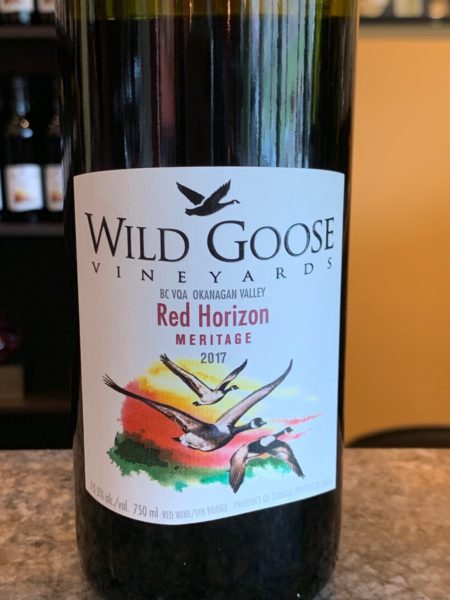 The Pursuit of Meritage Perfection
A classic Bordeaux style blend of estate grapes; 50% Merlot, 25% Petit Verdot, and 25% Cabernet Sauvignon. With intense dark colour, this mouth-watering Meritage incorporates well integrated silky tannins and a luscious mouthfeel, expressing the wine's fine aging ability. With aromas of pepper, dried fig, cherry, dark fruit, cassis, followed by flavours that hint of licorice, leather, chocolate and smoke. Using a combination of American and French oak this wine is great now, incredible in 5 years time! $24.35
6 pack Vintner's Club Member Price per bottle: $21.92
12 pack Vintner's Club Member Price per bottle: $20.70
Cherries, cranberries and a slight oakey flavour perhaps because of the use of French oak. Deep, rich, delicious and jammy. Wow.
A rich, bold version of Meritage with light tannins and dark fruit flavours. Before you taste be sure to take a moment to lose yourself in the escense of this ripe, juicy red wine. Our sense of smell is an indicator of what's to come and you don't want to waste a minute of enjoyment with the Wild Goose Meritage.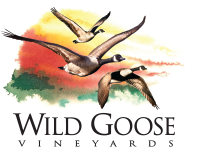 About Wild Goose Vineyards
It all began in early 1983 when founder Adolf Kruger purchased a barren piece of land east of Okanagan Falls. Upon his return to his newly purchased property he discovered a large flock of Canada geese feeding amongst the tumbleweeds, boulders, and rubble. As he approached, the flock of geese took flight and flew to the north.  This vision inspired Adolf to call the property Wild Goose Vineyards.
Adolf first planted Riesling and Gewurztraminer; he quickly secured a contract to sell the grapes to Mission Hill Winery. Over the next few years Mission Hill produced outstanding wines from these aromatic grapes. In the late eighties Adolf and two other parties formed a plan that would allow smaller wineries to make wine using grapes grown on site that could be sold through the "farm gate".  After much lobbying and persistence the farm gate winery was born in British Columbia.
Wild Goose Winery was the seventeenth winery in BC and was established in June 1990.  The winery started producing Riesling, Gewurztraminer, and Marechal Foch. Consumers quickly took to the concept of small wineries and flocked to the Okanagan Valley to spend time on the beach, play a little golf, and tour wineries.  Over time Wild Goose would establish itself as one of the premium small producers of VQA wines.  Customers turned to friends and many still to this day visit the winery and the Kruger family.
Okanagan Falls Sub-Geographical Indication
The new Okanagan Falls sub-GI incorporates the area immediately south of the village of Okanagan Falls, east of the Okanagan River along Highway 97 and to approximately 500 metres elevation. Okanagan Falls is a sub-GI of the Okanagan Valley, covering an area just under 2,000 acres (800 hectares). It is estimated there are approximately 370 acres (150 hectares) of vineyards within the area.
The sub-GI is located on the east side of the Okanagan Valley giving long afternoon sunlight with cool mornings. Cool air from higher elevations flows into the region at night keeping night time temperatures low and therefore retaining acidity. Chardonnay, Pinot Noir and Pinot Gris account for roughly 75% of the planted acreage in the area.2
There is more than wine making going on here. Next time you drop by the Tasting Room think about having lunch, dinner or just a snack at Smoke & Oak Bistro at Wild Goose Vineyards. People rave about the ribs! I've had the pleasure of joining them for dinner. Super spot and I loved the patio seating with vineyards views. A talented chef supported by a friendly, personable team.
Looking at the line-up of Wild Goose wines it looks like a return visit will be in the offing. I still have some varietals I haven't tasted yet.
Our full review of the Okanagan Falls and Skaha Lake Spring Release Wine Tasting 2019.
Did you know you can enjoy your tasting at the Bistro. Please inquire and make arrangements in advance. Smoke & Oak Bistro also has a takeout menu.
For Bistro reservations, please call 250.497.8919 ext. 3 or 1.877.497.8919. If we can't answer right away, please leave a message and we will get back to you shortly.
Southern "Okanagan" BBQ in the heart of the Valley!
Visit us for a new spin on casual dining. Enjoy the vineyard view from our tasting room patio while you dig into some amazing appetizers and salads, local meats on the smoker, flatbreads, and creatively inspired sandwiches. The Wild Goose Bistro team believes in using local products and flavours in new ways to bring the world of cuisine to Okanagan Falls.
Take a culinary trip around the world with a menu inspired by the fiery heat of South American and the smoke flavours of the Southern USA, all tied together through the freshness of local ingredients. Vineyard cuttings and wine barrels are used to smoke our meats in an authentic competition worthy smoker, imported directly from Tennessee.
At Smoke & Oak we create food for everyone, whether it is hearty and filling or light and savoury. The Bistro team and three generations of winemakers at Wild Goose welcome you to the winery to share a table and a glass of wine with your friends and family, in a fun, family friendly BBQ environment.
Wheelchair accessible
Patio dining
Wine, beer, cider and non-alcoholic beverages available
Catering available
Reservations highly recommended for tables of six or more

OPEN WEDNESDAY – SUNDAY  12:00 noon – 8:00 p.m.
Heed the call of the wild, dust your feathers off and shake-a-leg to these fantastic upcoming events:
June 22 Hector Anchondo
July 27 Crystal Shawanda
August 16 Sue Foley
September 27 MeatStock2019
Visiting Okanagan Falls this year? See more info and link to tickets for the Wild Goose upcoming concerts here.
When visiting BC Wine Country, before you go: Do your homework and a bit of research about the wineries you wish to visit. Check the winery website to find out their months, days and hours that their Tasting Room is open. Know if you need to book your tasting in advance of your visit. Many wineries are now so busy there may be times that they are unable to accommodate you. It will be a much better visit if you have a confirmed appointment. Be on time. Expect to pay for your tasting, some, but not all wineries refund all or a portion of the fee if you purchase wine. Plan ahead for a designated driver or use the services of a wine tour company. Limit the number of wineries you visit in a day. A more leisurely timeline will increase your enjoyment. For the best overall experience, I like to limit my daily visits to three, maximum two wineries if a winery lunch is on the agenda.
Tasting notes, winery and bistro information (in italics) and feature image courtesy of Wild Goose Vineyards. All images, except as noted MyVanCity. I received a complimentary tasting and dinner for myself and a guest. We left a gratuity equal to 20%. I purchased a case of Gewürztraminer at wine club price. All opinions are my own.
[wdi_feed id="2″]