Making superb German style wines that never disappoint. I am truly a big fan of this style of wine and especially the wines of Wild Goose Vineyards. Definitely some of our #FavouriteThings Holiday Gift Suggestions, just don't ask me to pick just one! As a matter of fact my very own personal favourite varies with the season. Sometimes it's Autumn Gold which I love to sip next to a roaring fire with a good book for company. In the spring it can be either Pinot Gris or their Gewürztraminer. I enjoy them all year round and I definitely personally recommend any of these wines.
Whichever one you choose you can't go wrong with Wild Goose wine. Every wine is good and consistently true to it's varietal. Not to mention the price points are terrific, but maybe we should keep that a secret. Enjoy these wines this holiday season and remember they make great host/hostess gifts, just be sure to gift one or more to yourself. 
2018

 

Riesling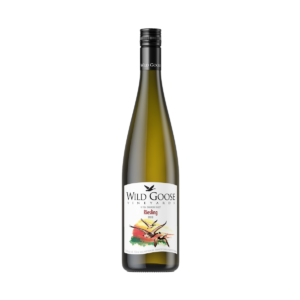 A Wild Goose "Classic" Circa 1984  
This fruit forward Riesling comes from grapes grown throughout the Okanagan Valley, including the 35 year old Wild Goose vines and the 13 year old Secrest vines. Care-ful vineyard management and hand harvesting allows the wine to express not only the vine's age but also the unique soil in which they grow. This wine can be cellared for 5-10 years, peaking around 3-5 years. Sweet reserve is added to balance the refreshing racy acidity, a "classic" method of winemaking. 
2018

 

Pinot Gris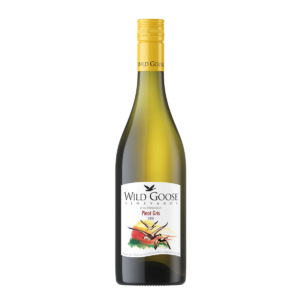 Okanagan Valley  
BC's Most Popular Varietal…For a Reason!  
The tradition of excellence in Pinot Gris wine production continues with this 2018 vintage. Sourced from a team of long time experienced growers throughout the valley. True varietal character from the lengthy and hot Okanagan growing season of 2018. The nose expresses peach and pear while the palate fills your mouth with flavours of melon and honey, layered with spicy, earth undertones, finishing with a mouth watering crispness. A remarkable rendition of a Pacific Northwest Pinot Gris. 
2018

 

Gewürztraminer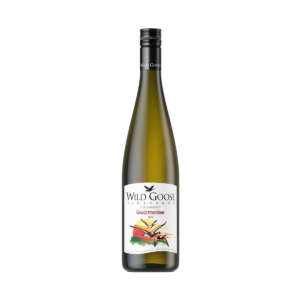 Okanagan Valley
One of Wild Goose's most awarded signature wines 
The winemaking team sourced the best grapes from throughout the valley, from Oliver to Kelowna. Kept sepa-rate until blending, they were blind tasted and the top three were used to make this aromatic wine. The 2018 has a dominant nose of grapefruit, lilac, orange and spice. The Okanagan is known for many of its stellar white wines and this wine is setting the stage for Gewürztraminers. 
2018 Autumn Gold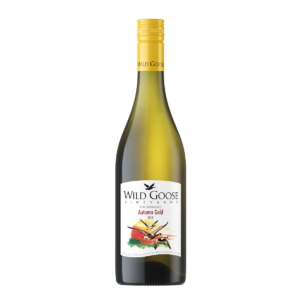 Okanagan Valley 
BC's Original Premium Blend 
One of Canada's most popular white blends, Autumn Gold is a premium blend of Riesling, Gewürztraminer and Pinot Blanc. This is a clean, crisp, white wine that carries aromas of orchard fruit, spiced apple and citrus. The soft and round palate tastes of orange, candied ginger, and a hint of rose, all balanced with crisp acidity. The amazing fruit makes it the perfect wine to have on the patio with family and friends, or at traditional festive gatherings where great foods and good times are being served. 
2017

 

Red Horizon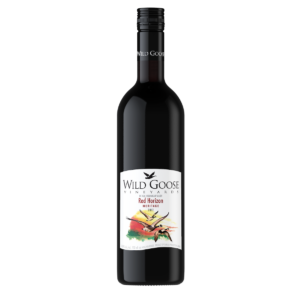 Okanagan Valley 
One of BC's Favourite Meritage Blends 
A classic right bank Bordeaux style blend of estate grapes grown at our Secrest Vineyard in Oliver and our Kerry Hill Vineyard located in Okanagan Falls; Merlot, Petit Verdot, and Cabernet Sauvignon. This is our seventh vin-tage of Red Horizon, produced from grapes grown in the amazing 2017 growing season. This Meritage was aged for 14 months in American and French oak barrels. Beautiful aromas of ripe raspberry and cherry, with hints of toasted oak. Soft and silky tannins compliment the well balanced acidity, expressing the wine's fine aging 
2017

 

Black Brant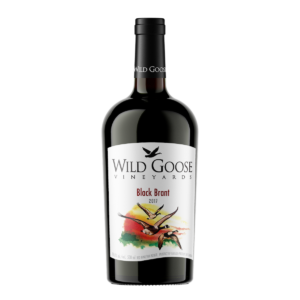 Okanagan Valley 
Our Amazing Port Style Wine 
Named for the graceful Brant goose, this sea bird stops regularly in Qualicum Beach on Van-couver Island on its annual journey between Alaska and Mexico. Like the goose, this wine makes a short stop at the winery every fall. This classically fortified, port-style wine is made us-ing traditional methods and natural grain dis-tilled spirits. Beautiful as an aperitif or digestif, this drink will keep you warm throughout the winter months. 
About Wild Goose Vineyards
It all began in early 1983 when founder Adolf Kruger purchased a barren piece of land east of Okanagan Falls. Upon his return to his newly purchased property he discovered a large flock of Canada geese feeding amongst the tumbleweeds, boulders, and rubble. As he approached, the flock of geese took flight and flew to the north.  This vision inspired Adolf to call the property Wild Goose Vineyards.
Adolf first planted Riesling and Gewurztraminer; he quickly secured a contract to sell the grapes to Mission Hill Winery. Over the next few years Mission Hill produced outstanding wines from these aromatic grapes. In the late eighties Adolf and two other parties formed a plan that would allow smaller wineries to make wine using grapes grown on site that could be sold through the "farm gate".  After much lobbying and persistence the farm gate winery was born in British Columbia.
Wild Goose Winery was the seventeenth winery in BC and was established in June 1990.  The winery started producing Riesling, Gewurztraminer, and Marechal Foch. Consumers quickly took to the concept of small wineries and flocked to the Okanagan Valley to spend time on the beach, play a little golf, and tour wineries.  Over time Wild Goose would establish itself as one of the premium small producers of VQA wines.  Customers turned to friends and many still to this day visit the winery and the Kruger family.
Award-winning winemaker Hagen Kruger's approach to winemaking has been to grow the highest quality fruit and then transfer this quality into ultra-premium wines.  Year after year Wild Goose wines have exhibited the best that Mother Nature has to offer.  From carefully grown grapes to the delicate bottling process; Wild Goose wines are benchmarks of British Columbia winemaking at its best.
All information, tasting notes, and images courtesy of the winery. I received one complimentary bottle of each wine to facilitate this feature. Any opinions are my own.