Mayhem Wines are definitely on my #FavouriteThings list of British Columbia Wines just because I love them. Why? All the MayhemWines I have tasted are typically BC flavourful, fruity, acidic, light without being too light, easy drinking, fun, great for pairing and sharing, and best of all really affordable. Read my previous review of Mayhem wines here.
Give the Gift that Keeps on Giving – A CLUB MAYHEM Wine Club Membership.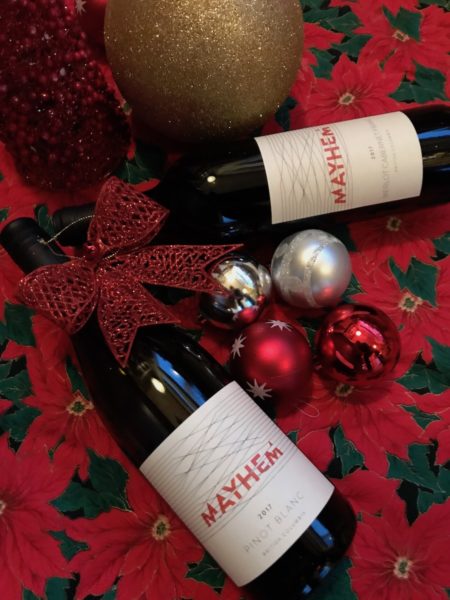 Sign-up your loved one, best friend, kid's teacher, your singing instructor, a neighbor, anyone really, for the Mayhem Wines wine club and the receiver will have 6 wines shipped to them twice per year showcasing the spring and fall releases. They can also choose to add in a few for that great person that signed them up in the first place!
Club Mayhem is a great club, that's not really a club, it's more a gathering of friends who love wine.   Break all the rules! No fees to join, pick the wines you want, and attend fun wine club pick up parties. And the best part? 10% off all additional wine orders all year round!
Just send an email and Club Mayhem will be in touch to help you with the gift package, or to sign you up! They even have a club pack shipping out this month, all you need to do is put a bow on it and put it under the tree. 
Can't wait to give the gift of Mayhem wine, check out our personal recommendations for Mayhem Wines you can purchase and give now.  We suggest the 2018 Gewurztraminer or 2018 Riesling to pair with turkey dinners for the Christmas season and 2017 Merlot Cabernet Franc for the red wine lovers.
2018 Gewurztraminer
These grapes are from vines that were planted in 1994 from cuttings of a German variety. Whole cluster pressing was used on the grapes to retain their delicate aromatics. These aromatic traits were highlighted further by employing an aromatic yeast strain during fermentation. The wine was racked off its fermentation lees and left to settle on its fine lees for a short time before bottling. $15.65
The nose opens with classic lychee and rose notes, with a touch of ginger and a kiss of coconut.
On the palate the lychee follows through accented by clove, mandarin and grilled pineapple.
2018 Riesling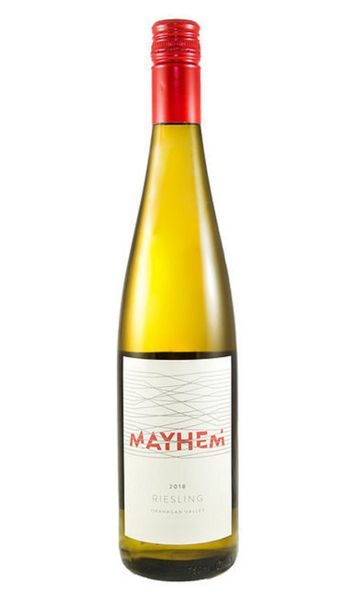 The Riesling was handpicked at a vineyard in Summerland. It landed on the crush pad at 23Brix where is was loaded straight into the press for whole cluster pressing. After a period of cold settling it was inoculated with a single yeast strain undergoing a long slow cool ferment. It was racked off its lees, left to settle, and filtered just before bottling. $18.26
On the nose there is a prominent lemon note with softer pineapple and peachskin notes. The palate bursts with Granny Smith apple, lemon and lime, peach and notes of minerality. Bone dry with a thrilling finish.
2017 Merlot Cabernet Franc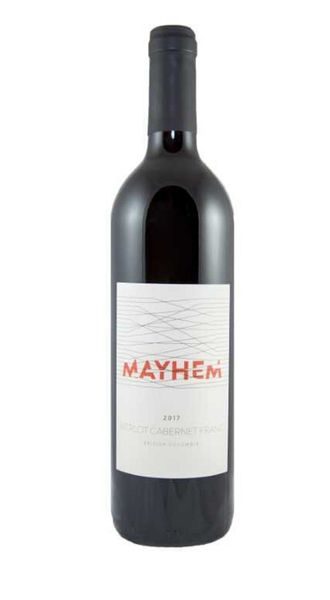 75% Merlot/25% Cabernet Franc.
A portion of the Merlot was sourced from one of our home vineyards on Anarchist Mountain, Osoyoos BC, along with a grower vineyard in Oliver. The Cabernet Franc grapes were sourced from the Naramata Bench. Each variety was processed separately and aged in a combination of new and seasoned French oak for nine months before being married together in the final blend. $21.74
The nose reveals herbaceous notes of sage and eucalyptus, followed by hints of wet forest floor, leather and a medicinal quality. A baked cherry bouquet also shows through on the fruit forward palate with juicy red berries and plum. It finishes with a light hint of herbaceousness, integrated tannin structure, and a lingering finish.
"Every life well-lived should have a little Mayhem"
Terry Meyer Stone along with her brother JAK Meyer and their spouses, Andrew Stone and Janice Stevens, respectively, are excited to launch their new custom crush wine project: Mayhem Wines Inc.
Terry and JAK have been crisscrossing each other and their own wine businesses over the last decade. Both wanted to grow their own brands, but quickly realized that they were becoming each other's competition with regards to their Chardonnay and Pinot Noir production. Over a glass of wine one evening contemplating how each party's desire for expansion could be met, the seed for launching Mayhem Wines was planted. There seemed to be a great opportunity that existed to work together to create a new brand. JAK claims this was his great idea; Terry claims it was her brainchild. The answer is we will probably never know the truth!
Bottle shots and tasting notes courtesy of the winery. I received complimentary wine in order to facilitate this feature. All opinions are my own.
[wdi_feed id="2″]