Winemaker's CUT: The World is Waking Up
Okanagan winemakers, Michal and Martina Mosny met with me at Murchies Tea & Coffee house last spring when they were visiting Victoria. I looked up from my laptop and was struck by how they're both animated by youthful energy, a kind of hopefulness, tempered by Old World grace. Although it's been seven years since they left their boutique winery in Slovakia, close to Dolna Krupa, a village where Beethoven is believed to have written the haunting, "For Elise," they still are accompanied by a lovely European charm.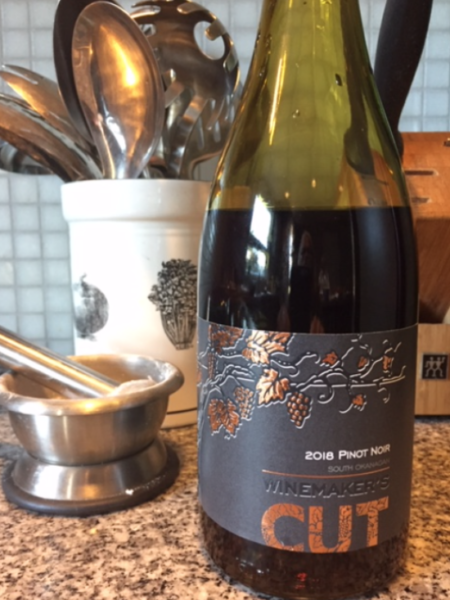 My husband and I had tried the Pinot Noir 2018 from their new, and thus from their own label, Winemaker's CUT, and I couldn't wait to hear all about the brave and exciting move from styling award-winning wines for others to becoming winery owners themselves. Their new Pinot Noir tasted of the huckleberries we used to pick for pies on Seymour mountain when we were kids. It had a layer of cassis and the slightest hint of toasted sesame. There was a lingering cinnamon as well. We drank it along with barbequed brine and fennel pork chops from Farm and Field. Trained to almost-performance level in the Royal Conservatory of Music program, I deferred to my husband about what piece of music the Pinot Noir evoked. He paired it with Schubert's Piano Sonata No. 21 in B flat because, he said, it had a lovely matching elegance. Another night, we tried the 2018 Rosé, a Cabernet Franc and Syrah blend. We found flavours of nectarine and lychee accompanied by a fresh scent of pink grapefruit and orange blossom. We decided it would be the ideal wine to drink with zucchini flowers that the Italians batter and fry in olive oil. My husband paired the Rosé with the equally delicate Aeolian Harp by Chopin Etude Opus 25 no. 1.
Only when we drink wine made by Michal and Martina do we try to find the corresponding music as it is so integral to their process. As Michal has explained to me "classical music is the thread that binds our vineyard, winemaking, and winery philosophy." Martina chimes in, as they are the kind of couple who listen attentively to one another, but also can easily finish one another's sentences or round out one another's ideas. "We believe strongly in the positive effects of music, as it helps us to find balance between nature, humanity, and the energy around us." Michal adds that the grapes "benefit from the sound vibrations and frequencies of classical music." They see the wines as having unique character and so they seek harmony in the process from vine to wine. A lot of thought goes into pairing the wines with the right composer.
Michal and Martina's approach to nature, humanity and energy reminds me of what ancient thinkers called "the harmony of the spheres." This was a philosophical concept that regarded proportions in the movements of celestial bodies—the Sun, Moon, and planets—as a form of music. It wasn't thought to be audible to humans, but existed as a harmonic mathematical and divine concept. These ancient theories are put into practice at Winemaker's CUT where, as Martina puts it, "we time our practices based upon lunar and cosmic rhythms. The calendar is then about a balanced energy between ourselves and our vineyard."
When we met for coffee that spring morning in Victoria, I had been reading Thus Spoke the Plant by Australian scientist, Monica Gagliano who sees her book as a phyto-biography, phyto being the Latin root for plant. I had also been reading The Hidden Life of Trees by German arborist, Peter Wohlleben, that put into words the harmonious community and communication that unfold hidden to us in forests. With nature on my mind for a variety of reasons, I felt privileged to hear first-hand the story of how the Mosnys had bought and created their own Okanagan vineyard, Winemaker's CUT where they could fulfill their mission of growing, styling and blending wine synchronized with nature. Instead of trying to control or dominate nature with pesticides, herbicides or other artificial interventions, the Mosnys offer the utmost respect to nature using sustainable farming practices that show their deep, abiding love for the plants. As Michal shared with me that day, "winemaking is a way for us to express our conscious awareness of, and our love for the planet."
In a sense, what brought us together that spring morning was a recognition of the spirit in nature which in our different ways we try to reflect back through our creative work – writing in my case and winemaking in theirs. The very name "Winemaker's CUT" conveys an analogy with the way in which a director edits a film, produces 'the director's cut,' and it also speaks to the process in writing whereby words and sentences are pruned much like vines.
When I ask Martina and Michal to describe where exactly their new vineyard is located, I suddenly feel as though I have been transported into a fictional world. The vocabulary itself seems to belong to a magical place: Just south of Oliver, it lies at the entrance to the Golden Mile, with two natural wetlands, and it's between Deadman and Spotted Lake. First Nations call Spotted Lake, Kliluk. It's rich in minerals, sacred to First Nations for culture and medicine. It's been used in healing ceremonies for thousands of years. Beneath lies an extinct volcano. Shale and schist infuse the soil, and thus the wines with minerality.
I look up Spotted Lake and find out from a 2016 article in the New York Times by Joanna Klein that it's thought of by scientists as a "terrestrial analog" to ancient lakes on Mars. I watch a video taken by a drone flying over it and agree with the writer that it looks "otherworldly." An article in a 2013 The Osoyoos Times by Richard McGuire notes that the Okanagan people, who have lived on this land for thousands of years see Spotted Lake as "a very spiritual place." Interpreter with the Nk'mip Desert Cultural Centre, Bob Etienne explains that Spotted Lake is "the grandfather" of the lakes. In an echo of what Michal and Martina have shared with me this morning, Etienne explains, in offering prayers and purifying sagebrush smudge, we "want to respect the land that we're on and the things within it, everything in our territory."
Michal says the story is that Deadman's Lake looks like a dead man, but from all aerial photographs they've looked at, there's no resemblance. However, he adds, it is at a dangerous turn in the road and there are many accidents. Sometimes called "Deadman Lake vineyard," at other times, the Mosnys' new vineyard will be referred to by locals as "Steven's Farm" which has been owned by the same family since 1926. This farm initially drew Michal and Martina with its high grass and seemingly wild cherries, peaches and pears that had such intense flavour it reminded them of the fruit in Europe. Martina tells the story of her five year old niece visiting from Slovakia and ordering an omelette in a restaurant. The niece refused to believe that it was truly made of eggs because it tasted so different from what she was used to.
Trained in traditional winemaking techniques, Michal and Martina were excited rather than turned off by the fungus they saw on the grapes from Steven's Farm. They instantly recognized that this fungus, although it made the grapes look ugly, was also the exact component that would transform a bottle of Syrah into an austere wine full of tannins and structure. Top restaurants in Vancouver, Victoria, Kelowna and beyond agree. If you want to buy Winemaker's CUT by the glass you can find it at Vij's or Chambar, OLO or Zambri's, Fresh Start Kitchen or RauDZ.
The 2018 Rosé from their new winery has already been showcased by Nikki Bayley in BC Living. It's now sold out. Equally impressive, Winemaker's CUT has already been included by Garagiste North—chosen by London Financial Times as one of the top five new festivals in the world—as one of the "coolest small lot wineries in BC." Oh, and the Gruner Veltliner has sold out too so you'll have to move quicker next year. When we tried the 2018 Gruner Veltliner, an Austrian grape rarely found in Canada, it had the scent of key lime and sun dried grasses. The mix of flavours had the richness of Marcona almonds, the brightness of pear, and the sweet tartness of blood orange. We asked for tasting notes on the 2017 Syrah from the pros, Jessica and Tom, who own Farmer's Daughter – Fromagerie, Bistro and Wine Bar in Sidney, BC.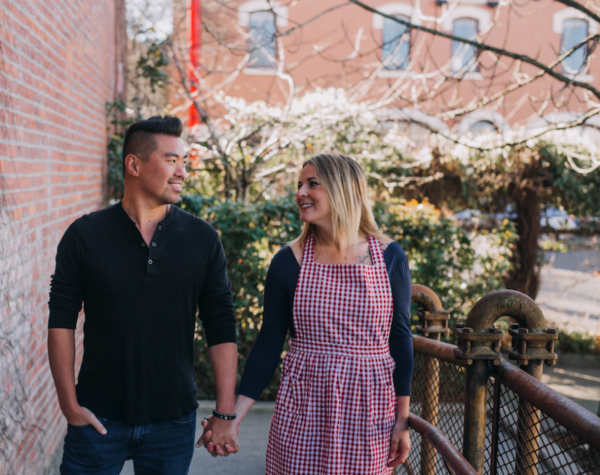 Tom and Jessica are ideal because not only are they cheese and wine experts, but they also express their love of literature in naming their flights of wine after their favorite books which just happen to be my favorite books! You can choose to have a flight of wine that pairs with Ulysses or Remembrance of Things Past or the Divine Comedy, or The Great Gatsby. Their response to the Syrah: "pomegranate, earthy, forward, smooth, spice, tannins, blackberry." It made an ideal companion to the delicious cheese and charcuterie plate Jessica assembled to compliment it. 
Reflecting on my conversation with Michal and Martina about winemaking as a way to honour nature, the fury and grief of child climate activist, Greta Thunberg, ring in the air. At the age of 16, Greta has captured the world's attention and is speaking on an international scale to defend the planet. She attributes "her persistence to Asperger's Syndrome." We categorize Asperger's as a disability when in fact, as Greta demonstrates, this fresh way of being and thinking can be a powerful agent of change. It is as Martina said, all too often we see fungus on grapes and misinterpret it as tainted when in fact it's the key to remarkable wine. 
Nk'mip translator, Bob Etienne gives offerings and purification to Kliluk or Spotted Lake because it brings him a "fresh perspective" and in the crisis between industry and environment, we and the planet are crying out for a fresh approach. The First Nations for thousands of years and now Winemaker's CUT have found a way to work with the land in a sustainable way and we are sharply aware that our present treatment of the earth is not sustainable. It is time to bring to the table those who depend on industry to make a living and the scientists who have documented that we will destroy our home if we do not make significant change. We need to ensure that there are other ways to make livelihoods, sustainable ways to power our world, alternative sources of energy that do not harm our climate. As Michal says, all of us must join him and Martina in contributing in such a way that we "express our conscious awareness of, and our love for the planet." 
Further Reading and Resources
Winemaker's CUT website
"The Other Worldly Polka Dots of Spotted Lake." New York Times.
https://www.nytimes.com/2016/07/21/science/spotted-lake-british-columbia.html
"'Grandfather' of Lakes, Spotted Lake is Sacred Place for Okanagan People." Osoyoos Times.
https://www.osoyoostimes.com/grandfather-of-lakes-spotted-lake-is-sacred-place-for-okanagan-people/ 
BC Wine 101: Spring 2019 Edition. BC Living. 
https://www.bcliving.ca/BC-Wine-101-Spring-2019-Edition
The Farmer's Daughter in Sidney, BC.
https://www.thefarmersdaughter.co/
Greta Thunberg's Speech at the 2019 Climate Action Summit
https://www.youtube.com/watch?v=KAJsdgTPJpU
"Family Memoir Explores Childhood of Climate Activist Greta Thunberg"
https://www.dw.com/en/family-memoir-explores-childhood-of-climate-activist-greta-thunberg/a-48592700
Crush: Wine Thriller on Amazon
https://www.amazon.ca/CRUSH-Thriller-Jennifer-M-Fraser/dp/099472991X
Feature image courtesy of the winery.
[wdi_feed id="2″]