Here is a unique idea for both wine lovers and book lovers. This is a book club without being pretentious and no one will ask you mundane questions about your feelings! You are welcome to join in on the social media chat or just stay incognito if that's your preference. Whatever you decide a book and a glass of wine is a great #FavouriteThings Holiday Gift Suggestion.
Innovative and new 'Vines & Spines' monthly wine and book club has now been launched by local BC Winery.  The subscription membership includes a new release book (in paper or audible form) and a bottle of Waterside wine delivered monthly.
Jennifer Marcotte, part-owner of Waterside Winery, is herself an author plus a wine and book lover.  An avid book club member, she thought the Waterside Wines portfolio would lend itself to be paired with a book of the month.  She says 'there's something about opening the pages of a book and escaping into a world that closes the door in our reality for a small time.  Filling ourselves with sensual pleasures such as good wine, quiet spaces, and voices of stories are good for the soul. It gives us rest, and time we deserve after our days.  Being part of a book and wine club allows for connection among people, finding commonality in discussing flavours, words, and experiences. We are proud to be bringing people into a relaxed discussion in today's world.'  Also, it would lend itself to build a community around the book and wine club, with members making suggestions and discussing the books and wines on social media.
Pitched as great for people wanting an online book club, taking the hassle out of making the decision of a book and wine, for people living in remote areas, or those that are time-strapped, to connect and enjoy one of life's great pleasures – curling up with a great book and a glass of wine. Membership fees are charged monthly to a credit card, $40/month including shipping across Canada (where provinces allow), or $30/month pick up from the winery and can be cancelled with one week's notice before shipping.  People can sign up for as little as one month, or month to month, or sign up a friend as a gift.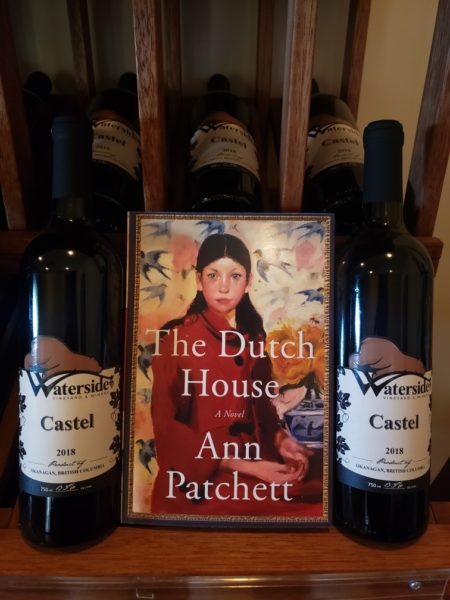 The November 'Vines & Spines' book club pairing is a beauty, warm and rich, a great one to cosy up to by the fire! 'The Dutch House' by Ann Patchett weaves the tale of two smart people who cannot overcome their past. Despite every outward sign of success, Danny and Maeve are only truly comfortable when they're together. Throughout their lives, they return to the well-worn story of what they've lost with humour and rage. But when at last they're forced to confront the people who left them behind, the relationship between an indulged brother and his ever-protective sister is finally tested. The 2018 Waterside Castel is a full-bodied red with an intense deep purple colour, complex bouquet of plum and dark cherry flavors with a velvety smooth finish. Never heard of Castel? They are the only BC winery producing a Castel, it's a French American hybrid grape which is winter hardy and ripens early with good sugar levels, perfect for the North Okanagan!' 
Previous pairings were: 
October – 'Not My Father's Son' by Alan Cumming + 2017 Waterside Pinot Noir 

September – 'Before We Were Yours' by Lisa Wingate + 2018 Waterside Gewurztraminer 

August – 'Out of the Shadows' by T. Nagy/S. Moroney + 2015 Late Harvest Siegerrebe 

July – 'The Tattooist of Auschwitz' by Heather Morris + 2018 Waterside Ruby Rosé 
Nestled on the bank of the picturesque Shuswap River, Waterside Vineyard is located in an outstanding microclimate in the radiant Okanagan Valley. 

While the hot days, cool evenings and impeccable terroir of the region lend their expertise to produce the perfect grape, our viticulturists draw on a generations-old Mediterranean tradition of wine-crafting to deliver a crisp, robust and balanced artisanal wine to your table. 

In 2009 seven acres of vines were planted with six grape varieties, in 2014 the Winery and Tasting Room were opened. 

Kevin Verschoor and Jennifer Marcotte purchased the winery in April 2018 and have brought in three new varietals, and focused on vineyard improvements to increase the quality of the vines and wines. 

Current Estate grown varietals from the Enderby vineyards are Ortega, Gewurztraminer, Siegerrebe, Pinot Noir, Marechal Foch and Zweigelt. 

Waterside Winery Tasting Room is open May – October or by appointment. 

Situated in Enderby, BC, Waterside winery is a scenic 20-minutes drive southeast from Salmon Arm and a 30-minute drive north from Vernon. 

Waterside wines are available from the winery, online, or select

liquor stores

throughout the Okanagan and Lower Mainland in British Columbia. 
For more information please contact: Karen Smith – Marketing Manager Waterside Vineyards and Winery 70 Waterside Rd, Enderby BC V0E 1V3 Phone: 250-306-4820 Email: marketing@nullwatersidewinery.com Website: www.watersidewinery.com Facebook: @WatersideWinery & Instagram: @watersidevineyard
Book club and wine information, and images supplied by the winery. I received a complimentary bottle of to facilitate this article.
[wdi_feed id="2″]