Situated in one of the most picturesque areas of BC Wine Country 40 Knots Winery is one of the growing number of wineries located on Vancouver Island.
On my first visit here a couple of years ago I was amazed at how welcoming the estate is. Guests are not just welcomed but encouraged to walk the vineyard.
You may remember the "David vs Goliath" issue over their name sake wine "Ziggy". Ziggy, their Vineyard whippet, is nicknamed after their estate grape Siegerrebe (zee-geh-RAY-buh), and owners Brenda Hetman-Craig and Layne Robert Craig named this wine in Ziggy's honor. Their Ziggy wine was first introduced by 40 Knots in spring of 2015 from the 2014 vintage.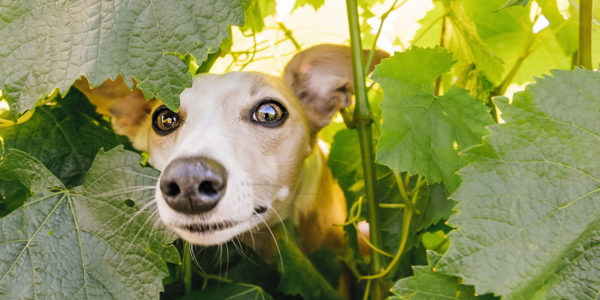 Although a wine named "Ziggy" is not labelled with their name sake any longer you can still buy their wines online and at select fine wine stores. As for Ziggy the dog, he became one of the calendar dogs in 2019. Just look at that face!
Here is a selection of our #FavouriteThings Holiday Gift Suggestions:
2017 Spindrift Brut
Terroir – Salish Sea: Soils consisting of sandy gravelly marine over sandy gravelly morainal leading to schistic clay at 12-16′ depths. Elevation sloping 3° seaward. Hot to moderate day temp, cooling at night from the ocean breeze. Very mild winters, seldom reaching below 0°C.
Wine Making: Traditional method. Grapes are harvested earlier than table wines to ensure a higher acidity. Free run press only to stainless steel. Primary fermentation in tank, secondary fermentation in bottle. Triage minimum 19 months. 24-36 preferred. Riddled and disgorged at low temperature to ensure wine integrity.
Tasting Notes: Lemon gold in colour, honey dew melon aromas backed with delicate toasty bread aromas. The palate shows bright lime and tart apples, bracing acidity with very long length. Pair with island crab and buckets of melted butter.
Auxerrois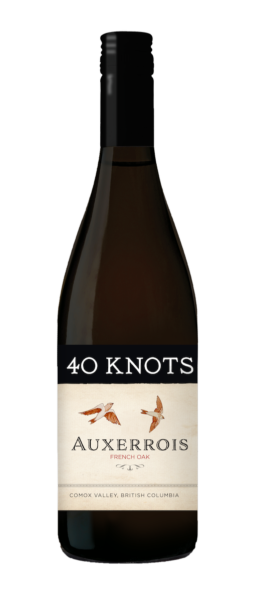 Experience this rare find with fresh seasonal cuisine.  This beautiful wine is lightly oaked, medium body and a big hit mid palate.  Alsational style with pineapple, lemon, lime and pear.  May take on a Riesling character in time.  Rich and oily.
Tasting Notes
If you love food, this juicy well-rounded Auxerrois is your soul mate. Experience this rare find with fresh seasonal cuisine.
Winemaker Notes
Juicy, balanced, big hit of acidity mid palate. Medium body. Loves Food. Alsation style of subtle pineapple, lemon, lime and pear. May take on Riesling flavors in time, of canned pineapple, green apple, tobacco and sage, possibly petrol. Rich and oily.
Pinot Noir 2016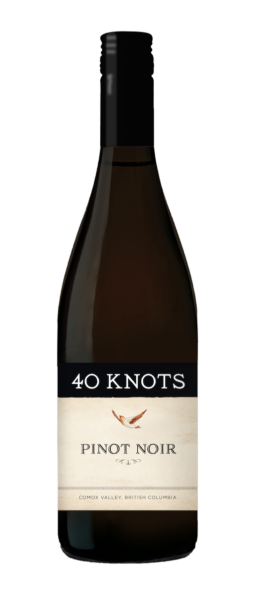 Experience this sought after Pinot only possible in this cool climate with warm days and cool ocean breezes. Enjoy the softness of superior aging with the assistance of rich salt air.  True cool rooted traditional Pinot Noir.
Tasting Notes
Experience the sensuous balance of silky tannins and romantic spice while sliding into the moments of awe.
Awards
Rick Vansickle of Niagara wines says this: 40 Knots Pinot Noir 2016 ($30, 89 points) — A lovely nose of wild raspberry, pure cherry, strawberry, cranberry and light spice. It's silky smooth on the palate with savoury red fruits, cedar and subtle toasted spice notes. John Schreiner says this: 40 Knots Pinot Noir 2016 ($29.90 for 398 cases). The low alcohol (10.6%) gives this estate-grown Pinot Noir a refreshing lightness. It has aromas and flavours of cherry mingled with a peppery spice. 88.
Vineyard Notes
Root stock planted 2005 – 2007 from France on glacier till soil facing the Salish Sea. The perfect climate to this perfect Pinot terroir. Warm days and cool evenings with rich salt air for superior aging.
Winemaker Notes
Pinot Noir developed intense ripe fruit with outstanding concentration and depth of flavors.
Food Pairing Notes
Cheese, chicken, lamb and pork.
L'Orange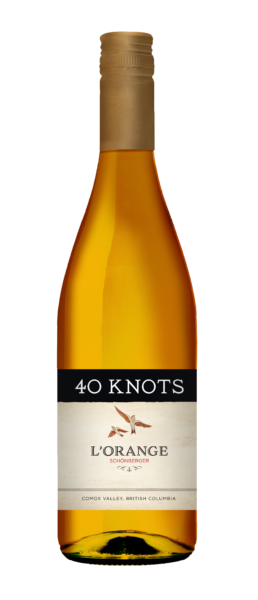 Schonberger and Pinot Gris fermented and aged on skins in Italian Terracotta Amphora.  No intervention, just patience.  When timing was perfect, grapes were pailed from Amphora and screened to stainless without pressing.
Resulting in natural method wine with an angelic nose and intensely complex structures.  Challenge your senses, the notes are too long to list.  No pairing rules.
Tasting Notes
John Schreiner says this: 40 Knots L'Orange 2016 ($36.90 for 126 cases). This is a blend of Schönburger and Pinot Gris, fermented and aged on the skins in a terracotta amphora. The wine is exotic, with aromas of coriander and with flavours of orange zest, oriental spices and even a hint of tobacco. It is dry and crisp on the finish. I am of two minds about orange wines but this wine's clean flavours are quite food friendly. 90. Rick Vansickle of Niagara Wines says this: 40 Knots L'Orange 2016 Bottle #732 ($37, 90 points) — 40 Knots took Schonberger and Pinot Gris grapes and fermented and aged them on the skins in Italian terracotta amphora. Absolutely zero intervention or additives were used to make this natural wine, just patience. When the timing was right, the grapes were pailed from amphora and screened to stainless without pressing. Each bottle is numbered from one to 1,510, which is a clever thing to do since every bottle of this wine will be slightly different because of the naturalness of the way it is made. My review bottle, No. 732, had a gorgeous nose of marmalade, citrus rind, mulled apple, bin peach and tangerine. On the palate this unusual wine displays a tasty broth of fresh orchard fruits, subtle herbs and hops(!) with soft tannic structure that would pair nicely with a range of cheeses and charcuterie.
4 pack of 1/2 bottle Rose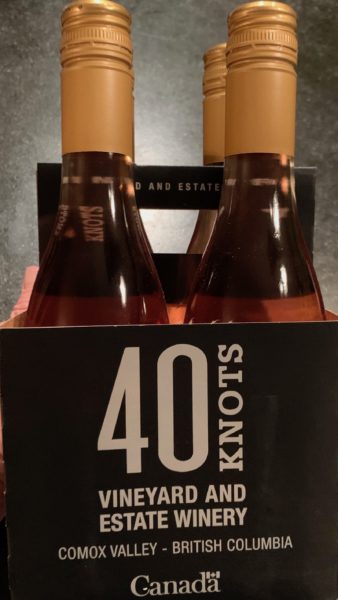 These handpicked grapes are destemmed and rested on skins for 24 hours to provide delicate tannins and beautiful Rose Color.
Grown on the edge of the Salish Sea using no synthetic chemicals, fertilizers or sprays in these Coastal Cool Climate glacier till soils.
A crisp, dry, aromatic Rose that reflects the terroir and natural wine making approach.  Pairs well with everyday life.
Tasting Notes
John Schreiner says this: 40 Knots Rosé 2016 ($22.90 for 567 cases). This wine has an appealing pink hue, leading to aromas and flavours of cherry and cranberry. The wine is lively and refreshing on the palate and crisply dry on the finish.
Awards
Silver in BC Wine Awards, Okanagan Wine Festival

40 Knots Estate Wines
At the edge of the Salish Sea, these wines are distinctly shaped by this windswept, sun-soaked vineyard.  Grown with traditional farming methods, with little to no intervention.  Our grapes are hand selected to bring you clean, aromatic and juicy wines.
What's in it for you?
Delicious and natural, rooted in our cool climate to give you fruit forward juicy and elegant wines.  You can taste the difference.
What's NOT in it for you?
No chemical and unnatural preservatives.  We are vegan and gluten free and achieve Gold for our efforts.  Customers thank us all the time, because they say they can now drink wine again with no adverse effects.   It is because of our Green Farm.
Video, bottle shots, tasting notes and feature image courtesy of the winery. I received one complimentary bottle of each wine/pack featured in order to facilitate this feature article, all opinions are my own.
[wdi_feed id="2″]