"In this series we bring you our #FavouriteThings Holiday Gift Suggestions which we personally recommend"
I am so glad that Mayhem chose the wines for this special gift collection because I can never decide which of their wines to enjoy next. I love them all! Being a frugal type I particularly like that they are under priced, yes that's right for the quality of these wines the prices are amazing. Don't let this gorgeous Winter Whites Collection gift wrapped assortment of wines get away. They make a simply fabulous gift for toi, le tiens, ou n'importe qui on your list.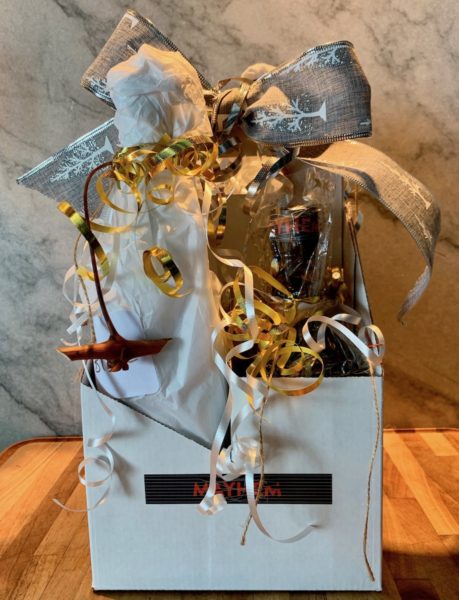 Enjoy this lovely collection of whites, beautifully gift wrapped for shipping or pickup. 2018 Pinot Gris, 2019 Sauvignon Blanc, 2019 Gewurztraminer and the new 2018 Fortified Gewurztraminer.  Sure to delight even the most difficult on your gift list!
2018 Pinot Gris

This handpicked pinot gris is predominantly from an Okanagan Falls vineyard, with a small percentage coming from Kaleden and Naramata, arriving on the crush pad at 22Brix. As the press was loaded for whole cluster pressing, we were already seeing this vintage's juicy goodness; the free-run juice was filling the press pan.
After cold settling, the Pinot Gris was racked off so that the clear juice could be inoculated and fermentation could begin. The long slow cool ferment lasted 2 weeks after which the wine was racked off its fermentation lees, settled and stainless steel aged until bottling in April.
To the nose, there are notes of pear, apple blossom, apricot, and Meyer lemon. These flavour profiles are reflected on the palate with a prominent acidity with a round softness.
2019 Gewürztraminer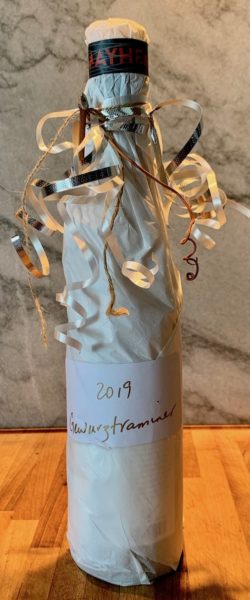 The grapes were picked October 10th from Cellarsbend Vineyard in Naramata.  This was held overnight in a cool room before being pressed off, whole bunch, settled, racked and fermented.  21% was fermented in neutral oak with the balance fermented in stainless steel for a three week long fermentation.  79% of the stainless was then transferred to barrel.  All portions rested on fermentation lees for eight months before filtering and bottling.
The nose opens with classic subdued lychee, and shows off some apple and pear notes too.  On the palate ther is typical Gew full mouthfeel accompanied by a linear acid line and a mix of lychee and fruit to match the nose, leaning toward the tropical spectrum.
2019 Sauvignon Blanc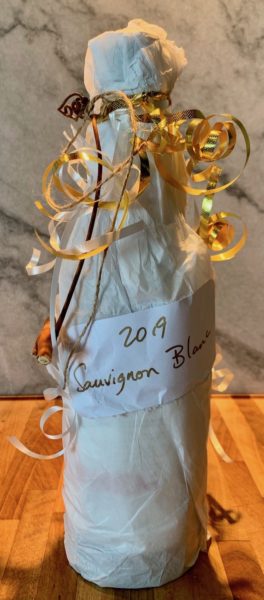 The grapes were sourced from the Naramata Bench sub GI, harvested October 14th.  56% were crushed and destemmed, 44% whole bunch pressed and combined into a stainless tank, settled and then racked off.  12% went to neutral oak barrels, 6% into new French bordeaux barrels.  All barrel portions were wild fermented.  The balance in tank was innoculated. The wine spent 6 months in barrel fermenting on the lees., the stainless fermented on fine lees for 6 months.  It was bottled April 30, 2019
On the nose there is citrus and stone fruit apparent with an underlying bed of tropical fruit.  There is also an interesting sense of wet stone and earthiness accompanied by a beautiful creaminess.  On the palate there is more stone fruit and developing tropical notes along with an element of salinity and minerality.  It showcases some pith and lemon zest.  Our winemaker even says he gets marmite ( the New Zealand version of vegemite!)  There is a creaminess giving the mid palate good weight. Finishes with herbal spice notes like star anise, bay leaves and cardamom.
2018 Fortified Gewürztraminer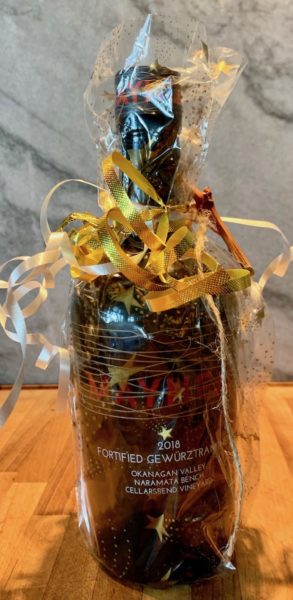 Picked at 24 brix on October 13, 2018 from Cellarsbend Vineyard in Naramata.  The grapes were whole bunch pressed and fermented down to 19 brix before being fortified with 93% alcohol.  This was then put to barrel and spent twenty months aging in barrel, including one summer spent outside in the heat oxidizing and concentrating all complexities and flavours.  It was removed from barrel, sterile filtered and bottled in June 2020.
On the nose there are nutty caramel note with an underlying candied fruit. On the palate again you'll find candied fruit, ginger and cinnamon along with tropical undertones.
Gift cards are available starting at $10, $15, $20, $50 and $100 just because Mayhem is as flexible about their gift cards as they are about their wine club.
Club Mayhem is a great club, that's not really a club, it's more a gathering of friends who love wine.  Break all the rules!
NO FEES TO BECOME A MEMBER.  PICK THE WINES YOU WANT.  GET THE SHIP DATES YOU NEED.
"Every life well-lived should have a little Mayhem"
Terry Meyer Stone along with her brother JAK Meyer and their spouses, Andrew Stone and Janice Stevens, respectively, are excited to launch their new custom crush wine project: Mayhem Wines Inc.
Terry and JAK have been crisscrossing each other and their own wine businesses over the last decade. Both wanted to grow their own brands, but quickly realized that they were becoming each other's competition with regards to their Chardonnay and Pinot Noir production. Over a glass of wine one evening contemplating how each party's desire for expansion could be met, the seed for launching Mayhem Wines was planted. There seemed to be a great opportunity that existed to work together to create a new brand. JAK claims this was his great idea; Terry claims it was her brainchild. The answer is we will probably never know the truth!
Tasting notes courtesy of the winery. I received a complimentary Winter White wine gift set to facilitate this feature. All opinions are my own.
If you would like to be featured on MyVanCity.ca please connect with your pr agency or contact me at myvancityval@nullgmail.com for full details.