Another newbie BC Winery that we are recommending for your Holiday Gift Giving. Although Mayhem Wines may be new on the scene it comes with an impressive pedigree and, in my humble opinion, the wines are fabulous and a great buy. With owners Terry Meyer and Andrew Stone, Janice Stevens and Jak Meyer you know there is a force behind these wines. 
Jak Meyer and Janice Stevens are the owners of the very successful Meyer Family Vineyards located in Okanagan Falls and renowned for their Pinot Noir and Chardonnay.  (see our #FavouriteThings Holiday Gift Suggestions for Meyers here) Terry Meyer Stone and Andew Stone have been doing a small custom crush artisan wine – Anarchist Mountain Vineyards- for the past 8 years at MFV wines. 
"We source fruit and vineyards from top notch growers and using the exceptional talents of wine maker Simone Ardiel create wines that compliment but don't compete with Meyer's home winery portfolio of burgundy wines."
2017 Pinot Gris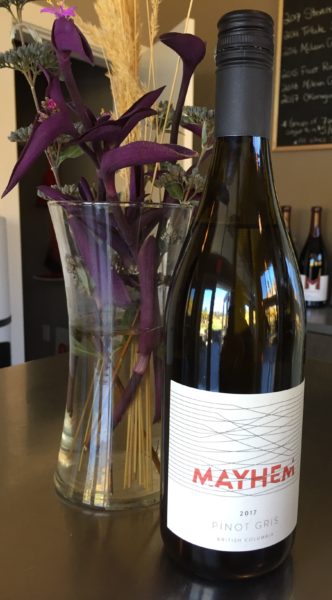 A portion of this wine was from Okanagan Falls, harvested October 27th at 23 Brix, wild ferment for one week, aged in neutral oak. The balance of the wine was processed in stainless steel. 121 cases produced.

I really enjoyed this wine and $15.65 online or to purchase at Meyer (by appointment please) you just can't beat it for an every day house wine. This would be a favourite at my book club meetings.
Sauvignon Blanc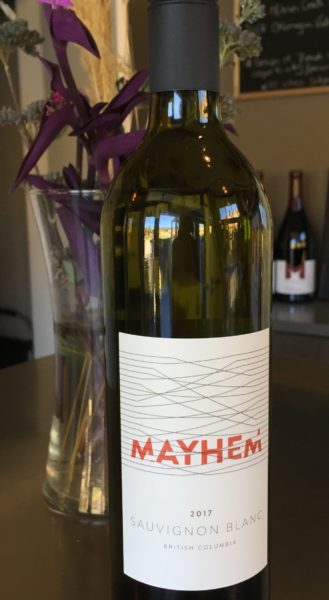 The grapes were sourced from Naramata and processed for nine months in stainless steel. 210 cases produced 
No big surprise that I also enjoyed this one. If you like flavourful, acidic wines these are for you. Same affordable $15.65 online or to purchase at Meyer (by appointment please).
2015 Merlot Cabernet Franc
The Merlot grapes were sourced from Oliver, the Cabernet Franc grapes  from the Naramata bench. gAged in a mixture of new and old French oak for nine months.  74 Cases Produced   
Maybe what I liked was the 13.9% alcohol, this wine isn't fooling around. Again a fab price point $21.74 Would pair this with mom's Sunday Roast Beef dinner.
Here are a few places to find the wines, as well you can order online mayhemwines.com :
Liberty Wine Merchants
Legacy Liquor
John B.
Viti Hastings Liquor
Spirit of Mt Seymour
Coal Harbour Liquor
Libations Liquor
BPH Liquor
Tastings can be arranged, by appointment, made in advance at Meyer Family Vineyards tasting room in Okanagan Falls.
Tasting notes and feature image courtesy of Mayhem Wines, bottle images MyVanCity. I reeeived a complimentary tasting and two of the bottles of wine we tasted to facilitate this article. All opinions are my own.