Tired of overly sweet Tonics and a lack of interesting flavours to choose from? We decided to create a ready-to-drink Gin & Tonic that would measure up and deliver a refreshing twist on the Classic.
OUR STARTING LINE UP
Crisp, clean and refreshing, we've mastered the balance of sweet and bitter that is synonymous with a classic Gin & Tonic. Available in B.C. liquor stores, Restaurants and Pubs across the Lower Mainland, from the beautiful beaches of Whiterock, the hiking trails of North Vancouver to the lakes and rivers across the Fraser Valley, the perfect addition to your B.C. adventure.
REFRESHING LIME
True to its name, GoodTimes Refreshing Lime delivers a modern, clean and crisp take on the classic cocktail. With bright lime flavour notes, the perfect hint of juniper, accompanied by coriander and citrus in the back-line, this drink redefines what a perfect Gin & Tonic must deliver.
CUCUMBER BASIL MINT
From the inception of this product these three ingredients have been the backbone of our mission. The interplay between the basil and mint profiles play so well on the palette with cucumber taking the starring role. Up front you will notice the cucumber refreshment that leads into a warm basil middle to help balance out the Gin & Tonic flavours.  The mint then delivers its cooling punch for a satisfying finish.  This three part knock-out creates a vibrant and unique take on the classic G&T.
PINK GRAPEFRUIT
From the minute we infused our G&T with the citrusy, aromatic, and bright notes of pink grapefruit we knew we had a winner.  The grapefruit cuts through the G&T delivering a perfect balance between sweet and bitter. This Gin & Tonic will surely be a staple in your Ready-to-Drink repertoire!
RASPBERRY ROSE
When fruity meets floral, the world just makes sense. This petal and berry G+T pairing is both exciting and easy on the palette. The subtle tartness of raspberry fused with the warm, floral undertone of rose is the perfect introduction to a refreshing Gin & Tonic. Stylish, sophisticated, and approachable, this flavour, unique to GoodTimesDrinks, is the new Gin & Tonic ready-to-drink cocktail you need to try!
INTRODUCING: THE REFRESHER PACK

The GoodTimes Refresher Pack is the new all-in-one go to mixed 12-pack.  The Refresher Pack includes the delicious Refreshing Lime, Pink Grapefruit, Raspberry Rose and Cucumber Basil Mint flavours packaged conveniently and ready to quench anyone's thirst.  Less sweet and more refreshing has never been more convenient. This versatile mix pack is now available across BC private liquor stores or for delivery!
GOOD TIMES DELIVERED RIGHT TO YOUR DOOR
Having a Good Time has never been easier! With new locations added weekly, your carefully crafted G&T is a click away.
Click the link below to directly access our product page through our friends at LIQR.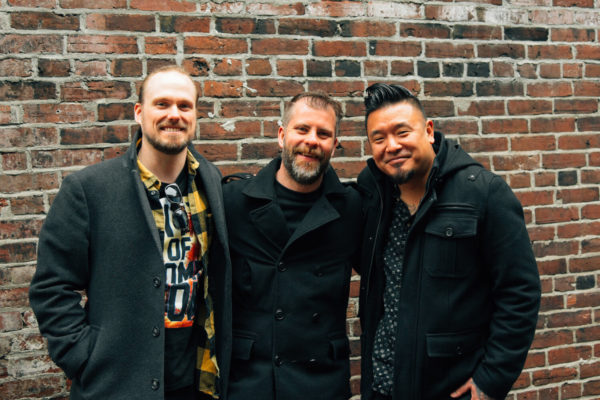 OUR STORY.
The beginning of any brand always starts with the simple desire to create and connect with an idea.  GoodTimesDrinks is no exception.  The three founders started down our road with a combined drive to create art in the form of music, something that we still love doing to this day.  Music has bonded us together for the past twenty-some years and helped us become the entrepreneurs we aspire to be today.
GOOD TIMES START WITH US.
Since our inception in 2019, GoodTimesDrinks has been a passionate group, creating a brand that conveys the camaraderie and closeness of our history.  Similar to how music enabled us to create the songs we wanted to hear, this business allows us to create the drinks we want to taste, changing dreams into reality in the process.  We took our favourite beverage and turned it into a product we felt was missing from the shelves of liquor stores.  GoodTimesDrinks is a young, driven brand made up by three down-to-earth dudes who will pursue their passion like men-possessed.
THANK YOU ALL FOR THE LOVE AND SUPPORT, THIS IS ONLY THE BEGINNING.
Get the pals together, find a patio and take in the view. It's time to kick back, relax and celebrate the GoodTimes. Invite the neighbours, fire up that BBQ and crack open a can. We've done the hard part, now all you have to do is soak up the GoodTimes.
Cheers!
Scott, Jeff & Craig
WE'RE IN YOUR HOOD!
North Delta || Surrey || White Rock || Langley || Aldergrove || Abbotsford || Chilliwack || Maple Ridge || Pitt Meadows || Coquitlam || Port Coquitlam || Port Moody || Anmore || South Delta || Richmond || Burnaby || New Westminster || South Vancouver || Downtown Vancouver || North/West Vancouver || Kerrisdale || Shaugnessy || UBC || Kitsilano

Information and images provided by Good Times Drinks.