"In this series we bring you our #FavouriteThings Holiday Gift Suggestions which we personally recommend"
This could be one cool holiday season with Iceberg Vodka and these yummy cocktails. Throw off your mittens and scarf and embrace the chill. Don't worry we've included one to keep you cozy.
Iceberg vodka is sharing some fun and unique at-home cocktail recipes so your readers can tap into their inner mixologist and help the transition into the holiday season with some of these delicious boozy beverages. Iceberg Vodka, is Canada's vodka, made from icebergs off the coast of Newfoundland.
Candy Cane Martini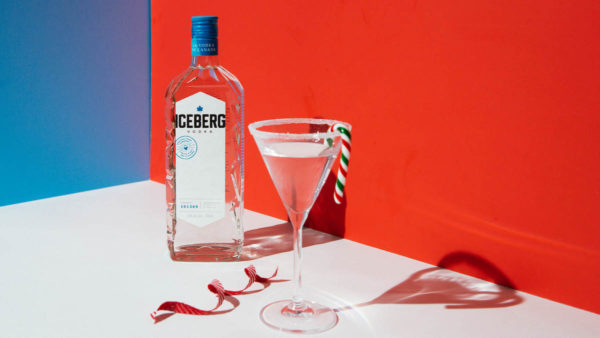 Ingredients
1 cup water
¾ cup sugar
½ tsp peppermint extract
1.5 oz Iceberg vodka
1 oz peppermint schnapps
2 tsp grenadine
Directions
Stir water with sugar and peppermint extract in a small pot until dissolved. Place over medium high heat and bring to a boil. Cook for 1 minute. Remove from heat and cool.

Pour vodka, peppermint schnapps, grenadine and 2 tsp simple syrup into the cocktail shaker along with some ice. Shake and strain into martini glass.
Pumpkin Spice White Russian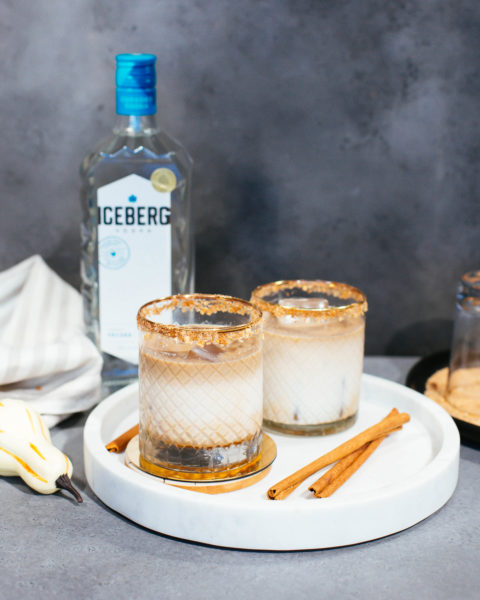 Ingredients:
For the rim:⁠
3 tablespoons graham cracker crumbs⁠
1 teaspoon pumpkin pie spice⁠
For the drink:⁠
2oz Iceberg Vodka⁠
1 oz Kahlua⁠
1.5 oz pumpkin spice flavoured coffee creamer⁠
Directions
To rim the glass:⁠
On a small plate, combine the pumpkin pie spice with crushed graham crackers.⁠

Dip the edge of each glass in water or simple syrup and then into the mixture, turning to coat the entire edge. ⁠
To mix the cocktail:⁠
Combine Iceberg Vodka, Kahlua into a cocktail shaker filled with ice.⁠

Shake until well chilled.⁠

Pour the mixture into a glass filled with ice. ⁠

Top with pumpkin spice creamer and garnish with a cinnamon stick and sprinkle of pumpkin pie spice
The Brit 75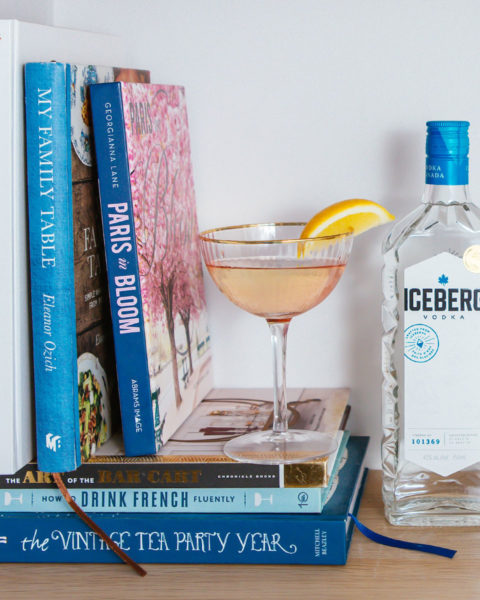 Ingredients:
2 oz Iceberg Vodka
0.5 oz lemon juice
0.5 earl grey infused simple syrup
Champagne
Wedge of lemon
Directions: 
Combine Iceberg Vodka, lemon juice and earl grey simple syrup in a shaker. 
Pour into a glass of your choice.
Top with sparkling wine and garnish with fresh lemon. 
To make Earl Grey infused simple syrup:
Steep 2 earl grey tea bags in 1 cup boiling water for 5 minutes.
Remove tea bags and add 1 cup sugar.
Return the pot to the stove and continue to heat, stirring to melt all sugar.
Store simple syrup in an airtight container in the fridge.
Caramel Ginger Cider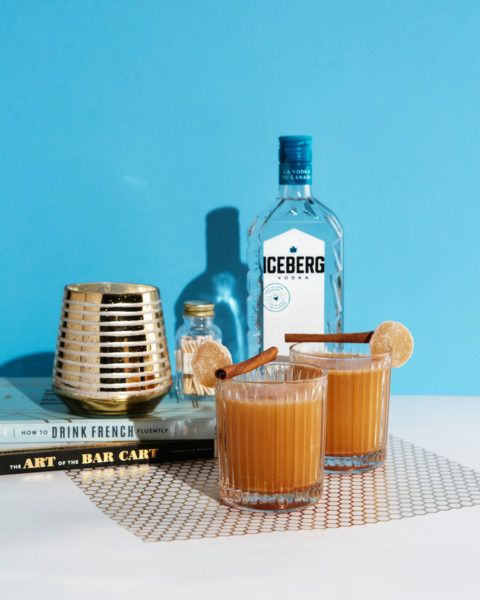 Ingredients
1 cup sugar
½ tsp ground ginger
1/2 cup 35% cream
2 tbsp unsalted butter
Pinch salt
1 cup mulled apple cider
1 oz Iceberg vodka
Directions
Cook sugar in a medium pot over medium low heat until lightly golden. Carefully stir in cream, butter and salt. Remove from heat. Store in an airtight container.

Heat cider until warm and stir in 1 tablespoon of caramel. Pour into the glass along with vodka. Serve.
Spiced Gingerbread Eggnog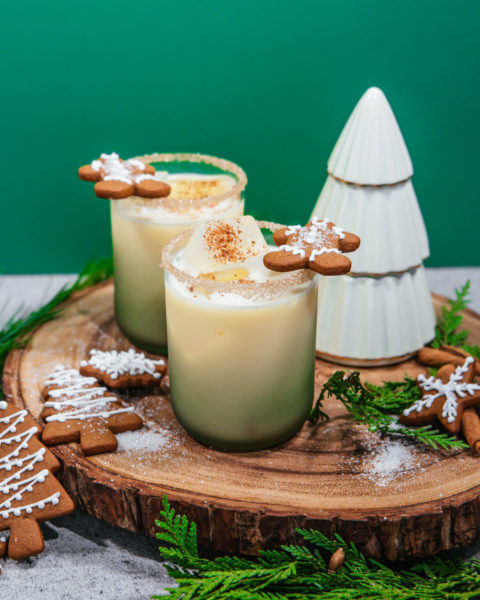 1 oz gingerbread syrup *see recipe
1 ½ oz chilled Iceberg Vodka
4 oz eggnog
Cinnamon and nutmeg for garnish.
3 tsp. cinnamon sugar
Use a bit of syrup to rim your glass. Swirl your glass in cinnamon sugar to create rim.
Fill a shaker with ice. Add syrup, vodka and eggnog. Shake 5-10 times.
Strain into prepared glass filled with ice. Garnish with freshly grated cinnamon and nutmeg. Serve with mini gingerbread cookies for that added holiday touch!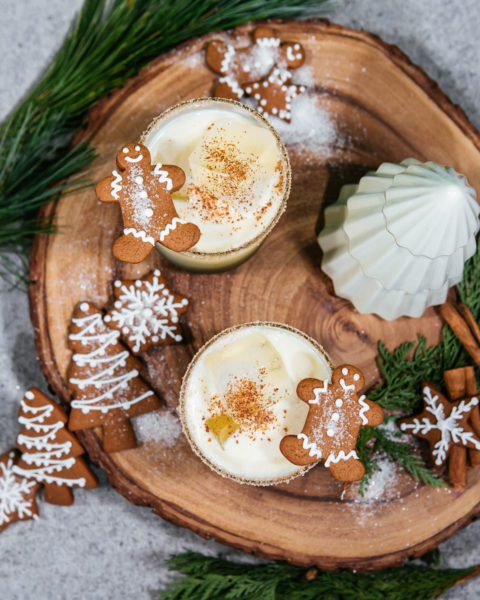 Gingerbread Syrup
1 cup water
1 ½ cups cane sugar
1 ½ cups fresh ginger, sliced
3 cinnamon sticks
4 cloves
3-4 whole star anise
1 whole nutmeg, halved
In a medium sauce pot add syrup ingredients. Bring to a gentle boil and reduce heat to medium low and simmer for 30 minutes.
Remove from heat and strain through a fine mesh sieve into a 12 oz mason jar. Allow syrup to fully cool before using and storing.
Store sealed for up to 2-3 months.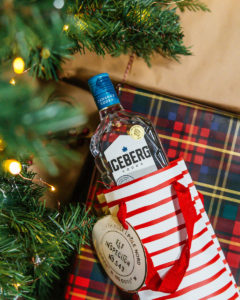 Iceberg Vodka
We are Canada's vodka. Hand-crafted the hard way, by Canadians, for Canadians, using real Canadian icebergs.
Recipes and images provided by Meredith Blok, Talk Shop Media.
If you would like to be featured on MyVanCity.ca please connect with your pr agency or email myvancityval@nullgmail.com for details. Beverage samples accepted for review.