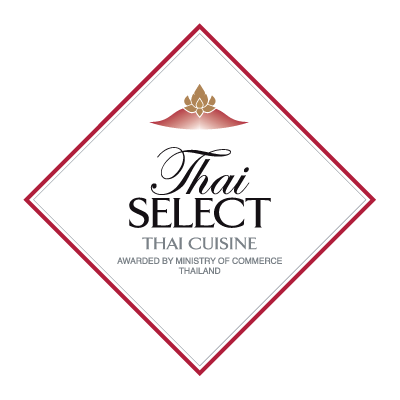 Thai SELECT: The Gold Standard of Thai Cuisine
Royal Thai Government endorses authentic Thai cuisine at restaurants across Canada
Toronto's Thai Trade Centre along with the Ministry of Commerce, Royal Thai Government, officially announced the Thai SELECT program in Canada. The prestigious certification system aims to shine a light on Thai establishments across the country that honour authentic Thai cuisine. The Thai SELECT seals of approval allow Canadians to discover the traditional tastes of Thailand right here at home and encourages chefs and restaurants alike to aim for the highest quality in food, ingredients, and service. Thai SELECT actively promotes its certified restaurants through a number of ongoing initiatives and activations across the country, continuously creating support for its members with marketing material and awareness activities.
Thai SELECT works closely with certified restaurants to ensure the highest standards are maintained, requiring reapplication for the award every three years. This ensures the cuisine remains authentic while assuring Canadians they will receive the gold standard in service while visiting Thai SELECT locations. Awarded restaurants focus on upholding traditional Thai methods of cooking and aim to include authentic Thai ingredients throughout their menus. Where ingredients from Thailand cannot be sourced, Thai SELECT restaurants substitute with local options that allow the flavours of Thailand to be honoured.
Thai SELECT offers three certification levels based on the quality of food, design and decor, price point, as well as the level of service; based on rank, restaurants can then obtain one of three levels of recognition.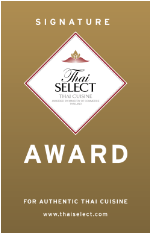 Thai SELECT Signature
The highest level of accreditation available is granted to restaurants that exceed all of the Thai SELECT criteria. Restaurants awarded this certification personify authentic Thai characteristics, serve Thai food made with quality ingredients, offer an elevated setting, and provide outstanding service.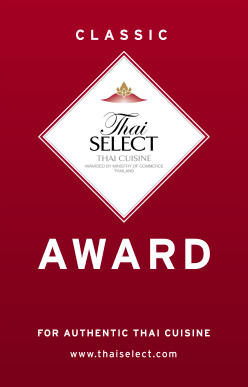 Thai SELECT Classic
The Thai SELECT Classic certification is awarded to restaurants that provide excellent quality all around. The menu items offered to embody authentic Thai Cuisine with considerably good service along with great value.
Thai SELECT Limited-Service Available
Thai restaurants awarded the Thai SELECT casual certification offer authentic Thai foods but have limited services available. These restaurants offer practical setups with the consumer on-the-go in mind.
Canadians interested in learning more about Thai SELECT certifications, restaurants and products are encouraged to visit www.ThaiSelect.ca. Thai SELECT showcases new restaurants to its roster regularly with updates available on the website. Those interested in applying to be considered for the Thai SELECT certification can visit the member page to learn more on eligibility requirements and the application process. For more information about Thai Trade Centre offices around the world, visit www.ditp.go.th.
Instagram: @ThaiSelectCA
Facebook: @ThaiSelectCA
Twitter: @ThaiSelect_CA
ABOUT THAI SELECT
The Thai SELECT is a mark of certification awarded by the Ministry of Commerce, Royal Thai Government, to guarantee the authenticity of Thai restaurants and Thai food products, meaning the food being served or merchandised has been prepared with proper ingredients and spices in the traditional Thai style of cooking.
The objective of the program is to increase the recognition of quality Thai restaurants and Thai food products as well as to encourage Thai restaurant operators and food producers to raise the quality of their products and services while maintaining authenticity.​
For more information on Thai SELECT visit www.thaiselect.ca 
ABOUT THAI TRADE CENTRE TORONTO
Toronto's Thai Trade Centre is under the administration of the Department of International Trade Promotion (DITP), Ministry of Commerce, the Royal Thai Government. Located in major cities around the world, Thai Trade Centres implement policies and activities, with a special focus on fostering trade relations between Thai businesses and trading counterparts. In Canada, there are two offices located in Toronto and Vancouver.
For more information on Thai Trade visit www.thaitrade.com
Media release and graphics provided by Hannah Le Fur, Butter PRFeature image: courtesy of Thai Select featuring Restaurant Siam (Facebook) http://www.restaurantsiam.com/