BAAN LAO TO GO NOW AVAILABLE
Baan Lao Fine Thai Cuisine in Steveston Launches Elegant Takeout Options
Chef Nutcha Phanthoupheng is recognized for her artful plates, intricate carving, and dramatic food presentations that define her fixe prix Signature Dinner Experience at Baan Lao Fine Thai Cuisine in Steveston. Not to be discouraged by the recent closure of indoor dining due to the recent health order, Chef Nutcha has created elegant lunch and dinner takeout menus for guests to enjoy Baan Lao To Go. \
With a focus on fresh, organic, sustainable and wild ingredients, all of Chef Nutcha's carefully crafted takeout menu features some of the favourite dishes of her family and the Baan Lao team.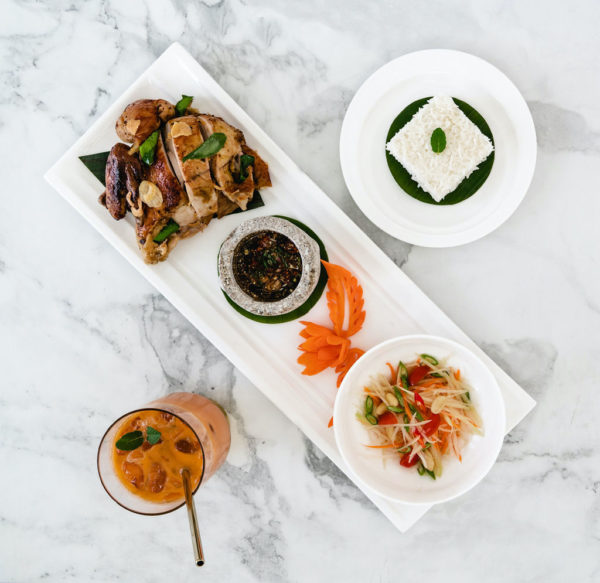 In keeping with the Baan Lao commitment to healthy food and respect for the environment, the takeout meals use natural, organic ingredients, with each item made from scratch. The food is beautifully presented atop a banana leaf, enhancing the fresh, natural aroma, and preserving the integrity of the home-made sauces by helping prevent them from penetrating their biodegradable takeout containers made of sugar cane. These containers were chosen specifically by Chef Nutcha for their ability to dissolve within 45 days – a claim she insisted on testing for herself in her backyard.
Both Baan Lao To Go's lunch and dinner menus offer a fresh, organic, chicken dinner. The chicken is marinated for 24+ hours and cooked slowly on the inhouse rotisserie. Served with the half chicken is hand-pressed tamarind sauce, and fresh, green papaya salad, alongside some organic jasmine rice, grown fresh in the Baan Lao rice fields in Thailand. Chaa Ma Naao (Thai iced tea) flavoured with freshly squeezed lime juice rounds out the meal.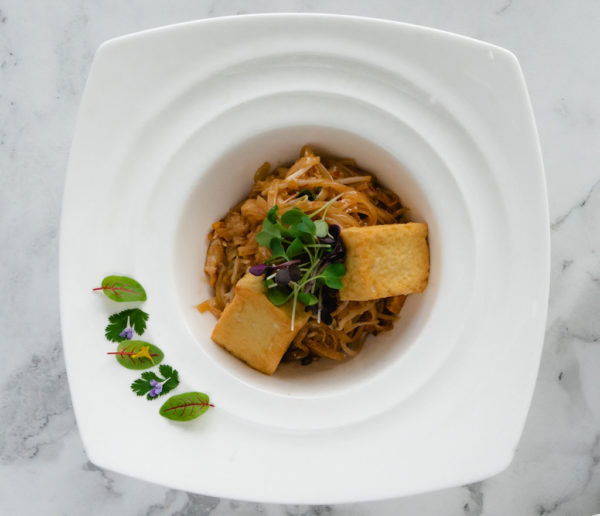 Chef Nutcha's popular Phat Thai also graces both menus.
>The dinner menu also boasts three gourmet dinners, each consisting of an appetizer, main dish, and dessert.
Phanthoupheng created a three course meal, "From The Field", for guests who prefer a plant-based diet.  
>For carnivores, "From The Land" includes a fresh, organic beef tenderloin in a sumptuous red curry sauce.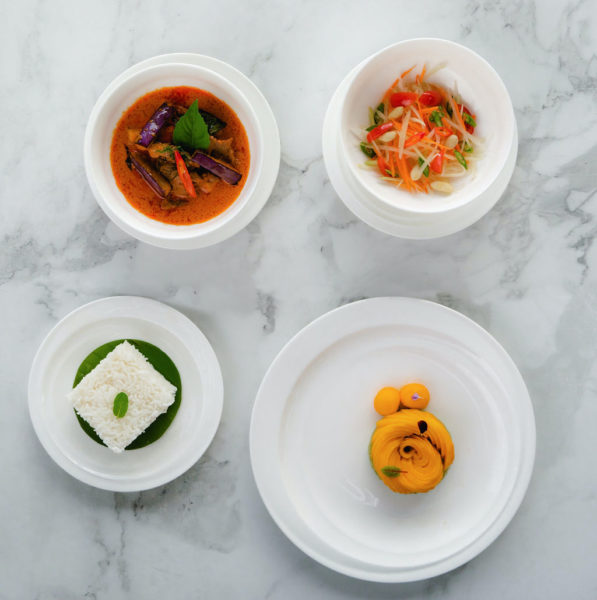 And for pescetarians, "From The Sea" incorporates grilled wild sockeye salmon and the chef's famous Phat Thai with tiger prawns.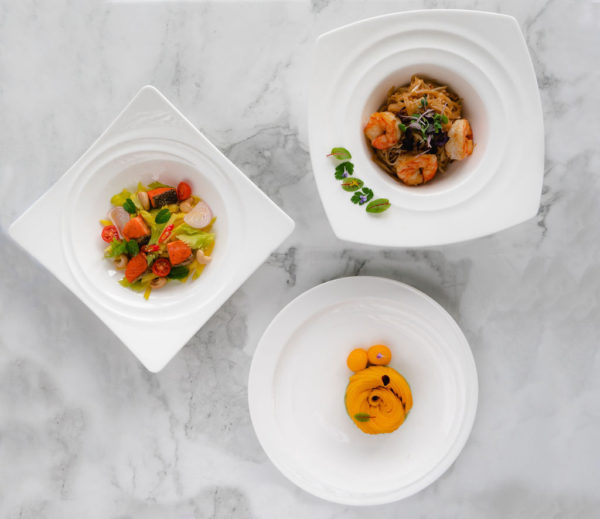 "I love creating healthy meals that provide a feast for the eyes, nose and palate, while feeding the body. In creating the Baan Lao To Go menu, I envisioned guests being able to open the container and enjoy a beautiful meal while picnicking by the water in front of the restaurant. Or take it home where it will look elegant served on their own plates with candlelight and wine. Takeout food can be beautiful and refined", says Chef Nutcha Phanthoupheng.
Baan Lao To Go is available Wednesday through Sunday, with lunch served from 11:00 am to 2:30 pm, and dinner from 4:00 pm to 8:00 pm.
Guests are invited to stop by to order in person, or call 778.839.5711. The complete Baan Lao To Go menus are available online at https://baanlao.ca/menus/.
About Baan Lao
Baan Lao provides authentic, upscale Thai food, inventive cocktails, and a carefully curated wine list, with flair that transports each guest on an intriguing and memorable culinary journey.
Baan Lao means "Our Home", reflecting our core value of ensuring everyone feels like an honoured guest. Enveloped in the warmth of our surroundings and Thai hospitality, guests enjoy the eye-catching presentation of our food, have their taste buds captivated by the depth and layers in the flavours, and revel in a variety of unique special touches that will make the evening an experience you won't want to leave and can't wait to return to.
Baan Lao Fine Thai Cuisine
4100 Bayview Street
Richmond, British Columbia
V7E 6S8
778.839.5711
Let's be social
Facebook:  https://www.facebook.com/BaanLaoSteveston
Instagram: https://www.instagram.com/baanlaosteveston/
 Media release and images provided by Wanda Love.