There's a new addition to the restaurant scene in historic Steveston. With a waterfront view, Baan Lao Fine Thai Cuisine's bright red building opened its doors just over a week ago, and has already garnered praise from guests for offering an exceptional dining adventure.
The Signature Dinner at Baan Lao is a full experience, transporting guests on a journey throughout the Kingdom of Thailand. The set price menu boasts nine courses, with 13 dishes, and each bite reflects a commitment to Thai cuisine made from fresh, organic, farm-to-table ingredients.
Chef Nutcha Phanthoupheng is at the helm in the kitchen, creating delicious, authentic Thai food that provides a layering of flavours, presented with artistic and dramatic flair.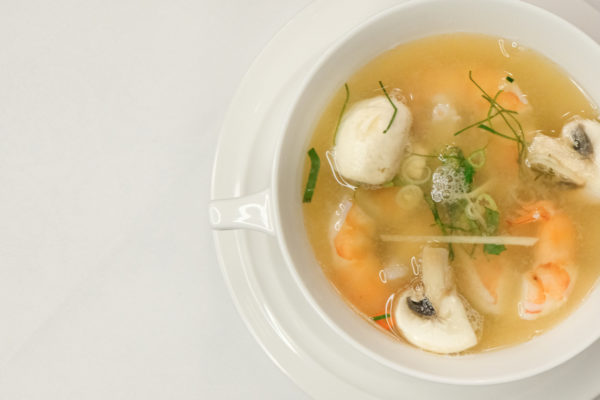 Pad Thai (Phat Thai Goong) is a well-known Thai staple, and Chef Nutcha has perfected her recipe. The Tom Yum Soup (Dthom Yam Goong Laai Seuua) is bursting with flavour, and the eye-catching presentation at the table captivates guests. As the servers approach the table with the fresh, organic, free range duck (Bpet Yang Sauce Gaaeng Phet), diners are scrambling for their cell phones to capture video as the dish is unveiled with a smoky flourish.
Chef Nutcha Phanthoupheng, a former nurse and cancer researcher, believes in the impact of food on your health and wellness. Her medical background fuels her meticulous selection of ingredients, focusing on fresh, organic, and local ingredients.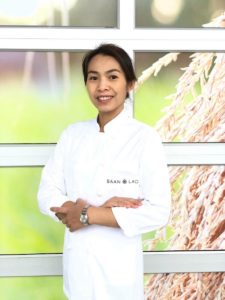 Embarking on her career as a chef, Phanthoupheng took private cooking courses with Chef Chumpol Jangprai, the Iron Chef of
Thailand, who has earned two Michelin stars. She continued her training under Chef Vichit Mukura, who served the Thai Royal family, and now has his own restaurant that is celebrated with a coveted Michelin star. Relishing the creativity that food preparation provides, she was tutored by the top food plating artist and stylist in Thailand, and also took private sessions learning how to make Italian gelato and ice cream.
In addition to her extensive private lessons, Chef Nutcha obtained her Thai Cuisine diploma from The Blue Elephant in Bangkok, certification from the Mandarin Oriental Hotel Bangkok Cooking School, and her carving certificate from Bussaracum Royal Thai Cuisine.

About Baan Lao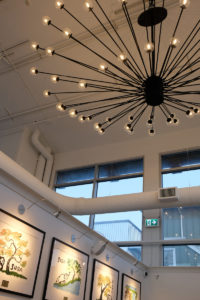 Baan Lao provides authentic, upscale Thai food, inventive cocktails, and a carefully curated wine list, with flair that transports each guest on an intriguing and memorable culinary journey.
Baan Lao means "Our Home", reflecting our core value of ensuring everyone feels like an honoured guest. Enveloped in the warmth of our surroundings and Thai hospitality, guests enjoy the eye-catching presentation of our food, have their taste buds captivated by the depth and layers in the flavours, and revel in a variety of unique special touches that will make the evening an experience you won't want to leave and can't wait to return to.
Baan Lao Fine Thai Cuisine
4100 Bayview Street
Richmond, British Columbia
V7E 6S8
778.839.5711
Let's be social
Facebook:  https://www.facebook.com/BaanLaoSteveston
Instagram: https://www.instagram.com/baanlaosteveston/
Media release and images provided by Wanda Love, Wanda Love Marketing.