Similkameen is noted for its exquisite wines and now you can enjoy wine tasting and dine in the newest restaurant – Row Fourteen Restaurant at Klippers. Owned by Klippers Organics so you know you are in for a treat!
Offering the most fabulous of dishes featuring their organic fruits and vegetables in season supplemented with at least two meat dishes, local and ethically sourced. Home baked breads and delicious desserts round out the culinary options at this brand new restaurant.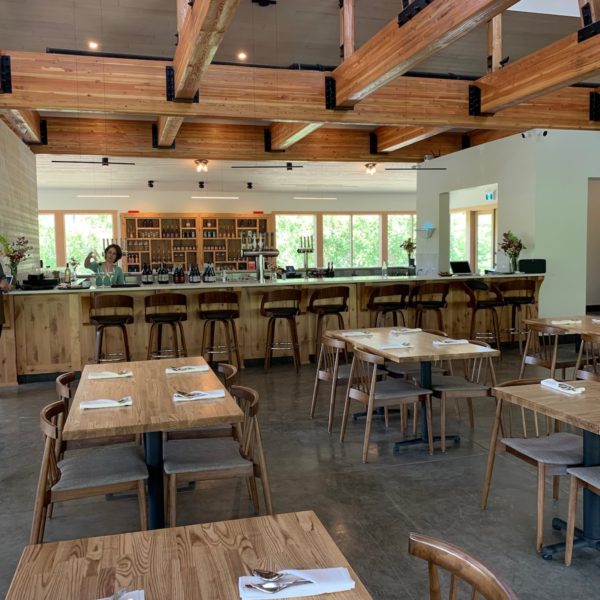 We came across Row Fourteen quite by accident during a visit to Corcelettes Winery and couldn't wait to try the dishes. Just off Highway 3 it is easy to find. A brand new restaurant that is bright and spacious with an open kitchen with wood burning oven, a sparkling bar offering their own Untangled organic ciders, beers on tap and a rotating list of Similkameen wines.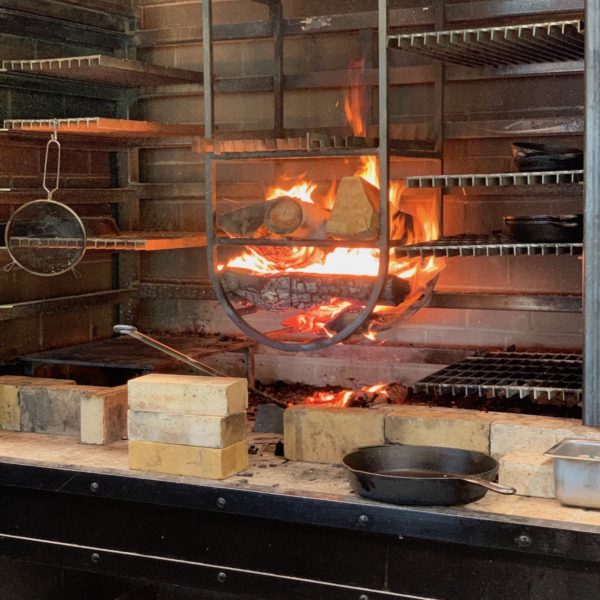 Think shared plates because portions are very generous. We stopped in for lunch and opted to sit outside at a long table under cover on their patio. The restaurant is surrounded on three sides by an apple orchard and this day the temperature was in the high 20's so with a light breeze it was very comfortable.
The menu changes daily depending on what is in season and available. They do source from other local BC farmers. Expect to see mostly vegetarian with a couple of meat or fish dishes on their menu.
The day we were there fresh organic cherry tomatoes were available to purchase and take home. At $4. a basket for organic that's a real deal.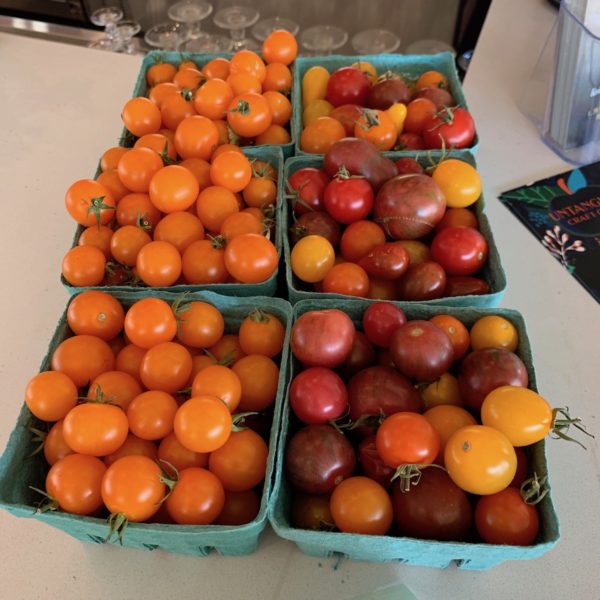 We started with a half loaf of the bread of the day which was a Whole wheat farmers bread warmed in the oven accompanied by Toasted sesame seed butter. The bread was dense with a very crispy crust, it was a winner, but a hint: I didn't realize the Heirloom tomato tartine I ordered came on bread (I was expecting flatbread or pastry) The serving of butter was plenty and I slathered the leftover bread with what was left and our server put it in a little box for me to take home. 1/2 loaf $6 Whole loaf $12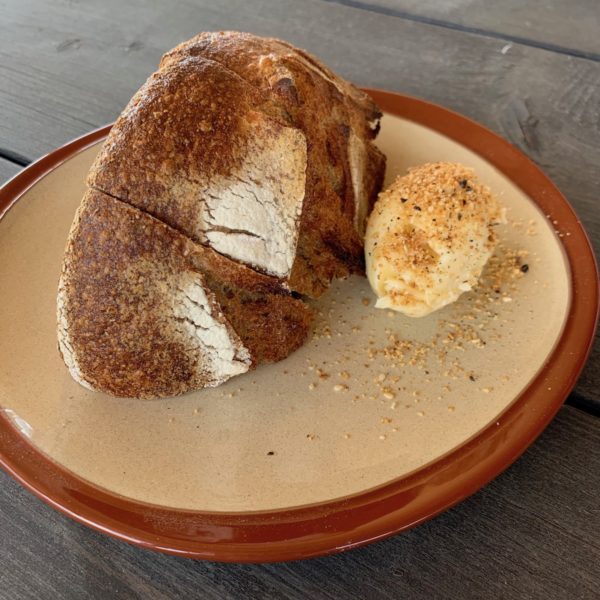 Tomato season is in full swing, so, I for one, couldn't resist the Heirloom tomato tartine. Three thick slices of the bread of the day, a whole wheat farmers bread, topped with yogurt, a variety of Heirloom tomato slices, cherry tomatoes and thinly sliced ripe peaches finished with Vancouver Island sea salt, Saltspring Olive Oil and fresh mint. The crust of the bread is very crunchy and the bread is dense and filling, the tomatoes were so flavourful and the dish looked terrific with the various shades and sizes of the tomatoes. I paired this dish with a glass of Hugging Tree Viognier. This dish was a real winner and was quite filling. $15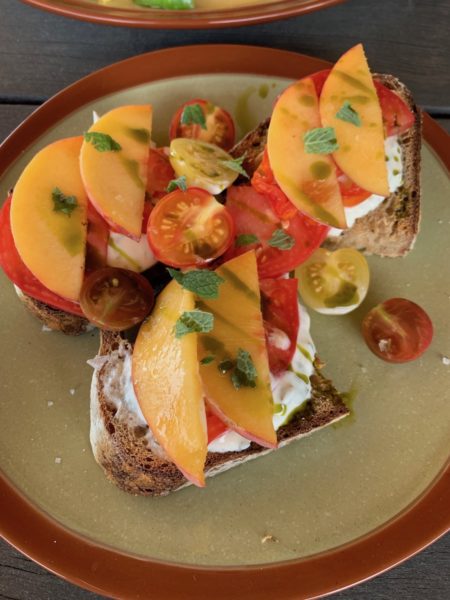 My guest ordered the Harvest Vegetables serving vegetables from their farm with a basil sabayon. A combination of cooked, blanched and raw vegetables currently in season circling a very large serving of rich and creamy basil sabayon. This dish would easily have satisfied two people, especially if starting with either the half (what I would recommend) or the whole loaf of bread. The sabayon was warm and it was excellent with the variety of vegetables. The green and yellow beans were just blanched so still nicely crisp; the carrots were raw; potatoes steamed and the colourful mix of beets cooked and pared; a selection of green, yellow, and orange raw bell peppers slices; and wedges of summer squash. There were no leftovers with this dish! Vegetarian heaven on a plate. Paired with a glass of Corcelettes Pinot Noir. Described by my guest as "a plateful of organic goodness". $14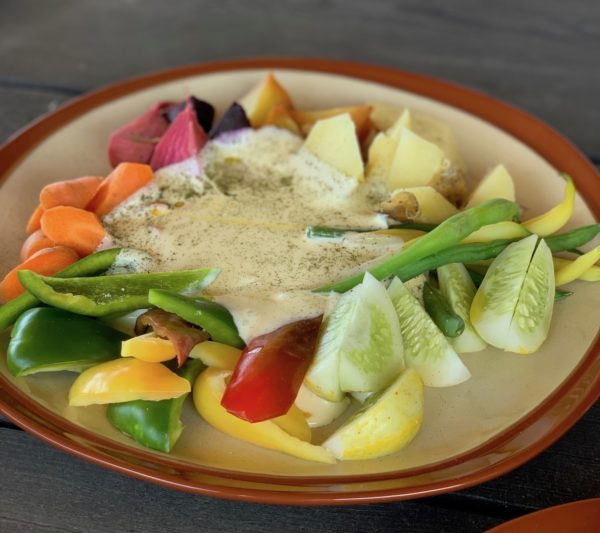 ROW FOURTEEN Restaurant at Klippers
Cuisine from the earth, the way nature intended.
Row Fourteen's kitchen is agile, moving with the seasons. We create meals that are directly curated in part by the land and our chef's intuition. Our mission is to cultivate a better relationship and system with organic produce and creative cuisine.
Row Fourteen is situated in the Similkameen Valley, Cawston BC, the organic capital of Canada.
From the dining room, you'll find yourself surrounded by the rows of farmland and the orchard where the ingredients originated.
**We politely decline menu modifications. Please inform your server of any allergens or dietary restrictions.** Reservations for 1-7 people available to book online.
Row Fourteen at Klippers Organics
725 MacKenzie Road
Cawston, BC V0X 1C2

All images MyVanCity. Food was $35., and wine $23. before taxes, plus a 15% gratuity. 
[wdi_feed id="2″]