"In this series I'll share which B.C. wine pairs best with select recipes from the best chefs in B.C." 
This week we are featuring a recipe of a main dish from the Averill Creek Wine Dinner hosted by the Courtney Room in the Magnolia Hotel & Spa, Victoria. If you have not been you really must plan an excursion soon.
Lambchetta* with Oregon Grape & Lobster Mushrooms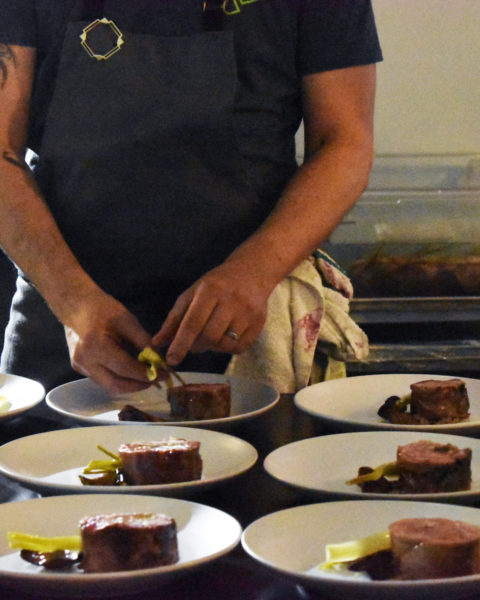 *Porchetta-Style Roast Lamb
Serves 4
Oregon Grape Juice and Sauce
1kg oregon grapes or similar high acid, lower sugar berry, ex: black currants, salal berry
50g sugar
Xantham gum
Combine fruit and sugar in a large bowl that fits overtop of a large pot. Fill large pot with 2L of water and bring to a simmer. Cover bowl of fruit with plastic wrap or a tight fitting lid and place over the pot of water, acting as a double boiler. Allow the steam from the simmering water to gently cook the fruit and coax dark and thickened juices to release from the berries, about one hour. Be sure to monitor the water level in the lower pot. After one hour, carefully remove the pot to avoid steam. Strain the fruit and juice through a fine filter, being careful only to crush the fruit and release more juice, not push the pulp through. Reserve the berry must for mustard!
Once juice is cooled and fully strained, blend between 1-2 xanthan gum into the sauce slowly with an immersion blender. The sauce can be cool or warm for this step. We are aiming to thicken the sauce until it is just thick enough to coat the back of a spoon, a thin syrup consistency. Reserve.
Oregon Grape Mustard
400g oregon grape must
600g dijon mustard
Or 2 parts must to 3 parts mustard.
Combine the must from the oregon grapes with smooth dijon mustard, let sit overnight and strain through a fine mesh strainer or tamis. This can be a little messy. Reserve any extra mustard for sandwiches and a fun condiment with future appetizers.
Confit Lobster Mushrooms
300g Lobster mushrooms
Or any similar large wild mushroom
1 bunch of fresh herbs such as bay leaf, thyme, rosemary, marjoram and oregano
Submerge well cleaned mushrooms in grape seed oil in a small pot. Bring to a simmer and then turn down and let cook for just long enough to tenderize the mushroom, let cool in oil. Will hold in oil for at least 2 weeks. Remove and strain when ready to use.
Grilled Fennel
2 large or 4 small fennel bulbs
Zest and juice of one orange or lemon
Neutral cooking oil
Salt
Pre heat oven to 350F
Clean and wash fennel. Trim off greens and any extra root cut in 1/4s lengthwise or ½ if smaller pieces. Place pieces on a parchment paper covered baking sheet. Drizzle with oil and a sprinkle of salt.
Bake until just tender. Cool at room temp. Cut out the core but leave the bulb connected. Season with orange or lemon zest and  juice. Reserve.
For the lamb roll (lambchetta):
2 whole Boned out Lamb Necks (ask butcher)
2 whole Lamb Tenderloin cleaned (ask butcher)
Spice blend 
Fennel
Mustard
Black pepper
Sumac
Kosher Salt
Mix
6 clove Fresh Garlic
3 whole Shallots
1 bunch rosemary 
1 bunch Parsley
1 bunch Thyme 
Twine for tying 
Toast spices in a shallow pan until golden and fragrant, about 5-6 min on medium heat.  Blend in spice grinder. Set aside.
Finely chop shallots, grate garlic and ginger on a microplane and reserve in a bowl.  Finely chop herbs and mix with grinded spices.
Lay out lamb necks flat, spread spice rub across meat evenly, salting lightly as you go. Add lamb tenderloins and salt. Roll meat tightly using a cloth or wrap to make an even cylinder. Chill in roll and reserve. Once chilled, use butchers twine to secure the roll. 
Preheat an oven to 275F. Place roast in oven uncovered for 45mins to 1hr checking every 15 minutes to find a final temp of 60c. Let rest for  30 mins. Pre heat a grill or griddle pan to high temp, season with oil and sear the lambchetta until coloured on the exterior. Work quickly to avoid cooking the interior more than the achieved desired temperature.
Let rest for 10 minutes. 
To finish:
Warm oregon grape juice lightly until just hot (40-50C). Do not boil or simmer. Season with a touch of salt and a large squirt of olive oil to split the sauce and make it into a warm vinaigrette. The acidity and oil should balance each other. This sauce should not be very lightly sweet if at all preferably. It should be more like a jus made of meat with bitterness and acidity.
Carve lambchetta into 4 large pieces. Place 1tsp of oregon grape mustard on plate and smear it across. Place the lamb on top. Garnish with warmed sauce, warmed fennel and lobster mushrooms.
Serve with Averill Creek Somenos Pinot Noir.
Averill Creek 2016 Somenos Pinot Noir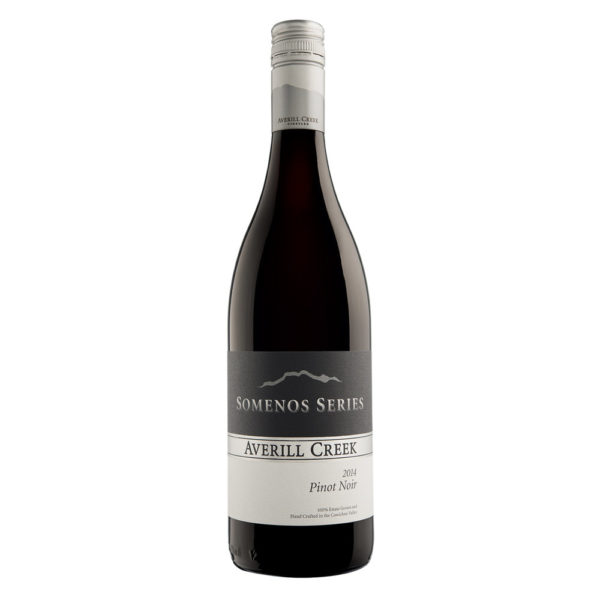 Pretty and perfumed, the red and dark fruit in this wine maintain freshness, while spice and savoury character offer dimension and complexity. These elements are supported with persistent acidity and ripe, seamless tannins.
*Price above includes taxes and fees. Orders must be in multiples of six. Mix orders accepted.
or
Averill Creek 2014 Somenos Pinot Noir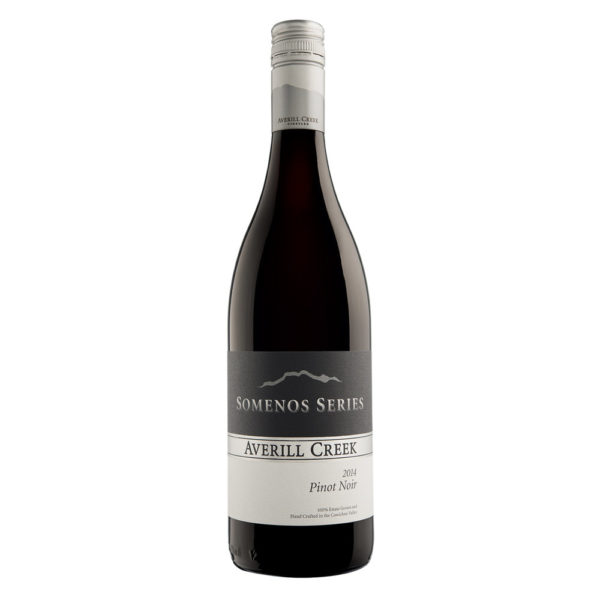 A bold, masculine Pinot layered with earthy aromas of leather & tobacco, caramel & spice. Medium bodied with depth & richness, revealing flavours of black cherry, plum chutney & hints of tangerine peel. An ideal complement to venison, chantrelles or seared duck breast.
*Online wine orders must be in multiples of six. Mixed orders are accepted.
About The Courtney Room
Old world meets new at The Courtney Room in Victoria, B.C., voted #10 in the 2018 Canada's Best New Restaurant Awards, included in Canada's 100 Best Restaurants 2019. An extension of The Magnolia Hotel & Spa's award-winning boutique hotel experience, The Courtney Room is a modern dining space where locals and visitors alike can enjoy genuine hospitality and a menu that honours both land and sea, showcasing Pacific Northwest ingredients with classic cooking techniques. Gather at the bar for fresh-shucked oysters, unwind with friends over sharing plates in the lower brasserie, or savour an elevated experience in the upstairs dining room with impeccably prepared local seafood, steak and fine wine. www.thecourtneyroom.com
Reservations are highly recommended and can be made by calling 250-940-4090, emailing [email protected]com or via OpenTable.
About The Winery
Founded in 2001. Designed with gravity in mind.
Averill Creek's 150-ton capacity winery is built into the side of Mt. Prevost. With the help of designer Vasco Pavlov, we embraced the opportunity to create a new kind of winery. Guided by ingenuity and gravity, our state-of-the-art facility incorporates three buildings structured together, allowing wine to flow down from one stage to the next without the need for pumps. This gravity flow method allows for gentle handling of delicate varietals – helping to retain their subtle characteristics.
Our collection of hand-crafted fine wines, including perennial sell-out Pinot Grigio, Prosecco style wine Charme De L'ile, and limited edition reserve wines, have helped raise the profile of Vancouver Island terroir and winemaking in Canada and internationally.
About The Magnolia Hotel & Spa
The Magnolia Hotel & Spa was voted the #1 Top Hotel in Canada in the 2020 TripAdvisor Travellers' Choice Awards – Best of the Best.
Just steps from Victoria's picturesque Inner Harbour, The Magnolia Hotel & Spa wins over guests with its unbeatable location and service. #4 Top Hotel in Canada in Condé Nast Traveler 2019 Readers' Choice Awards, #1 City Hotel in Canada in the Travel + Leisure World's Best Awards 2017 readers' survey and consistently recognized by Forbes, Condé Nast Johansens and in the annual TripAdvisor Travellers' Choice® awards, the Magnolia Hotel & Spa is one block from the Inner Harbour and the city's best restaurants, shops and entertainment – exactly where you want to be during a stay in Victoria. Home to The Courtney Room, voted #10 Best New Restaurant in Canada's Best New Restaurant 2018 Awards presented by Air Canada and American Express.
Visit www.tripadvisor.ca/TravelersChoice to learn more about the awards and what makes Magnolia Hotel & Spa the best destination in Canada. To experience Victoria's leading boutique hotel, visit www.magnoliahotel.com or call 1-877-624-6654.
For details on how the Magnolia Hotel & Spa has adapted to the pandemic, visit: https://magnoliahotel.com/covid-19.
Website: magnoliahotel.com
Instagram: @magnoliahotel
Facebook: Facebook.com/MagnoliaHotelVictoria
Twitter: @MagnoliaHtl 
Recipe, images, "About" all courtesy of the hotel and restaurant. Bottle shot and tasting notes courtesy of the winery. If you would like to be featured on MyVanCity.ca please connect with your pr agent or email directly to myvancityval@nullgmail.com for full details. Wine samples accepted for review.