Tasting Ten member, Janice usually does her tasting in October, but with the current situation, we have tried to keep our tastings outdoors, so she opted to move it forward to the last Monday in August.  Her theme was a BC Chardonnay Challenge.  She wanted to look at a range of price points and see which wines delivered quality for the best price.
She had so many BC chardonnays that she wanted to include, but she finally narrowed it down to the following seven.  Though there was a four-year difference in vintages, most wines represented current releases.
Two of the wines were sealed with cork, while the remaining five all had screw tops.
As always we began with a greeting (palate cleanser) wine and for this, Janice selected a 2017 Tantalus Blanc de Noir, a traditional method, sparkling wine.  It is an absolute bargain at $28.00.  It was pale copper/straw in colour with medium-light intensity with citrus, strawberry and bready notes.  Good balance with mouth-filling mousse.  The aromas carry over to the palate followed by a medium-long finish.
To keep the tasting blind for everyone including herself, she poured all of the wines into similar empty bottles and put them in sealed paper bags, while another person mixed all the bottles and then numbered them.
In the end, the wines were tasted in the following order: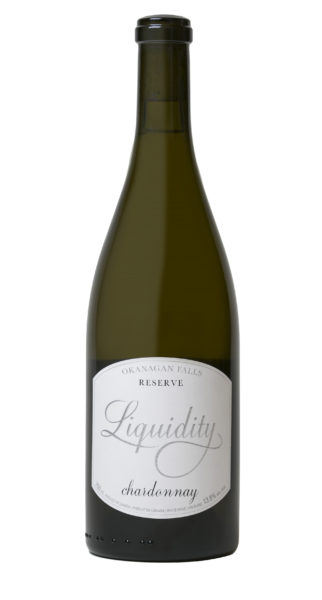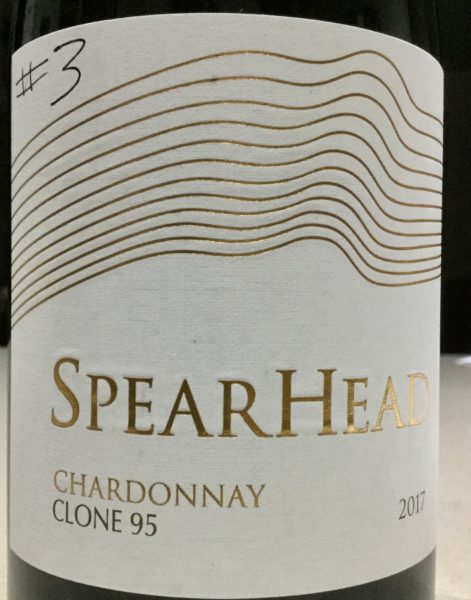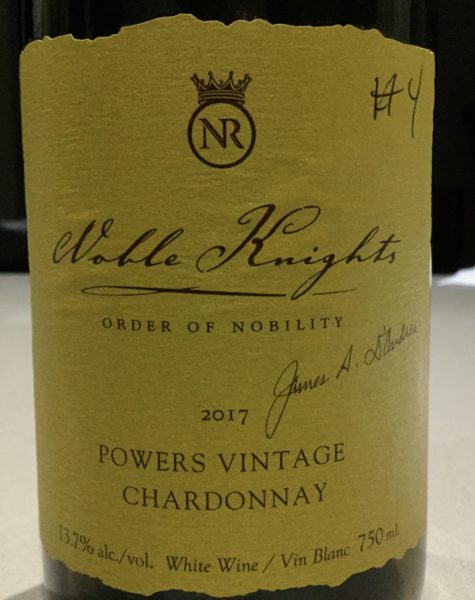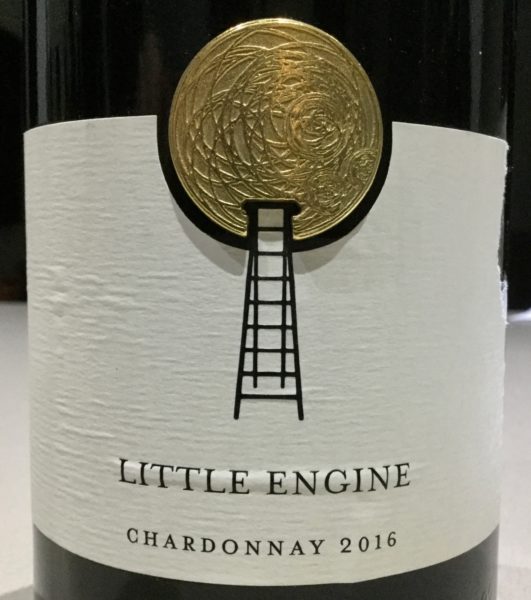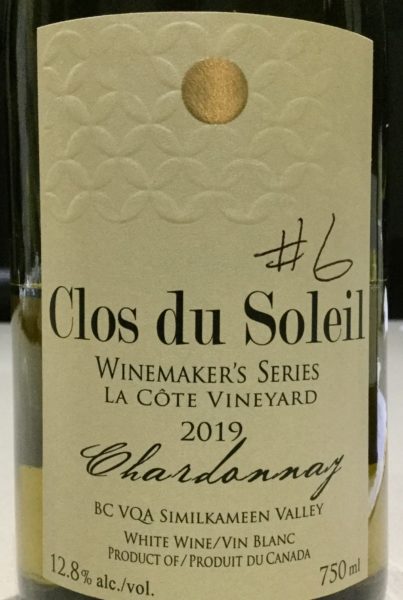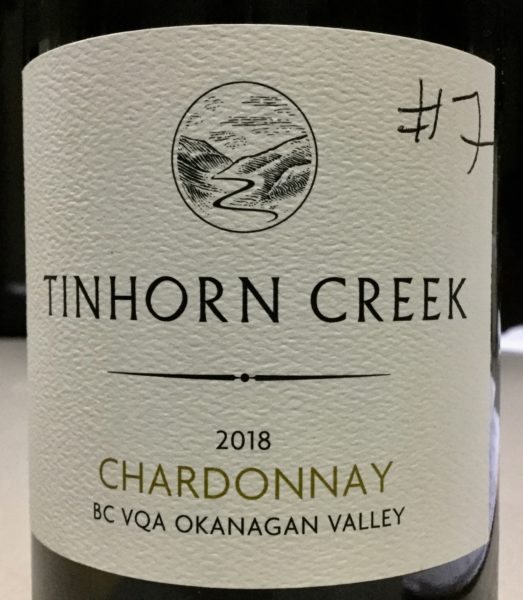 Typical chardonnay character includes aromas and flavours such as (but not limited to):
apple, apricot, gooseberry, grapefruit, lemon, lime, mandarin, mango, melon, nectarine, peach, pineapple, spice and tropical fruit.
As most chardonnay spends some time in oak barrels, you can add these to the list:
almond, baked bread, brioche, butter, butterscotch, caramel, cedar, coconut, creamy, honey, oak, pencil shavings, sawdust, smoky, toast, and vanilla.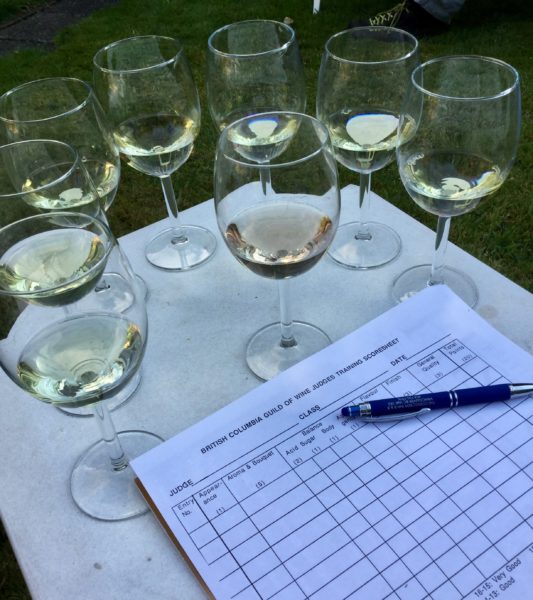 All the wines in the flight showed good varietal character, good integration of oak and fruit and many displayed an elegance only found in the best wines.  So, it was not surprising that most people in the group found a small spread in points for the wines.
Some general results for the evening:
The Tinhorn Creek really delivers for a very affordable $22.00 as does the Clos du Soleil at $23.
The Spearhead, Noble Ridge, Liquidity, and Little Engine offer great quality for affordable (though certainly not every day) prices. These are wines to impress wine lovers and especially Chardonnay freaks.
The elephant in the room clearly is the CheckMate Queen Taken.  For many people, $125.00 for a BC wine, especially a white wine, is somewhat shocking.  I understand.  At this price, I cannot afford to buy these very often.  Wines of this calibre are best enjoyed with a group, where perhaps five people all chip in $25 and enjoy a bottle together.  Many will ask if it is worth it.  To properly answer the question, a little context is needed.   Wines of similar quality should have similar prices.  When a wine, such as CheckMate is tasted alongside top-quality chardonnays, such as expensive white Burgundy (think of the wines from Montrachet) and it is similar in terms of quality, then the answer is clearly, yes, it is worth it.  (current BC LDB Montrachet listings $125 – $335).When asked what people's favourite wines were, the results, not surprisingly, varied and included – CheckMate, SpearHead, Liquidity, Little Engine, Tinhorn Creek, and Noble Ridge.Janice's top picks – CheckMate, Noble Ridge and Spearhead.  Mine included Little Engine, SpearHead, Liquidity, and CheckMate.

The bottom line?  BC makes some very impressive chardonnay wines.  I admit, $30 to $50 is a little out of my budget for everyday drinking, but yes, I do splurge a bit to have some of these fine wines in my cellar and by comparison, they represent very good value.  The ones listed above are but a sampling of some of the better ones.  There are many others.  Noted wine writer Stephen Spurrier, after touring several wine regions in BC said, "You have some of the finest dirt in the world and your wines are very good.  Soon, you will rival the finest Burgundy has to offer."  Sometimes it takes an outsider to make us realize just how good BC wines can be.

Addendum

At the end of our meetings, corkscrew aficionado, Wayne Meadows brings out his 'show and tell'.  This time it was a framed corkscrew collection and told a little bit about each one.

Photo courtesy of Sal Robinson

A   English circa 1900 Pig bone handle

B   Scandinavian circa 1900 Brass & steel handle

C   English circa 1875 Carved elephant's tusk

D   English circa 1900 Extremely long speed worm

E    English circa 1900 Sterling handle

F    English circa 1910 Boars tusks & Sterling handle

G   English circa 1900 Root of an antler handle

H   French circa 1750 All steel with Archimedean worm

I     Danish circa 1930 Silver Art Deco handle

J   English circa 1910 Wooden handle with pig bristle brush

K   French circa 1920 Cow horn & brass handle

L   French circa 1900 One-piece cast iron

M  English circa 1900 Carved Walrus tusk handle

Wayne's note:

I used circa 1900 on many of them but could be +/- 25 years

(All photos, except as noted – Sam Hauck)