Extremely small lot, limited edition Chardonnay
We're so excited to introduce Clos du Soleil Winemaker's Series Chardonnay 2019! With fewer than 80 cases available, though, we can't guarantee it will be around for long.
Of course, Chardonnay tends to be polarizing: love it or hate it. But that rule really only applies to the Chardonnays of old. Not all Chardonnays taste like butter slathered onto a slice of oak. That well-toasted Chard-myth is just that: a myth. Chardonnay can be big and buttery, but it can also be delicate and nuanced. A confection of pretty florals on the nose, followed by a palate of lemon, pineapple and apple, strung together with a crisp minerality which smacks of the Similkameen.
Yes, we are describing our Clos du Soleil version. Yes, it is rather quaffable, if we do say so ourselves.
The grapes for this limited edition Chardonnay 2019 were organically grown on Clos du Soleil's steep, stony "La Côte" vineyard. Fermented and aged in old French oak puncheons – with the lack of new oak reducing those vanilla buttery flavours typically associated with Chardonnay – this beautiful wine is a perfect reflection of the land where it was grown.
2019 WINEMAKER'S SERIES CHARDONNAY ~ LIMITED RELEASE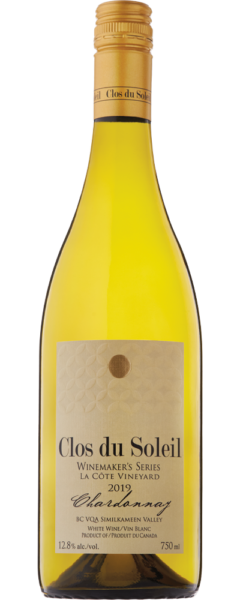 This beautiful, delicate expression of Chardonnay is a perfect reflection of the land where it was grown.
EYES
A beautiful pale yellow in the glass
NOSE
Bright fruit-driven aromas of apple, quince, and lemon skin, complemented by pretty floral notes.
MOUTH
On the palate the wine is full and round, dominated by ripe fruit like lemon, pineapple, and apple, strung together by bright acidity, and a crisp mineral backbone. Ripe yet with a delicacy and tension: this beautiful wine is a perfect reflection of the land where it was grown.
BODY
Full
WINEMAKING NOTES
The Chardonnay grapes for this wine were grown organically in Clos du Soleil's La Côte Vineyard (in transition to certified organic status), hand-harvested in early October, and then immediately whole-cluster pressed. The juice was very lightly settled, and then racked to ferment in French oak puncheons (no new oak). Following alcoholic fermentation it also went through malolactic fermentation, and then was matured in these same barrels for 8 months, with occasional lees stirring. The wine was gently filtered just prior to bottling.
As with previous small-lot, limited releases, we expect our Chardonnay to sell out pretty quickly, but there is good news: free shipping on orders of 6+ bottles (mixed cases allowed) is now a permanent fixture to all our BC and AB customers, with nominal shipping fees everywhere else.
We hope the rest of your Summer is glass-half-full and sun-drenched,
The team at Clos du Soleil
Information and image provided by the winery.
If you would like to be featured on MyVanCity.ca please email myvancityval@nullgmail.com for details. Wine samples accepted for review.