Our visit to Clos du Soleil Winery was the first time we had stopped although I had enjoyed their wines most recently at a winemaker's dinner held at Fairmont Hotel Vancouver's Notch8 Restaurant in late November. This visit we were met by Michael Clark the winemaker and enjoyed a tour of the winery and the vineyards.
If you haven't been to the Similkameen yet you really must make a visit. There are many wineries  located here and they are producing fine wines.Especially known for their rich, full bodied reds. For more information about this BC Wine Country region visit Similkameen Independent Winegrowers.
So much to learn about the winery practices and the vineyard.The terroir is a stemwinder soil and it consists of three bans the first or top is very rocky . These bands of soil follow the valley. *
The Similkameen is all about the individual site with differing climates and winds, often too much wind. Every vineyard differs from the next. At Clos du Soleil the vineyard has been organic for the past ten years with biodynamic practises contributing to soil health.The site is more moderate with the best grapes like Merlot and Cabernet Sauvignon coming from the south facing exposure. The vineyard of the sun with a natural wall.
Red wines ferment in concrete from France. The first year for a beautiful Sémillon fermented in concrete with the possibility of more whites femented in concrete in the future.
Here are the wines we tasted:
Fumé Blanc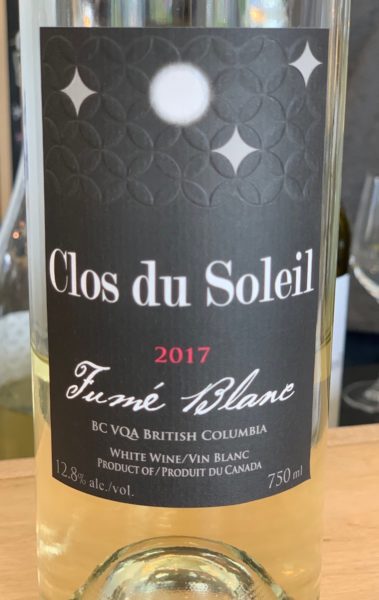 Clos du Soleil's Fumé Blanc is a full-flavoured, aromatic take on Sauvignon Blanc and Sémillon. A beautiful pale-gold in the glass.
The nose of this wine immediately envelops the taster in ripe fruit aromas of grapefruit, apple, pear, and ripe lemons, with notes of gunflint and the beautiful floral notes of lilac in full bloom.
On the palate the wine is full bodied with a rich mouthfeel, incorporating flavours of ripe apples and pears, complex layers of citrus including characteristic varietal flavours of grapefruit, as well as a subtle hint of oak.
Crisp and refreshing, this is a wine that is easy to enjoy by itself, but pairs wonderfully with roast poultry, soft cheeses, and is a knock-out with all kinds of seafood!
Fermented slowly and cool in stainless steel and smaller volume in French oak.
Fruity, and slightly darker new world expression of Sauvignon blanc, fruit forward. Scents of candy floss, not too light, just right, good flavour. $20.90
2016 Capella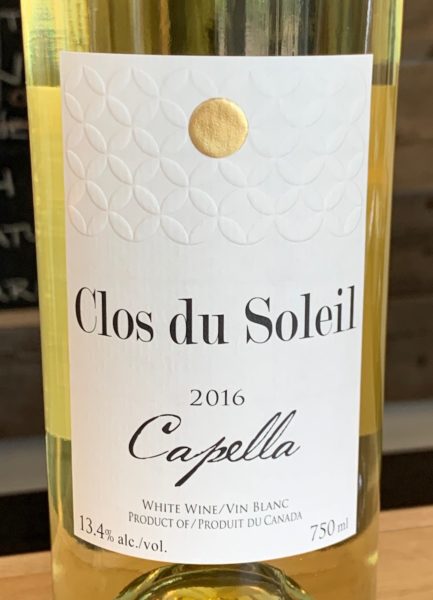 Our flagship white wine is a classic Bordeaux blend of Sauvignon Blanc and Semillon. It is a wine of grace, elegance and age-worthy structure.
The palate shows flavours of ripe grapefruit, lime zest, as well as more tropical flavours of passionfruit, quince, and pineapple. There is a lively sense of saline minerality stringing these flavours together into a unified whole, through to the long finish. There is only the most subtle sense of oak but more telling is the sense of volume and richness coming from the sur-lie barrel aging. Complex and engaging, this is a seafood wine par-excellence: sea-bass, tuna, crab, or oysters would be a knock-out. Roast chicken or herb-crusted pork would be excellent too. Enjoyable now, this is a wine which will develop an added sense of richness with age.
Light golden in the glass. The wine shows aromas of lemon curd, grapefruit, and subtle wisps of smoke.The palate shows flavours of ripe grapefruit, lime zest, as well as more tropical flavours of passionfruit, quince, and pineapple. There is a lively sense of saline minerality stringing these flavours together into a unified whole, through to the long finish. There is only the most subtle sense of oak but more telling is the sense of volume and richness coming from the sur-lie barrel aging.
"This is the wine I drink myself on warm summer evenings on our back deck. Crisp, balanced, with layers of tropical fruit, this is a wine that pleases almost everybody. Barbecued shrimp, and maybe some fresh fruit and a glass of this wine! Having made this wine, what is remarkable is how these flavours and aromas are really unchanged from the time the grapes were harvested – the wine in the glass smells just like that freshly harvested fruit coming in from the vineyard." Mike Clark, Clos du Soleil Winemaker
Nine months of barrel fermentation in the same barrel and a year in the bottle before it's released. Expected to last for 10-12 years to mature but good drinking now. Sweet aromas, fruity and delicious. Light oak scents in a good way, it shows restraint, harmony, elegance and nuance. It could go further but stopped at the perfect level. The 2017 will be bottled in June. $26.90
2018 Winemaker's Middle Bench Vineyard Pinot Blanc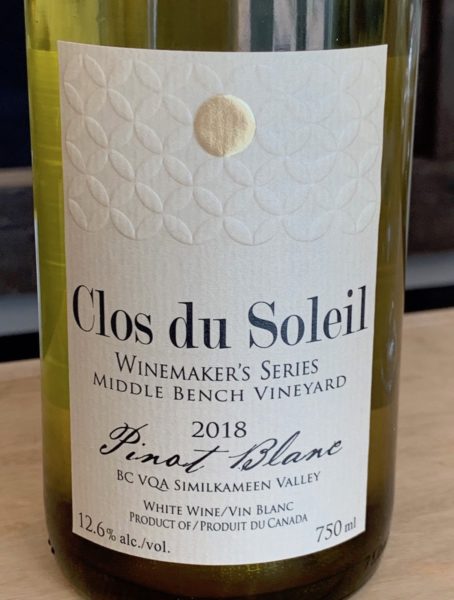 This Pinot Blanc, a long-time fan-favourite at Clos du Soleil, hails from a vineyard on the Middle Bench Road in Keremeos. On the nose this wine is a tightly-woven tapestry of tangerine, nectarine, pear and lychee, with subtle floral highlights.
Fermented entirely in stainless steel, in the cellar the focus in making this wine was on maximizing retention of the beautiful floral aromatics that always make this wine so distinctive. This included gentle whole-cluster pressing, followed by a long, cool fermentation, with some lees contact to accentuate the richness on the mid-palate. After the completion of fermentation we used only the most minimal and gentle handling during maturation, prior to bottling, in order to retain the full range of fruit characteristics. The result of this is a sophisticated, elegant, and perfectly balanced expression of Similkameen Pinot Blanc.
This carries through to the elegantly-expressed palate of crunchy, sun-ripened apple and pear, some citrus notes, and just a hint of spicy pepper. Perfectly balanced, light, clean and soft, this is a wine flush with the flavours of the Similkameen summertime.
This wine is perfect for pairing with grilled fish, pastas with olive oil and fresh vegetables, or just a lazy summer afternoon.
Sweet candy aromas, a sweet dry of ripe fruit with good acidity. $22.90
2018 Winemaker's Whispered Secret Vineyard Pinot Gris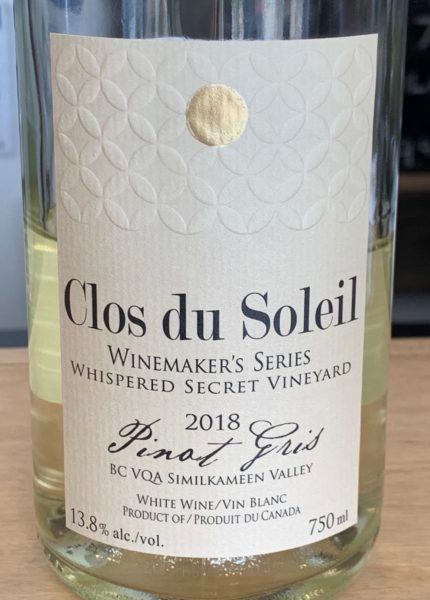 The grapes for this wine were grown on our Whispered Secret Vineyard, a cooler site on the south side of the valley, ideal for flavour development while maintaining beautiful acidity.
A rich, ripe expression of Pinot Gris, on the nose this wine presents the taster with aromas of ripe nectarine skin, fresh pear juice and lemon zest.On the palate the wine is dense with flavours of ripe nectarine, pear and apple. It has a fine-grained texture in the mouth, leading into a long, juicy finish of soft stone-fruit flavours complemented with zingy citrus acidity.
The fruit quality was excellent so the winemaking focused on preserving that which nature gave us. We pressed the fruit whole-cluster immediately after hand-harvesting, and fermented it in a combination of stainless steel tanks and French oak puncheons. The slow fermentation lasted for over a month, and then the wine was aged on the lees for a further 4 months. Other than a light filtration prior to bottling, nothing else was done to this wine – just as nature intended it!
The firm structure but concentration of ripe fruit flavours means this wine is easy to enjoy by itself, but is equally an excellent food wine: summer salads, chicken with poached pears, or glazed pork would all be excellent pairings.
The citrusy, slight grapefruit tasting wine came from grapes grown close to the river on the cool side. Using French oak and stainless steel. Light with good acidity, delicate aromas and easy drinking. $21.90
As we often do my companion tasted different wines, please note although he definitely enjoyed the wines he is a man of few words:
2014 Signature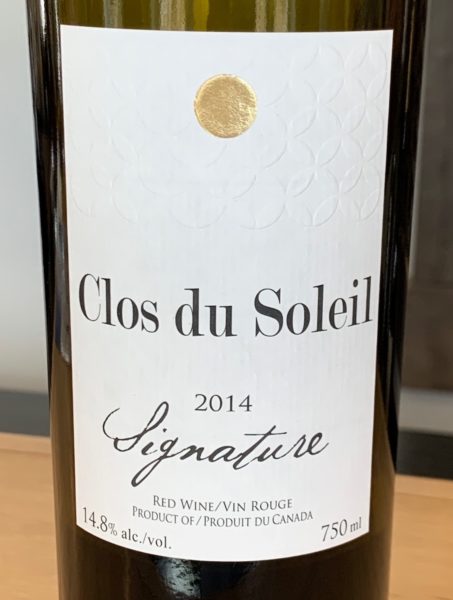 Signature is our flagship blend of red Bordeaux varietals, produced by hand, and aged for 16 months in French oak barrels. The 2014 vintage, the product of a year of ideal growing conditions, is a classic example of this iconic wine.
The taster is enveloped in the dense aromatic profile of ripe red berries, forest undergrowth, and hints of both cedar and mint. On the palate the wine is the epitome of elegance with integrated flavours of blackcurrant, blackberry, raspberry, and black pepper notes.Our winemaking philosophy is to treat our grapes gently and with respect in order to produce a complex, ageworthy wine that showcases the very best expression of the terroir of the Similkameen Valley. Each variety and each vineyard block was harvested separately when judged to be at optimal maturity. It was then gently destemmed, crushed, and fermented following a moderate cold-soak. More than half of the lots used only native fermentations to reinforce terroir expression. After a gentle pressing, the wines were barrel aged for 17 months in 100% French oak barrels. Only those barrels showing the greatest complexity, depth, and ageability were selected for our Signature blend. In order to protect the nuances and beauty of this wine, it was neither filtered nor fined. Simplicity and a light hand in the winery have allowed us to deliver a wine which speaks of the beauty of our land.
Displaying a voluminous structure built of fine tannins and fresh acidity, it ends with a very long finish. Enjoyable in its youth, the beautiful balance and structure of this wine will ensure its ability to age for well over a decade.
Always a fan of a Bordeaux style blend consisting of 38% Cabernet Sauvignon, 37% Merlot, 14% Petit Verdot, 8% Cabernet Franc, 3% Melbec. $44.90
2016 Béton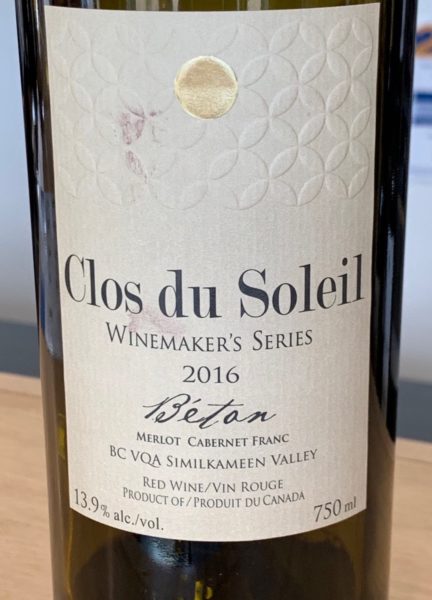 We are so very excited to introduce to you our 2017 and 2016 vintages respectively! Adding to our excitement is the release of our small batch, limited edition, members only Béton – a wine you really have to taste to believe. Join our Soleil 160 Wine Club now to see what we mean.
"I'm so pleased to be able to share this special wine with our club members. Every coin has two sides, and this bottling shows the 'other side of the coin'. Barrel aging is an important process at Clos du Soleil, but, by contrast, this special bottle demonstrates the impact of 100% concrete elevage ('elevage' being a French term for the active process of developing and maturing a wine) and it serves to beautifully highlight the mineral character in Similkameen fruit. It is the concrete aging that helps the wine showcase its terroir, and I'm very pleased with the result. Moreover it's delicious!" Mike Clark, Clos du Soleil Winemaker
A blend of 89% Merlot and 11% Cabernet Franc with good tannins. $33.00 (apx) Wine Club Exclusive
2015 Célestiale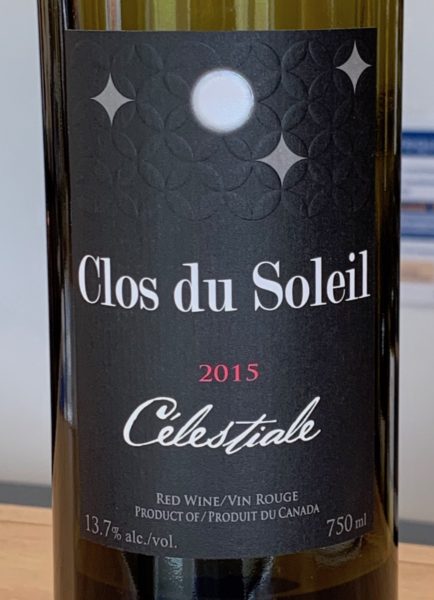 Célestiale is Clos du Soleil's Bordeaux-style blend that is soft and full of fruit with an elegant and classic structure. The taster is greeted with aromas of cedar and raspberry compote, with notes of pomegranate and cranberry.
On the palate the wine is soft and layered, with ripe fruit flavours of raspberry, plum and blueberry. The soft tannins and long finish, complemented with notes of cocoa and roast meats, make this an approachable and food-friendly wine.Aged for 15 months in French oak barrels, only those barrels displaying the ideal characteristics for our Célestiale blend were selected for this wine. Ripe tannins and mouth-watering red-fruit characters allowing this adaptable wine to be enjoyed from a young age: it is delightful to drink now but will also continue to develop with age in the coming years.
The wine is elegant and perfectly balanced, and with its fresh acidity and fine lively tannins this is a perfect food wine.
A Bordeaux style blend predominately Cabernet Sauvignon. $26.90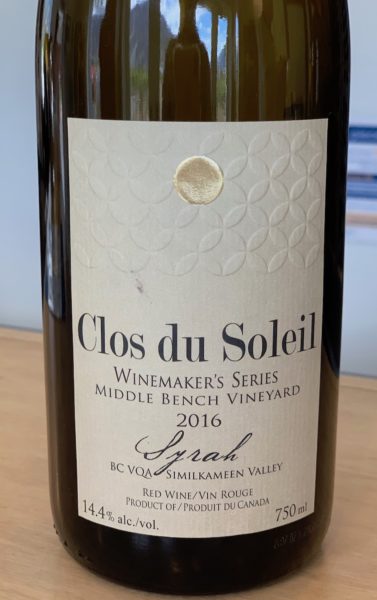 This single-vineyard wine is part of our acclaimed Winemaker's Series. Is a deep purple in the glass.
Immediately the perfumed nose of this wine envelops the taster with aromas of freshly crushed raspberries and black currants complimented with subtle notes of baking spice, sagebrush, and pepper.
On the palate a bright and fresh acidity is met with these same flavours of wild raspberries accented with notes of blackcurrant and a hint of cloves. Soft and supple in the mouth with very fine tannins, this exclusive and limited production Syrah is an opportunity to see a new side of Clos du Soleil.
Hand-harvested at peak maturity, the grapes for this wine were very gently de-stemmed, crushed, and then fermented in small-lot open top fermenters for a full month with daily manual punchdowns before pressing. It was then aged for 16 months in French oak barrels with 12% new oak. As in all Clos du Soleil wines, the focus was on attention to detail, minimal interventions, and the expression of terroir.
"Syrah has this spicy berry character that so many people love, but this bottle has a stony character that screams 'Similkameen Valley.' It really speaks to what I try to do with all of my wines: namely a very light touch in the winery, so that the land itself can shine through in the finished product." Mike Clark, Clos du Soleil Winemaker
Pronounced very good according to the brief notes. $32.90
Full disclosure my companion does the red wine tasting while I taste predominately whites, rosés, and occasionally a Pinot Noir. All the wine tasted and noted here are wines we would recommend and purchase to drink again. Lack of notes does not indicate lack of enjoyment of the wine. The wines ranged from very good to excellent.
Old World Elegance, New World Edge
About Clos du Soleil
Clos du Soleil is a small artisan winery and estate vineyard on the Upper Bench of the South Similkameen Valley, in British Columbia, Canada. 
We produce ultra-premium quality wines, borrowing an aesthetic derived from the great wines of Bordeaux, but stamped with the flavours and aromas of our particular piece of rocky Similkameen land.  Through traditional winemaking techniques, informed by research, but adhering to the philosophies of minimal-interventionist winemaking and biodynamic viticulture, we produce wines that are complex and classic, ageable and elegant.
The name Clos du Soleil, a French term meaning an enclosed Vineyard of the Sun, refers to the rocks, soil, and sun, which together define this very special piece of land where we grow our grapes. The enclosure is the mountain that forms a tall natural stone wall at the back of our vineyard, almost surrounding the cobbled terroir which lends its unique flavours to our wines. Most importantly, our name highlights the long days of sun which pour in on the Similkameen Bench, one of BC's most unique and promising microclimates.
"The Similkameen Valley, smaller than the main Okanagan Valley has steeper sideslopes that rise to over 1100 m above sea level. A relatively level valley bottom is its' main feature south of Keremeos. Bedrock in the Similkameen Valley area generally consists of greenstone, tuff, chert, minor diorite and quartzite.
It characteristically has hot, dry summers and crisp, largely overcast, after snow-free winters with air temperatures below freezing for about ten weeks . The region lies in the rain shadow of the Coast Mountains on which eastward moving moist Pacific air masses rise and loose their moisture. Cold arctic air occassionally intrudes into the valleys during the winter allowing temperatures to drop to about -25°C.
The dry, hot summers lead to soil moisture deficits during the growing season and irrigation is required for the production of most agricultural crops. Frost during the winter penetrates most soils to about 50 cm depth." British Columbia Soil Survey, March, 1986 *
Tasting notes, quotes, "about Clos du Soleil" (all in italics), and feature image courtesy of the winery. All images, except as noted, MyVanCtiy. We received two complimentary bottles of wine (2016 Capella and 2016 Syrah) and purchased one bottle of 2014 Signature at the Wine Club price. All opinions are my own.
[wdi_feed id="2″]