In late November an enthusiastic group of wine lovers and Clos du Soleil wine club members enjoyed an exceptional dinner at Notch8 restaurant in the Fairmont Hotel Vancouver.
Winemaker's dinners are an excellent way to introduce wines to both lovers of wine with experience and knowledge and to novice wine drinkers. It is my opinion that in order to really understand and enjoy a wine experience the wine needs to be paired with food. That sounds simple enough but it is actually a complicated arrangement between cuisine and wine.
The chef plays a dual role here because a chef has to be able to choose the right wine pairing even if he personally has little wine experience. In fact given the trained palate of a chef, even without a lot of wine experience, they are able to choose a pairing based on the flavours of their dish. Just like an experienced sommelier distinguishes a wine by aroma alone a chef can make a wine selection based on the complexity of their dish and in consultation with a sommelier, or as in this case, with the winemaker just the right pairing is selected.
Winemaker Clos du Soleil Mike Clark and Fairmont Hotel Vancouver Chef du Cuisine Will Lew collaborated on a winemaker's dinner featuring the wines of Clos du Soleil including previously unreleased wine from their portfolio.
The venue was a private dining room with a classic "library" vibe that was both comfortable and inviting.
Starting with a stand-up reception featuring Clos de Soleil Fumé Blanc 2017 paired with Clos du Soleil Verjus Gelee / Toasted Seeds and Candied Nuts / Dehydrated Root Solar 'Flares' as guests mixed and mingled in a pleasant atmosphere of seasonal, elegant decor.
Dinner was excellent and both a masterpiece for the eye as well as the palate. The wine pairings were perfectly matched to the cuisine.
Clos du Soleil Estate Reserve White 2015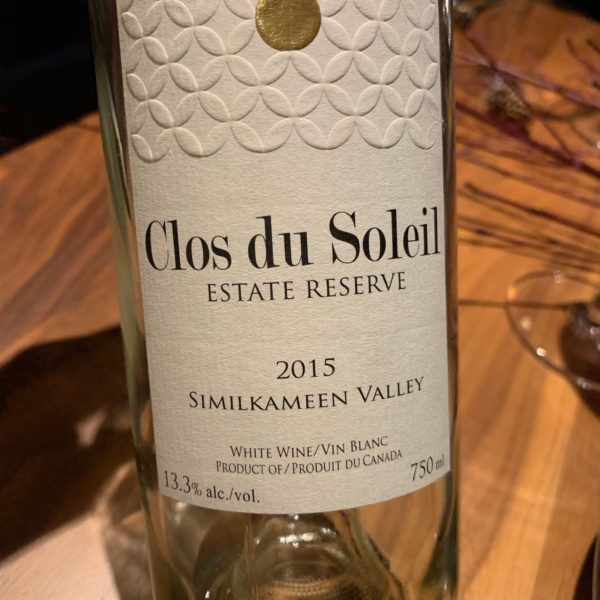 "Oceans Terroir"
Uni and Northern Divine Caviar / Torched
Smoked Gindara / Fingerlime Geoduck / Citrus
Infused Green Apple / Sea Asparagus /
Nori Bottarga 'Sand'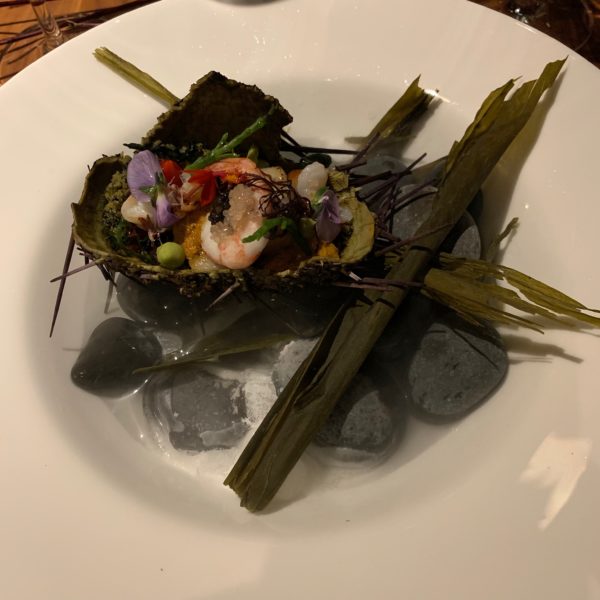 Winemaker's Series Cabernet Franc 2016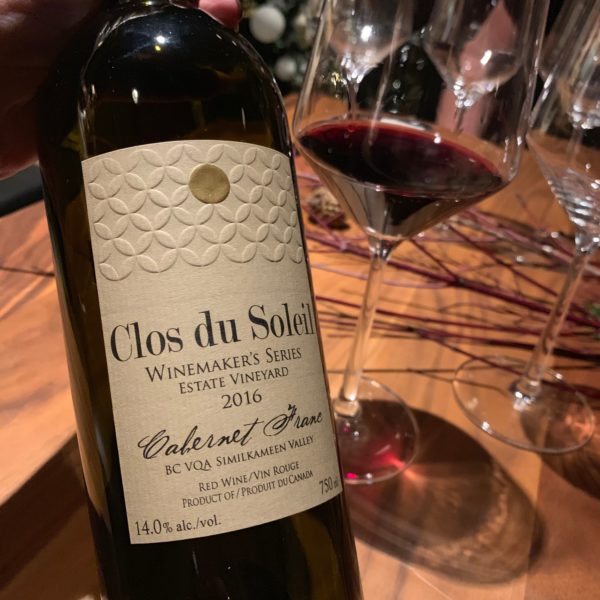 "Pheasant in the Undergrowth"
Blackberry Birch Glazed Pheasant Breast /
Truffles / "fallen leaves" / Spruce Jus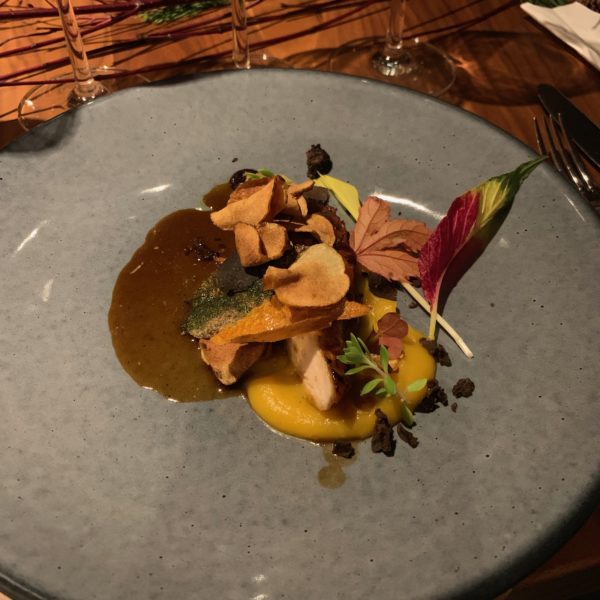 Clos du Soleil Signature 2014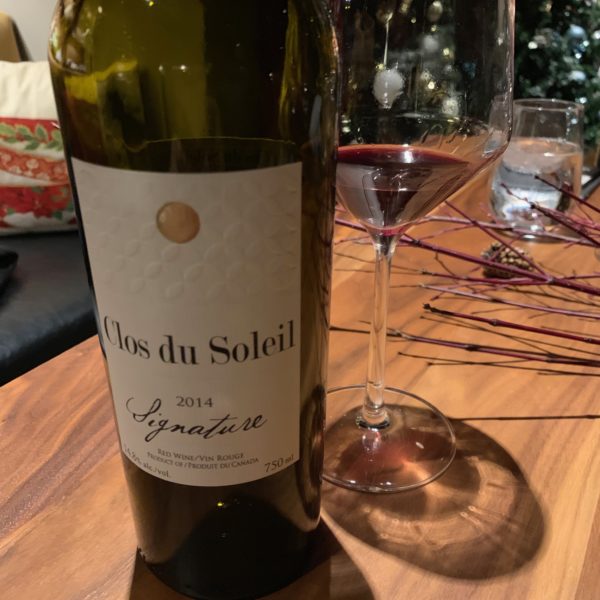 "Surrounded by the Essence of Cedar and Oak"
Charred Dry Aged Beef Tartare / Pickled Cassis
/ Maple Cured Yolk / Black Pepper Mint Oil /
Walnut Pemmican 'Soil'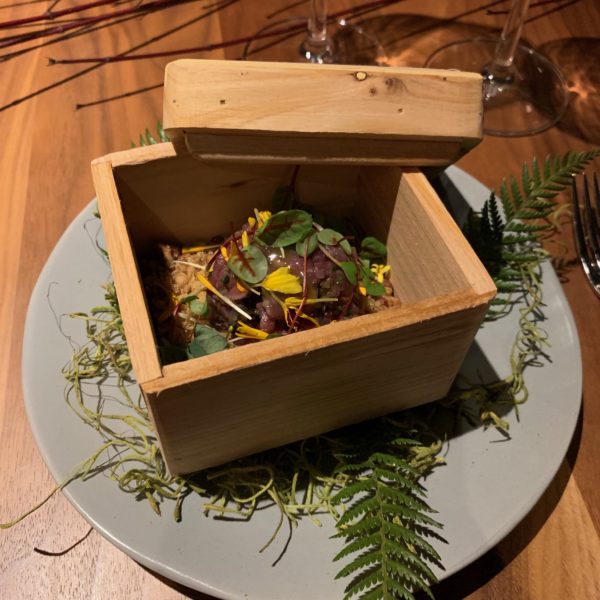 Clos du Soleil Estate Reserve Red 2014 + 2012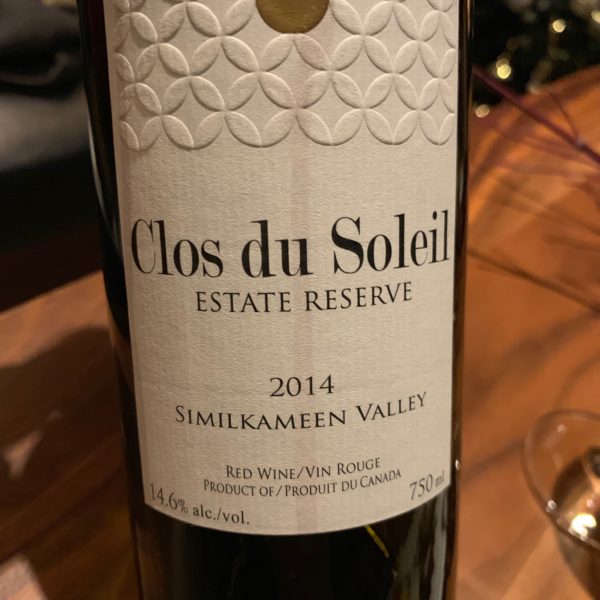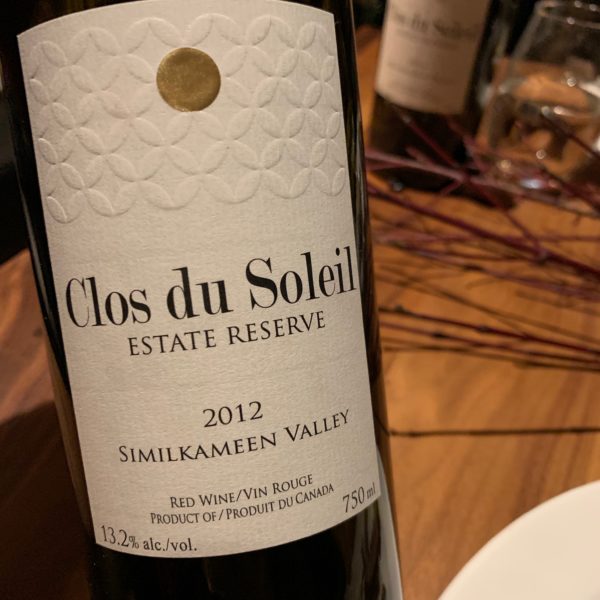 "Forest Terroir: Transformation of an Image"
Fire Grilled Elk Striploin / Smoked Carrots /
Forest Mushrooms / Braised Plums / Fermented
Black Garlic Jus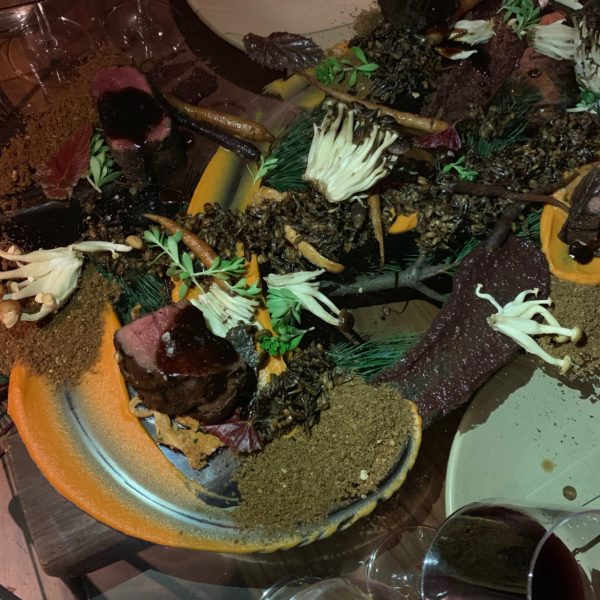 Clos du Soleil Saturn 2017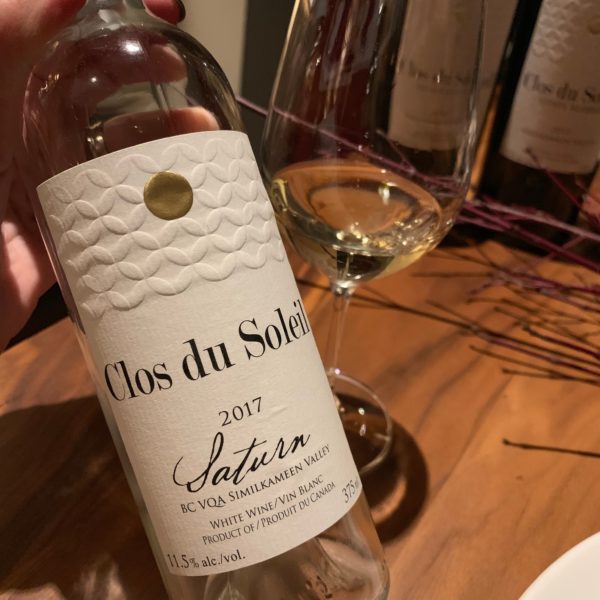 "Rings around a Planet"
Mandarin Gelee Interwoven with Caramel,
White Chocolate-Peach, Pear, and Cinnamon
Orbits. Lime and Ginger Sorbet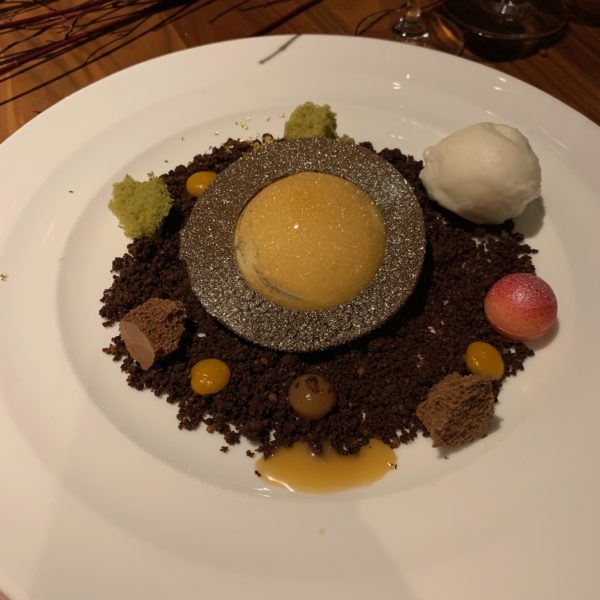 It was very interesting to taste the wines prior to tasting the dish and then to enjoy the wine with the dish. Nuances of the wines were definitely different when paired comparative as when they were drunk alone.
Of course wine preference is selective as was shown during the Forest Terroir: Transformation of an Image which paired two wines of the same varietal but two different vintages. Depending on the individual pallet you may have preferred one wine over the other. Or you may have enjoyed both vintages equally well as you worked your way around what was on your plate.
I found that the complexity of the courses was such that it was a credit to the wine and the winemaker that any one choice worked so well with the mix of intense flavours. The accompaniments were varied and in some cases quite out of the ordinary comprising of not just flavours but textures as well. From smooth glazes or jus to rustic and earthy vegetables each bite was a new and exciting experience.
The Clos du Soleil wines were versatile and would easily be enjoyed with a number of cuisine options from a simple dish prepared at home to an evocative out of the ordinary dish. The wines stood up very well against the diverse tastes of each course.
It would be interesting to experiment a bit with the excellent wines of Clos du Soleil. Use your culinary imagination, be inventive, take a little risk because you know the wine is up for the challenge.
I would encourage you to visit the Clos du Soleil website for technical information and tasting notes for each of the wines served.
My dinner was complimentary. All opinions are my own. Images: MyVanCity,  feature image courtesy of Clos du Soleil.
[wdi_feed id="2″]