"In this series I will be sharing my take on which BC Wine pairs well with some inspirational recipes"
I have been the recipient of some very nice BC wine sent to me to review. While I make no secret of the fact that I am not a wine expert, not even close. But I think that makes me in tune with about 98% of the wine drinking population. So here goes, I am going to tell you about the wines I am pairing and tell you why I enjoyed the wines with that particular dish.
I have been using New York Times Cooking as my inspiration. Admittedly I do fudge on the recipes, sometimes quite a bit, I also almost never measure ingredients and just sort of wing in or go by sight. I add ingredients and I delete ingredients. I am not a spice fan so I definitely nix the chili flakes or coriander or curry spices. The result are dishes that hubby and I enjoy together, paired with BC wine.
This is my first soiree into my recommendation for BC wine pairing with a dish I accomplished all by myself. If I can do it, then you can definitely do it!
Seared Scallops with Tomato Pureé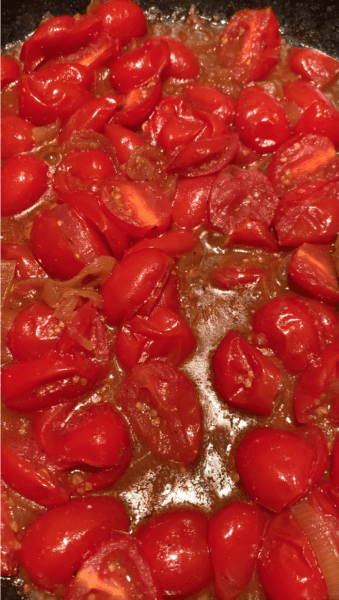 Ingredients:
butter
2 small sliced shallots
garlic clove
white wine
grape tomatoes, halved
salt and pepper to taste
10 east coast scallops
Olive oil
fresh basil
Using just olive oil in a non stick frying pan. Add sliced shallots and cook just until soft, add a minced clove of garlic (more if you're a fan).
I used grape tomatoes even though the original recipe called for cherry tomatoes adding the sliced tomatoes to the pan, adding sea salt and freshly ground pepper. I think you could use any small, ripe tomato variety.
Here I varied again from the recipe by using a Pinot Gris (from The View Winery that I had been enjoying prior to my kitchen duties) adding a liberal amount to the tomato, shallot and garlic mixture. Cooking until the tomatoes were soft and juicy.
I used frozen scallops that had been defrosting in the refrigerator all day. I drained all the fluid away and used several paper towels to be sure the scallops were very dry.
I also opted not to transfer the tomato mixture onto a plate that the original recipe asked for. I did this for two reasons; first to keep the tomato mixture warm, and second; and most importantly, the scallops still contain moisture and I wanted to sear them in a large, heavy bottomed frying pan. Plus it seemed counter productive to have to wait for the pan to cool, wash it, dry it and reheat the pan again.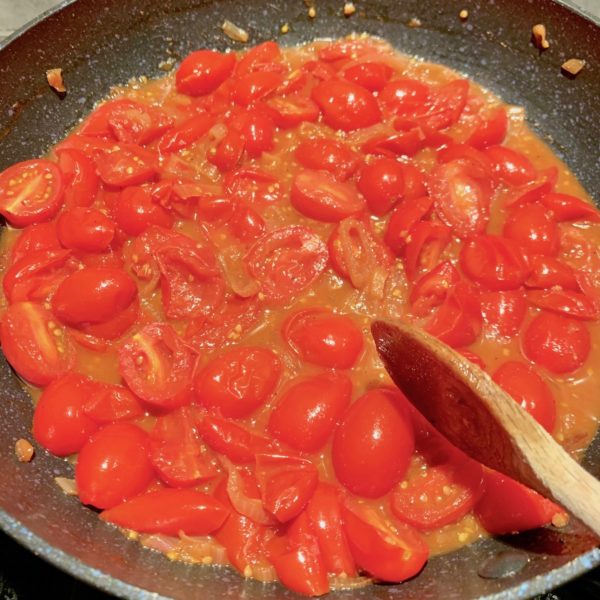 I used a mix of butter and olive oil at a fairly high heat to sear the scallops.
The reason I used a large, heavy bottomed pan was because I could heat it easily to a medium high with controlled heat and also because the large frying pan prevented the scallops from steaming which is something they tend to do in a smaller pan. This worked well and I was pleased with how golden the scallops were after a short few minutes.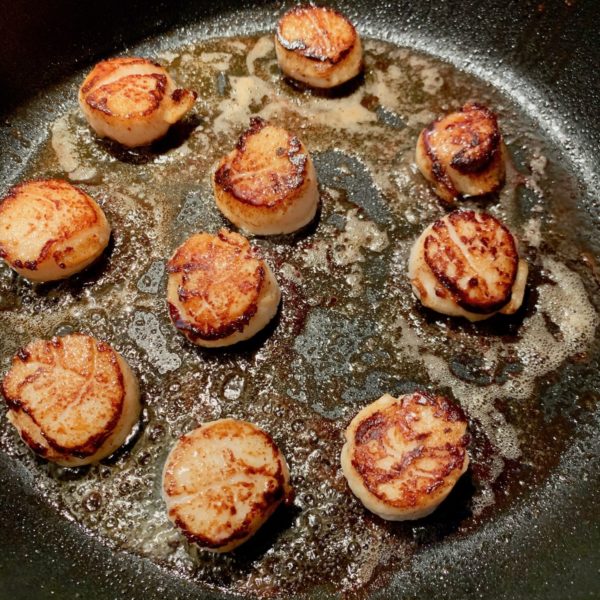 As soon as the scallops were cooked (about 3 or 4 minutes) I dished the tomato mixture into two individual pasta bowls, adding the scallops on top. Next I turned down the heat just enough to avoid splatter and carefully added more wine to the pan to capture all the yummy bits and poured that around but not directly onto the scallops.
Last step was adding slices of freshly picked basil. Optional, add additional dribble of olive oil, I skipped this and instead used the pan drippings rich with butter and olive oil.
This made two generous portions that I served with crunchy baguette and a quality, organic butter.
I changed some of the ingredients and kept some from the original recipe. My kitchen isn't stalked as well as it could be so I'm always flexible.
My chosen wine pairing. Although scallops often are paired with a Chardonnay, and would usually be my go to wine pairing, I considered just how much the tomato base would be a factor in terms of my wine selection. In the end after evaluating the flavours and sweetness of the tomato mixture, and of course, the sweetness that comes through when the scallops are quickly seared, and went with a tried and true favourite. I was not disappointed, the Goldhill Chardonnay was the perfect choice.
Chardonnay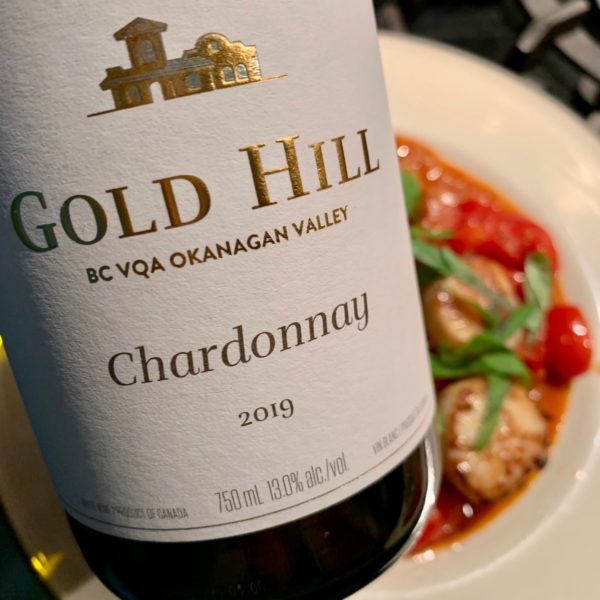 I found this wine to be quite subtle, which is just the way I prefer my Chardonnay. It was smooth with hints of fresh fruit aromas. Served not too cold to allow the flavour of the wine to come through. It matched well with the delicate scallops and the seasonal sweetness of the tomatoes.
Winery notes:
Cool-fermented in stainless steel tanks to capture the essence of the fruit, this wine has delicate aromas of green and golden apples with accompanying notes of citrus, peach and pear. The balanced finish with a hint of honey and tropical notes pairs well with chicken, salads or fish. 
The dish turned out delish! I would definitely make this again, it was perfect with the crunchy baguette to soak up all the juices. This was a really easy dish to make. I think the biggest challenge was cooking the scallops at just the right temperature and for just the minimum amount of time so they were still plump, juicy and fork tender.
This is a pretty basic recipe that you can easily find by googling scallops and tomatoes. I didn't worry about serving a salad with this dish. Summertime is ideal for simpler fare. This dish was super easy, quick and I think also company worthy.
Recipe from New York Times Cooking as inspiration.
Winery notes courtesy of Goldhill Winery. All images: MyVanCity
I received a complimentary bottle of Goldhill Chardonnay to facilitate this feature. Opinions are my own. Thank you to The View Winery who provided the Pinot Gris I enjoyed pre-dinner and for the recipe, also complimentary in appreciation for our #ShiptoSip, #JointheClub, and #WelcomeBack features on MyVanCity.ca.
Would I cook this dish again? Absolutely, this was a delicious dish and a breeze to make. Simple yet a bit on the elegant side and would make a good company dish. Hardest part was getting the scallops just right.
If you would like to be featured on MyVanCity.ca please email myvancityval@nullgmail.com for details. Wine samples accepted for review.