"In this series I will be sharing my take on which BC Wine pairs well with some inspirational recipes"
Coq au Vin may sound intimidating to some but it is really a fairly easy dish to prepare. In this take on the classic I made the "avec crème" version. Warning: it is super rich and filling. I think it makes a wonderful special occasion dish for family, or an intimate dinner for two. This one is made with white wine and heavy cream.
There are numerous recipes out there for this dish and this is just how I made it, and as always I vary and make changes to suit my own taste. Overall I think you will enjoy this one!
Coq au Vin Blanc avec Crème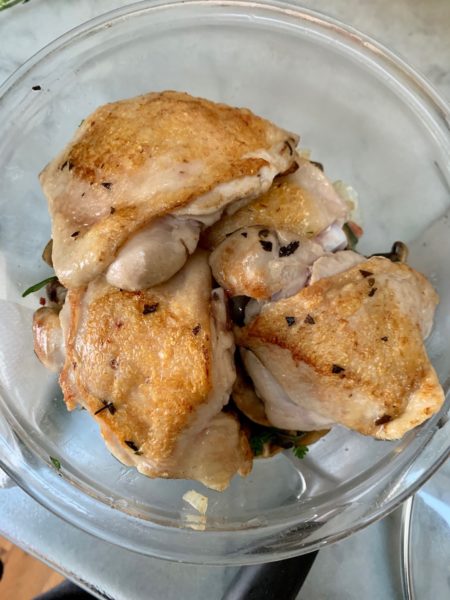 Ingredients:
bacon slices, fat trimmed, cut into 1″ pieces
1 sweet onion, sliced
4 chicken thighs on the bone, with skin
mushrooms
garlic clove
Italian parsley
Tarragon
off-dry riesling (I used Four Shadows *)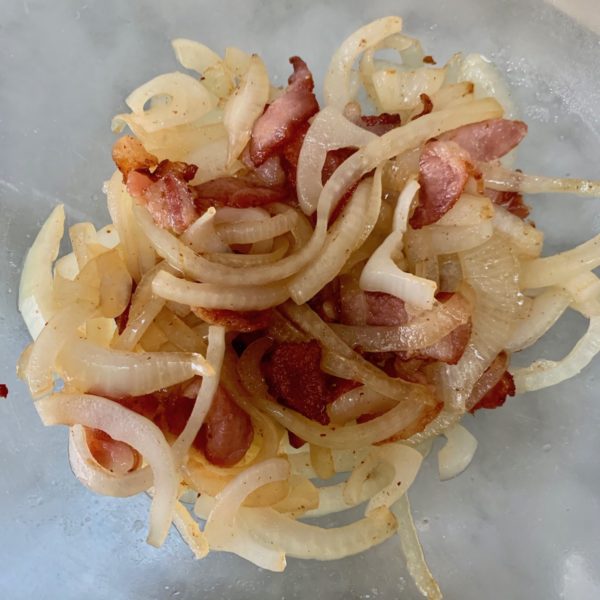 Using a heavy bottomed non stick pan with a medium heat. Cook the bacon pieces until well done but not too crispy, add a portion of the Tarragon, chopped, and one minced garlic clove (more to taste if you wish) to the pan and add the onion slices. Cook until the onion just starts to turn a little bit golden.
Remove the onion and bacon mixture from the pan and heat to just a bit better than medium. Saute the sliced mushrooms, salt to taste. Return the onion bacon mixture to the pan. Over medium heat add the wine stirring to combine and turn to simmer until the liquid has been slightly reduced.
Either use another frying pan or remove the mixture to a bowl. Heat the frying pan to a medium high. Add the chicken pieces, salt and freshly ground pepper to taste, skin side down and sear until the thighs are nicely golden on both sides. Remove from pan and place on a plate skin side up.
Add all the onion bacon mushroom mixture to an oven proof dish, or use the frying pan if you wish, add a bit more tarragon and place the chicen thighs skin side up on top of the mixture. If you want the chicken to be a bit more on the tender side and less crispy skinned you can cover the thighs with the mixture. Add additional wine if desired.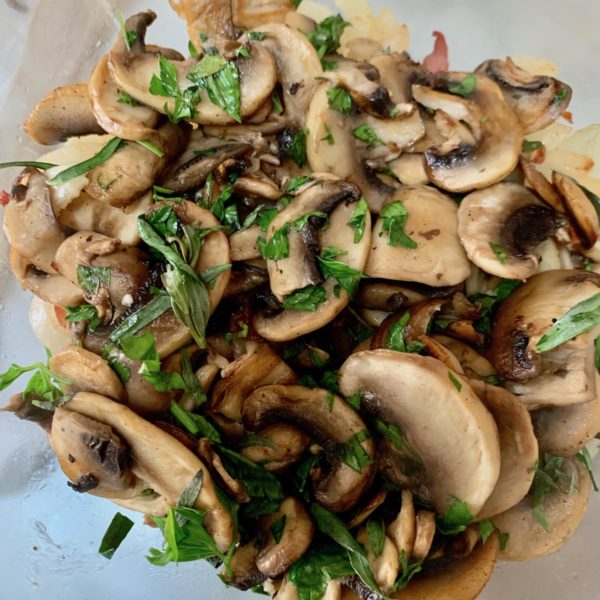 If you want the chicken to remain crispy skinned then be sure to place the thighs on top of the mixture, if you are more concerned about tenderness be sure to nestle the chicken thighs well down into the mixture so they are almost completely covered. Remove the lid near the end to keep the skin a bit crispy.
I prefer to bake my dish, covered, in a 350 degree oven but you can also cook it on the stove, with or without a lid over medium low heat just to the simmer point. Both methods take about an hour.
Once the dish has cooked to your liking, remove from heat or oven. Carefully remove the chicken from the pan, add the cream to the pan and stir to combine. Spoon the mixture into two pasta bowls, top with two pieces of chicken and garnish with chopped Italian parsley.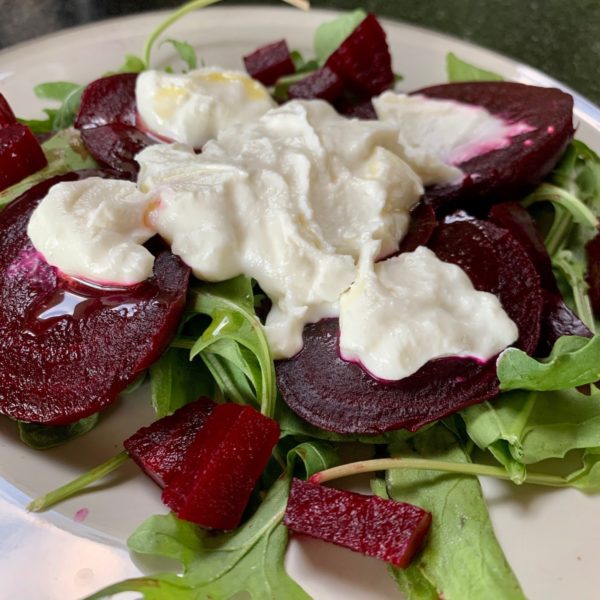 While we were waiting for the chicken dish to finish cooking we enjoyed a salad of freshly cooked, sliced beets with goat cheese (thinned with cream) on a bed of arugula. Dressed with just a good quality olive oil and balsamic vinegar.
For this dinner I chose a Four Shadows Riesling.
Four Shadows 2019 Riesling

Was this a cautious wine pairing option, well yes, but I wanted to go with a wine that I felt would best complement the dish.The onions were sweetish and the cream was extra rich. The original recipe called for an off-dry riesling for cooking so I went with that suggestion and used some of the bottle of Four Shadows for cooking. Okay a safe choice. I wanted a wine that was sip worthy pre-dinner and also pair nicely with the dish. The acidity in the wine allowed it to stand up to the beets, goat cheese, and spicy arugula as well as it did to the richness of the coq au vin. This one was a winner and I'm glad I chose it for this pairing.
An Intensely fragrant, full-bodied wine with tropical aromas of Lychee, apricot, peach, cotton candy, and a note of caramel. This off-dry Riesling floods the palate with guava and grilled pineapple. With colder nights at a 1690 feet elevation, these grapes maintained their bright acidity. With a perfect balance of tartness and sweetness, this wine has a long, dry finish.
$22.99 available online or Order by Phone 250-493-3625
*Yes, I use the same quality of wine in my cooking as I do in my glass, it does make a difference.
My inspiration for this dish came from a Google search which produced an almost unlimited number of versions on this classic, I selected the ingredients that appealed to me knowing I wanted a "blanc" version with heavy cream. I was mindful to follow recipes that were highly rated by a large number of people just to be sure.
Tasting notes and bottle shot courtesy of the winery. I received a complimentary bottle of the Four Shadows 2019 Riesling for review. Opinions of the wine (in italics) are my own. All images, except the bottle shot, MyVanCity.
Would I make this again "you betcha" in fact hubby started asking for an encore within days of having this one! He is the house salad maker so I might just be talked into a repeat. Best served on a cooler day which we have had a few of lately.
If you would like to be featured on MyVanCity.ca please email myvancityval@nullgmail.com for details. Wine samples accepted for review.