Hello and Happy Thanksgiving everyone. It's Turkey Time! 
Your family here at the Cafe & 2nd Floor Gastown hope you are well, and we would like to extend a Happy and Healthy Thanksgiving to all. We are truly thankful for all the support you, our community,  have shown us over these trying months. We look forward to seeing you many more times in the near future.
Although we need to keep our bubbles tight and celebrate in small gatherings this Thanksgiving season, it doesn't mean that we can't bring our loved ones "together" over a meal. Get together with your friendly bubble or close family, or get your computer ready for that zoom dinner with everyone you know and love!
We've taken great care to arrange our dining room with all Coastal Health Guidelines in place. Join us this Thanksgiving Weekend, October 11th and 12th, starting at 5pm. Enjoy your meal in our dining room, on the 2nd Floor Gastown for one of our weekly Live Jazz Sundays sessions, or maybe even on our sunny patios.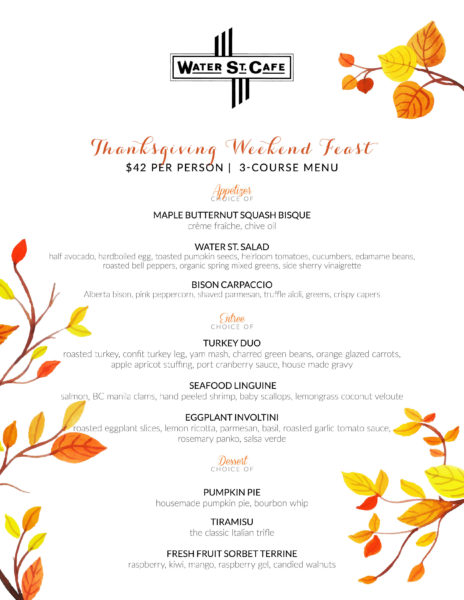 Order your contact-free Turkey Dinner for you and your loved ones… don't worry about
the fuss or the mess, we have you covered!
Turkey Dinner for 2 – $69
2 bowls of house-made Butternut Squash Soup
Big Salad to share
2 portions of Chef Alan's famous Turkey Duo and all the fixings
2 orders of grilled Garlic Toast
2 slices of house-made Pumpkin Pie with bourbon whip!
Order for your loved ones, order for yourselves… let us do the work! And once again from all of us here at your Water St. Cafe, thank you for supporting our independent, family restaurant!