"In this series I'll share which B.C. wine pairs best with select recipes from the best chefs in B.C." 
Thrilled to share this recipe from Chef Alex Chen. Chef Chen was one of our original contributors to #TasteofThursday and we are so pleased to welcome him back. Not only is Chef Chen an incredible chef he is such a nice person. I think his kindness and caring personality shines through in his recipes and all he does.
We are back to months with an "r" in them which means clams are perfect right now. Enjoy!
Clam Chowder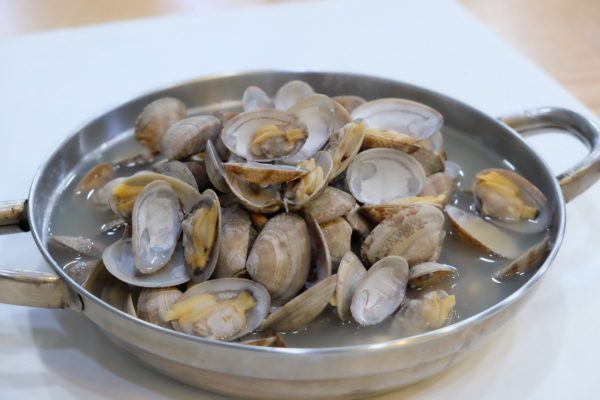 by Chef Alex Chen
This clam chowder is inspired by Chen's youth on the West Coast of British Columbia.
Clam Stock
2 kg (5 lb) littleneck clams
15 ml (1 tbsp) vegetable oil
10 ml (2 tsp) chopped shallots
2 cloves garlic
500 ml (2 cups) dry white wine
2 sprigs fresh thyme
1 bay leaf
Rinse clams under cold water for 10 minutes. Drain.
In a heavy-bottom pot with a lid, warm oil; sweat shallots and garlic for 2 minutes over low heat. Add white wine, thyme, bay leaf and clams. Cover and steam until shells open.
Drain clams and liquid through a strainer, saving liquid for use in chowder.
Let clams cool for 20 minutes. Remove clams from shells and set aside for use in chowder. Discard shells and shallot mixture.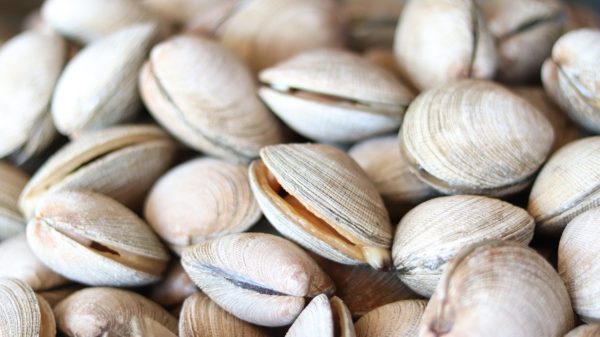 Chowder
45 ml (3 tbsp) unsalted butter
15 ml (1 tbsp) oil
60 g (2 oz) salt pork
75 ml (1/3 cup) medium-diced leeks
150 ml (2/3 cup) chopped white onions
75 ml (1/3 cup) medium-diced fennel
75 ml (1/3 cup) medium-diced celery
1 clove garlic, chopped
30 ml (2 tbsp) chopped shallots
150 ml (2/3 cup) medium-diced potatoes
20 ml (1 tbsp plus 1 tsp) all-purpose flour
375 ml (1 1/2 cups) clam stock
250 ml (1 cup) heavy cream
2 kg (5 lb) clams, shells removed (from clam stock recipe)
3 sprigs fresh thyme
0.5 ml (1/8 tsp) fennel pollen
Zest of 1/4 of a lemon
1 sprig fresh dill, chopped
0.5 ml (1/8 tsp) cayenne pepper
Salt and white pepper, to taste
Juice of 1/8 of a lemon
Warm butter and oil in a heavy-bottom pot on medium heat.
Add salt pork, leeks, onions, fennel, celery, garlic, shallots and potatoes. Sweat for 3 minutes.
Add flour and stir for another 30 seconds. Slowly add clam stock. Simmer for 5 minutes, then add cream. Simmer slowly for 15 minutes over low heat.
Stir in clams, thyme leaves, fennel pollen, lemon zest, dill and cayenne.
Taste and adjust seasoning with salt and white pepper. Balance flavours with lemon juice.
Makes 4 servings.
My suggested wine pairing:
2018 CAPELLA ~ NEW RELEASE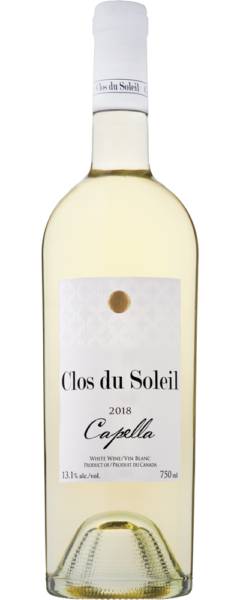 Our flagship white wine is a classic Bordeaux blend of Sauvignon Blanc and Semillon. It is a wine of grace, elegance and age-worthy structure.
EYES
Light golden in the glass.
NOSE
Intense aromas of grapefruit, lemon curd and meadow grasses.
MOUTH
The palate shows an array of flavours: lemon zest, ripe grapefruit, Anjou pear, pineapple and wisps of wood smoke all tied together with bright, crisp citrus acidity. On the palate the wine is full and rich with a softness resulting from sur-lie ageing. A lovely saline minerality strings it all together, through to the long finish.
BODY
Full
WINEMAKING NOTES
Each vineyard block was separately harvested, by hand, at peak maturity. The grapes were whole-cluster pressed, and then fermented entirely in barrel (60% French oak puncheons, 40% stainless steel barrels) with the majority undergoing only wild, spontaneous fermentation. One third of the barrels were also allowed to undergo wild malolactic fermentation. All lots were barrel aged for nine months, on the lees, with lees stirring. The final wine was created by blending together just the very best barrel lots, in order to create a wine of true complexity and elegance.
FOOD PAIRING
This is a seafood wine par-excellence, but roast chicken or herb-crusted pork would be excellent too. Enjoyable now, this is a wine which will develop an added sense of richness with age
The Winery
Clos du Soleil is a small artisan winery and estate vineyard on the Upper Bench of the South Similkameen Valley, in British Columbia, Canada.
We produce ultra-premium quality wines, borrowing an aesthetic derived from the great wines of Bordeaux, but stamped with the flavours and aromas of our particular piece of rocky Similkameen land.  Through traditional winemaking techniques, informed by research, but adhering to the philosophies of minimal-interventionist winemaking and biodynamic viticulture, we produce wines that are complex and classic, ageable and elegant.
With thanks to Chef Alex Chen, Culinary Executive Chef, Sutton Place Hotels for this recipe. Feature image: clam chowder photo credit: Liela Kwok. (@leilalikes) Bottle shot and tasting notes courtesy of the winery. With thanks, I have received complimentary wine from Clos du Soleil for our #FavouriteThings feature, including a 2017 Capella. All opinions are my own.
If you would like to be featured on MyVanCity.ca please email myvancityval@nullgmail.com for details.