For the beginning of our third week of #FavouriteThings Holiday Gift Suggestions we head out to the Similkameen Valley. This ever so slightly lesser know BC Wine Country region is not just up and coming – it has definitely arrived!
This spring we were fortunate to be able to visit Clos du Soleil and tour with Michael Clark, Winemaker and Managing Director. We love the philosophy of winemaking at this small artisan winery. You will find their methods produce excellent wines that we personally recommend.
Clos du Soleil elves have been working hard and are offering you individual wines for gift giving as well as some curated gift sets that will make terrific gifts for the wine lovers on your list this year.
2017 Capella

Varieties
Sauvignon Blanc
Semillon
Vintage
2017
Description
Our flagship white wine is a classic Bordeaux blend of Sauvignon Blanc and Semillon. It is a wine of grace, elegance and age-worthy structure.
Eyes
Light golden in the glass.
Nose
Intense aromas of grapefruit, lemon curd and meadow grasses.
Mouth
The palate shows an array of flavours: lemon zest, ripe grapefruit, Anjou pear, pineapple and wisps of wood smoke all tied together with bright, crisp citrus acidity. On the palate the wine is full and rich with a softness resulting from sur-lie ageing. A lovely saline minerality strings it all together, through to the long finish.
Body
Full
Winemaking Notes
Each vineyard block was separately harvested, by hand, at peak maturity. The grapes were whole-cluster pressed, and then fermented entirely in barrel (60% French oak puncheons, 40% stainless steel barrels) with the majority undergoing only wild, spontaneous fermentation. One third of the barrels were also allowed to undergo wild malolactic fermentation. All lots were barrel aged for nine months, on the lees, with lees stirring. The final wine was created by blending together just the very best barrel lots, in order to create a wine of true complexity and elegance.
Food Pairing
This is a seafood wine par-excellence, but roast chicken or herb-crusted pork would be excellent too. Enjoyable now, this is a wine which will develop an added sense of richness with age.
$27.90
2015 Célestiale

Varieties
Cabernet Sauvignon
Merlot
Malbec
Cabernet Franc
Vintage
2015
AWARDS
Gold 2019 Sip Northwest's Best of the Northwest
Description
Célestiale is Clos du Soleil's Bordeaux-style blend that is soft and full of fruit with an elegant and classic structure.
Nose
The taster is greeted with aromas of cedar and raspberry compote, with notes of pomegranate and cranberry.
Mouth
On the palate the wine is soft and layered, with ripe fruit flavours of raspberry, plum and blueberry. The soft tannins and long finish, complemented with notes of cocoa and roast meats, make this an approachable and food-friendly wine.
Body
Full
Winemaking Notes
Aged for 15 months in French oak barrels, only those barrels displaying the ideal characteristics for our Célestiale blend were selected for this wine. Ripe tannins and mouth-watering red-fruit characters allowing this adaptable wine to be enjoyed from a young age: it is delightful to drink now but will also continue to develop with age in the coming years.
Food Pairing
The wine is elegant and perfectly balanced, and with its fresh acidity and fine lively tannins this is a perfect food wine.
$26.90
2016 Winemaker's Middle Bench Syrah

Description
This single-vineyard wine is part of our acclaimed Winemaker's Series.
Eyes
Is a deep purple in the glass.
Nose
Immediately the perfumed nose of this wine envelops the taster with aromas of freshly crushed raspberries and black currants complimented with subtle notes of baking spice, sagebrush, and pepper.
Mouth
On the palate a bright and fresh acidity is met with these same flavours of wild raspberries accented with notes of blackcurrant and a hint of cloves. Soft and supple in the mouth with very fine tannins, this exclusive and limited production Syrah is an opportunity to see a new side of Clos du Soleil.
Body
Full
Winemaking Notes
Hand-harvested at peak maturity, the grapes for this wine were very gently de-stemmed, crushed, and then fermented in small-lot open top fermenters for a full month with daily manual punchdowns before pressing. It was then aged for 16 months in French oak barrels with 12% new oak. As in all Clos du Soleil wines, the focus was on attention to detail, minimal interventions, and the expression of terroir.
$32.90
2015 Signature

Varieties
Cabernet Sauvignon
Merlot
Cabernet Franc
Malbec
Petit Verdot
Vintage
2015
AWARDS
Silver 2019 International Wine & Spirits Competition
Description
Signature is our flagship blend of red Bordeaux varieties, produced by hand, and aged for 15 months in French oak barrels. The 2015 vintage, the product of a long, hot growing season producing ripe fruit character, is a lush example of this iconic wine. Enjoyable in its youth, the balance and structure of this wine will ensure its ability to age for many years.
Nose
The taster is enveloped in a dense aromatic profile of cassis, raspberry and blackberry, with hints of violet.
Mouth
On the palate the wine is layered with flavours of sun-ripened cherries, raspberry, cassis, mint and blackberry, with complex notes of graphite, sagebrush and pepper. Structure is provided by the soft but full tannins, and a stony mineral quality to the long finish.
Body
Full
Winemaking Notes
Our winemaking philosophy is to treat our grapes gently and with respect, in order to produce complex, age worthy wines that showcase the very best expression of the Similkameen Valley terroir. Each vineyard block was harvested separately, by hand, when judged to be at optimal maturity. The grapes were then gently de-stemmed, crushed, and fermented following a moderate cold-soak. The majority of the lots were fermented using only native wild yeasts to reinforce terroir expression. After a gentle pressing the wines were aged for 15 months in 100% French oak barrels. Only the barrels showing the greatest complexity, depth and elegance were selected for our Signature blend. Simplicity and a light hand in the winery have allowed us to deliver a wine which speaks of the beauty of our land.
$44.90
Estate Reserve Red 2015 

Varieties
Cabernet Sauvignon
Merlot
Cabernet Franc
Malbec
Petit Verdot
Tasting Notes Clos du Soleil's Estate Reserve wines form the pinnacle of our portfolio, and are designed to showcase the unique terroir of our Estate Vineyard on the Upper Bench of the Similkameen Valley. The 2015 vintage of our Estate Reserve wine is rich and expressive, with a layered complexity. On the nose the wine offers a heady blend of spice, cedar, and ripe black berry fruit: blackberry, blackcurrant, and Damson plum. On the palate the wine is full and complex, with waves of blackcurrant, raspberry and blackberry, liquorice and graphite, full but fine tannins, and a rich, soft mouthfeel. This elegant wine provides loads of pleasure now, but with the structure and density to last for many years.
Winemaking Notes
This was a long, warm vintage, allowing our Bordeaux grape varieties to achieve perfect maturity, particularly given the organic and biodynamic practices utilized in our Estate vineyard. Each variety was hand-harvested separately at peak maturity, gently de-stemmed and crushed, and then gravity-fed into fermentation tanks. All lots went through 100% spontaneous fermentation with native yeasts. Each variety was vinified separately, and then matured separately, in 100% French oak barrels for 15 months. Following maturation the barrels were blended and left to integrate in tank for 2 months prior to bottling. The wine is entirely unfined and unfiltered. As with all Clos du Soleil wines the focus was on minimal handling and minimal intervention, to best showcase the unique terroir.
$59.90
2017 Saturn 

Varieties
Sauvignon Blanc
Vintage
2017
Description
Saturn is our Late Harvest wine made from 100% Sauvignon Blanc grapes specially selected and harvested in November. A delight now, imagine how this wine will develop even more complexity and richness over the years!
Eyes
A rich gold in the glass.
Nose
The nose of this wine is pure enjoyment: a heady blend of fresh orange zest, mandarin orange, stewed pears and cinnamon.
Mouth
In the mouth this wine is rich with the flavours of fresh peach, pear and orange, with notes of lime peel and a bright acidity that lends this complex wine a light and clean impression.
Body
Medium
Winemaking Notes
The late-harvested grapes for this wine were specially selected and hand-havested, in the very early morning of November 4th, 2017, when sugars, flavours, and acids were concentrated within each berry in order to produce this luscious late harvest wine. Following harvest each berry was gently pressed in order to release its precious nectar. After settling, the juice was fermented for a full 2 months in old, neutral French oak puncheons, and then aged on the lees until bottling. A pure expression of nature's bounty.
Food Pairing
This is a delicious partner to soft cheese, especially blue – or desserts.
$28.90
Clos du Soleil also has some gifting options:
Gifting Option 1: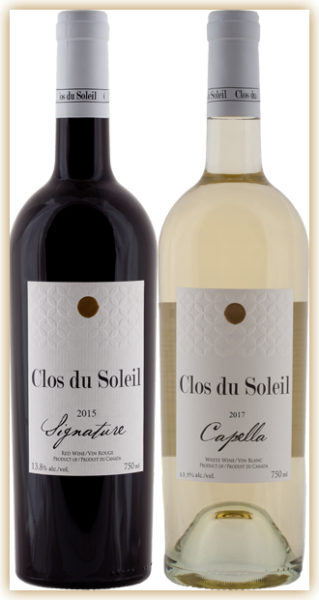 Flagship Wines Gift Pack: One bottle each of 2017 Capella and 2015 Signature in a beautiful wood gift box ~ $81.80 Incl. tax, + Bottle deposit. (Wood gift box, $12 value, included in pricing.)
Gifting Option 2: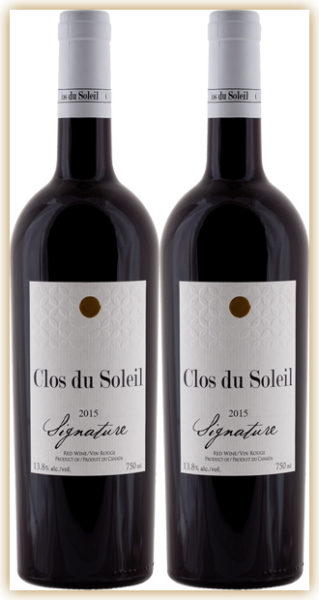 Signature 2015 Gift Pack: Two bottles of Signature from the exceptional 2015 vintage ~ $96.80. Incl. tax, + Bottle deposit
Gifting Option 3: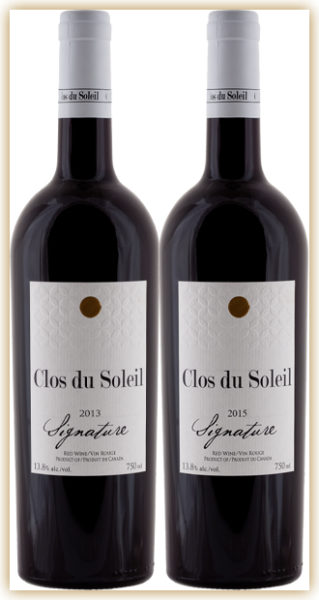 Vertical Tasting Gift Pack: Vertical set of Signature, one bottle each from the 2013 and 2015 vintages ~ $106.80 Incl. tax, + Bottle deposit
Gifting Option 4:

A 1.5L bottle of Signature 2015 (magnum) in a beautiful wood gift box ~ $96.80 for 1.5L (pictured 2014 – sold out)
Incl. tax, + Bottle deposit. (Wood gift box, $12 value, included in pricing.)
The Winery
Clos du Soleil is a small artisan winery and estate vineyard on the Upper Bench of the South Similkameen Valley, in British Columbia, Canada.
We produce ultra-premium quality wines, borrowing an aesthetic derived from the great wines of Bordeaux, but stamped with the flavours and aromas of our particular piece of rocky Similkameen land.  Through traditional winemaking techniques, informed by research, but adhering to the philosophies of minimal-interventionist winemaking and biodynamic viticulture, we produce wines that are complex and classic, ageable and elegant.
Bottle shots, all images and notes courtesy of the winery. I received one complimentary bottle of each of the wines individually featured in order to facilitate this article, all opinions are my own.