"In this series we bring you our #FavouriteThings Holiday Gift Suggestions which we personally recommend"
#FavouriteThings Holiday Gift Suggestions the Okanagan Wine Tour Guide by John Schreiner and Luke Whittall. Seeing that BC wine makes the best possible gift in my humble opinion this will get you started on your journey, even if it's just in the planning stage.
The Okanagan Wine Tour Guide is the perfect place to start your exploration of BC wines. This edition is updated and expanded and is indeed quite a journey. It's one of those books you want to keep handy and just pick it up, open at any page, and read. Full of helpful insights and wine recommendations.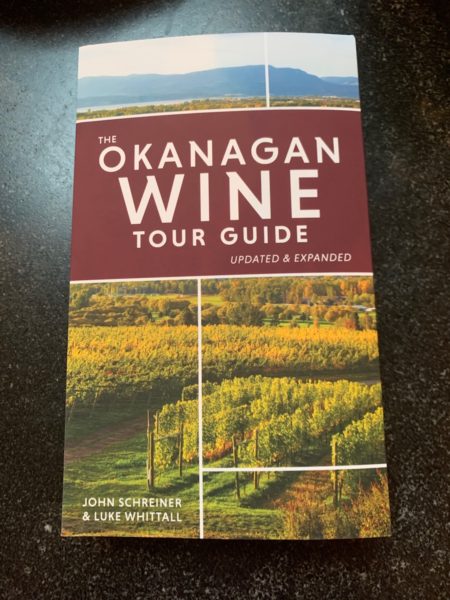 Dedication: "This book is dedicated to the late Harry McWatters, who founded both Sumac Ridge Estate Winery and TIME Winery during a 51-year career in British Columbia wine. He was a towering figure who did much to shape the successful industry."
The definitive source on Interior BC Wineries, covering the Okanagan, Similkameen, Thompson, and Kootenays. With 240 wineries (that's over 40 new openings!), maps, tasting room information and recommendations, it's the ideal glove-box guide!
For nearly fifteen years John Schreiner's guides have been the go-to for travelling the winding roads of BC's Interior wine region. In this new volume, Schreiner and his co-author-wine writer, podcaster, and instructor Luke Whittall chart the latest developments at the oldest wineries and the very first vintages from the newest start-ups in a region that stretches along Okanagan Lake, west to the Similkameen, north to the Thompson, and east to the Kootenays.Whether you're paging through the aisles of your local liquor store or hitting the road, The Okanagan Wine Tour Guide is the ultimate compendium and celebration of Interior BC wine.
$25.00 available on Chapters/Indigo and in select Chapter stores.
About the authors:
John Schreiner is the bestselling author of fifteen books, and Canada's most respected and prolific wine writer. He is a celebraed member of both national and regional wine communities across Canada and has judged in numerous wine competitions. He lives in North Vancouver and  blogs at johnschreiner.blogspot.com
Luke Whittall has worked in cellars, vineyards, and wine shops since 2005. He is a wine instructor at Okanagan college and the producer of Wine Country, BC, a podcast and blog (wine countrybc.blog). He has contributed articles to many wine-focused publications and websites, and is the author of Valleys of Wine: A Taste of British Columbia's Wine History.
With thanks I received a complimentary copy of the Okanagan Wine Tour Guide to facilitate this feature article.
If you would like to be featured on MyVanCity.ca please connect with your pr agency or email me at myvancityval@nullgmail.com for full details.