"In this series we bring you our #FavouriteThings Holiday Gift Suggestions which we personally recommend"
Always included in our #FavouriteThings Holiday Gift Suggestion we welcome back Noble Ridge Vineyard & Winery. It is exciting to introduce "The Pink One" 2017 Sparkling! Think special occasions like New Year's Eve (if you can wait that long!) #PartyLikeIts2020 with your nearest and dearest.
2017 'The Pink One' Sparkling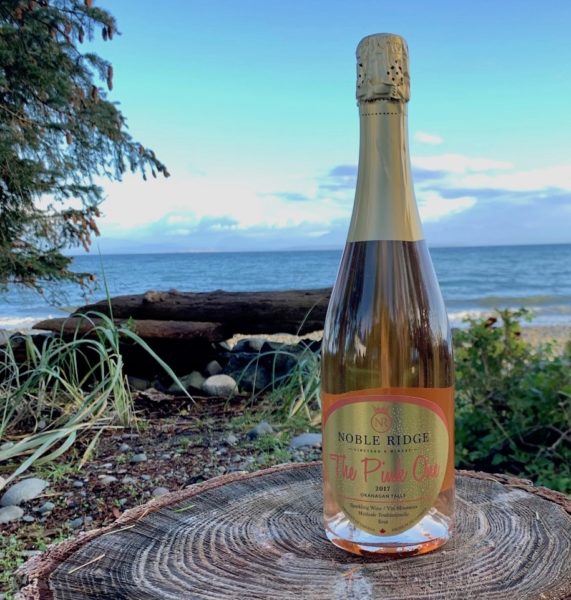 Tasting Notes
The deep and complex aroma of biscuit and toasted almond is followed by a hint of fresh wild strawberry in the background. The palate is well balanced and provides a long, soft, and dry finish.
2019 Mingle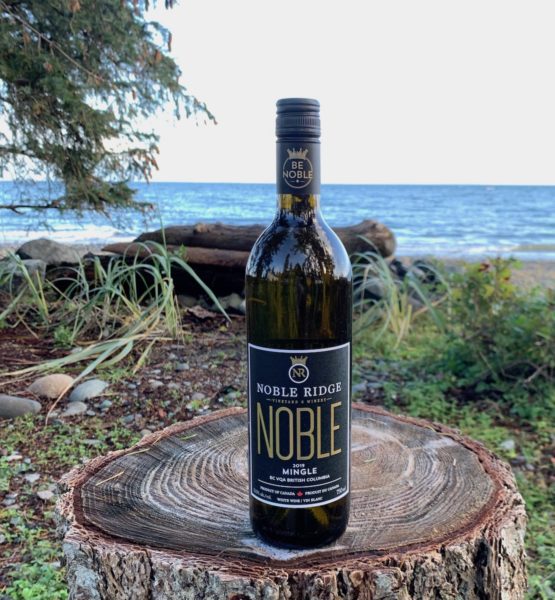 Tasting Notes
Delicate notes of lychee, Asian pear, and citrus followed by tropical notes of ripe mango and mandarin
Food Pairing
Sushi, Curries and light appetizers. Full flavoured and Blue Cheeses
2017 Reserve Meritage
Tasting Notes
This voluptuous Meritage presents pleasing aromas of rich black fruit, tobacco, dark chocolate and a subtle earthiness. Flavours of cassis, licorice and spice are underpinned by well-integrated oak and a long finish. Firm tannins grace this wine with a cellaring potential of 8-10 years.
Food Pairing Notes
Grilled Lamb, Portobello Mushrooms, Blue cheese, Dark Chocolate Desserts
Noble Knights Stone Vintage Cabernet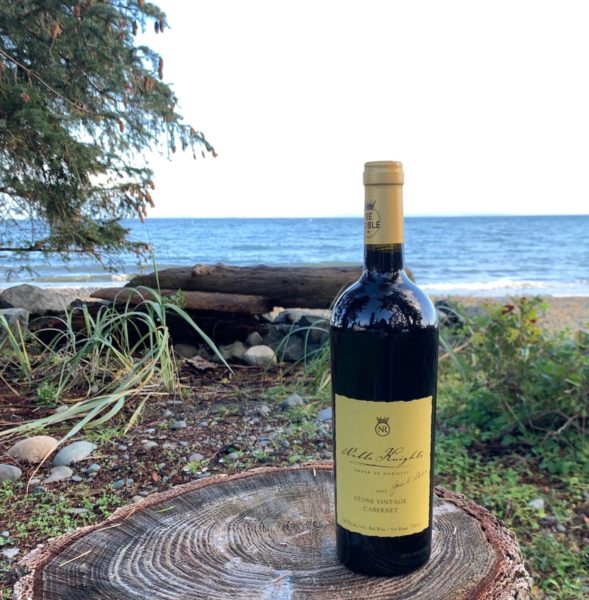 Tasting Notes
This Cabernet blend displays textbook savory notes of roasted peppers, tobacco leaf, black current and ripe plums. The rich and full body delivers ripe flavors of blueberry and black cherry are highlighted with hints of black pepper with a touch of spice and oak. Firm tannins lend to a long, lingering finish!
Food Pairing Notes
Bone-In BBQ Steak, Grilled Vegetables, Strong Cheeses, Roasted Game Meats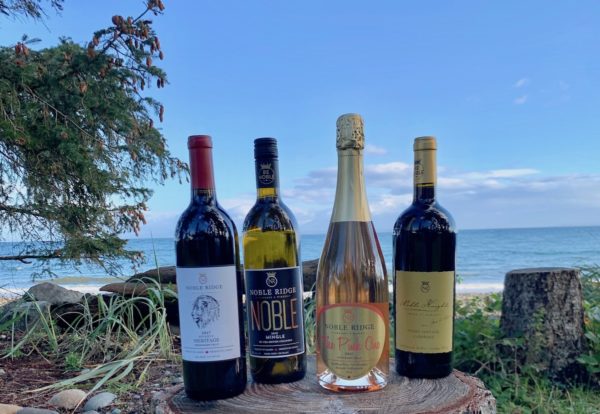 Our Tasting Room is remaining open 11 am  – 4 pm through November and December – Tuesday – Saturday for Sales, Friday – Saturday for Tastings as well. Booking ahead is recommended. Many of our neighbouring wineries are also open.
Holiday shipping deadline is December 15th for the lower mainland (we suggest you don't leave it to the last minute)
I can't think of a more welcome and cherished gift than one of the wines from Noble Ridge. Understanding that it can be difficult to choose a wine for someone else may I suggest you consider a gift of a membership in 'The Round Table' wine club. 

WELCOME to our brand new loyalty rewards program.
At Noble Ridge, we are committed to ensuring and extraordinary experience for each of our Round Table members.
Now for some good news!  Covid -19 has restricted our capacity to receive guests in the tasting room so we have opened our Round Table to a limited amount of new members.
You can sign up for your preferred club  below or contact us at theroundtable@nullnobleridge.com
Curated White 
A selection of our white wines – Mingle, Pinot Grigio Chardonnays and Noble Knights Vintages.
Join Curated White 
(Each Shipment Approximately $145)
Curated Red
A combination of our full-bodied, intense Pinot Noir Meritage blend red wines and Noble Knights Vintages.
Join Curated Red 
(Each Shipment Approximately $200)
Curated Mixed 
NEW – For the wine drinker who likes a little bit of everything (or can't decide!). A combination of our white and red wines will be specially selected for this package along with Noble Knight Vintages.
Join Curated Mixed 
(Each Shipment Approximately $200)
Curated Premium 
This package has our finest super-premium wines all in one package – Sparkling wine, a King's Ransom wine when available, Noble Night Vintages and Library wines no longer generally available.
Join Curated Premium 
(Each Shipment Approximately $250)
Membership Benefits:
3 shipments per year (March, June and September, curated by our Winemaker Benoit Gauthier and our In House Sommelier Preston Radford.
Opportunity to opt in for a 4th shipment in November, just in time for the holidays, your choice of specially selected wines.
Earn 10% of your purchases (including King's Ransom Wines) back in points to use on wine, merchandise or events.
Free Shipping on 12 bottles or more when you order online
First access to new wine releases
Complimentary Tours and "Noble Flight" Tastings at our Wine Shop. Club members are welcome to invite up to 3 guests on these complimentary tours. *Please book ahead for a vineyard tour
NEW* Access to our Round Table tasting lounge along with specialty glassware for your premium tasting which includes a flight of our King's Ransom, Sparkling, limited production and library wines *Reservations required (1 Premium flight for 2 included in your membership annually) regular price $10.00/person
Access to preferred seating in the picnic area (Reservations required)
Preference for Noble Ridge events such as Harvest Party, Vine Dining and more. (see our event page for a listing of all NR Events), and exclusive access to Member only events.
Access to limited, library wines that are no longer available to the general public and first choice to purchase limited production releases such as King's Ransom and The One.
Once your Round Table account is set up, ordering wine online is EASY! All you have to do is login under your name and all of your information is saved to your file. Simply load up your cart and check out!
Delivery:
You will receive 6 bottles of wine 3 times a year, spring, summer and fall.
Referral Program:
Invite your friends to join the Noble Ridge Round Table and earn FREE WINE!
For Each member that you refer to us, we will send you a FREE bottle of Noble Tier wine!
Better yet, you can save up your referrals and once you have 5, YOUR NEXT SHIPMENT IN ON US!
HOW: Simply ask your friend to forward their confirmation email to preston@

null

nobleridge.com with your name in the subject line. That's it!
Leave the rest to us. After your friend's first shipment is processed, the wine is yours. You can choose to have the individual bottle sent, or save up 5 towards your FREE SHIPMENT!
*shipping charges extra; shipping within Canada; rural delivery charges may apply to remote areas
**members must be 19 years of age or older
Feature and tasting notes courtesy of the winery. Bottle shots MyVanCity. I received complimentary bottles of wine to facilitate this feature.
If you would like to be featured on MyVanCity.ca please connect with your pr agency or email myvancityval@nullgmail.com for full details. Wine samples accepted for review.