"In this series we bring you our #FavouriteThings Holiday Gift Suggestions which we personally recommend"
This week is dedicated to the fine wines of the Mark Anthony Group. Favourites all we kick off this very special week with CedarCreek Estate Winery. All of the wines we are featuring for #FavouriteThings Holiday Gift Suggestions would make the wine lovers on your list very happy. We love these exclusive wine sets that include something special for any BC wine oenophile. 
Chronicles of Pinot Gris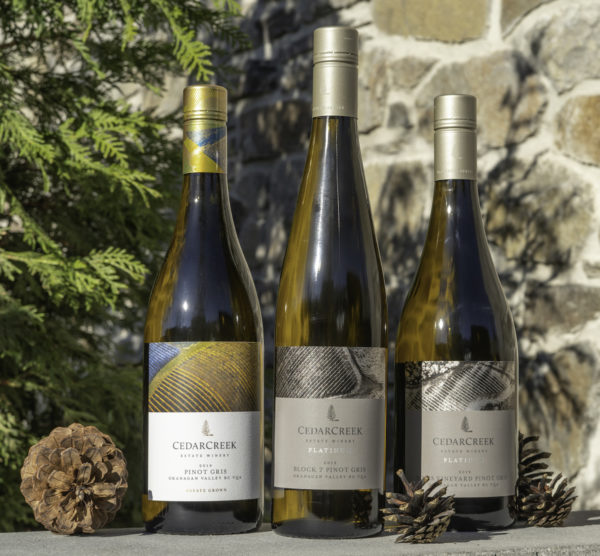 Three years ago after a trip to Alsace, France, our winemaker, Taylor Whelan, started to play with our Pinot Gris styles a bit. This bundle brings forth an exploration of a grape that is often known for its subdued character. As writer Neal McLennan stated earlier this year, "I love that Whelan is swinging for the fences with a grape that most winemakers just want to bloop singles with." 
2019 Platinum Simes Vineyard Pinot Gris  
2019 Platinum Block 7 Pinot Gris  
2019 Estate Pinot Gris  
3 wines/$78.97 available online
South of the Bluff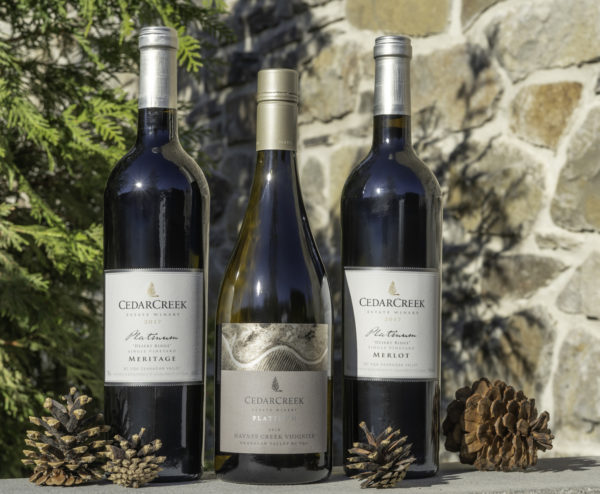 Hot growing days, and cool desert nights in our Southern vineyards nurture wines that showcase savoury notes, and ripe fruit flavour. The unique rockiness of Desert Ridge, and West-facing slope of Haynes Creek create some of the most interesting micro-climates in the Okanagan.
2019 Platinum Haynes Creek Viognier
2016 Platinum Desert Ridge Merlot 
2017 Platinum Desert Ridge Meritage 
3 wines/$134.97 available online
Big Reds Duo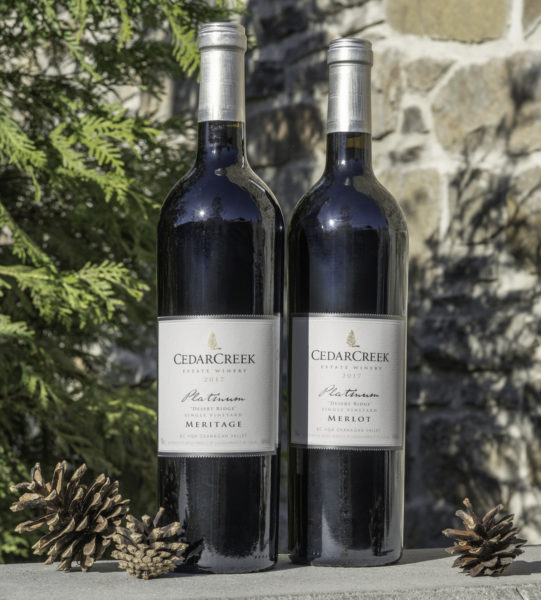 Desert Ridge, on the western edge of Osoyoos Lake, was created with stones left behind by retreating glaciers. Stony vineyards are extremely rare, and extremely difficult to farm. As the vines struggle and our tools break, we persist. The stones radiate heat back up giving us intensely concentrated grapes.  These two wines highlight the intensity of our stoniest vineyard. 
2017 Platinum Desert Ridge Meritage
2016 Platinum Desert Ridge Merlot
2 wines/$99.98 available online
Pinot Noir Duo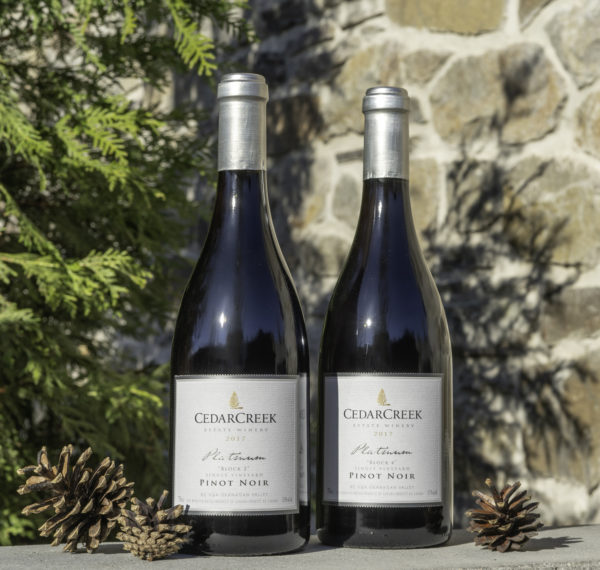 Pinot Noir – the most important grape to us at CedarCreek – truly expresses its site more than any other grape varietal. On the lower slopes of our Home Block Vineyard on Lakeshore Road, Block 2's clay soils originate from post-glacial sediment. Our vines thrive in this terroir, resulting in an elegant, fresh, floral Pinot Noir. By contrast, on the upper slopes of Home Block, the sandy loam soils in Block 4 provide excellent drainage. The vines work hard and dig deep to access water, forcing lower yields and increased concentration, resulting in a powerful, structured Pinot Noir. 
2017 Platinum Block 2 Pinot Noir  
2017 Platinum Block 4 Pinot Noir
2 wines $109.98 available online
Northern Okanagan Bundle  

 
A slightly cooler climate in our Home Block Vineyard lets the crisp acidity and aromatic qualities of these Northern varietals shine.
2019 Platinum Block 3 Riesling 
2019 Estate Chardonnay 
2017 Platinum Block 4 Pinot Noir
3 wines/$103.97 available online here
Gift Boxes available

If you're not sure exactly which of these exceptional gift sets are the right fit the perfect solution is a Gift Card.
CedarCreek Gift Card
For the ultimate gift we suggest including a Home Block Restaurant Experience.
EXPLORE CEDARCREEK
Open Daily 11am – 6pm
FARMED AND FORAGED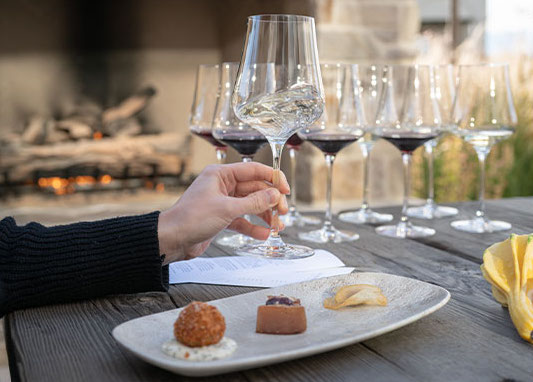 A guided tasting experience featuring Winemaker Taylor Whelan's daily selection.
Farmed and Foraged Experience explores the wines and styles of CedarCreek in a beautiful setting, over looking the Okanagan Valley. Your seated tasting experience includes a selection of five award-winning wines, and food pairings, where we will share remarkable stories of our organic farming and winemaking.
For parties larger than 6, please give us a call.
$25 PER PERSON
Tasting duration 45 minutes
This experience is complimentary for Platinum Club Member plus 3 guests
CHRONICLES OF PINOT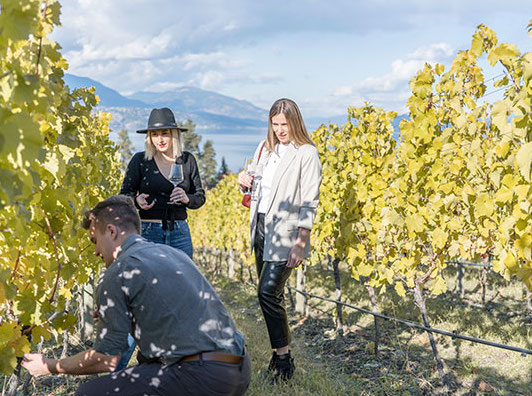 Pinot Noir – the most important grape to us at CedarCreek – truly expresses its site more than any other grape varietal.
Take a walking tour of our Home Block vineyard, for a behind-the-scenes look at our organic farming, and discover the "Chronicles of Pinot". Here we will explore Pinot in its many forms – as well as dig deep into clonal selections – what they are and how the impact the final product. From our vineyard, we move to a guided seated tasting featuring five Pinot CedarCreek wines, surrounded by the breath taking views of the Okanagan Valley.
$35 PER PERSON
Tasting duration 60 minutes
This experience is complimentary for Platinum Club Member plus 3 guests
This is an outdoor experience involving a moderate walk. Please dress accordingly and wear comfortable shoes that can accommodate walking on both paved and gravel surfaces.
HOME BLOCK RESTAURANT EXPERIENCE
Indulge in our Terroir to Table Adventure crafted by Chef Neil Taylor.
Experience food and CedarCreek wine inspired by both our sustainable estate-grown fruit and the natural elements that surround us.
SOURCED
It begins with the wine. This is the approach to pairings at CedarCreek, where Chef Neil Taylor creates each dish to showcase the best in its corresponding CedarCreek wine. We work with some of the most dedicated farmers, ranchers, fishers and foragers, sourcing for quality and seasonality. These ever-evolving pairings are as thoughtfully crafted as the wines themselves.
2 COURSE WINE-PAIRED LUNCH, $60 PER PERSON
3 COURSE WINE-PAIRED DINNER, $80 PER PERSON
Price includes food and wine.
THE PLATINUM LIBRARY EXPERIENCE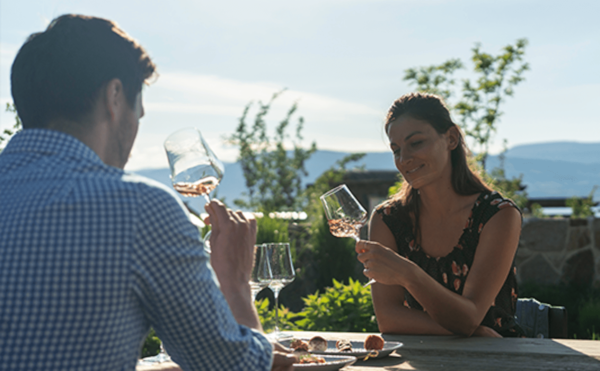 The ultimate food & wine experience
An immersive 5-course wine-paired experience built around our Platinum Collection of wines. This experience highlights some of the best wines produced at CedarCreek, thoughtfully paired with a locally-inspired, chef-curated menu and includes rare library-wine vintages for $150 per person. We do require all allergy information of the group at least 24 hours before your reservation, to allow our Chefs to create a single set-menu for the whole table.
Price includes food and wine. This thoughtfully paired food and wine centric experience requires full table participation.
Information and images provided by the Mark Anthony Group Inc. I received complimentary bottles of wine to facilitate this feature. Any opinions are my own. If you would like to be featured on MyVanCity.ca please connect with your pr agency or email myvancityval@nullgmail.com for full details.