"In this series we bring you our #FavouriteThings Holiday Gift Suggestions which we personally recommend"
We have featured Red Rooster before and their wines again make our list of #FavouriteThings. It's time to poke your head out of the nest and embrace the upcoming holiday season while enjoying a glass of Red Rooster wine while adding friends and family to your wine shopping list for 2020.
Here are the wines on offer for your holiday shopping pleasure:
Classic Riesling 2018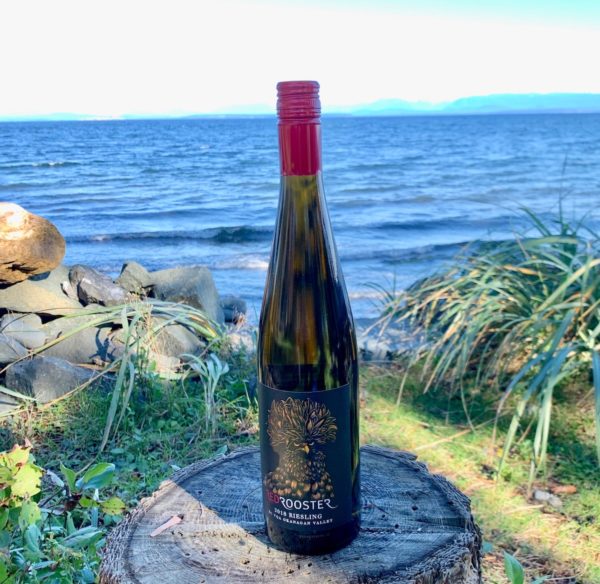 This intriguing riesling has moderate petrol notes, giving way to strong bountiful orchard fruit aromos. It is a dry, medium-bodied  with zesty acidity, a long granny smith apple finish.
TASTING NOTES
Clear and bright with a pretty aroma of tangerine, pink grapefruit, mineral and floral.  This just off-dry, light-bodied Riesling has mouthwatering acidity, and pink grapefruit, apple and white peach flavours that awaken the palate.  A bowl full of refreshing citrus fruit flavours and site specific minerality linger on the finish.  Enjoy while young and fresh.
FOOD PAIRINGS
Pair with citrus glazed salmon; lemon and spring pea risotto; sushi; fish and chips; pan-fried fish filets; Dungeness crab cakes with chipotle lime mayo; summer salads with light vinaigrettes; lemon chicken skewers.
Rare Bird Viognier 2019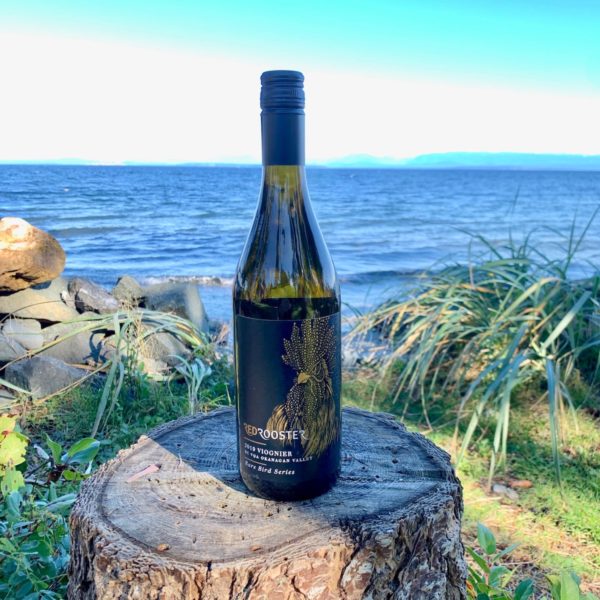 This light to medium bodied wine has a smooth, yet refreshing mouth feel. Clear and bright with pure fruit aromas of white peach and honeysuckle.
TASTING NOTES
Clear and bright with a pretty nose of melon, pear and apricot with floral notes of orange blossom and lilac.  This smooth medium-bodied wine has a slightly rich mouth-feel and juicy flavours of apricot, peach, melon and tropical fruit.  Juicy tangerine, tropical fruit, delicate spice, marzipan and floral notes linger on the refreshing finish.  Drink while young and fresh.
FOOD PAIRINGS
Serve lightly chilled at 10 to 12°C with pan-fried scallops; baked tilapia; Dungeness crab; lightly spiced pork tenderloin; crown roast of pork; poached salmon; roast chicken; turkey breast with garlic aioli on crusty rolls; mild curry dishes.  The perfect sipping wine for casual conversation.
Available exclusively online and at the winery.
Reserve Pinot Noir 2017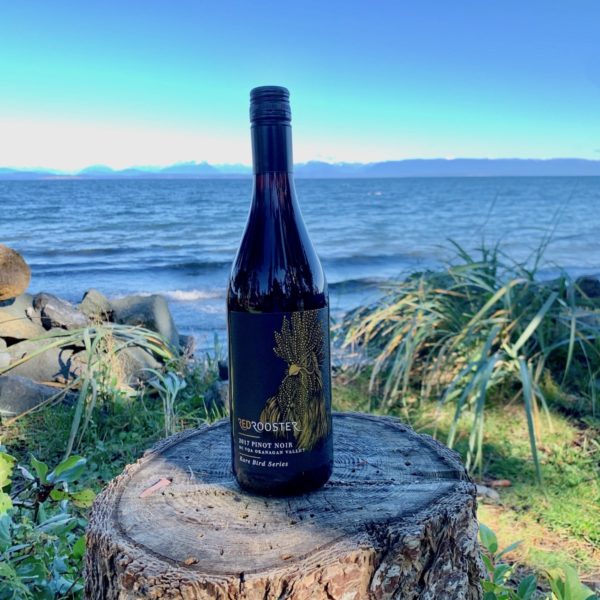 This gentle, loving Rooster has a light to medium frame with pure fruit flavours of red berry, red currant, cherry and crab apple.
TASTING NOTES
A bright ruby red colour with a bouquet of cherry, wild strawberry, red licorice, delicate spice and a whiff of smoke.  This gentle, loving Rooster has a light to medium frame with pure fruit flavours of red berry, red currant, cherry and crab apple.  The food-friendly acidity brings excitement and the soft tannins assist in building structure.  Fresh juicy red berries linger on the finish.  Enjoy while young and vibrant.
FOOD PAIRINGS
Pair with rigatoni and spicy sausage tomato sauce; mushroom lasagna; Portobello mushroom on tomato basil fettuccine; veal cutlets; duck breast salad; gourmet vegetarian pizzas with tomato, mushroom and roasted red pepper; La Sauvagine cheese with water crackers; cedar plank salmon.
Rare Bird Series Malbec 2016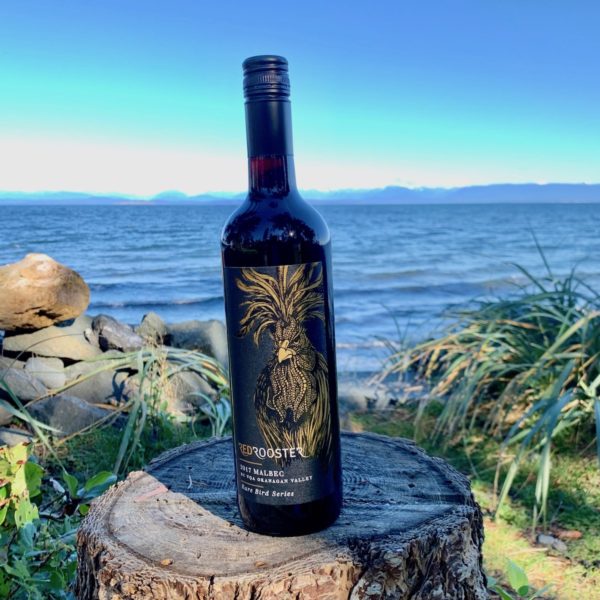 The wine was pruned, harvested and loved by our Adopt a Row members. The grapes for our Malbec from our on-site estate vineyard.  Primary fermentation was done in open top fermenters and hand-plunged to break surface cap twice daily
TASTING NOTES
This rare Canadian rooster is attracting plenty of attention.  The alluring bouquet of blueberry, clove, allspice, blackberry and oak draws you in closer.  This medium-bodied wine is almost tannin free with plenty of juicy fruit flavours of red currant, blackberry and blueberry.  The lingering finish exhibits notes of black tea, currant and spice.
FOOD PAIRINGS
Excellent with beef empanadas; beef and Guinness stew; beef brisket with barbecue sauce; short ribs; marinated leg of lamb; braised meats; saucy barbecued ribs; two to three year old aged Gouda.
Limited production of 19 Barrels.
NV BRUT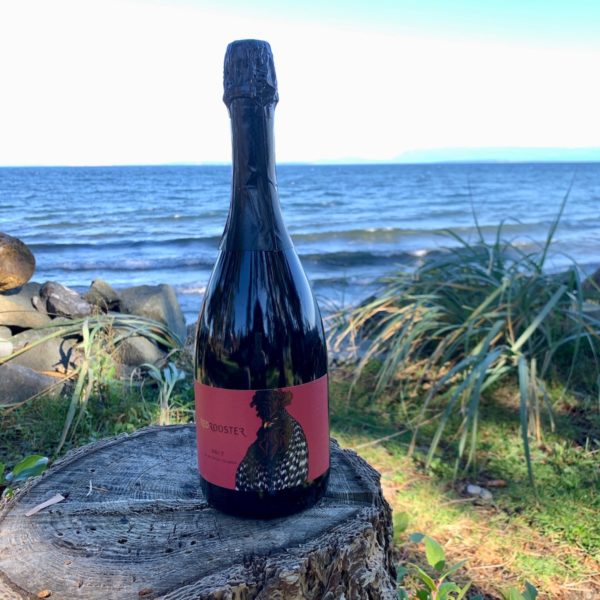 Celebrate Everyday with this amazing new sparkling wine.  It if full of character with armoras of citrus and apples.  It has a creamy texture and lingering nutty finish.
Limited production of 100 cases
Sparkling Rosé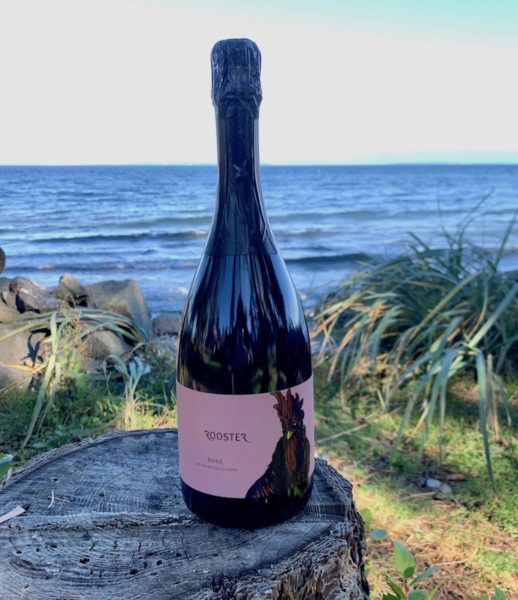 Tasting Notes
As the wine is poured look for tiny bubbles rising through a copper straw coloured backdrop with an ever so delicate rosé hue. The bouquet of crab apple, cranberry, rhubarb and a touch of yeast and bread gently escapes from the glass. This lively, exciting sparkling wine is light to medium-bodied with a lovely expanding mousse. Flavours of cranberry, pink grapefruit and a touch of yeast dance on the palate. Notes of rhubarb, tangy berries and yeast linger on the refreshingly dry finish. Enjoy a little sparkle while the wine is young and fresh.
Food Pairings
Serve chilled at 10° to 12°C. A traditional method sparkling wine for the best of times. Enjoy on its own or serve with fresh breads dipped into an Emmenthal and Gruyere cheese fondue; baked salmon wrapped in puff pastry; pan-fried trout; smoked salmon appetizers; freshly baked quiche; crab cakes; creamy Brie and Camembert with water crackers.
Tasting notes and Food pairings for the Rosé Sparkling courtesy of MyWineCanada.com
Order exclusively from the winery at 250-492-2424. Or email info@nullredroosterwinery.com
A BIRD OF A DIFFERENT FEATHER.
Red Rooster Winery was founded in 1990 by a European couple who settled in the area. Our first vintage was released in 1997. It was not long before our winery became known for producing award-winning wines that express the very best of BC and the Okanagan.  Despite our quirks, this is the part that we take very seriously.  Click here to learn about our winemaking style.
We also became known for a certain style of hospitality that wasn't quite like the other wineries in the area. With this in mind, we built the current Red Rooster winery. Just a few kilometers from our original site, the winery is located on Naramata Bench Road. Salvaged wood from the original Naramata Train Dock was used to build the large arched doorways that form the entrances to our tasting room. The art displays, large patio and open grounds encourage visitors to stay awhile. The statue of the naked guy, well, he raises a few eyebrows.
Feature image and tasting notes, except as noted, courtesy of the winery. Bottle shots MyVanCity.ca. I received two complimentary bottles of each wine for facilitating this feature. Any opinions are my own.
If you would like to be featured on MyVanCity.ca please connect with your pr agency or email myvancityval@nullgmail.com for full details. Wine samples accepted for review.