"In this series I'll share which B.C. wine pairs best with select recipes from the best chefs in B.C." 
This recipe is courtesy of Jennifer Schell and you will find it in her new Cookbook The BC Wine Lover's Cookbook Recipes & Stories from Wineries Across British Columbia. A must have for all BC Wine Lover's whether you cook or just enjoy the read!
Schell Family Crab Boil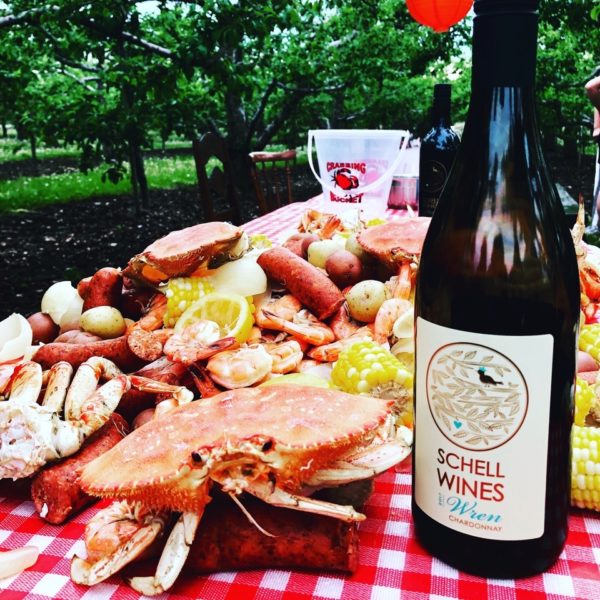 Serves 12, but can be adjusted to serve as many as you like (assume each person will have ½ to 1 crab, ½ to 1 link of sausage, 3 new potatoes, 1 cob of corn, ½ onion and 2 shrimp) 
Ingredients
2 packages Louisiana Seafood Boil spice blend, or your favourite spice blend (check package for yield per boil)
8 lemons, halved, + more cut in wedges to serve
6 yellow onions, halved
36 new potatoes
6–12 mild Italian sausages, partially cooked
12 Dungeness crabs, humanely killed and ready to cook
12 cobs corn, shucked
24 large shrimp, shell on (optional)
12 ramekins filled with melted garlic butter, to serve
Sliced baguettes, to serve
Note: You will need crab crackers and picks to serve. You may also want to provide rolled-up damp, lemon-scented facecloths as an alternative to napkins. You'll need an enormous pot for the boil—your best bet for finding one is probably a restaurant supply company.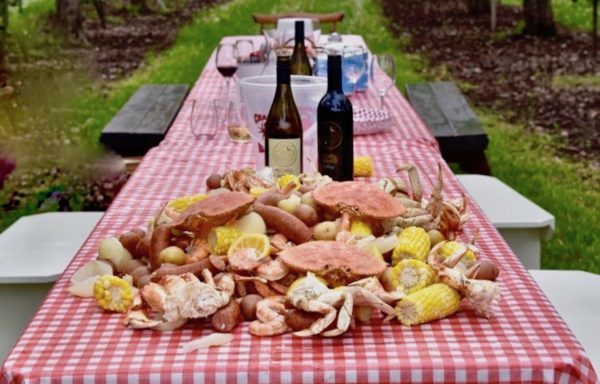 Prepare your serving table by covering it with a thick layer of newspaper. 
Fill a 44-quart pot just over halfway with water, keeping in mind that the ingredients will raise the water level significantly. Bring to a boil. Add the spice blend, lemons and onions, and let simmer for 10 minutes. Drop in the potatoes and cook until just fork-tender, about 7 minutes. 
Add the sausages and bring back to a boil, then add the crabs, corn, and shrimp (if using). Boil for 9 minutes, then remove the pot from the heat. 
Strain your feast, then dump it directly onto the table! No forks and knives are necessary—roll up your sleeves and eat with your hands. Serve with ramekins of melted garlic butter and plenty of sliced baguettes.
Suggested BC wine pairing:
Schell Wren Chardonnay

These grapes came from the sunny Freedom 75 vineyard in Naramata. Wren is named for me ("Jenny Wren" is my childhood nickname)! This wine has pear, apple, peach and vanilla on the nose and palette, balanced acidity and an extremely long finish. Our winemaker uses minimal intervention and no additives—we let our grapes sing their own song. #Chardonnayism
NATIONAL BESTSELLER Discover the vineyards, valleys, islands, deserts–and kitchens–of BC's Wine Country in this collection of recipes, tour ideas, menus and more.
Order your own copy here
Tasting notes and images courtesy of Jennifer Schell and Schell Wines. If you would like to be featured on MyVanCity.ca please email myvancityval@nullgmail.com for full details.