We can't believe Summer has come and gone already. Thank you so much for all of your support during these admittedly strange times. Of course, wine work stops for nothing – there are vineyards to be harvested, wine to be made, and, of course, wine to be drunk! Speaking of which, we've got a new release with a 94-point score for you to try; an almost-sold-out, 96-point Decanter World Wine Awards winner you've just got to get your hands on; a new family member; and updates on when and how to taste wines with us all winter long. Best you pour a glass and read on.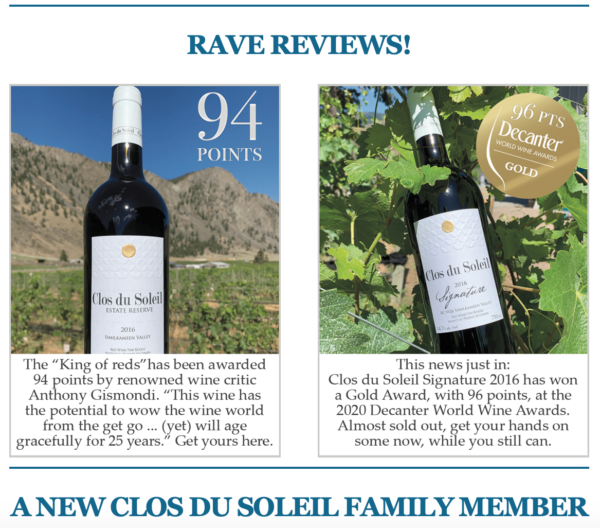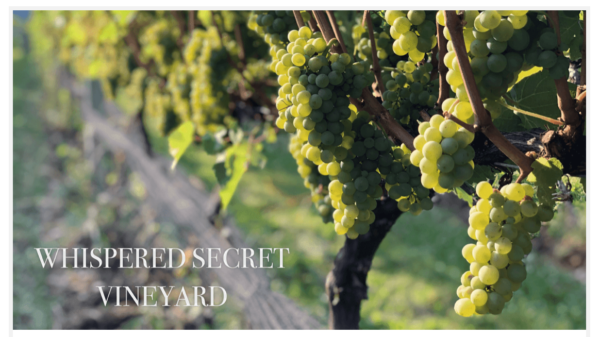 We are delighted to announce the addition of a new family member! Clos du Soleil recently acquired Whispered Secret Vineyard in Keremeos, Similkameen Valley, BC. For many years now this vineyard has been the source of some of the highest quality grapes going into our flagship Capella white wine, as well as 100% of the grapes for our late-harvest Saturn wine, and our more recent Winemaker's Series Pinot Gris. Click here to get the full story!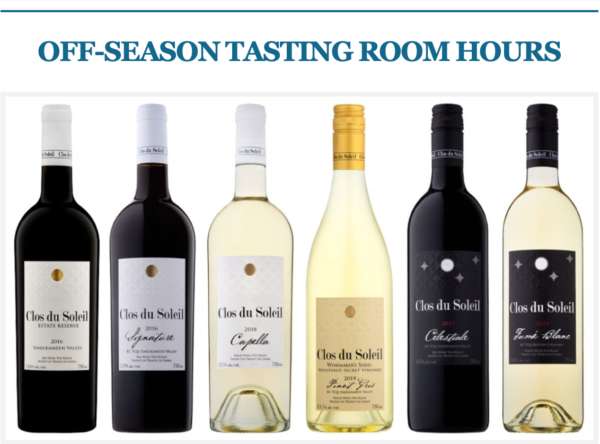 Our Tasting Room remains open for purchases and private tastings, but with limited hours and by appointment only, through the winter! From October 1st to mid-March you can still taste wine Thursday through Sunday
WINTER TASTINGS
Please note: the above three tasting options are available until September 30th. From October 1st, through the winter months, we are offering slightly different tasting and purchase options, by appointment only, Thursday through Sunday. Full details available HERE (See 'Private Tasting – Winter' & 'Visit & Purchase – No Tasting' options)
For more information please don't hesitate to call (250) 499-2831 or email wine@nullclosdusoleil.ca.
*Please note that we have implemented a comprehensive COVID-19 safety program of sanitizing, social-distancing, and other safety procedures, to ensure the safety of our staff and customers. We aim to make your visit both special, and safe, and ask that you respect all of our procedures.
CLICK HERE for a full overview of our COVID-19 Safety Regulations
YOU CAN NOW BOOK YOUR WINE TASTING USING OUR ONLINE RESERVATION SYSTEM.
At Clos du Soleil Estate Vineyard and Winery, there is a wonderful experience waiting for you.
Come enjoy a tasting of our incredible wines, in our sun-drenched tasting room. The wine, sunshine and friendly staff will leave you longing to come back soon.
Unfortunately, due to COVID-19 regulations, our tasting room is not selling picnic food this season, or providing glassware for picnics. You may, of course, sit in the picnic area while you wait for your tasting, or enjoy a relaxing walk through our organic vineyard, before being welcomed inside to enjoy our wines. Our passionate and friendly team members look forward to meeting you!
Finally, if you prefer to hibernate rather than leaving the warmth of home and hearth this Fall and Winter, remember that we now offer free shipping on an ongoing basis for all orders of 6+ bottles to our BC and AB customers. True story: PERMANENT FREE SHIPPING TO BC AND AB ON ORDERS OF 6+. (No code required, free shipping automatically applied to qualifying orders.) We have also worked out the lowest possible rates to the rest of Canada, with nominal shipping fees everywhere else we ship! 
May your glass always be half full this Fall,
La famille Clos du Soleil
IT'S SQUIRELL SEASON (BUT WITH WINE) STOCK UP HERE
Information and images provided by Clos du Soliel.