The Perfect Pair
With love in the air, we've got the perfect pair! The Clos du Soleil flagship wines gift pack not only offers up "couple goals", but is guaranteed to garner a better reaction than a cliched bunch of wilting red roses.
1 x 2017 Signature & 1 x 2018 Capella in a beautiful wood gift box ~ $84.90 excl. tax and shipping ($10 shipping in BC)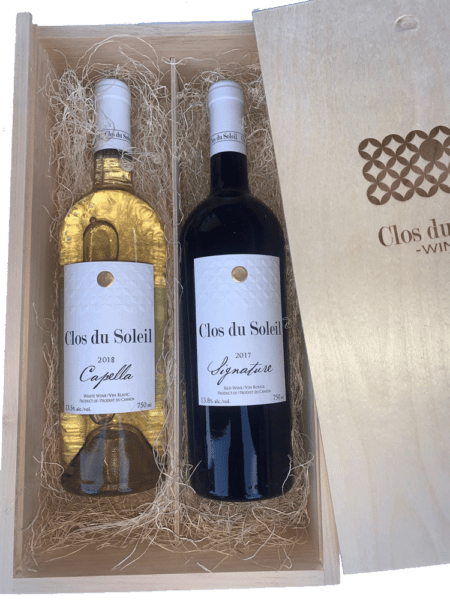 Even if you're not a fan of Valentine's Day and all the schmaltz that goes with it, this is one couple you can't help but fall in love with.
About Signature 2017: Signature is our flagship blend of red Bordeaux varieties, produced by hand, and aged for 15 months in French oak barrels. The 2017 vintage is the product of a long growing season of more moderate temperatures and was perfect for producing this classically styled iconic wine. Enjoyable in its youth, the balance and structure of this wine will ensure its ability to age for many years.
About Capella 2018: Our flagship white wine is a classic Bordeaux blend of Sauvignon Blanc and Sémillon. It is a wine of grace, elegance and age-worthy structure. This is a seafood wine par-excellence. Enjoyable now, this is a wine which will develop an added sense of richness with age.
Buy online: https://www.closdusoleil.ca/product/flagship-wines-gift-pack
Buy in store: Clos du Soleil Signature and Capella are also available at a variety of stores (no gift box). Contact wine@nullclosdusoleil.ca for more info.
Information and bottle provided by the winery. Feature image: MyVanCity