"This series features both the BC Wine new vintages and a few favourites"
One thing we can always count on is the consistent quality of wines from winemaker Michael Clark. The other consistency is how fast many of these wines sell out. If, like me, you waited too long last year only to find some of your favourites were sold out, don't let it happen again!
"Making consistently beautiful wine. It's all about the vineyard and wine in the bottle." Clos du Soleil
Offering the newest releases and a very popular favourite to #wineonline…
2020 Rosé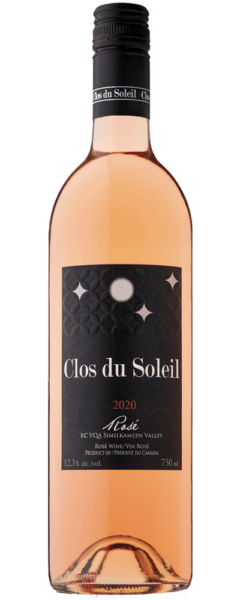 The Malbec grapes for this Rosé were grown specifically for this wine, on a steep southern-facing slope on the Upper Bench of the Similkameen Valley.
EYES
The strawberry hues of this wine announce the delightful aromatic profile.
NOSE
This delicate and complex Rosé wine greets the taster with aromas of rose petals, cranberries, and pomegranate.
MOUTH
The flavours dance across the palate with a swirling blend of wild strawberries, cranberries, wild flowers, and lime zest. Soft on the palate, but crisp and dry with a long finish. This 100% Malbec Rosé is delicate, uplifting and food-friendly – everything a Rosé should be.
BODY
Medium
WINEMAKING NOTES
From a winemaking perspective the focus was on gentle-handling of the juice and wine, to protect the beautiful flavours and aromas. After harvesting the grapes were destemmed and very lightly crushed, then soaked under dry ice for 20 hours. This was followed by gentle pressing, and then fermentation in stainless steel tanks. Oxygen contact was kept to a minimum, and the fermentation was slow and cool. The wine was aged on its lees and not handled again until a light filtration just prior to bottling.
FOOD PAIRING
An extraordinarily flexible food wine, this rosé pairs equally well with charcuterie, a glazed loin of pork, fruit salad or even roast turkey. And perhaps the most popular way to enjoy it: a glass all by itself!
2020 Winemaker's Pinot Gris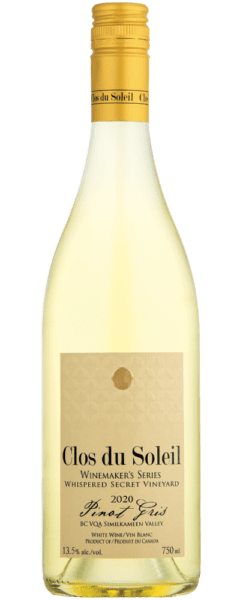 The grapes for this wine were grown on our Whispered Secret Vineyard, a cooler site on the south side of the valley, ideal for flavour development while maintaining beautiful acidity.
NOSE
A rich, ripe expression of Pinot Gris, on the nose this wine presents the taster with aromas of ripe nectarine skin, fresh pear juice and lemon zest.
MOUTH
On the palate the wine is dense with flavours of ripe nectarine, pear and crisp apple. It has a fine-grained texture in the mouth, leading into a long, juicy finish of soft stone-fruit flavours complemented with zingy citrus acidity.
BODY
Medium
WINEMAKING NOTES
The fruit quality was excellent so the winemaking focused on preserving that which nature gave us. We pressed the fruit whole-cluster immediately after hand-harvesting, and fermented it in a combination of stainless steel barrels, tanks, and French oak puncheons. The slow fermentation lasted for over a month, and then the wine was aged on the lees for a further 3 months. Other than a light filtration prior to bottling, nothing else was done to this wine – just as nature intended it!
FOOD PAIRING
The firm structure but concentration of ripe fruit flavours means this wine is easy to enjoy by itself, but is equally an excellent food wine: summer salads, chicken with poached pears, or glazed pork would all be excellent pairings.
2020 Fumé Blanc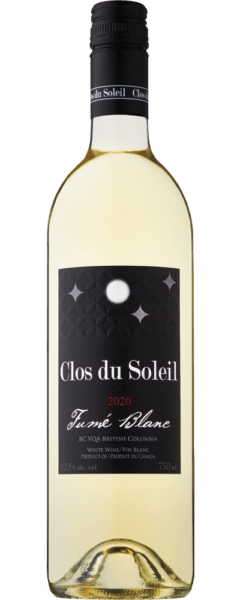 Clos du Soleil's Fumé Blanc is a full-flavoured, aromatic take on Sauvignon Blanc and Sémillon.
EYES
A beautiful pale-gold in the glass.
NOSE
The nose of this wine immediately envelops the taster in ripe fruit aromas of grapefruit, apple, pear, and ripe lemons, with notes of gunflint and the beautiful floral notes of lilac in full bloom.
MOUTH
On the palate the wine is full bodied with a rich mouthfeel, incorporating flavours of ripe apples and pears, complex layers of citrus including characteristic varietal flavours of grapefruit, as well as a subtle hint of oak.
BODY
Light
WINEMAKING NOTES
The grapes for this wine were harvested by hand at peak maturity, and then pressed whole cluster. The juice was settled before fermentation and then fermented slowly at cool temperatures, in a combination of stainless steel tanks and French oak puncheons. The Sauvignon Blanc and Sémillon were vinified separately, and all of the wine lots were left to age on the lees, in both tank and barrel, for 4 months prior to final blending.
FOOD PAIRING
Crisp and refreshing, this is a wine that is easy to enjoy by itself, but pairs wonderfully with roast poultry, soft cheeses, and is a knock-out with all kinds of seafood!
2018 Célestriale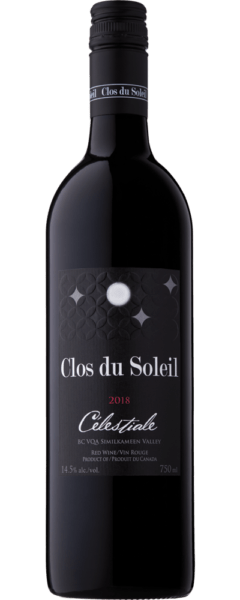 Célestiale is Clos du Soleil's Bordeaux-style blend that is soft and full of fruit with an elegant and classic structure.
NOSE
The taster is greeted with aromas of cedar and raspberry compote with darker notes of blackberries, pencil lead and rich earth.
MOUTH
On the palate the wine is soft and layered, dominated by fresh ripe fruit flavours of raspberry, blackberry, and pomegranate, with more subtle notes of forest undergrowth and grilled meat.
BODY
Full
WINEMAKING NOTES
Each variety and each vineyard block was harvested separately, when judged to be at optimal maturity. Each lot was gently destemmed and then after a moderate cold soak the fruit was fermented in concrete tanks. Following pressing, the wines were aged in 100% French oak barrels for 15 months. Only those barrels displaying the ideal characteristics for our Célestiale blend were selected for this wine. Unfined, this wine was gently filtered prior to bottling under screw cap, allowing us to preserve all of this wine's freshness and approachability. All of the same skill, care and time-honoured artisanal winemaking techniques go into making this wine as Signature, the flagship wine of Clos du Soleil.
FOOD PAIRING
This wine is soft, approachable, and totally food-friendly, yet retains all of the complexity and depth to truly engage the taster.
Free shipping standard on all orders of 6+ to AB and BC, nominal shipping fees everywhere else we ship.
Clos du Soleil is a small artisan winery and estate vineyard on the Upper Bench of the South Similkameen Valley, in British Columbia, Canada.
We produce ultra-premium quality wines, borrowing an aesthetic derived from the great wines of Bordeaux, but stamped with the flavours and aromas of our particular piece of rocky Similkameen land. Through traditional winemaking techniques, informed by research, but adhering to the philosophies of minimal-interventionist winemaking and biodynamic viticulture, we produce wines that are complex and classic, ageable and elegant.
Tasting notes, bottle shots and image courtesy of the winery.