"In this series I'll share which B.C. wine pairs best with select recipes from the best chefs in B.C."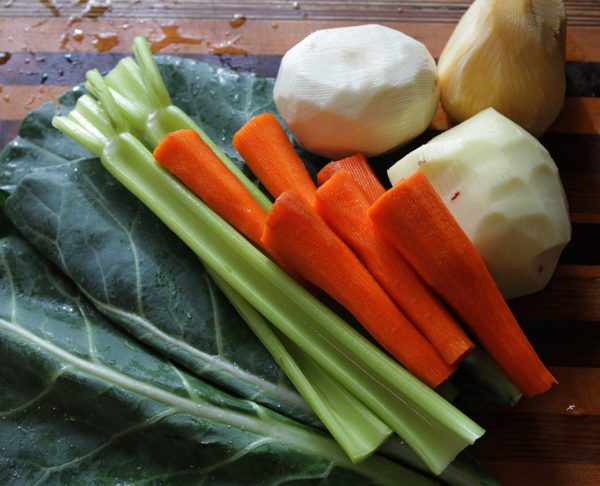 Serves 2
1/4 cup butter
3 sprigs rosemary
3 cloves garlic
3 sprigs fresh thyme
14 oz ribeye steak
l lb baby potatoes, halved
1/2 lb celery, chopped
1 small white onion, diced
2-3 large carrots, peeled and diced
2 cloves garic, chopped
2 oz butter
salt and pepper to taste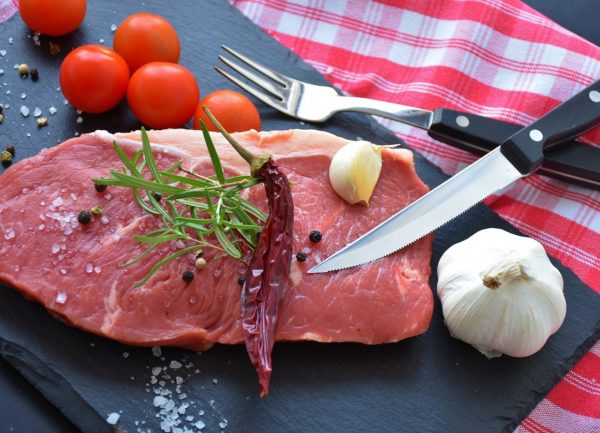 Preheat oven to 375 F
Combine the potatoes, celery onion, carrots, garlic and butter. Season with salt, pepper, and 2 springs of rosemary.
Place potato mixture in the centre of a sheet of tinfoil, shiny side up. Fold the sheet around the mixture to make a pouch, pinching firmly to make sure is is well sealed. Place in the oven for 30 minutes.
Meanwhile, season both sides of the steak with salt and pepper

 

(this can be done up to 24 hours ahead)
In a medium cast iron pan, melt the 1/4 cup butter over medium high heat. Add garlic, rosemary and thyme. Let cook for 1-2 minutes until you can smell the herbs. Place the steak in the pan, sear on both sides.
Place cast iron pan into the oven. Reduce heat to 350 f and cook about 15 minutes for medium rare or until your desired doneness. (This should be the last 15 minutes of the potato cook time)
Remove from oven and serve.
Suggested BC wine pairing: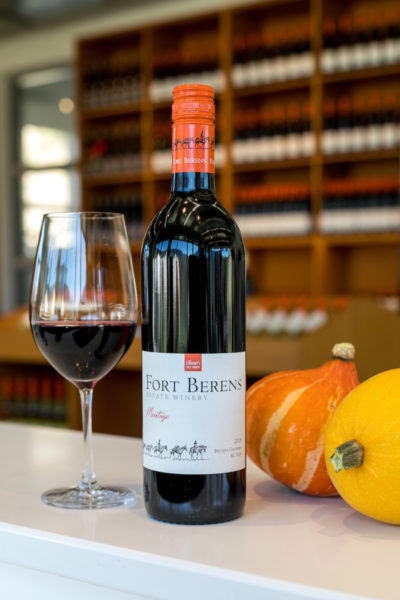 Tasting notes:
Savour the aromas of wood, spice, black currants, and bright black cherries in our classic Merlot-predominant Meritage. The full-bodied wine is juicy with a complex palate featuring notes of dark cherries, spice, and oak. It is elegant with soft, but lengthy tannins and a nice, long finish.
Winemaker's notes:
This complex Meritage is a blend of 68% Merlot, 30% Cabernet Sauvignon, and 28% Cabernet Franc. Each fraction of grapes was fermentated and aged separately. The estate-grown Merlot was fermented with wild yeast, while the non-estate grown Merlot was fermented with commercial yeast. The Cabernet Sauvignon was fermented in 1000 litre tanks to increase the skin to juice ratio. The fractions were blended together before bottling. The process helped bring out the best in each grape varietal. This wine was aged in barrels, and then further aged in bottles in our cellar before release.
Food pairings:
Decant this wine to open up the aromatics of this elegant Meritage. Pair this mouthwatering wine with espresso rubbed beef or pork tenderloin, eggplant parmesan, or a charcuterie board with hard aged cheeses like hard gouda and applewood smoked cheddar.
Cellaring advice:
This wine is ready to drink now, or with proper cellaring, this wine can be cellared for 5 plus years.
The Kitchen at Fort Berens
Farm to Table: Discover Lillooet's regional cuisine featuring fresh, local ingredients and classic, old-world techniques. Come experience our warm hospitality, award-winning wines and the finest bounty from Lillooet.
The Kitchen at Fort Berens offers patio seating with stunning vistas of our vineyards, the Fraser Benchlands and the Coast Mountains. We invite you to come and savour our wine and food pairings.
The Kitchen is currently closed for the season.
Tasting notes and images of the dish (featured) and wine courtesy of the winery. Other images: stock.