"In this series, I'll share which B.C. wine pairs best with select recipes from the best chefs in B.C." 
This recipe courtesy of Provence Marinaside from their August Winery Menu featuring the wines of Clos du Soleil. It sounds absolutely delicious and with another wave of hot temperatures it makes the perfect dish. Who doesn't love Heirloom Tomatoes? Can't wait to try this one! Find more information about the August Winery Menu, and to make a reservation, here.
Heirloom Tomato Gazpacho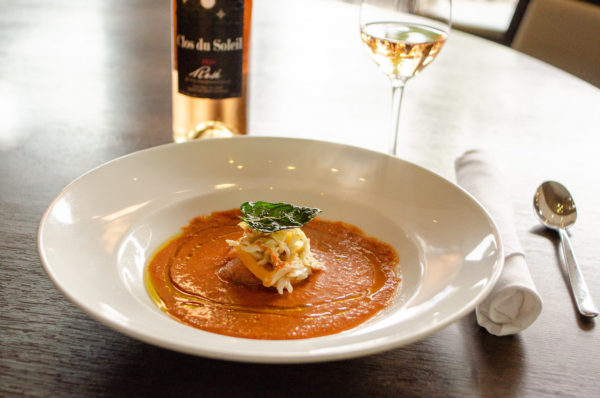 Created by: Chef de Cuisine Chef Sheldon Maloff
Serves: 4-6
(recipe is easily doubled)
Ingredients:
1.5 lbs. heirloom tomatoes (washed and cored)
¾ cup red bell peppers (washed, de-seeded and chopped )
¾ cup cucumber (peeled, de-seeded and chopped)
4 Tbsp. diced red onion
2 Tbsp. chopped garlic
1 Tbsp. chopped basil
2.5 Tbsp. olive oil
¼ cup clamato juice
½ Tbsp. tomato paste
2 Tbsp. of dried baguette or dried sliced white dry bread, crumbled
1 dash of tabasco
Salt to taste
Pepper to taste
Preparation:
Make sure all ingredients are washed, cored and de-seeded.
In a blender, blitz everything together.
If it all doesn't fit you can mix all veggies and do it in steps, adding the clamato juice, olive oil, tomato paste and bread a bit a time.
Add more clamato juice or bread depending on the desired thickness.
Taste for seasoning and add salt and pepper to taste.
Chill and serve cold or at room temperature.
For Provence Marinaside's August Winery Menu, Chef Quaglia and Wine Director Joshua Carlson collaborated to present the ultimate summer pairing – heirloom tomatoes from Klippers Organics matched with beautiful wines from the Similkameen Valley's Clos du Soleil (fun fact: Dr. Bonnie Henry is one of the winery's owners).
From now through mid-September you can enjoy this special two-course Heirloom Tomato with Clos du Soleil Menu for only $62. The optional wine pairing is available as a regular pour ($25) and petit pour ($15). If guests don't wish to have the full pairing, wines may be purchased individually by the glass or the bottle.
Suggested BC Wine pairing:
Clos du Soleil Rosé 2020
The Malbec grapes for this Rosé were grown specifically for this wine, on a steep, southern-facing slope of Clos du Soleil's La Côte Vineyard on the Upper Bench of the Similkameen Valley. From a winemaking perspective the focus was on gentle-handling of the juice and wine, to protect the beautiful flavours and aromas of wild strawberries, cranberries, ripe cherries, and lime zest.
Recipe, information and images provided by Nancy Wong, Culinary Communications.