"In this series I'll share which B.C. wine pairs best with select recipes from the best chefs in B.C." 
This wonderful warm goat cheese salad is one of the featured appetizers on the Provence Dine Out Vancouver Festival menu. You can indulge in this and other fantastic menu items until March 7th. Reservations highly recommended.
Crusted Goat Cheese Salad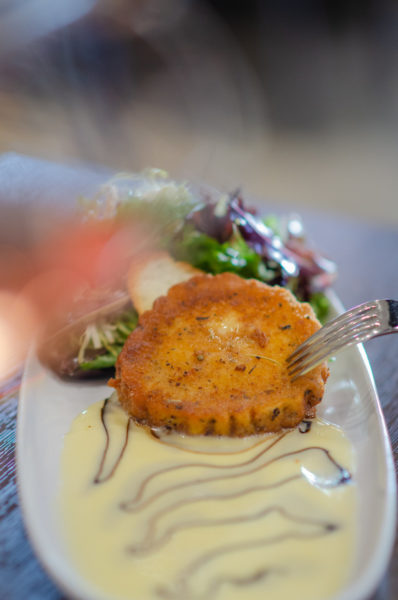 From:  New World Provence, Modern French Cooking for Friends and Family by Jean-Francis and Alessandra Quaglia (Arsenal Pulp Press, 2007)
Serves 4
Ingredients – Vinaigrette:
1 tsp. Dijon mustard
2 tbsp. balsamic vinegar
salt  and freshly ground black pepper to taste
½ cup extra virgin olive oil
Ingredients – Salad:
10 ½ oz (300 g) log of firm, ripened goat cheese
2 cups breadcrumbs
1 tbsp. Herbes de Provence*
2 eggs, beaten
1 cup all purpose flour
4 cups mixed salad greens, washed
3 tbsp. olive oil
Preparation – Vinaigrette:
In a bowl, whisk together mustard, vinegar, salt and pepper

Slowly add in oil, continuing to whisk until combined

Set aside
Preparation – Salad:
Slice goat cheese into 4 round slices

Place slices in a bowl, cover with plastic wrap and refrigerate while preparing salad

In a large bowl combine breadcrumbs and Herbes de Provence

Place eggs in a separate shallow bowl

In another separate bowl, place flour

Remove goat cheese slices from refrigerator and dip each slice in flour, then beaten egg, then breadcrumb mixture to cover

Return coated cheese slices to to bowl and firm up in refrigerator for another 10 minutes

Place 1 cup of greens on each palte and evenly distribute vinaigrette over top

In a frying pan on high, heat olive oil

Sear breaded cheese rounds on each side for about 1 minute until edges just turn golden brown

Place 1 cheese round on side of each salad plate and serve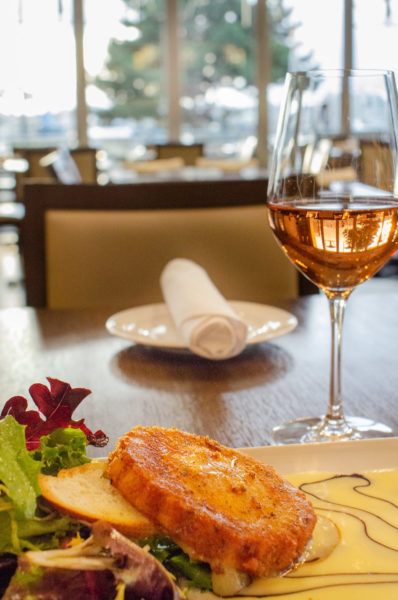 Suggested BC wine pairing:
Unsworth Charme de l'île Rosé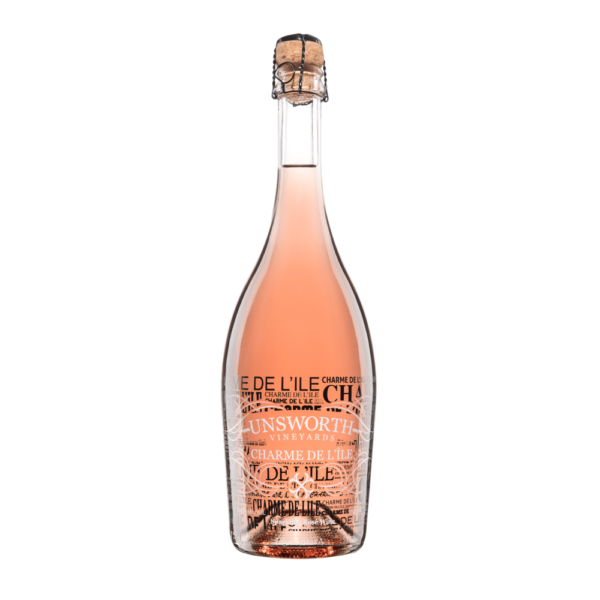 The rosé counterpart to our flagship Charme de l'île is crafted from 100% Pinot Noir. Vibrant aromas of cranberry, raspberry on the nose give way to a refreshingly dry palate. It pairs seamlessly with an array of appetizers and can be perfect as an aperitif.
$21.65 available online shipped only in 12 bottle increments
Join Provence Marinaside for Vancouver Dine Out Festival
until March 7
$49. per person
Wine pairing $26. per person
Petit wine pairing $15. per person
Make a Dine Out reservation here.
* Note: Herbes de Provence is a traditional herb blend of dried herbs collected from the hills of Provence in summer. A typical blend includes marjoram, oregano, rosemary, summer savory, bay leaves and thyme. Lavender is also frequently included. Herbes de Provence mixtures can be purchased at gourmet or specialties stores, or make your own blend.

Provence Marinaside Notes:
Provence Marinaside
is committed to the health and safety of its guests and staff in keeping with the protocols set by the BC Ministry of Health. You can find the details of Provence's standards
here
.In addition to Dine-In service, Provence Marinaside continues to offer its
Takeout Menu
for breakfast, brunch, lunch and dinner daily.  If you prefer to cook Provence's food in the comfort of your own kitchen, they also offer six
French Food Made Easy kits
and two Cocktail Kits (Moscow Mule and Caesar). All are available through Provence Marinaside's
website
along with
Chef Sheldon's Online Grocery Store
for individual ingredient items such as meats, dairy, baking supplies and other miscellaneous items.
Provence Marinaside is also supporting The Downtown Eastside Women's Centre with the donation of meals and funds along with a donation option on their website should the public also wish to support the organization.
Recipe and images provided by Nancy Wong, Culinary Communications and is courtesy of the restaurant. Photo credits: Emrys Horton, EPH Photography