"In this series I'll share which B.C. wine pairs best with select recipes from the best chefs in B.C." 
Now with spring in the air it's the perfect time to get outside. Provence Marinaside has two patios to welcome you where you can enjoy either the April Wine Menu Series, featuring Sea Star Vineyard and Winery, or indulge in any of the delicious offerings on their regular menu. The April Wine Menu is available until April 30. 
First, I want to note for anyone who is wondering about what the new restrictions mean for local restaurants; please continue to support your favourites, and if you haven't been to Provence Marinaside before now is a good time to visit. Not only is this featured dish an option on the two course Wine Series Menu but you could make it at home thanks to the spirit of generosity and sharing by Chef Jean Francis Quaglia and his team.
April is BC Wine Month and what better way to celebrate than by the return of  Provence Marinaside's monthly Wine Menu Series starting April 1st. "The wine menus have proved very popular and we've received some wonderful comments from our guests. It's always a pleasure to introduce people to wines they may not have heard of or tried before." says Provence's Wine Director Joshua Carlson.
Provence Owner/Chef Jean Francis Quaglia, along with his chef brigade, has created a very special two-course menu inspired by the bounty of our local seas. The dishes are unique to the Monthly Wine Menu and do not appear on Provence Marinaside's regular menu.
Here Chef Sheldon Maloff shares the dish that is one of the first course options for the Sea Star Wine Menu Series.
Duo of Cured & Fennel-Torched Steelhead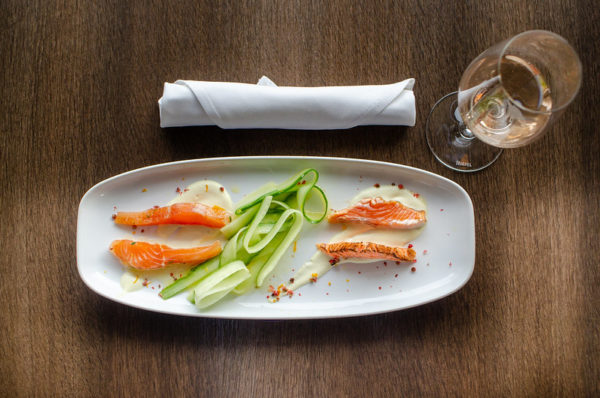 Sea Star Vineyards Wine Menu, April 2021
Created by: Sheldon Maloff, Chef de Cuisine
You will need 2 sides of Steelhead Trout –  1 side of steelhead to be cured and 1 side of steelhead to be fennel-torched or just torched if you don't have dry fennel prongs.
Citrus steelhead gravlax:
1 side of Steelhead, skinned
6 tbsp. brown sugar
3 tbsp. sea salt
2 sprigs fresh thyme
3 basil leaves, cut in a chiffonade
1 tsp orange zest
1 tsp lemon zest
1/2 oz. soju or brandy
Mix all ingredients in a mixing bowl
Place a large enough piece of plastic wrap on the counter, in the middle length wise spread half the curing mixture, place one filet of steelhead down, spreading the rest of the curing mixture on top of the fish, drizzling with either soju or brandy, wrap and refrigerate for 12 hrs; after 12 hours rinse under cold water for 5-6 mins. Pat dry.  Reserve 2nd filet to either torch with dry fennel prong or just torch lightly with a kitchen torch.
Creamy fennel dressing: 
1 medium fennel bulb, diced
1 tbsp smooth Dijon
2 egg yolks
250 ml vegetable oil
Salt to taste
Cook down diced fennel bulb in water or stock, strain and cool. In a blender add the Dijon and egg yolks. When they have blended  slowly add in the vegetable oil and continue to blend until everything is emulsified. Season with salt. Add in the cooled cooked fennel and blend until smooth.
Cucumber Salad:
Slice cucumbers in thin rounds or use a potato peeler to create think strips
Citrus vinaigrette
3 tbsp. fresh squeezed orange juice
1 tsp orange zest
3 tbsp. olive oil or vegetable oil
Salt & Crushed pink peppercorns or fresh ground pepper
Whisk Citrus vinaigrette ingredients together. Use a spoon to smear the creamy fennel dressing on each side of the plate, arrange cucumbers in middle of the plate, drizzle citrus vinaigrette on cucumbers. Arrange thinly sliced cured steelhead on one side of the plate on top of the fennel dressing, on the other side arrange the thinly sliced torched steelhead, sprinkle crushed pink peppercorns or add a grind of fresh pepper.
Suggested BC Wine Pairing:
 Sea Star Vineyard and Winery Blanc de Noir Rosé 2020
Pinot Noir
I first tasted the Sea Star wines at their debut during a small wine tasting at Edible Island hosted by Christine Coletta. Everyone who had the opportunity to taste the wines was like, woah, where did this come from. We especially loved that so many of the wines were named after coastal areas. Loved the wines then and start a big fan.
Sea Star Blanc de Noir – made from Pinot Noir, this dry rosé has aromas and flavours of strawberry and rhubarb. Sam Hauck
Please support Provence Marinaside during this difficult time. Until April 19 enjoy this wonderful dining option outdoors on one of their two patios. One patio is covered so you're covered in case of inclement weather, enjoy the open air patio when the sun shines. Long a favourite place to see and be seen in Yaletown with views of the boats docked and at anchor.
Thanks to Sheldon Maloff, Chef de Cuisine for this featured recipe. All comments (in italics, except as noted) are my own. Valerie, Editor, MyVanCity.ca 
Thank you readers and followers for your continued support.