"This series features both the BC Wine new vintages and a few favourites"
This selection of wines definitely makes us think about Spring! All so inviting and reminding us there is sunshine on the horizon. Enjoy now or in the next few months as patio weather and sipping are synonymous with all things Okanagan Crush. Think about celebrating at Easter and Mother's Day! You really don't need an excuse to enjoy these terrific BC wines, favourites all! #wineonline
Haywire The Bub 2016
FARMERS
Theo Siemens, Ron Watkins, Brad & Dave Wise
VINEYARDS
Secrest Mountain Vineyard, Oliver, Okanagan, British Columbia
Watkin Family Vineyards, Summerland, Okanagan, British Columbia
WINEMAKERS
Matt Dumayne, Jordan Kubek
WINEMAKING
This BC made sparkling wine uses Pinot Noir and Chardonnay grapes which were harvested in late September from two uniquely different sites. Fermented in stainless steel tanks, before bottling in December 2014. Disgorged January 2015 with zero dosage.
WINE PROFILE
This is a bold, austere bubble; crisp and fresh, with citrus and toasty notes and a texture of light effervescence.
VINTAGE
2016
VARIETAL
Sparkling
APPELLATION
Okanagan
Pinot Gris 2019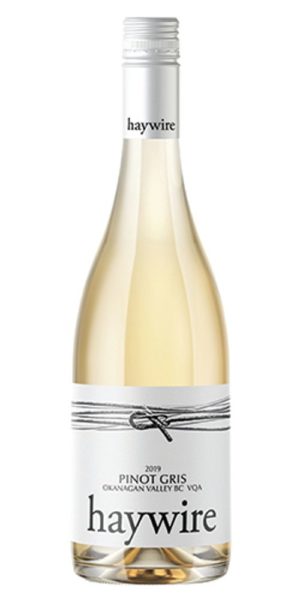 This wine was pressed and fermented in concrete, stainless steel and oak foudre using native yeast. The wine stayed on its gross lees for six months before being filtered and bottled.
FARMER Duncan Billing
OWNERS Christine Coletta & Steve Lornie
LOCATION Oliver, Okanagan, British Columbia
Summerland, Okanagan, British Columbia
WINEMAKER Matt Dumayne
WINE PROFILE Rich, viscous, oily, tropical fruit balanced acidity
layers of complexity from a quiver of vessels.
VINTAGE
2019
VARIETAL
Pinot Gris
APPELLATION
Okanagan
Narrative Rosé 2019

WINEMAKER Matt Dumayne
Made from grapes harvested in Summerland and Oliver vineyards. Gently destemmed with 12 hours of skin contact before lightly pressing and fermenting naturally in concrete tanks, The wine is bone dry,fruit driven, complex, fresh and ripe with sweet berry notes. YES! This wine ticks all the boxes.
Wine Specs
VINTAGE
2019
VARIETAL
Rose
APPELLATION
Okanagan
Free Form Vin Gris 2018

FARMERS Alfred and Linda Heckmann
VINEYARD Heckmann Family Vineyard
LOCATION Summerland, Okanagan, British Columbia
VINEYARD DETAILS
Aspect: East | Soil: Silt covered in nitrogen-fixing plants | Status: Certified organic | Grapes Grown: Pinot Noir, Gewürztraminer, Pinot Blanc
WINEMAKER Matt Dumayne
WINEMAKING Vin Gris was made from Pinot Noir grapes grown in Summerland, harvested in late October. The wine was whole bunch pressed to small concrete eggs, fermented with native yeasts that went through full malolactic fermentation and was bottled unfiltered.
WINE PROFILE This wine highlights the delicacy and fruit forward notes of whole-bunch-pressed Pinot Noir from a certified organic vineyard. This Vin Gris exhibits savoury herbal notes which lead into a finely balanced expression of Pinot Noir with texture from concrete fermentation and aging.
LABEL Created using eco-friendly stone paper, saving trees and water completely.
VINTAGE
2018
APPELLATION
Okanagan
The Winery
Okanagan Crush Pad opened in 2011 to provide a home-base for Christine and Steve's original wine label Haywire and to serve as a custom crush facility. Today the winery makes its own wines exclusively under the labels Haywire, Narrative, Free Form, and Bizou + Yukon, in addition to creating custom label projects for private retail accounts.
The Okanagan Crush Pad winery is state-of-the-art. It features long banks of concrete tanks, clay amphorae, and large format neutral oak casks. The guest center is built into the heart of the facility, offering visitors a rare glance into the art of winemaking.
When open, the tasting lounge offers a place to sample and buy wines that reflect the region's unique high mountain, northern desert setting.
For the month of March, enjoy a $10 shipping credit on 12 bottles or a $20 shipping credit on 24+ bottles. Credit will be automatically applied.
Information and images courtesy of the winery.