Anita and I recently dropped by to see Christa-Lee McWatters at TIME winery in Penticton for a catch-up.  A warm and friendly person, she is passionate about honouring the legacy of her father, BC wine icon, Harry McWatters.  Christa-Lee refers to him as her best friend as they worked side by side for most of her life.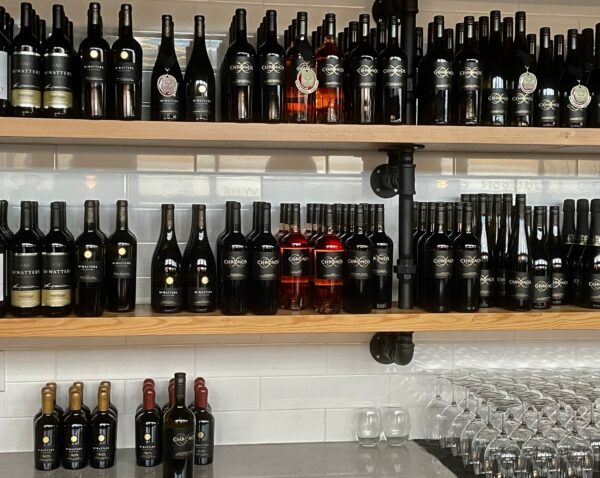 It seems that every time I visit or taste their wines, they get better and better.  This time was no exception.  We tasted an extensive flight of sparkling, white, rosé, and red wines and to a T, they were all very impressive.  My exclamations of, "Wow" soon became superfluous.
We started with some Chronos bubbles, a traditional blend of Chardonnay and Pinot Noir from the King Family Vineyard in Penticton, Mirror Lake Vineyard in Osoyoos, and the 3 Sisters Vineyard in Naramata.
"Both varietals were hand sorted then whole-bunch pressed. This wine is a blend of 80% Chardonnay and 20% Pinot Noir. The varietals were fermented separately with some lees stirring on the Chardonnay. Blended for complexity and finished in the cuvée close method.  Aromas of toast and lime.  The palate is dry with a light body. Chronos Brut displays mineral notes and subtle stone fruit flavours of peach and apricot as well as some citrus fruit. Pad Thai, Crispy prosciutto and melon salad, Risotto."
(winery notes)
TIME Winery opened its downtown Penticton location in 2018.  The team faced many challenges and changes along the way.  A great deal of fortitude was needed to see it through to completion.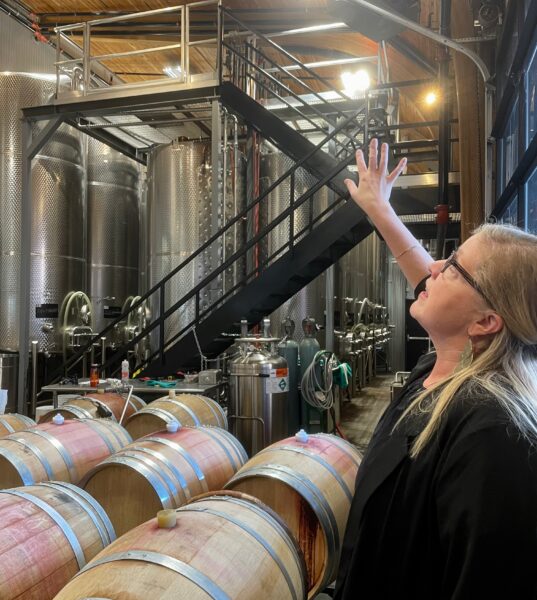 The previous PenMar Cinema building consisted of four movie screens.  After the extensive retrofit, theatre one, just inside from the crush-pad was converted into a fermentation hall, two is now the barrel room, three is the cellar, and four is currently used for storage, but will soon be renovated into a sit-down tasting room and event area.
Christa-Lee said her father was an 'out-of-the-box' thinker.  He had been in the wine business for 50 years, longer than anyone in Canada.  Sadly, Harry passed away three years ago.  With the captain no longer at the helm, Christa-Lee decided to sell the company when the ideal opportunity arose.  It is still family-owned, but now by Ron and Shelley Mayert.  Ron grew up in Summerland so knew the area well.  Experienced with the tree farming industry, he believed the time was ripe to get into grapes and wine.  The new owners still live in Abbotsford, but they spend a lot of the summer in the Okanagan.  And, while the ownership has changed, many of the original team has remained in place.  TIME offers an extensive line-up of wines with many new ones you need to try for yourself.
Christa-Lee hinted that there may be some exciting new developments in Naramata for TIME later this year.  Stay tuned for more.  (I know I'm intrigued.)
Then it was time to order lunch.  Christa-Lee mentioned that this was the new fall menu created by Damien, their new executive chef who hails from Jamaica and spent time at the Fairmont Jasper Park Lodge before landing at TIME.  Originally hired on as sous chef, Damien took over when executive chef AK needed to move back to Nova Scotia due to compelling family issues.
Between the three of us, we ordered: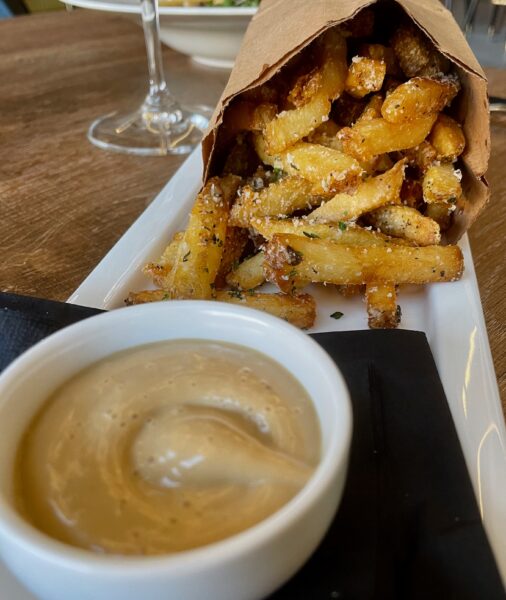 Hand-cut Kennebec Frites, triple-fried in beef tallow with grana Padano and black garlic mayo.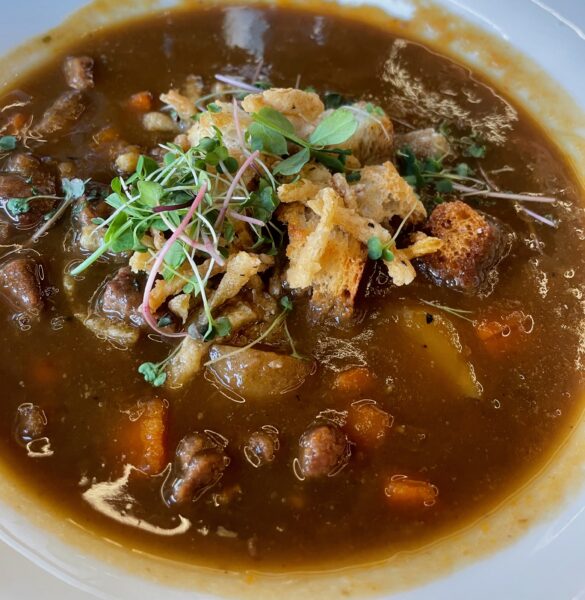 Thick beef vegetable soup – hearty and flavourful
Char Siu, barbecue pork loin, udon noodles, bok choy, carrot, with hoisin-ginger broth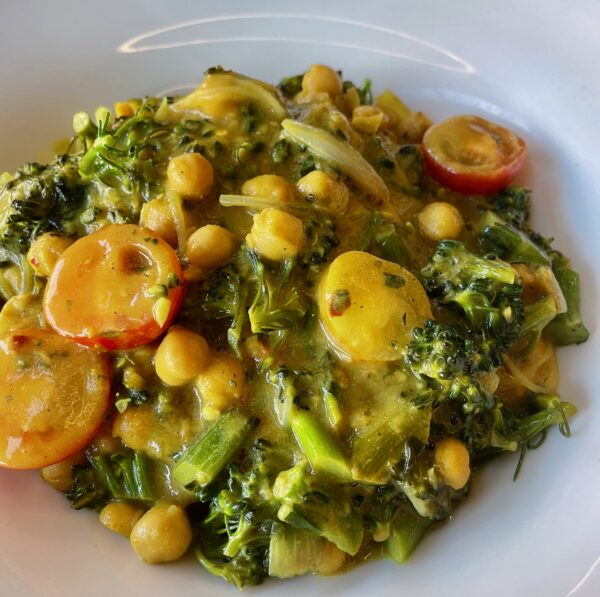 Coconut Curry, broccolini, chickpeas, rice noodles, kale and tomato
All were tasty and beautifully presented.  And there were so many other tempting soups salads, shares and bowls and plates to choose from.  Sadly, the Confit Duck wings were not available that day, so I will definitely plan to return soon. The menu changes seasonally so be sure to drop by often.  Rest assured, however, that their legendary Original Burger will remain on the menu.
The TIME Family of Wines is home to four brands – Evolve, TIME, Chronos, and the McWatters Collection.  The TIME label will slowly be phased out in favour of the Chronos brand.  When I asked Christa-Lee about the new Chronos line, she explained that Chronos is the Greek God representing time, and everything about their company spoke to that theme.  Wine is always about time and place, Harry's extensive time in the industry, how old the vines are, how long wine spends in a barrel, how long wine spends on the skins, how long a wine ferments, and how long to age a wine. And their premium Black Sage vineyard was 25 years old, so yes, a lot of references to time.  The McWatters label is reserved for small productions, their White Meritage, Chardonnay and a traditional sparkling that is one of the last wines Harry made.
TIME has opened a second location in the Oliver District Wine Village.  This location has helped expose the name to a different demographic who tend to focus on the southern Okanagan when touring wine country.  And, while sales figures there are lower, many people end up visiting the downtown location to sample the complete offering of wines and to enjoy the restaurant. Christa-Lee is thankful that people are now starting to travel again and they are seeing more foot traffic.  The restaurant also has a strong stand-alone, local following.
We continued with the tasting.  Descriptions (edited) are from the winery.
2020 Semillon
"Diamondback Vineyard in Oliver.  The 100% Sémillon grapes were hand-sorted and whole-bunch-pressed.  The wine was 54% stainless steel fermented while the remaining 46%
underwent fermentation in Neutral French Oak barrels (20% of which was new French oak) The barrel portion went through full malolactic conversion while the stainless portion did not. No fining.  Aromas of vanilla and honey.  The palate is dry with a medium body. Displays notes of apricot, lime and cream.  Spicy roasted vegetables, Foie gras, Sushi"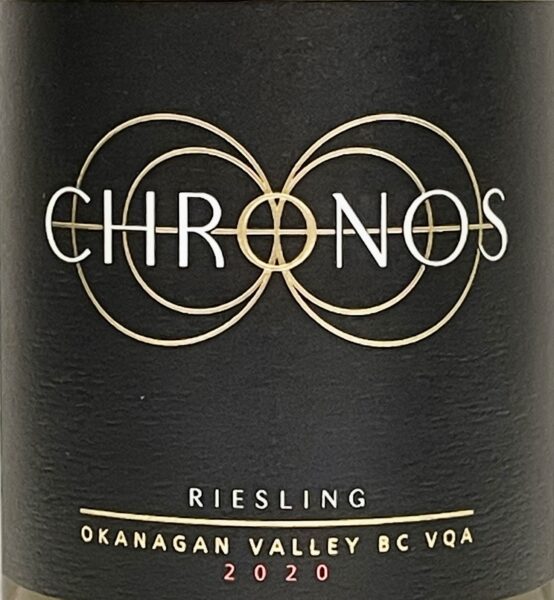 2020 Riesling – wow, classic.
"The 100% Riesling grapes from The View vineyards in East Kelowna were hand
sorted and whole bunch pressed. The bunches came in small and tight. They
were fermented in two different tanks at different temperatures with different
yeast strains for complexity. One wine was fermented dry while the other wines'
fermentation was stopped leaving some residual sugar which was then blended to
balance the sweetness and acidity.  Notes of white flower and honey-crisp apple.
Dry, bright and juicy with a light body, this Riesling displays flavours of citrus fruit, lime, lemon and aromatics like jasmine. Vibrant acidity and minerality.  Beet carpaccio, Beef curry, Halibut with orange-miso sauce."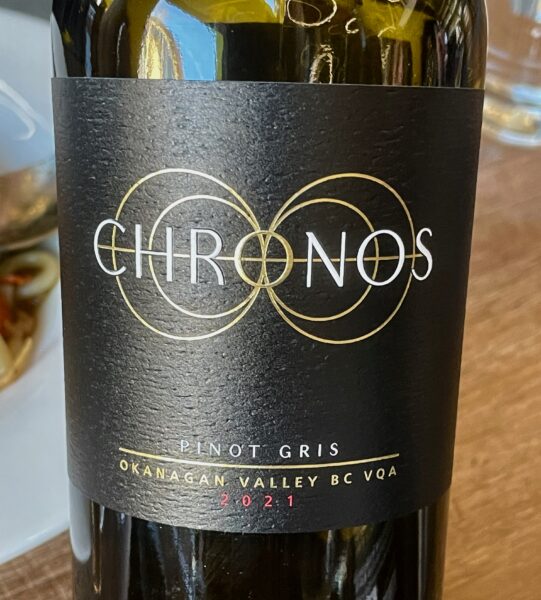 2021 Pinot Gris
Dragon Mountain vineyard in Summerland is a new vineyard for them.  Very different than the previous Evolve style.  Small production.  One of the very best I have tried.
"Hand harvested and hand sorted, this Pinot Gris comes from a small family vineyard in Summerland with ideal conditions and breathtaking views. The grapes were whole bunch pressed and fermented at cool temperatures to retain the fresh
fruit aromas. The wine remained on lees after fermentation for 2 months to add
texture and character.  The wine opens with notes of Granny Smith apple and stone minerality, followed by citrus and melon.  Expressive flavours of pear, peach blossom, melon and lemon on the palate with a wonderfully long finish.  Whether you pair this with grilled halibut or roast chicken and fries, you are going to be happy."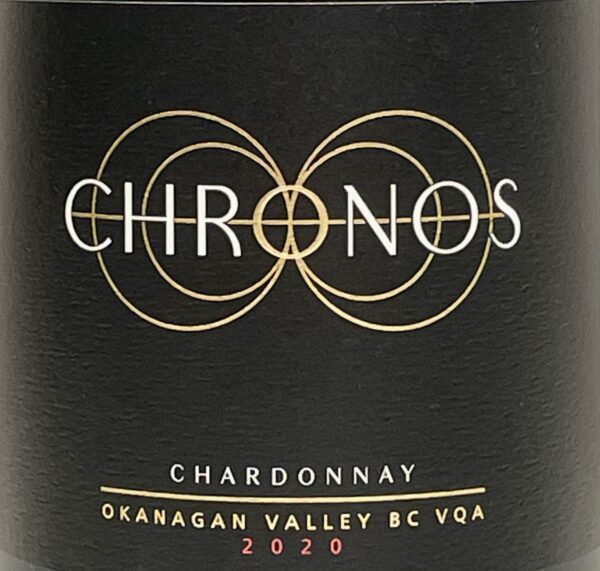 2020 Chardonnay – Chronos, unoaked.  Many are non-descript, but this one had lees aging for texture.  Light, not heavy, oily, or buttery like some oaked versions.  From the Mirror lake Vineyard in Oliver.
"The 100% Chardonnay grapes were hand sorted and whole bunch pressed.
The wine was 100% stainless steel tank fermented and did not undergo
malolactic conversion. The wine underwent weekly lees stirring for three
weeks post ferment. The wine was not exposed to oak treatment. No fining.
Subtle notes of tropical fruit, pineapple, citrus fruit and lemon.  The palate is dry with a light body. Displays crisp flavours of apple, lime and peach.  Oysters, Seared scallops, Marguerita pizza."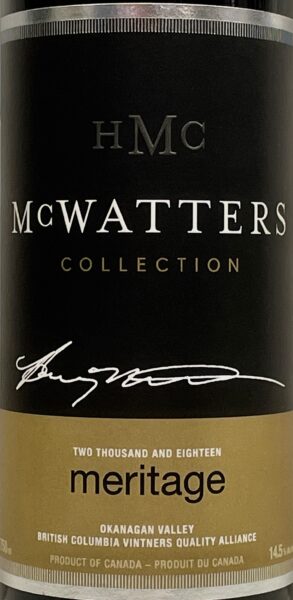 2020 McWatters Collection White Meritage
"My vision with the McWatters Collection is to create premium wine that reflects our unique South Okanagan terroir and leaves a lasting legacy for future generations." 55% Sauvignon Blanc, 45% Sémillon Vineyard Archer (Okanagan Falls), and Diamondback (Oliver).  All the grapes in this wine were hand-sorted and then whole-bunch-pressed. This blend is 55%. Sauvignon Blanc and 45% Sémillon. One-half of the Sémillon portion was fermented in oak barrels.  Notes of tropical and citrus fruit.  Ripe apricot flavour and light body. Displays a lush texture, balanced acidity, and dry finish.  Sesame seed-crusted Albacore Tuna with avocado and lemon miso drizzle, Shrimp scampi, Tortellini pesto."
2021 Rosé – 100% Syrah.  Delicious – strawberries, cherries, cream, white pepper.  Dry and full of flavour.  From the OK Falls Silver Barrel Vineyards.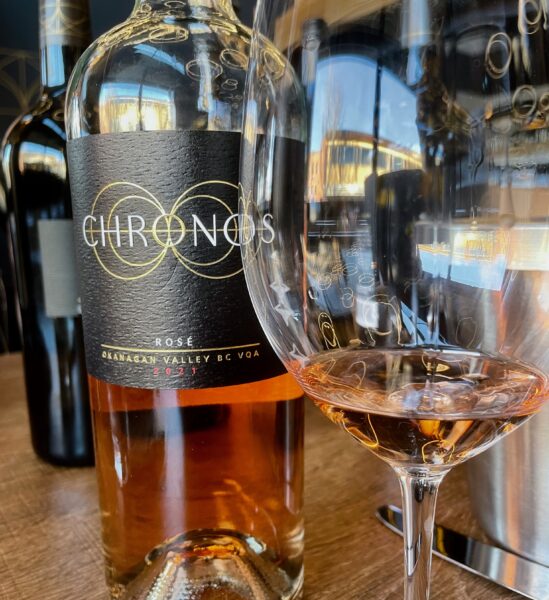 2021 Rosé
"Hand harvested and hand sorted. The Syrah this wine is made from is grown
specifically to be rosé. The grapes were de-stemmed and left on skins in the press
for 1 hour before it was gently pressed out. Fermented at low temperatures for
10 days to develop the natural fruit flavours.  Pronounced strawberry gelato with crisp raspberry.  Dry, bright watermelon, ripe strawberry and raspberry with a touch of lemon pepper leading into a slow fade finish.  White sauce pizza, Italian sandwiches, mac n' cheese, Manhattan clam chowder."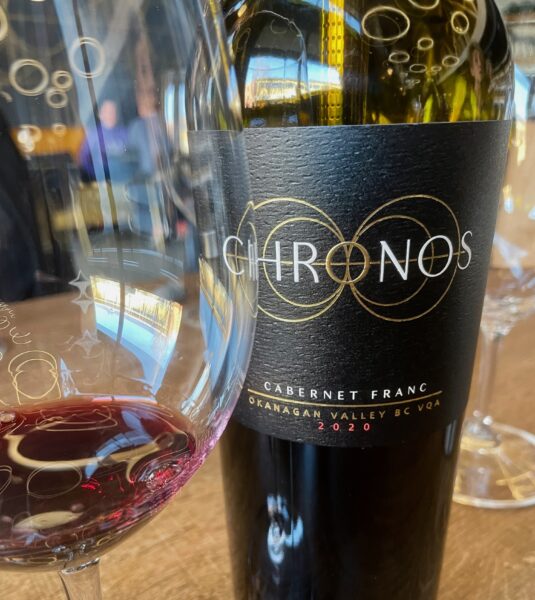 2020 Cabernet Franc – very impressive.
"Hand-picked, hand-sorted and whole cluster fermented. Daily pump-overs
and left on skins post-fermentation for 10 days. Matured in French oak for 16
months, 20% new.  This wine shows raspberry, plum and white pepper on the nose.
This wine offers red plum, cherry and a touch of herbs with a fresh finish.  This wine is the star of any BBQ: burgers, grilled Portobello or smoked chicken.  Also delectable with a charcuterie plate."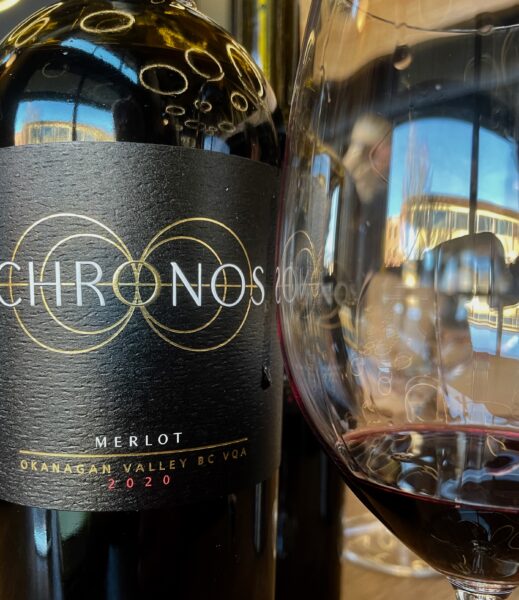 2020 Merlot
"Gently hand sorted, fermented with a touch of carbonic maceration to
accentuate the dark and red fruits. Gentle daily pump-overs and pressed off
immediately after fermentation. 20% new French Oak.  This wine has aromas of plum, blackberry and lavender.  Smooth, ripe flavours of black currant, dried cherry and cinnamon lead into a long finish. Try this expressive Merlot with grilled lamb, beef wellington or creamy mushroom pasta. Cheeses love Merlot, as do cozy nights in."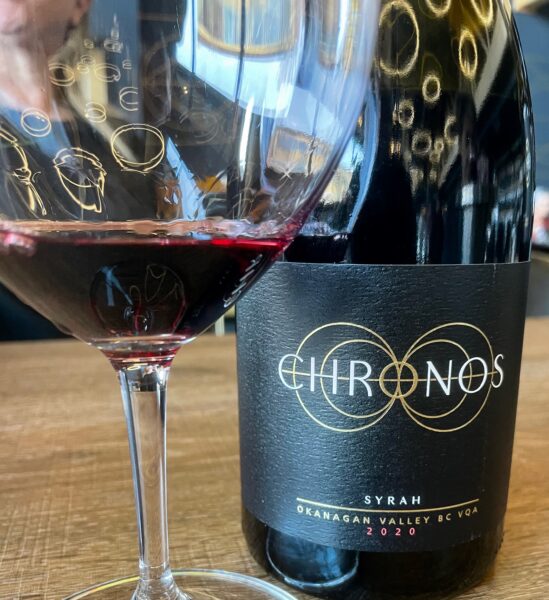 2020 Syrah – everything you'd want in a Syrah.
"Our Syrah was fermented in 3 separate open-top tanks with daily punch-downs.
It was then pressed and put into a combination of French and American oak.  Aromas of cherry, blueberry and thyme.  Beautiful flavours of red currant, dried blueberry, cherry and clove lead into a lengthy finish.  Think of pairing flavourful cheeses, like smoked gouda, pecorino or grana Padana. Syrah also loves BBQ ribs and grilled eggplant with balsamic."
2020 Cabernet Sauvignon / 2020 Cabernet Syrah
"The Cabernet Sauvignon was carefully sorted and gently pressed, and then saw a combination of French and American oak, 20% new oak.  Aromas of cherry, black currant and fig.  Vibrant flavours of black cherry, plum and a hint of cedar.  Yes, this wine will pair superbly with a ribeye steak, but also try smoked mushrooms, eggplant parm and roast leg of lamb."
"This wine was created by blending portions of Cabernet Franc and Cabernet Sauvignon with Syrah. Both cabernets saw daily pump-overs and both matured in French oak before blending.  Aromas of plum, raspberry and white pepper.  Flavours of black currant, red plum and herbs combine to delight the palate. Extremely versatile, pair this wine with Porchetta or even a salmon wellington. Spaghetti and meatballs are also a perfect pairing."
It was very interesting to sample these two wines side by side. The Cabernet Merlot was more approachable at this time, but the Cabernet Sauvignon was big and rich and perfect for those who like their reds to be BIG.  Think ribeye steak.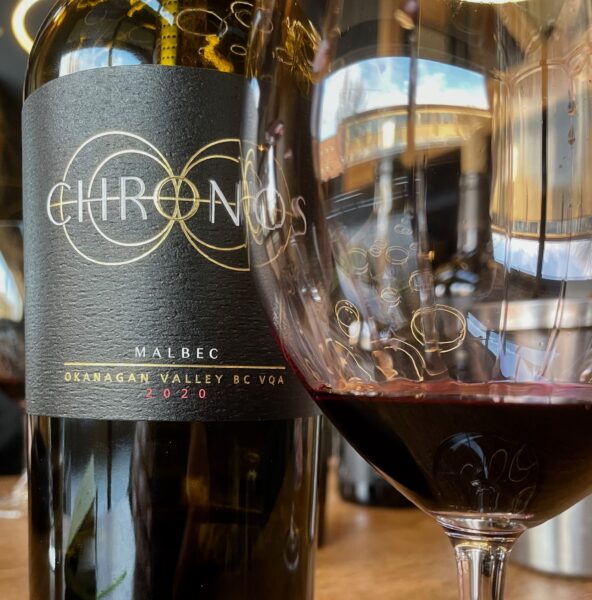 2020 Malbec – classic varietal character.   They hadn't planned on making a single variety Malbec, but they had some left from their McWatters Meritage and it was rather outstanding, so they bottled one for the first time, and I, for one, am glad they did.  Only 160 cases were made.  Be sure to get some before it is gone.
"Our small batch Malbec was fermented in open-top tanks with daily pump-overs
and punch-downs. Only 8 barrels were made, with 1 being new French oak.  Sweet cherry, cocoa, violet and eucalyptus.  A rich, textured wine with flavours of blackberry, blueberry and spice that lead into a long, smooth finish.  This Malbec is complex: pair it with beef stew or go wild and pair it with grilled venison. Roast morels with cream or braised pork belly are fan favourites."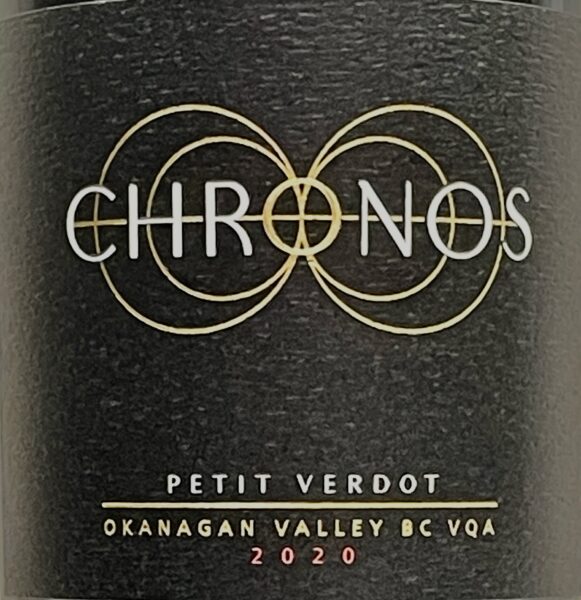 2020 Petit Verdot   Dark and inky.  Only 46 cases were produced.
"This very limited release was hand harvest and hand sorted. The wine saw 18
months in French oak, 20% new.  Luscious raspberry and dried blueberry with a hint of allspice.  Dry and full-bodied, this wine is velvety and has intense flavours of ripe red plum and
blackberry that leads into a long finish. Rich and delicious, try this wine with braised lamb shanks. A hearty vegetable stew or coq au vin for the win."
All the wines we tasted showed harmony and elegance.  I was especially impressed by how approachable all the red wines were.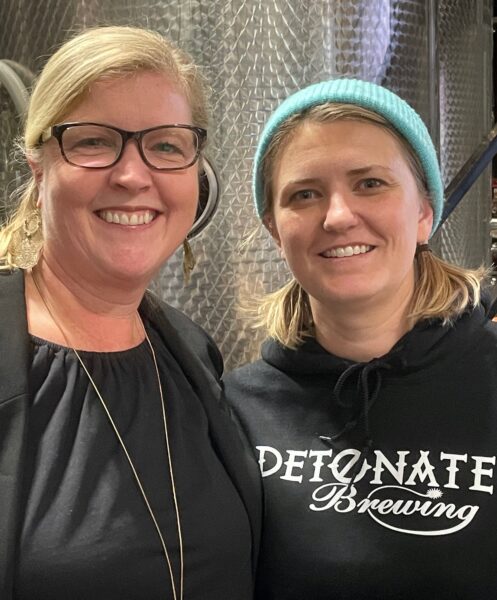 After the tasting, we went out back to the winery to chat with Lynzee Schatz.  She is responsible for many of their new releases.  Lynzee grew up in Kelowna, worked at Summerhill Winery when she was quite young, then headed to Australia for schooling and work.  Later she honed her chops at wineries in California and Ontario as well as Vancouver Urban winery.  Lynzee returned to the Okanagan with a stint at Okanagan Crush Pad before joining TIME in 2018.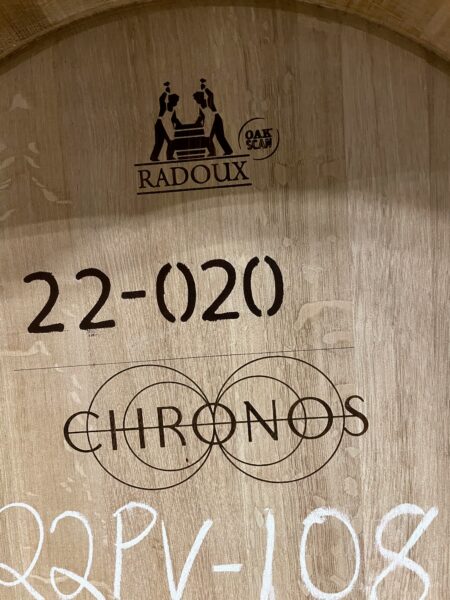 Over the years, I have learned how barrel differences can make a significant difference in the final character of a wine.  Winemakers put a lot of thought into deciding exactly what type of barrel a given wine needs.  American oak?  French oak?  From which forest?  Light toast, medium toast, heavy toast?  Toasted heads? New barrel?  A neutral barrel?  A 1, 2, or 3-year-old barrel?  All these are important decisions.  Lynzee taught us a little about barrel head codes.  This photo shows the name of the producer, TG = tight grain, MT = medium toast.  The 22 PV indicates that the wine aging inside is a 2022 Petit Verdot.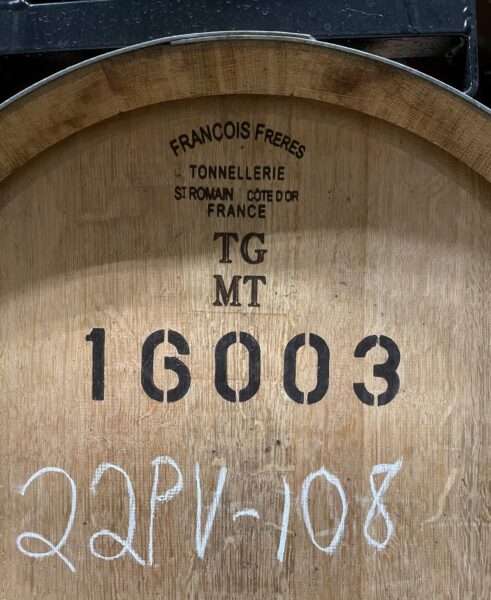 As we were about to leave, Christa-Lee surprised us with two special treats, Harry's Apera a Sherry-styled wine and Harry's Ruby, one of the better BC 'Port' styled wines.  These are two wines which truly reflect a tribute to Harry McWatters and honour his memory.  I love after-dinner wines and the Apera struck me with its complexity – raisins, honey, and so much more.  Love, love, love it!  A never to be replicated one-of-a-kind wine.  Wow!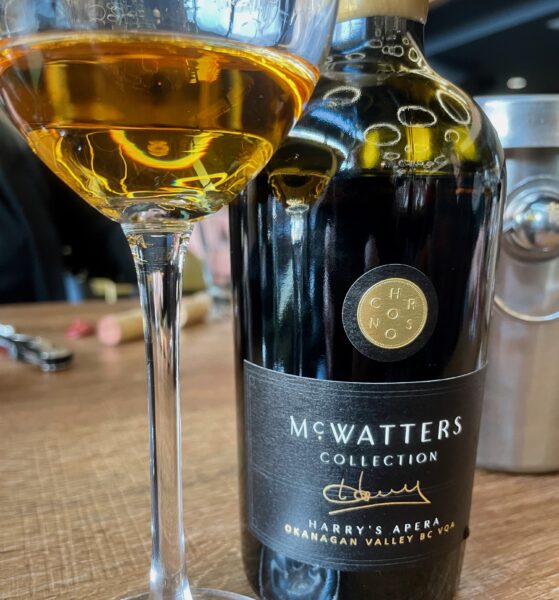 "Winemaking: We used 2011 Chardonnay which aged in neutral French oak barrels with minimal topping to promote oxidation. The wine was fortified using a distillation of the same wine.  On the nose: Dried orange peel, dried mango, almond.  On the palate: Dried pineapple, marmalade, allspice, caramel, and toasted pecans.  Enjoy before dinner as an aperitif, or paired with Spanish tapas."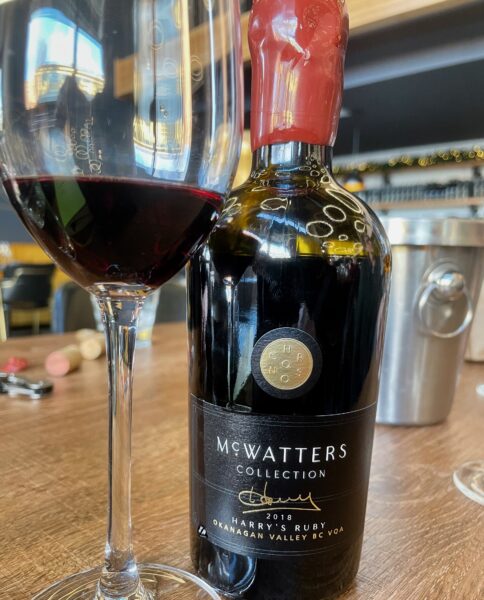 Harry was a huge Port fan and sought to create one of his own.  Again, a one-of-a-kind release.  "Winemaking: Made with 75% Merlot and 25% Cabernet Franc from 2018 and spent 24 months in neutral French oak barrels to concentrate the flavours. Fortified with a brandy spirit.  On the nose: Christmas cake, fig, sweet tobacco, dried cherry.  On the palate: Raisin, black cherry, prune, chocolate.  Enjoy after dinner as a digestif, or paired with chocolate cake."
So, what can I recommend?  Without hesitation, all of them.   When you visit, I encourage you to sample more than just your usual go-to wines; you are bound to find some new favourites.  Go seek these wines out, or better yet, order a mixed case from the winery.
Note:
TIME winery will be closed in January and February while they undergo renovations to the tasting and dining area.  You can still order wines through their website for shipping or pick-up.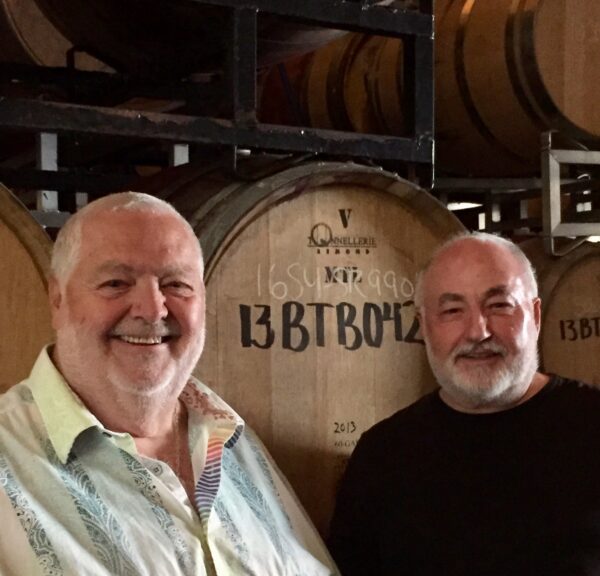 (All photos – Sam Hauck)