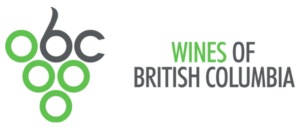 Wine Growers British Columbia is delighted to announce that the provincial government has proclaimed April 2023 as BC Wine Month. The sixth annual April is BC Wine Month begins this weekend, setting off four weeks of celebrating local 100% BC wine.
The province of British Columbia officially proclaims April 2023 as BC Wine Month.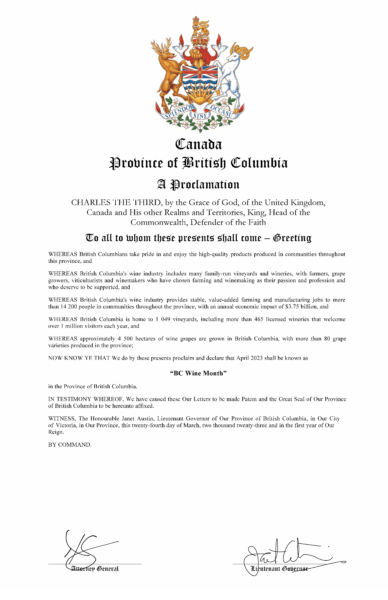 "April is BC Wine Month marks a celebration of all that the BC wine industry has achieved as well as the remarkable potential for future growth," said Miles Prodan, CEO & President of Wine Growers British Columbia. "The economic contribution of the BC grape wine industry is significant at 3.75 billion in 2019, an 86.7 per cent increase from 2011. This impressive growth is a testament to the dedicated efforts of the BC wine community, in whose honour we dedicate April is BC Wine Month."
"The wine industry doesn't just grow great grapes and wine, it also grows the economy," said Pam Alexis, Minister of Agriculture and Food in BC. "It is important to acknowledge the success of the industry over the last 30 years. I raise a glass to those who have made this industry what it is today and look forward to its fruitful future."
The excitement of BC Wine Month will be visible across the province at wineries, restaurants, wine shops, and online. Wines of British Columbia is offering a range of options from education and new vintage releases, to where to find the best BC Wine restaurants, encouraging everyone to support local this month.
This April, learn something new:
The Wines of British Columbia Ambassador Program is a series of educational courses exclusively focused on BC wine. Level One is an online certification course with valuable information on BC wine history, varieties, styles, unique climate, and food pairing expertise.
Get certified now – $99 value offered complimentary for BC Wine Month!
Promo code: BCWineMonth
Level Two of the Ambassador Program is an in-class learning experience open to all trade, media and industry. Spring dates and locations are available at WineBC.com. Level One is a pre-requisite for Level Two.
Taste something new
The 2022 vintage BC wines are hitting the shelves! Refreshing whites, rosés, and sparkling all make their debut this time of year. BC wine lovers can find the latest releases through the Wines of BC Explorer App (don't miss the taste test feature). For those looking for an in depth overview of the 2022 vintage, the latest BC Wine Grape Vintage Report is now available.
Download the App І Read the Vintage Report
Graze something new
Wines of BC has put together a list of the Best BC Wine Restaurants. Search by city and browse our Pour More BC partners who are crafting dining experiences around local BC wine.
Find the Best BC Wine Restaurant near you
Wine Growers British Columbia will be celebrating BC Wine Month starting this Saturday, April 1. Follow along on social media @WinesofBC and #BCWineMonth.
Wine Growers British Columbia is committed to ensuring BC wine is promoted and enjoyed responsibly. Learn what the right amount for you is at therightamount.ca.
BC Wine Facts
British Columbia's wine industry provides stable, value-added farming and manufacturing jobs to more than 14,200 people throughout the province
There are 335 licensed grape wineries and 1,049 vineyards covering 11,086 acres of planted vineyard land in the province of British Columbia
Each year, BC's wineries welcome more than 1,191,500 visitors and contributes an annual economic impact of $3.75 billion
BC wines took home over 1,500 medals in national and international wine award competitions in 2022
Top three white wine varieties in BC: Pinot Gris, Chardonnay, and Gewurztraminer
Top three red wine varieties in BC: Merlot, Pinot Noir, and Cabernet Sauvignon
ABOUT WINE GROWERS BRITISH COLUMBIA
Since 1990, WGBC has played a pivotal role in taking BC's wine industry from a vision to an internationally recognized niche region producing premium wines and providing exceptional wine tourism experiences. WGBC markets the wine and regions of BC; delivers quality trade, media and consumer tastings; and acts as the voice of BC's wine industry by advocating to government on behalf of industry that contributes $3.75 billion in provincial economic growth annually.
WGBC represents all wineries in British Columbia to grow the premium market share for the Wines of British Columbia, while driving awareness of our world-class wines and tourism product – as of 2019 drawing 1,191,500 visitors with $783.7million in tourism and tourism employment related economic impact on an annual basis.
For more information about Wine Growers BC programs and services, please visit WineBC.com. For details on the Wines of British Columbia, go to WineBC.com.