MISSING PURIFIER LEADS TO FULL-BLOWN FLAVOUR IN THIS YEAR'S
ARDBEG DAY LIMITED EDITION WHISKY
The heavy vapours have risen! Ardbeg invites fans to uncover a mysterious new dram
and story in its Planet Ardbeg comic book series to celebrate Ardbeg Day 2023.
Ardbeg Day is a global celebration of all things Ardbeg, held annually on the last Saturday of Islay's Festival of Music and Malt, Fèis Ìle. With festivities set to take place at the distillery and across the globe on Saturday 3 June this year, Ardbeg will mark the event by releasing an experimental Limited Edition whisky, Ardbeg Heavy Vapours.
Following the distillery's Planet Ardbeg comic launch last year, a dramatic new storyline in the series will be revealed alongside the new expression that's inspired by its unusual creation. And so this year, whisky lovers are invited to celebrate the theme of 'Planet' Ardbeg Day – where they can expect to be transported into Ardbeg's mythical, graphic novel universe.
For the first time ever at Ardbeg its whisky has been distilled without a purifier – the apparatus on the still responsible for maintaining Ardbeg's unrivalled balance between extreme peat and floral fruitiness. This creative experiment by Director of Whisky Creation, Dr Bill Lumsden, has allowed the heaviest and untamed vapours to rise up the still during the distillation process, before being captured, matured and bottled. On the nose, intense and aromatic smoke rises with hints of sweetness. On the palate, surges of bittersweetness disturb ashy coal dust, peppermint and cardamom, before clouds of dark chocolate and eucalyptus roll into disguise Ardbeg's iconic balance.
The expression's unusual distillation process and resulting flavour has been brought to life in the accompanying graphic novel created by celebrated comic artist and illustrator, Dilraj Mann. The plot follows Agent 46 (AKA Jackie Thomson, Ardbeg Visitor Centre Manager and Committee Chair) – a plucky interplanetary detective on a quest to locate the elusive purifier and restore Ardbeg's signature balance.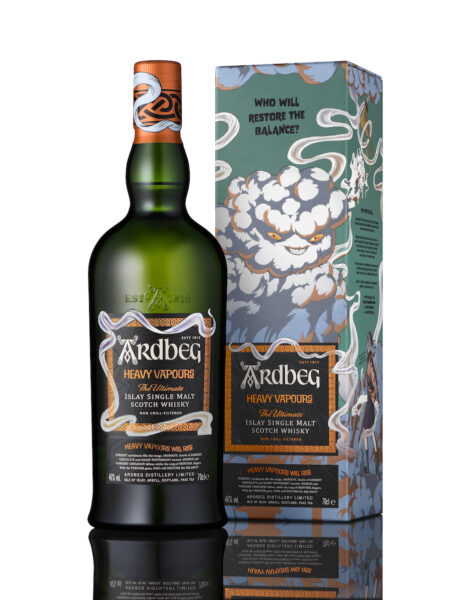 Be sure to check out the local Vancouver event, as , Ardbeg will be hosting its Ardbeg Day celebration The Irish Heather Shebeen on June 3rd.
Details
Saturday, June 3rd, 2023
2:00PM-6:00PM
The Irish Heather Shebeen
248 East Georgia Street
Vancouver, BC V6A 1Z6
https://www.eventbrite.ca/e/ardbeg-day-2023-bc-tickets-619359700537
The Distillery is inviting fans and whisky lovers to enter the ARDverse for Planet Ardbeg Day by attending as their favourite Ardbeg-inspired hero, comic character or mythical creature.
Ardbeg's Director of Whisky Creation, Dr Bill Lumsden, commented: "A missing purifier is unprecedented for Ardbeg. This experiment was something I've always imagined trying – what would happen to the flavour and character of Ardbeg as we know and love it, by distilling in this unique way? Well, it's now time for Ardbeg fans to find out; this is a full-blown dram where Ardbeg's exalted balance has been disrupted in the most fantastic of ways – a truly captivating dram."
Colin Gordon, Ardbeg Distillery Manager, said: "The time has almost come again where we call on Ardbeg fans and whisky lovers across the world to celebrate Planet Ardbeg Day with us, be that on Islay at the distillery or at one of our events around the world."
"Our 2023 theme will be a celebration of our Planet Ardbeg graphic novel universe, where we'll be uncovering the mysteries behind our latest Limited Edition release, Ardbeg Heavy Vapours. We can't wait to celebrate this iconic date in the whisky calendar with our global community again soon."
For those who can't make it on the day, Ardbeg's Director of Whisky Creation, Dr Bill Lumsden will be hosting an Ardbeg Heavy Vapours masterclass on ardbeg.com.
Ardbeg Heavy Vapours will be available to buy worldwide from Ardbeg Embassies, whisky specialists, online retailers, and from the Distillery Visitor Centre.
For more news on Ardbeg Day 2023 and all things Ardbeg, smoky malt whisky fans can join the Ardbeg Committee at ardbeg.com/en-gb/committee
Follow us on:
Facebook: https://www.facebook.com/Ardbeg
Instagram: @ardbeg

Ardbeg:
Ardbeg prides itself on being The Ultimate Islay Malt Whisky. Established in 1815, Ardbeg is revered by connoisseurs around the world as the peatiest, smokiest and most complex of all the Islay malts.
Despite its smokiness, Ardbeg is renowned for its delicious sweetness, a phenomenon that has affectionately become known as 'the peaty paradox'. During the 1980s and 1990s, Ardbeg suffered from an uncertain future, and it was not until the brand was purchased by The Glenmorangie Company in 1997 that the Distillery was saved from extinction. Since then, the Distillery has risen like a phoenix and today Ardbeg is well established as a niche, cult malt, with a passionate following.
Planet Ardbeg
Released in 2022, Planet Ardbeg is a 40-page sci-fi anthology created by three cutting-edge artists. This limited edition publication is inspired by the unique flavours and 'origin stories' of three Ardbeg expressions – Ardbeg Ten Years Old, Ardbeg An Oa, and Ardbeg Wee Beastie – and features cameos from some of the Distillery's best-known characters.
This graphic novel was conceived by award-winning New York cartoonist Ronald Wimberly in collaboration with fellow artists Emma Ríos and Sanford Greene, each bringing their own distinctive voice and style to the project. Using Ardbeg's Core Range as their creative launchpad, together they have produced an anthology of otherworldly tales as bold and unique as Ardbeg itself.
The Ardbeg Committee:
The legacy of the whisky was safeguarded in 2000 by the formation of the Ardbeg Committee. The Committee is made up of thousands of Ardbeg followers worldwide who are keen to ensure that "the doors of Ardbeg never close again". Today there are more than 180,000 members of the Ardbeg Committee in over 130 countries. Committee Members are regularly consulted on new bottlings and expressions and are offered exclusive Committee bottlings. Members also receive invitations to special gatherings, tastings and events. The Committee, chaired by Jackie Thomson, is free to join at ardbeg.com/en-gb/committee.
Awards:
Ardbeg is one of the world's most highly awarded smoky single malt whiskies. Since 2008, Ardbeg has won more than 50 gold and double gold medals in key whisky competitions. Ardbeg has twice been awarded 'World's Best Single Malt' at the World Whiskies Awards (2010, 2013). At the 2014 Global Icons of Whisky Awards, Mickey Heads was voted 'Distillery Manager of the Year'. The following year, Ardbeg's expressions took the top three spots in Whisky Advocate magazine's review of the best single malt Scotch whiskies under US$100. Meanwhile, both Ardbeg Corryvreckan and Ardbeg Uigeadail have been awarded gold medals at the 2016 San Francisco World Spirits Competition. Ardbeg 10 Years Old also won the Best Single Malt Scotch 10 Year Old at the International Whisky Competition 2019, while the Ardbeg Distillery won the Distillery of the Year 2019. In 2020, the International Whisky Competition awarded Ardbeg Corryvreckan first place for Best Single Malt Scotch, Best Single Malt Scotch (No Age Statement), Best cask Strength (Over 57% ABV), Best Peated Scotch and Best Islay Single Malt. Ardbeg Wee Beastie also earned first place for Best Single Malt Scotch Under 10 Year Old and The Ardbeg Distillery achieved another Distillery of the Year award. In 2021, Dr Bill Lumsden was awarded Master Distiller of the Year for the fifth time, and Ardbeg Uigeadail won World Whisky of the Year in the International Whisky Competition. In 2022, at the International Whisky Competition, Ardbeg was awarded The Distillery of the Year Award, while Ardbeg Ardcore won first place in Best New Scotch Release, Best Peated Single Malt and Best Islay Single Malt.
The Glenmorangie Company:
The Company is one of the most renowned and innovative distillers and marketers of Scotch whisky brands worldwide and is part of Moët Hennessy, the wine and spirits division of Moët Hennessy Louis Vuitton. Headquartered in Edinburgh, Scotland, the Company produces Glenmorangie Single Highland Malt whisky and Ardbeg Single Islay Malt.
Responsible Drinking:
Ardbeg and The Glenmorangie Company advocate responsible drinking and suggest that drinkers savour Ardbeg whiskies in moderation and in line with recommended daily guidelines for alcohol consumption.
Media release and images provided by Brandon Neville, Edery & Lord Communications.