White Fish, Prawn, and Vegetable Green Curry with Coconut Rice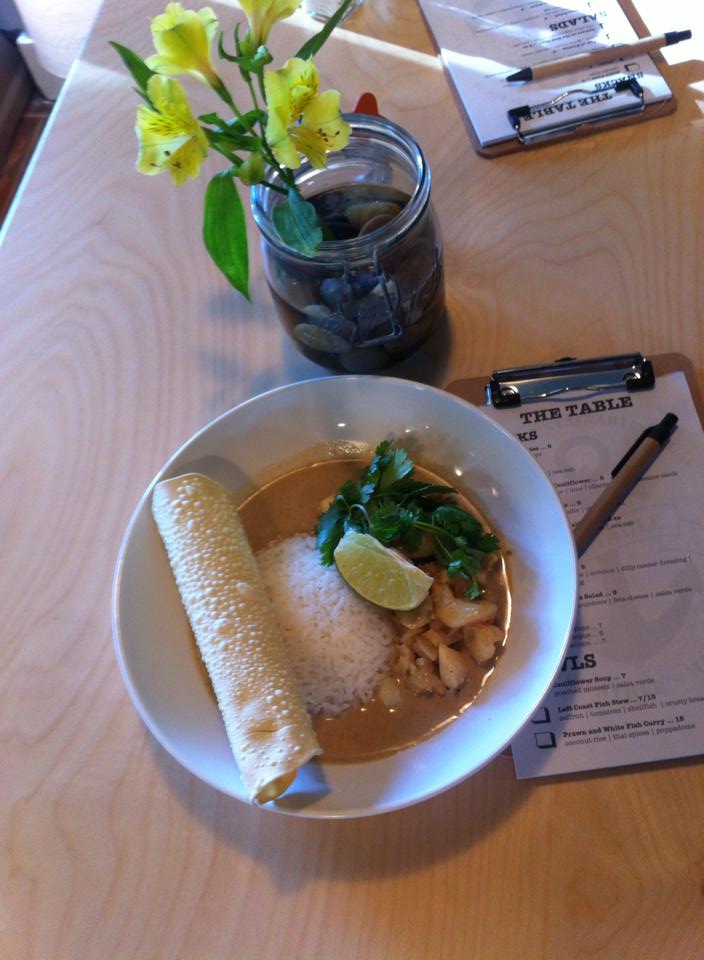 This dish was one of the first dishes I came up with when opening 'The Table Café'. A simple, and flavourful dish that is just perfect for a mid-day meal.
The white fish can really be any mild white fleshed fish, whether it is halibut, haddock, cod, or even snapper. The sauce itself is very adaptable, and is a wonderful sauce to steam mussels or clams in. (and it even works with chicken!)
Green Curry Sauce
Serves 4-6
2 tsp cumin, whole
2 tsp coriander, whole
1 medium onion, sliced
2 clove garlic, sliced
1 stalk lemongrass, chopped
1.5 inch ginger, grated
1 piece thai red chili, de seeded, and chopped (less if you don't like spicy food)
3 piece green pepper, diced
4 tbsp fish sauce
2-400 ml cans coconut milk
½ bunch fresh coriander
Place cumin and coriander seeds in a frying pan and gently heat for a few minutes until they start to darken and smell fragrant.
Place seeds into a grinder or mortar and pestle and grind until fine.
Saute the onions, garlic, lemon grass, ginger, and chilis with the ground spices until soft.
Add the coconut milk and fish sauce, bring to a simmer for 5 minutes. Remove from heat and add green peppers and puree in a blender, in batches, until smooth. Reserve for use.
Coconut Rice
1 cup jasmine rice
1.5 cups water
1 pinch salt
2 tsp coconut oil
Method
Rinse rice well under cold water until water is clear.
Please in pot with water and bring to a boil. Reduce heat to a simmer, and cover. Cook for an additional 15 minutes. Remove from heat and place coconut oil on top.
The final Dish
1 green pepper, diced
1 red pepper, diced
1 small head cauliflower, cut into florets
12 Oceanwise Silva prawns, peeled and devained
½ pound white fish, cut into 1 inch pieces
Oil
Salt
In a large pan, saute vegetables until they begin to soften, add prawns and fish and continue to saute.
Add the green curry sauce and heat through. Serve with rice. Slice some limes and pick fresh coriander for garnish.
THE CHEF
Born in Winnipeg, to a Mother who was always taking the family on adventures by cooking cuisines from across the world for their dinner. By eight years old, Ross was well versed on international cuisines, and had a palate for nearly anything spicy. Fast forward ten years, and ross was working in professional kitchen, trained at the Stratford Chefs School, had a knack for baking and pastries, which saw him move to Europe to cook at Café Paradiso in Cork. He travelled at nearly every chance he had. Visiting every country within his reach before he returned to Canada, this time on the West Coast. After opening Globe Restaurants at Big White and Sun Peaks, he took the Executive Chef position at Sparkling Hill Resort, before opening Down 2 Earth Catering, the business that became 'The Table Café; just a few years later.
Ross spends his time outside the cafe doting on his daughter, travelling across the world in search of the best fish, and cooking for his friends.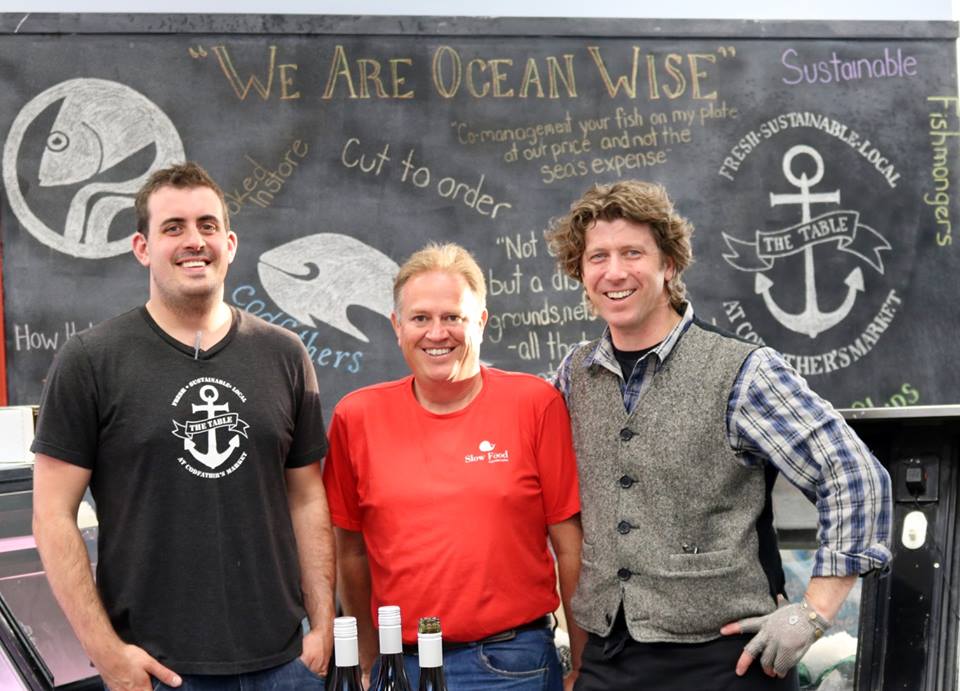 ABOUT THE RESTAURANT
The Table at Codfathers Market was a pipe dream, while two friends enjoyed a backyard family BBQ discussing their two businesses. Ross had a small catering company for the previous three years and wanted to expand, Jon and Ann Marie had a renowned seafood shop and wanted a showcase their product more.  A few beers later, they had an agreement.
The café focuses on creating dishes that use 100% sustainable seafood, served in a fresh, simple manner.
Chef Ross of The Table Cafe and Jon Crofts of Codfathers Market work closely together each day to ensure what is arriving at the market is the freshest, and best quality.
When Chef and the Fishmonger can come together both can create a truly unique experience that allows The Table to be one of the few restaurants that can tell you not only where the fish was caught, but who caught the fish.
The menus change about every two months, and they focus on what is coming out of the water, and being picked in the gardens.