By Lorne Eckersley
Have you ever been lucky enough to witness the start of something new? As a resident of the Creston Valley, in the heart of the Kootenays, it has been great fun to witness the emergence of a small wine industry.
In subsequent blogs I'll try not to be quite so focused on a region distant from the Lower Mainland. For this first effort, though, I do so by way of introduction.
I have been a resident of the Creston Valley since 1979, involved with the Advance, our community newspaper, in one way or another, ever since. Today I am the paper's publisher. I write a weekly wine column for that appears in several Black Press newspapers, in print and digital editions. I also freelance for Food and Wine Trails magazine and contribute occasionally to Country Life in BC. Many of my columns and stories can be found on my personal web site, www.lorneeckersley.com.
My wife and I first visited wineries in 1989 in Napa and Sonoma and a few years later we made our forays into Okanagan wine country. On trips to Vancouver we started to make a point of driving north form Osoyoos to wineries like Gehringer and Divino. It wasn't only the opportunity to buy wine from the source. With each visit we left with a sense of optimism and enthusiasm—the same attitude we inevitably found in winery tasting rooms. We were hooked.
In our early years in the Creston Valley I often wondered why no one was planting grapes commercially. After all, growers had for a century been successful with everything from apples to strawberries to asparagus. No, said a friend who had worked at the Summerland research station when the province was mapped for grape-growing potential. Not enough heat units in a Creston Valley growing season.
Then, two things happened to change that. More and more cool climate grape varieties were introduced into the province and—no offense to non-believers, but—the climate began to change. Average temperatures rose slightly and maybe we started to get a little more sun each year. And maybe our winter temperatures didn't drop quite as dramatically, suggesting that perhaps vines might survive cold snaps.
Luckily, a couple with a long and successful history as fruit growers took the first plunge. Al and Marleen sold their orchard and purchased a land that Al's dad, who had also farmed, said was the best piece of agricultural land in the entire valley. They tore out fruit trees and planted grapevines—Pinot Noir, Gewurztraminer, Ortega and Marechal Foch, primarily. Then, when the vines matured, they made a trip to New Zealand, a country that has had great success with cool climate grapes. The following harvest saw Kiwi Mark Rattray supervising the picking, then crushing the fruit and starting fermentation. When released, those first Skimmerhorn (named for the mountain range that provides a backdrop to the vineyard) wines were an immediate success.
A few years later, Bob Johnson and Petra Flaa. Still living and working in Calgary, Bob and Petra had purchased an orchard in preparation for their "retirement". An opportunity to buy parcel that neighbours Skimmerhorn Winery arose and they jumped at the opportunity. Eventually, Baillie-Grohman Estate Winery products reached the market, all made under the watchful eye of Dan Barker, another Kiwi, who had once been named New Zealand's Young Winemaker of the Year. Today BG wines are widely available around the province, VQA stores included.
Then, an amateur winemaker and grower partnered with a wine-loving member of a sawmill and logging family when the two identified a sloped, limestone laden parcel north of Creston on Duck Lake. Dave Basaraba and Michael Wigen were soon busy planting a vineyard that takes advantage of the moderating effect of Duck and Kootenay Lakes, and the later afternoon sun that bounces off the water surface and hits the vines. Wynnwood Cellars was born.
Now, with three wineries producing fine products, Creston Valley has become a favourite stop for people travelling along Highway 3, and has grown in appeal to Albertans looking for a place to retire.
I count all of the people named as friends, and take special pride in having watched a grape industry rise like the proverbial phoenix from the ashes of a struggling apple industry. Having easy access to wineries, vineyards, winemakers and owners has given me a better understanding of the industry, and that knowledge has only fueled my passion for wine and wineries.
Since our first visits to wineries in Northern California, we have traveled through Washington, Quebec, New Brunswick, Nova Scotia, Vermont, New York, Italy and Spain, almost never driving past a winery without stopping in. Our visits have been a great education and our purchases spur memories of those visits when we open the bottles at home. It's been a fun ride, one that we have no intention of disembarking from any time soon.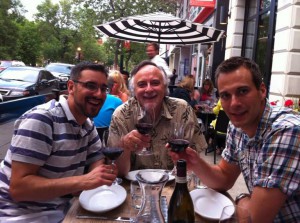 Lorne Eckersley is publisher of the Creston Valley Advance and he writes a weekly wine column for the Advance and other Black Press newspapers. He is a freelance contributor to Food and Wine Trails magazine and County Life in BC and many of his columns and stories can be found at lorneeckersley.com Lorne, his wife, Angela, have rare met a wine they didn't like. He also enjoys travel, cooking, reading and spending time with their 2.5 grandchildren in  Calgary.