ON JANUARY 31st, MONSTER JAM® AND KIDS HELP PHONE 
REV UP FOR BULLYING AWARENESS EVENT AT BC PLACE STADIUM

World Champion Northern Nightmare to Drive over Crush Car Live!
WHAT: As part of a joint bullying awareness initiative, the Maple Leaf Monster Jam® Tour and Kids Help Phone have joined forces, for the first time ever, on a nationwide campaign to generate awareness about bullying in Canada and to empower young people to Shift Gears. Stand Up. Stop Bullying.
To kick-off the Vancouver leg of the 2014 Maple Leaf Monster Jam Tour which comes to town Saturday, February 1st, a special Bullying Awareness event will take place at BC Place Stadium on Friday, January 31st with school kids in attendance who will:
Participate in an interactive Kids Help Phone bullying awareness presentation with Canadian Monster Jam driver Cam McQueen
Take a bullying prevention pledge and sign the Pledge Board
Sign a custom decal that will be mounted on a "crush car" with messages about bullying behaviours they would like to stop
Enjoy a unique experience and have a front row seat to witness the 10,000 lb Northern Nightmare Monster Jam truck drive over the messaged crush car live on the spot!                   
In addition, a portion of every Maple Leaf Monster Jam tour ticket sold will be donated to Kids Help Phone.  The Maple Leaf Monster Jam Tour has generously donated 10,000 tickets to Kids Help Phone in support of their mission to prevent bullying.
In Canada, a child or teen is bullied every seven minutes on the playground, and 65% of young people in a Kids Help Phone survey say they have been bullied online. Bullying can have a tremendous effect on young people's mental health and well-being, and those effects may stay with them for life.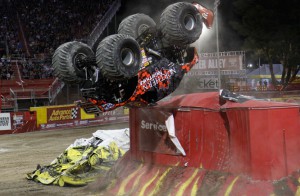 WHO:
60 School Kids (Ages 12-19)
Monster Jam Drivers including Northern Nightmare's Cam McQueen
Kids Help Phone representatives                              
WHEN:   
FRIDAY, JANUARY 31, 2014:  3:00 PM – 4:30 PM
**Media asked to arrive by 2:45 pm to check-in
WHERE: 
BC PLACE STADIUM – Enter through Media Entrance Door off Expo Blvd. 
777 Pacific Boulevard  Vancouver, BC, V6B 4Y8
For information on the Maple Leaf Monster Jam Tour 2014, visit www.monsterjamcanada.ca. Tickets are now on sale at www.ticketmaster.ca. For facts and information on bullying in Canada and tips to make a difference, visit www.kidshelpphone.ca/bullyingawarenessweek. Note to editors: Hi-res images and B-roll are available upon request.