Take a walking tour of Britannia Shipyards, a Family Zumba class at Hamilton Community Centre, attend the sixth annual Children's Arts Festival or choose from over 30 other activities this coming Monday, February 10. BC's second Family Day weekend is being celebrated in Richmond with activities for families of all sizes and ages and with many activities free of charge. Find a full listing of all activities – and the ones that require pre-registration – at www.richmond.ca/familyday.
Of the five community centres open on Monday – Cambie, Hamilton, South Arm, Steveston and Thompson – you can choose from lots of open gym times, art sessions, board games and much more. Minoru Arenas is offering a public skate session from 10 a.m. to 3 p.m., with hockey, ringette, broomball and Winter Olympics inspired games and activities from noon-3 p.m., while Minoru Aquatics Centre public swim is from 1 to 8:30 p.m. with an on-deck DJ, graffiti wall and family photo booth from 1 to 4 p.m., specifically.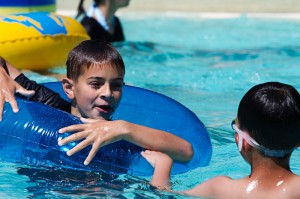 "We are very pleased with the recent announcement that the BC Recreation and Parks Association (BCRPA) awarded grants to Cambie, Hamilton and Thompson community centres, resulting in even more family-based, admission-free events at these facilities", said Mayor Malcolm Brodie. "With the intent of Family Day to give families more time together, it's wonderful that so many free or low cost activities are available in Richmond."

Now in its sixth year, the Children's Arts Festival at the Richmond Culture Centre is once again offering highly interactive and high quality artistic activities for children 12 and under, all led by local professional artists. The Festival hours are 10 a.m. to 4 p.m.with wristband admissions of $5/child and $2/adult. More information can be found on www.childrensartsfestival.ca.
And as a warm up to Family Day, West Richmond Community Centre is hosting free family-based activities on Saturday, February 8 including Family Yoga, Ballroom Dancing and Cooking Healthy Snacks. Pre-registration is encouraged to guarantee a spot or drop in and see if there's still room to join in the fun!
Richmond's community centres will be open regular weekend hours on Family Day weekend. Cambie, Hamilton, South Arm, Steveston and Thompson community centres will be open from 8 a.m. to 8 p.m. on the holidayMonday. Total Fitness Pass holders can use their pass at any of these centres on the public holiday for no extra fee.
These Family Day activities support Council's Term Goals in community wellness, emphasizing the importance of social connectedness, positive lifestyle traits and physical health for our community.
To find out more about Family Day activities and events happening in Richmond, and for other details regarding community centre hours and programs, please visit www.richmond.ca/familyday or contact the community facility of your choice.