Off the Eaten Track; A different type of food and wine experience in the city and a chance to get to know not only my camera a bit better, but to meet some like minded individuals and explore a few unique spots in Vancouver. This was also a part of Dine Out but with a twist.
A guided tour with the addition of a professional photographer to help us find our inner Annie Leibovitz in search of the perfect Kodak moment.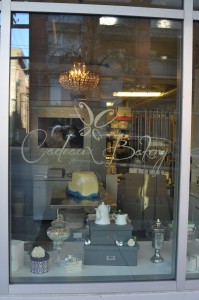 The tour began in Gastown at Cadeaux Bakery, 172 Powell St. Cadeaux is a sweet little shop with an air of Parisian elegance.
Crisp biscotti, flakey croissants, delicious cookies and sumptuously sweet but tart lemon meringue tartlets are displayed on delicate platters and antique cake stands brightly lit by the crystal chandeliers above. With the sun shining through the windows and the light from above, we had perfect light with which to zoom in on the delicate tuft of whipped meringue, coached on by our ever patient professional gently guiding us through the unique ways on which to capture the essence of the perfect shot.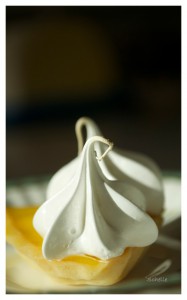 Then we got to eat our prop, which was of course delightful, sweet but sour, creamy but flaky. Delicious! I love lemon tarts!
Onto our next spot, Big Lou's Butcher Shop, just up the street at 269 Powell Street. Walking through the door was like a step back in time, as they pay homage to butcher shops of years past with a rustic feel and carefully selected antiques. A small eating bar is available for guests to enjoy a hearty bowl of piping hot soup or fresh, made to order sandwich showcasing classic styles using locally sourced breads, house made meats, patés and pickles.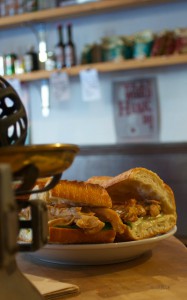 We had the Bulgogi chicken Sandwich with Korean fire roasted chicken, green onion, sesame mayo and cucumber all on a crisp bun; they hit it out of the park. A few photos were taken, experimenting with different kinds of light and we had the chance to zoom in on the specialty meats proudly presented in the display cases.
If you want to get the best meat and poultry products from local producers while supporting the growing trend of the small specialty shops that are increasingly dotting our local neighbourhoods, then this is a destination not to be overlooked.
We started walking towards Railtown, a hip little area east of Gastown that is relatively undiscovered unless you are in the know.
The Railtown Café at 397 Railway St. is a great spot for lunch, with many of the local business people cramming in for their healthy fare. Sous vide, a cooking method they have adopted, this involves the cooking of proteins at lower temperatures for long periods of time thereby sealing in the flavours without the traditional use of oils or fats.
What a great idea, and it is happening at a few places around the city, with hopefully more to come. We began with a tiny sake cup filled with a tomato soup topped with ginger; it was small but had the perfect flavours of tang and spice.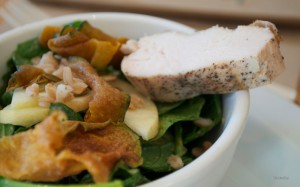 Our salad was not a regular affair but it should be; crisp spinach with tender, juicy chicken breast, crisp and salty pancetta, tart sliced apples, little pearls of faro and a zingy vinaigrette. Health, health, health!
And yes a few more pictures, this time I focused on the unique wallpaper showcasing the unique pieces of kitchen gadgets that I remember my mom and grandma using especially the hand held egg beaters.
Finally we get to drink some wine! The Urban Winery is just a block away at 55 Dunlevy St., Housed in a historic building – complete with an antique door the previous owners had shipped from Argentina – is like walking into a slice of the Okanagan.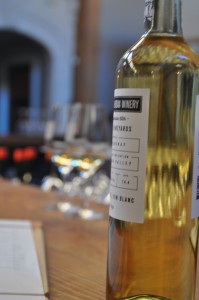 A winery in the heart of the city, what a great idea! Unfortunately a movie crew was present at the time, so much of the regular set up of furniture was rearranged but we were here for the wine, not the couch. They have a unique set up with stainless steel casks serving wine on tap, which is a fantastic idea, as it offers the customer the chance to taste multiple wines that are always fresh. The winery has teamed up with multiple properties from the Okanagan to produce a portfolio that reflects the individuality of the unique terroirs from which they were crafted.
We started off with the 2012 VUW X Road 13 Chardonnay, a bright golden colour that has aromas of citrus, apples, toasted oak, toffee and vanilla. The mouthfeel is round, rich and creamy but has a mouth-watering freshness from the acidity with a long bright finish.
The 2012 VUW X Bench 1775 Pinot Noir has aromas of cherries, red currant, with hints of cedar. The palate is light with fresh flavours of cherry, red currants, hints of minerality with well integrated tannins and an juicy finish, this is an east to drink uncomplicated wine that will develop more complexity with aging.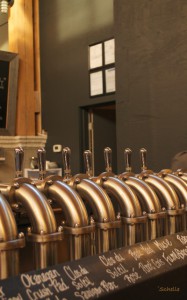 We snapped a few more photos, which were becoming less and less important as the wine flowed, but perhaps a more relaxed person behind the lens will show a better picture?
It was a new experience in an old part of Vancouver and by the end of our afternoon we had made a few new friends and shared some our stories. The sun had shone brightly to not only provide us with great lighting but to shine into the soul of Vancouver showing us a part of a historical area that few people know about but hopefully many more will find the time to discover.
These photos were taken by Laurie Schelle and myself.
Feature photo: Downtown Eastside courtesy of HuffingtonPost.ca