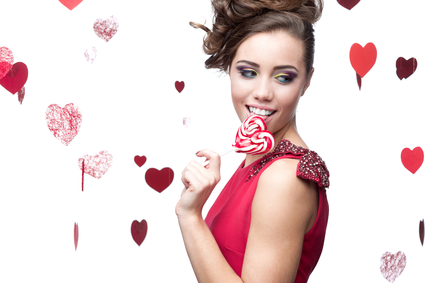 Single Girl in The City – What To Do This Valentine's Day
It's that time of year again, Cupid's coming to town and suddenly you are aware that you are single. The good news is that instead of being alone you can create an opportunity to meet new people. This year it falls on a Friday and good fortune is on your side, because if you head out to the right spots there is almost no chance of meeting a married man or guy with a girlfriend. Single men are everywhere and I suggest breaking your evening into two parts and following my flirting tips to maximize your results.
After Work Drinks
If you don't already have a work to evening bag ready to go (and you should!) bring a sexy pair of high heels, makeup for a quick touch up, dangly earrings and a statement necklace to work with you that day. For your day look wear something that is easily transformed to a casual but polished evening style. A tank top under a sweater or jacket is perfect, add heels, earrings, the necklace, lip gloss and head out to your favorite spot for Happy Hour. Two drink maximum, after all your night is just beginning.
On The Town With The Girls
Make plans to meet for drinks with a couple of other single ladies. Guys do not want to approach a wall of girls, so there should be no more than three of you. Make an extra effort to look special, put on that sexy red dress or a cute tank and red jeans, don't forget the heels, they will make you stand taller and your butt will look amazing too!
Choose a singles bar, avoid bars or lounges in restaurants, after all you don't want to see couples having romantic dinners or people getting proposed too. Even if you are not the type to go to a typical singles bar this is your evening to try something different. Remember you are there to have fun, relax and smile, your confidence will be magnetic.
Flirting 101 for a Great Evening
You are the Chooser!
The 5 Second Flirt – A guy needs a clear sign that you are interested, smile and make eye contact, hold your gaze for longer than you think is possible, 3-5 seconds should do it, look way smiling and look back again quickly with another smile and sparkly eyes.
Have a Conversation Opener
Asking someone what they do for a living is the most asked question and also the most boring. Have some questions on hand, it could be anything from "What was the best part of your week?" to playful "Who would you rather be, the big spoon or the little spoon?" Asking a guy their opinion on something is also good. Think flirty.
Have Fun!
Being confident and completely owning who you are is sexy, playfulness is sexy, smiling is sexy. Enjoy your evening and send out great energy, dating is supposed to be fun and so is potentially meeting Mr. Right or Mr. Tonight.
If you have a dating question that we can feature on the blog or if you are interested in knowing more about how working with a Dating Coach can help you on your journey to find love, Contact Deanna at info@nulldateworks.ca